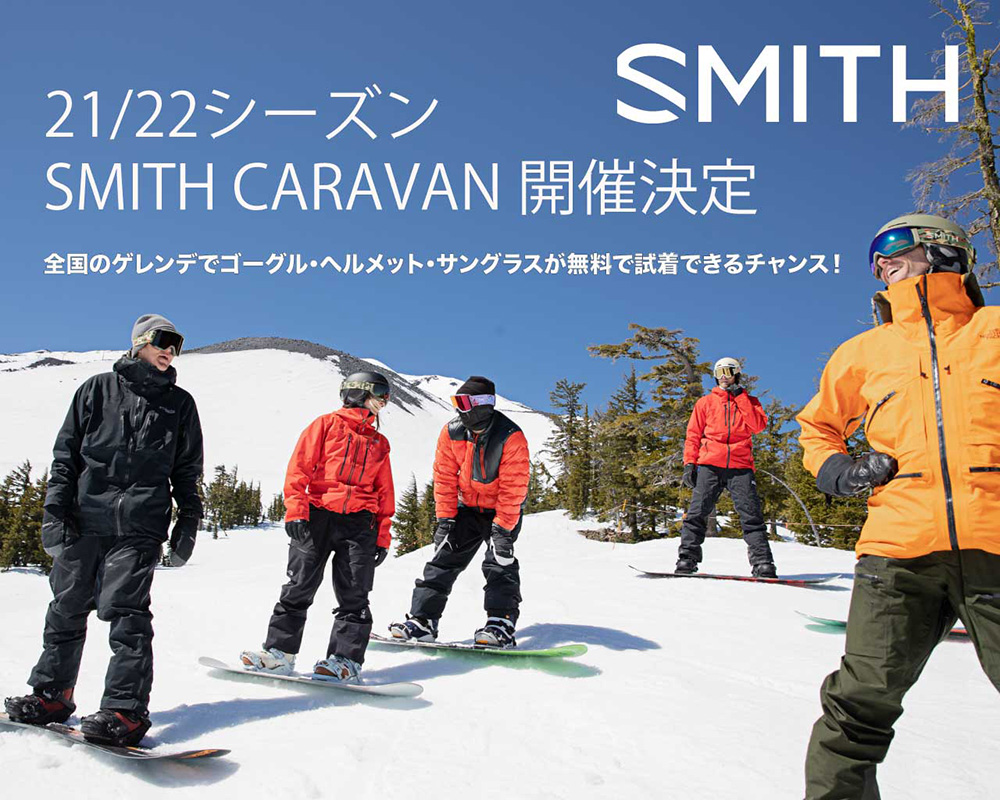 Knowing what your view looks like from your goggles is very important when choosing goggles.Because, just as food preferences differ, which lens is easier to see depends on the person.
In this SMITH CARAVAN, you can try it on and slide, so it is an opportunity to actually experience how it looks in the snowy mountains and know your favorite field of view.
Furthermore, when choosing goggles, it is not only the color of the lens that is important, but also whether it fits your face or not. In the interview with SMITH riders published in the FREERUN catalog issue, the keyword "model that fits the face" came up as the secret to choosing goggles.You can't tell if there's a gap between your nose and goggles while you're sliding, or if air doesn't come in from somewhere until you actually slide.
SMITH CARAVAN not only allows you to try it on, but also gives advice on fitting and aftercare methods, so if you want to keep using your goggles and helmet in good condition, ask a small gimon.
It seems that participants will receive a sticker not for sale this year.
<Click here for the currently decided schedule>
[Hokkaido] 12/18 (Sat) Sapporo International Ski Resort
12/19 (Sun) Kiroro Resort
[Niigata] 1 / 8-9 (Saturday and Sunday) Naeba Ski Resort
[Nagano] 1 / 29-30 (Saturday and Sunday) Nozawa Onsen Ski Resort
[Nagano] 2/5 (Sat) Hakuba Happo Ski Resort
2/6 (Sun) Tsugaike Kogen Ski Resort
[Gunma] 2 / 11-12 (Friday) Takaradaigi Ski Resort
[Nagano] 2 / 19-20 (Sat and Sunday) Sugadaira Ski Resort JSP test drive event
[Niigata] 2 / 25-27 (Friday, Saturday and Sunday) Naeba Ski Resort SBJ on snow test drive
[Gifu] 3 / 11-13 (Friday, Saturday and Sunday) Meiho Ski Resort SBJ on snow test drive
* The schedule may change suddenly, so it is recommended to check the information on SNS before heading to the venue.
* Try-on party is free (however, a lift fee is required separately)
* You will need an ID such as a driver's license to try on and slide.
* Please refrain from visiting if you have symptoms such as fever, cough, or general pain.
* Thank you for your cooperation in wearing face masks.
[SMITH brand page here】
[Instagram]
https://www.instagram.com/smithopticsjp/
https://www.instagram.com/smith__fishing__/
Click here for the digital catalog for the 21-22 season.