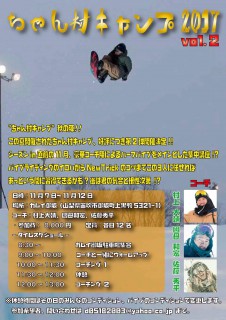 It has been decided to hold the second "Chanmura Camp" this year! ️
The schedule is 11 days from November 7th to November 11th
I will do a half pipe lesson at Kamui Misaka! ️
At "Chanmura Camp", while sliding with me, Kazu and Shuhei, I will tell you the fun of the half pipe and various details of the slip, so that everyone can prepare well for the season. I hope I can help.
We look forward to your participation! ️
If you would like to participate, please send me a message directly on Facebook or contact me at d05182003@yahoo.co.jp.
Thanking you in advance.