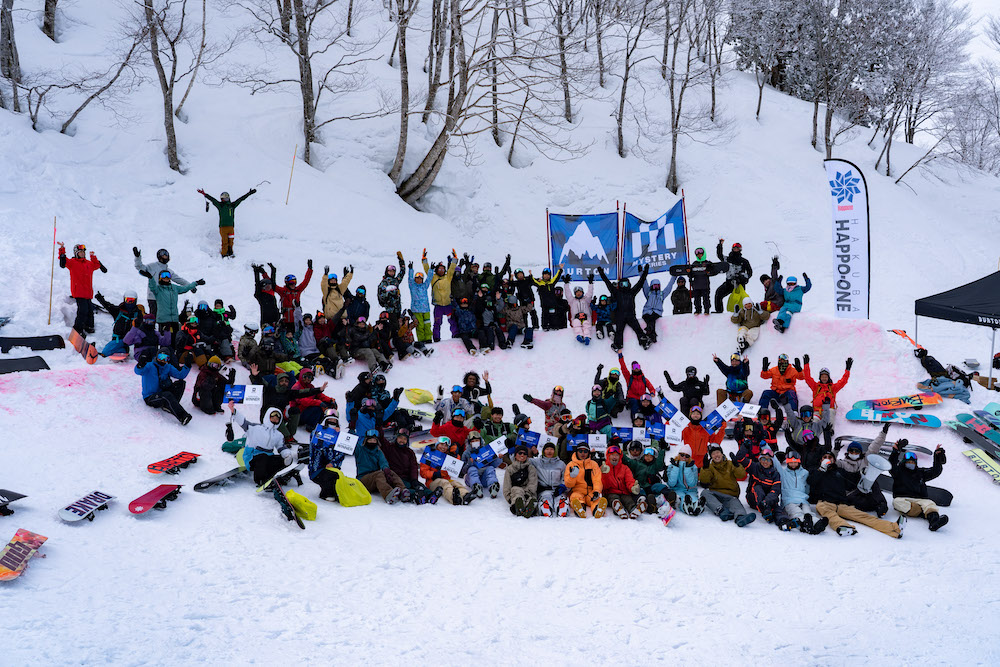 BURTON's new series "MY STERY SERIES" replaces "US OPEN".This season, as an event to inform the unknown series battle, it is held in a single event all over the world.The Japanese version of "FLOW LINE" was held at Hakuba Happoone Ski Resort in Nagano for two days, March 3th (Sat) and 19th (Sun)...Let's deliver the pattern.
Photo: ZIZO = KAZU
Suddenly the conclusion is, "Everyone is different, everyone is good."It was just such an event.
Announcement article for details of MYSTERY SERIESClick here!), So I will omit it, but a new format different from other contests was adopted, and the content was such that participants could share "the original fun of snowboarding".This is because it is not the main thing to compete for the difficulty of tricks like the Olympics and the World Cup.What is important is the creativity of the slipper.The originality and style born from that.Furthermore, how can people be stimulated and impressed?How much do you really enjoy snowboarding while pushing your limits?The emphasis was on them.
The stage is a forest course on the panoramic slope of Hakuba Happoone, commonly known as Panorin.A freestyle course that has been maintained while taking advantage of the terrain such as wall terrain and depressions peculiar to the detour.More than 80 participants, including men's, women's and kids, gathered there.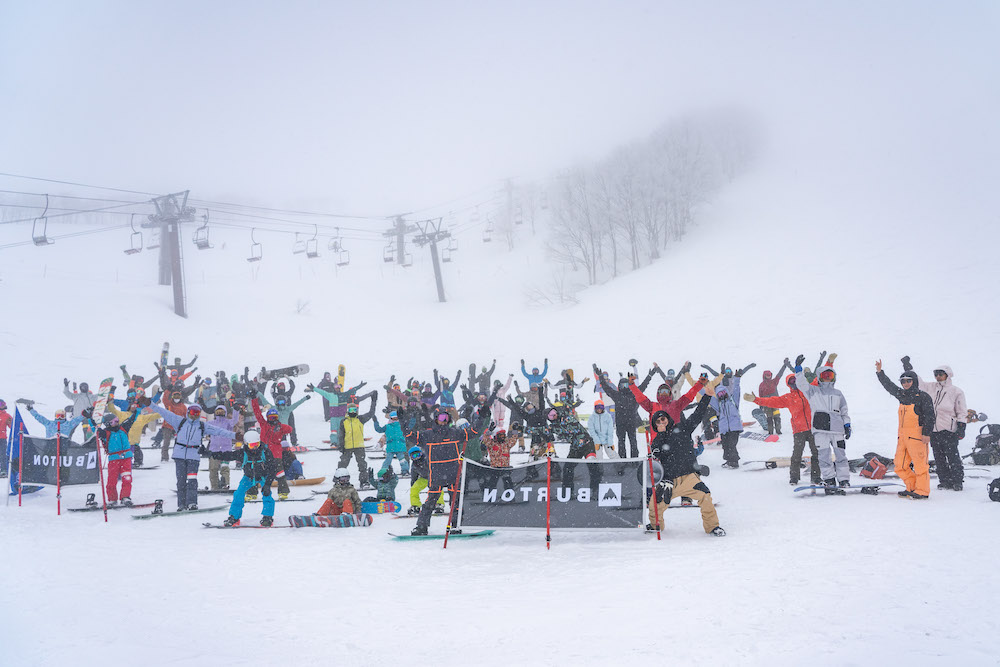 Although the visibility was poor due to the gas on the first day, a FUN session with the rider was held on a special course open to the public.And the second day.Since the contest was held in the form of a jam session on this day, the special course was reserved for event participants in consideration of safety.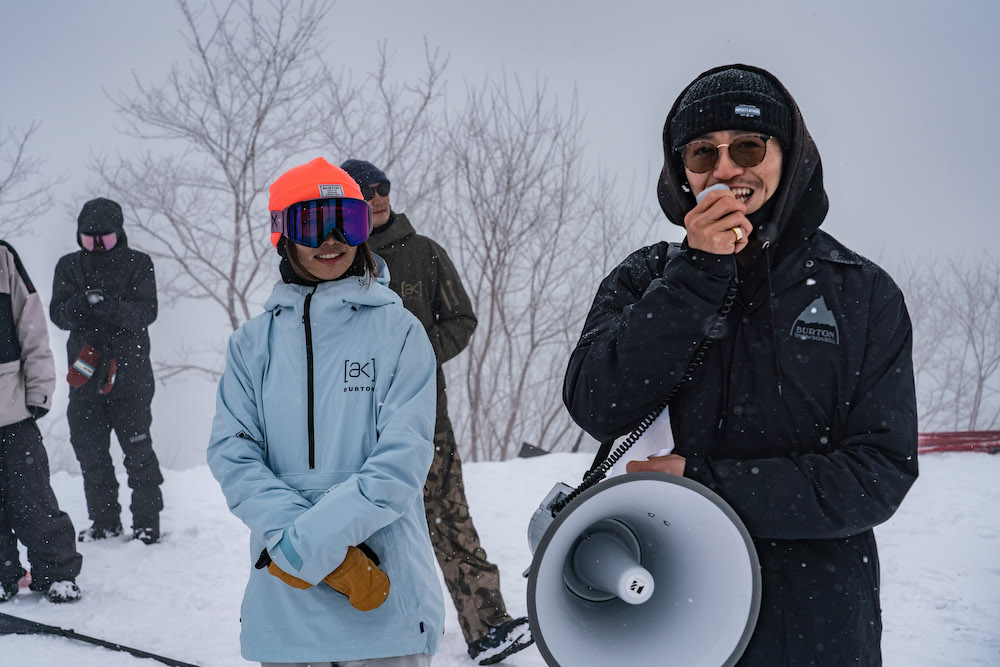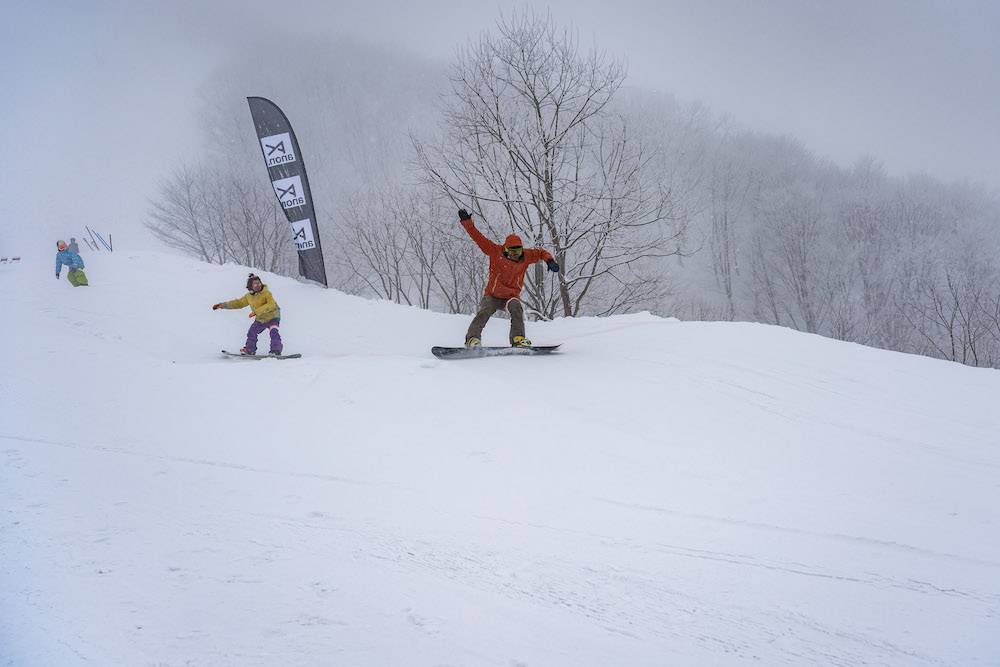 The contest was divided into upper, middle and lower sections, each of which selected excellent riders.By the way, in addition to the BURTON riders Yuka Fujimori, Tatsumasa Takahashi, Yutaro Miyazawa, and Yuki Takeuchi, Kuya Kuya and Masakazu Sato, who are active in the same INK MOVIE as Takahashi, are in charge of the judges, and three people each in each section. Will add points to the participants' slips.
First of all, the judging time in the upper section.The main dish here is a side hit that takes advantage of the wall terrain in Rider's Light through continuous waves.Those who fascinate with stylish grabs, those who thrust at high speed and perform spin and flip tricks such as 360 and 540, those who lay back by utilizing landing burn, etc., I do not really know what will pop out.So it was fun and the judges cheered on the participants who fascinated the cool slides.Then, as we could see the attacks of other participants from the starting point, the session gradually heated up.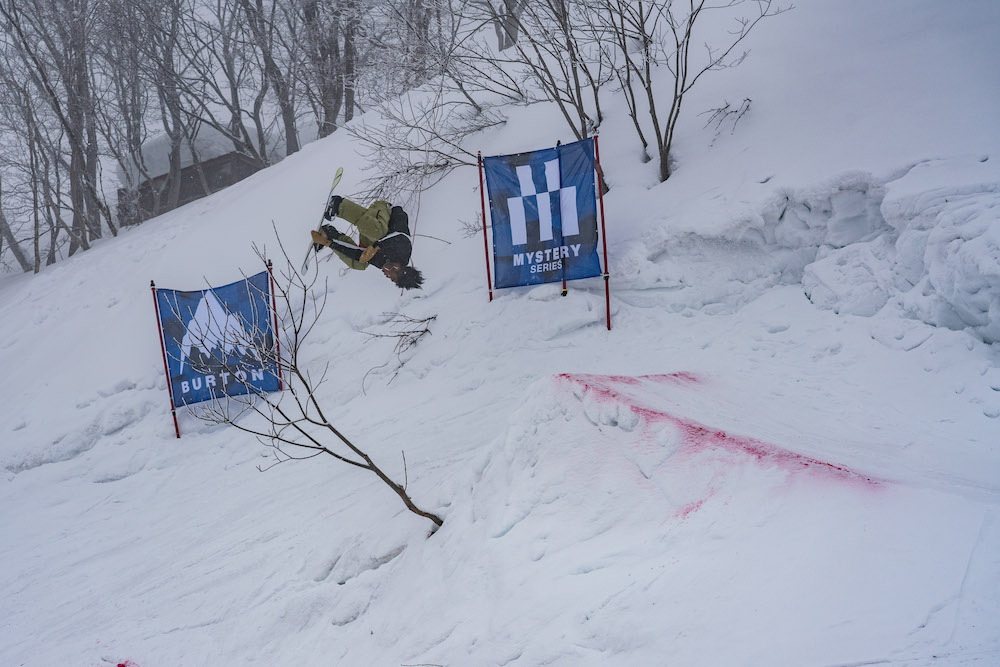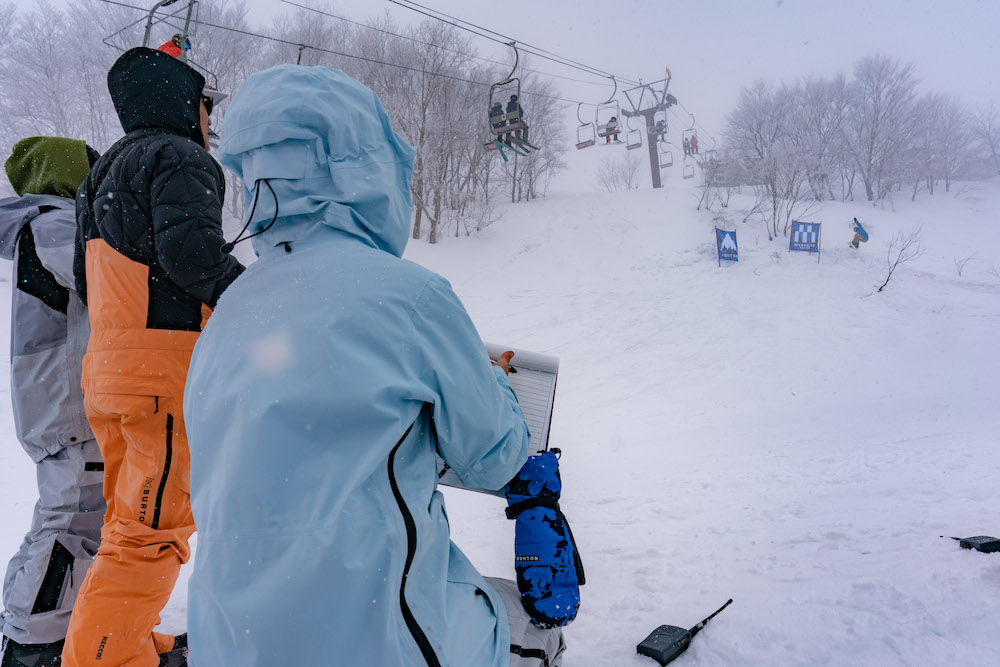 After the upper session of about 1 hour, the judging point moved to the central part.It's the start of the Chubu session.This was a fairly technical area, with a section where drums were stuck in the regular backside bank, a single rail, a side hit that made use of the wall of the rider's light, and a gap jump that jumped over the detour.Moreover, the snow that had loosened the day before the temperature was high cooled and solidified during the night, and the non-compacted snow burn was in a fairly bumpy condition.Even so, the skillful participants who usually slipped into various conditions tried the gap jump without hesitation.It goes without saying that this session also gradually became hot over time.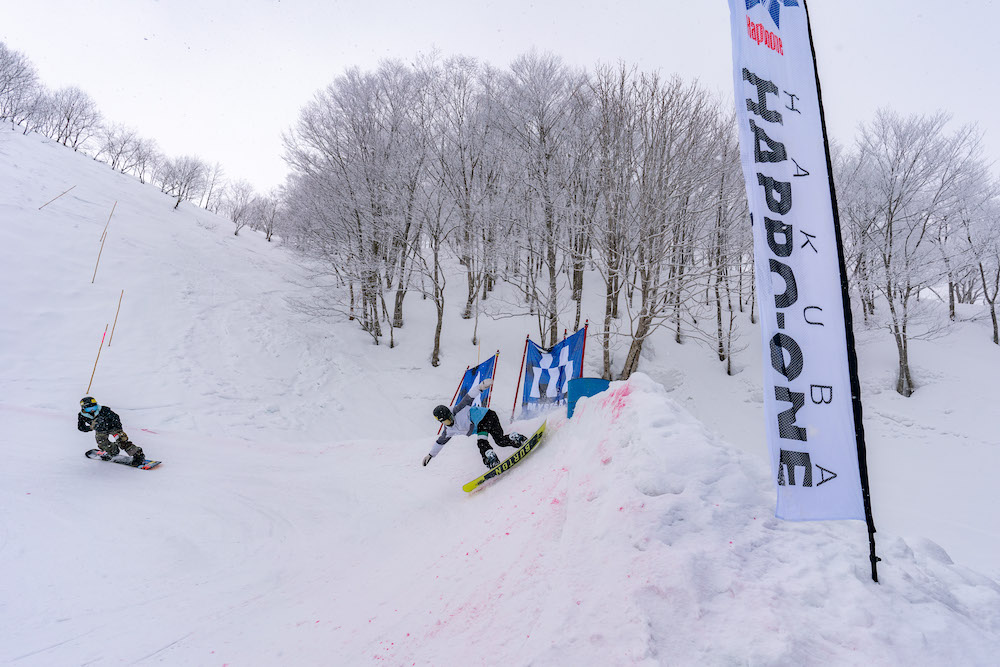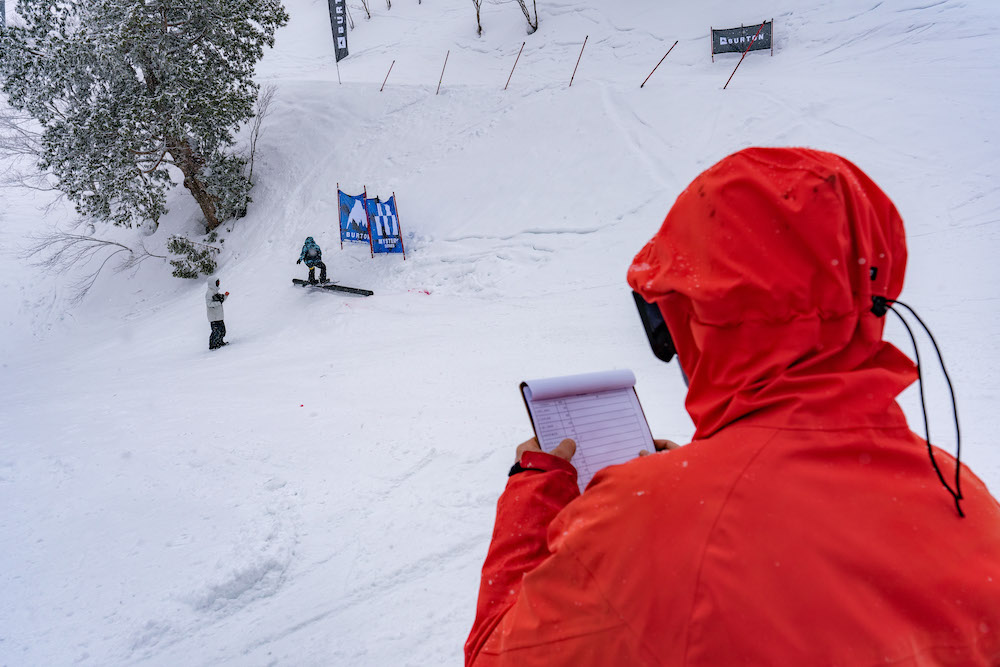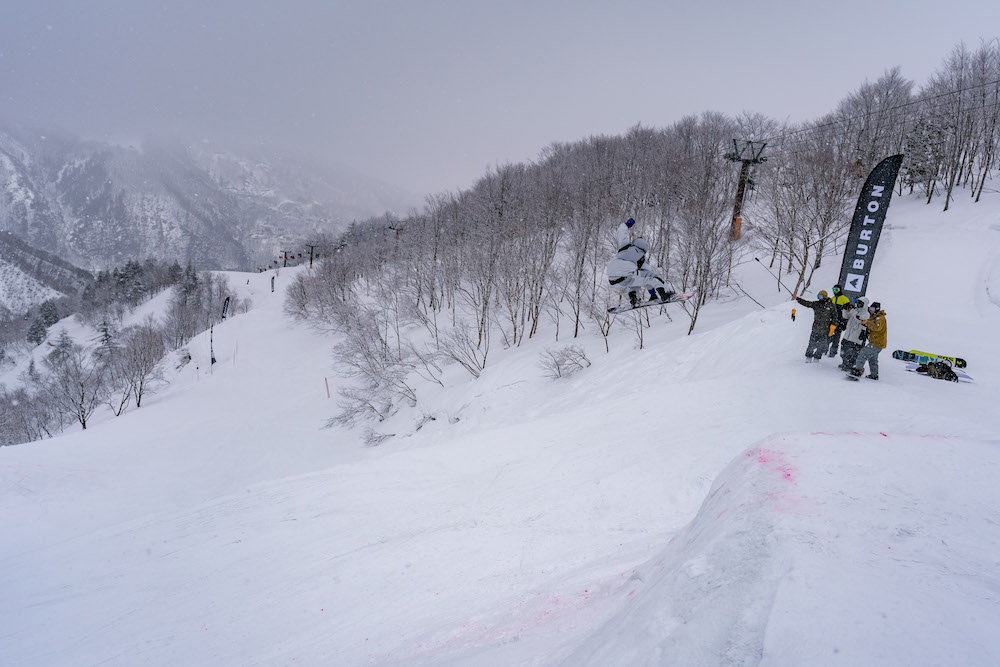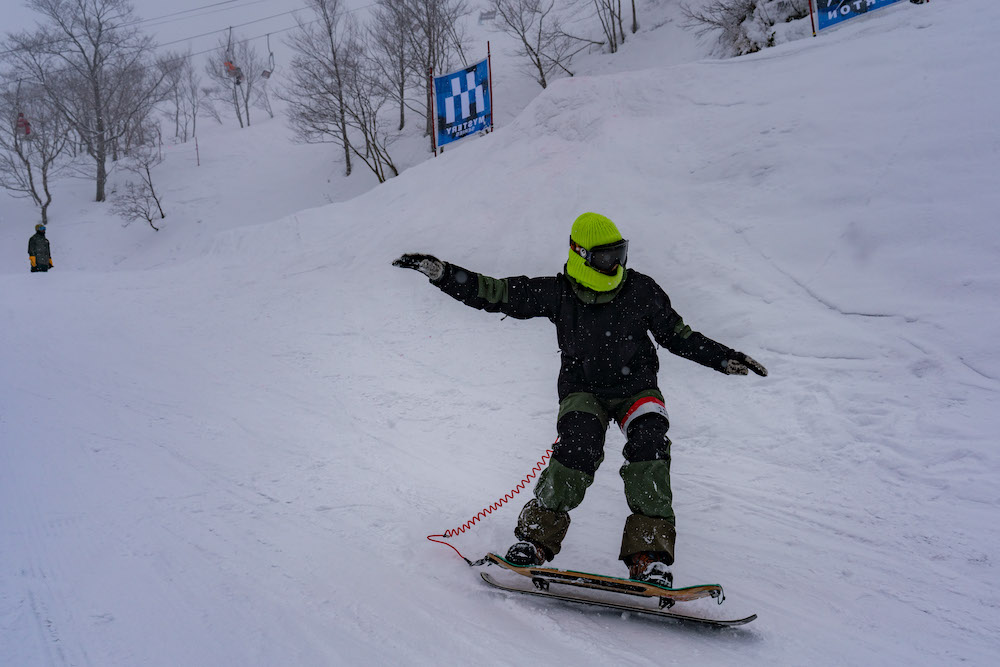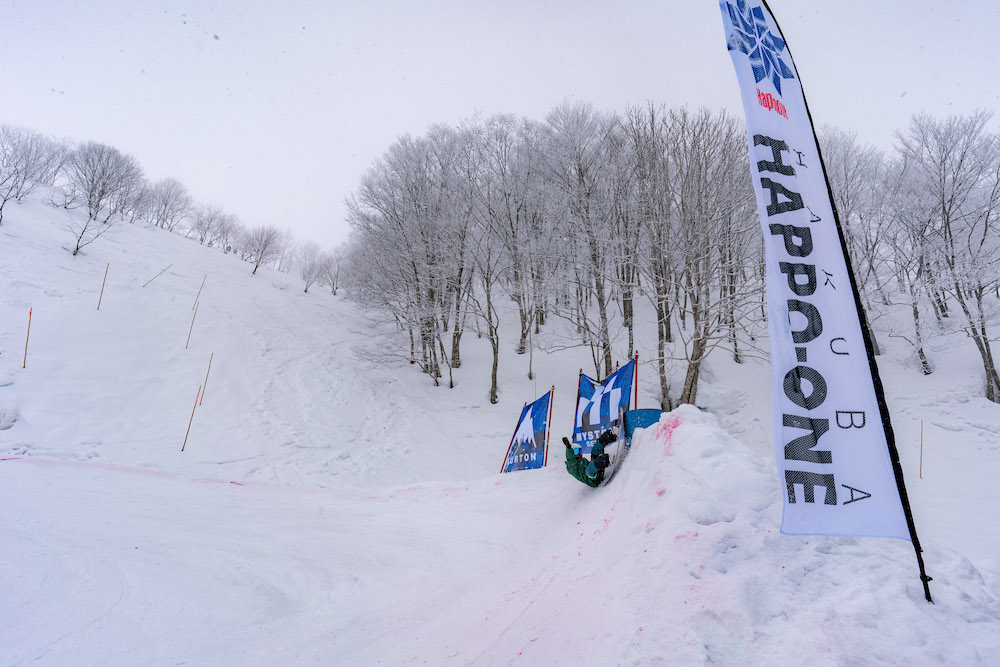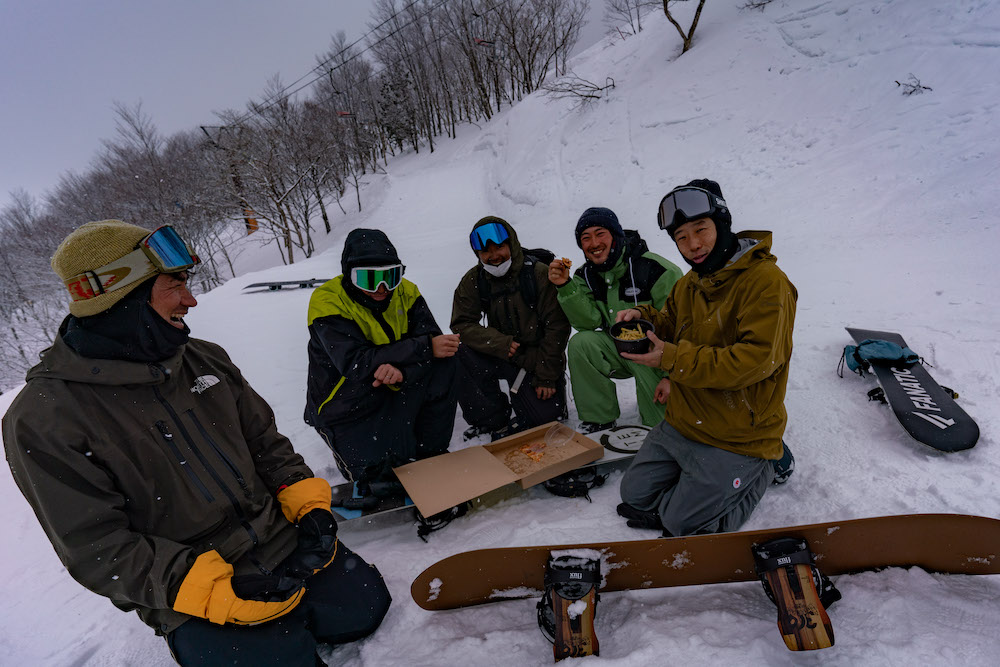 After the lunch break, the last lower session was cut off.Here, the points are regular backside banks, compound items that can be used as both kickers and hips, and how to cook side hits and continuous waves that take advantage of the wall terrain.While many participants chose to jump with a kicker, participants rushed around the course, attacking a natural mash that no one went to, or raising a slash with lightly piled fresh snow.The most impressive thing was that everyone was skating with a smile.How to express yourself by making full use of each imagination.He seemed to enjoy it from the bottom of his heart.Moreover, because the special course is interesting, it's no wonder that it naturally makes you smile.That's because even the non-judgment riders were cruising the course in anticipation of skiing.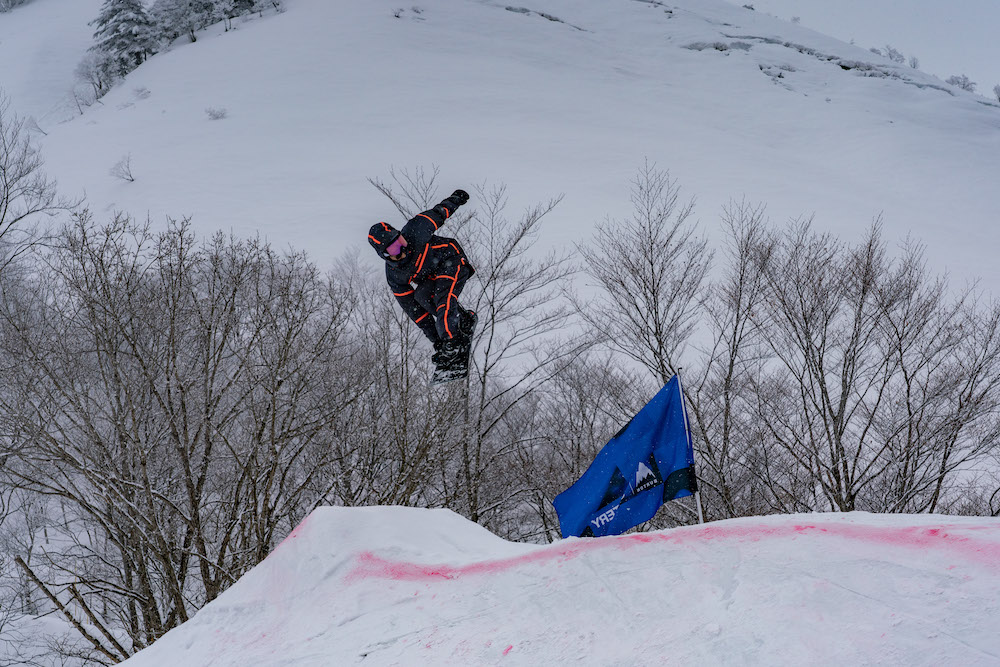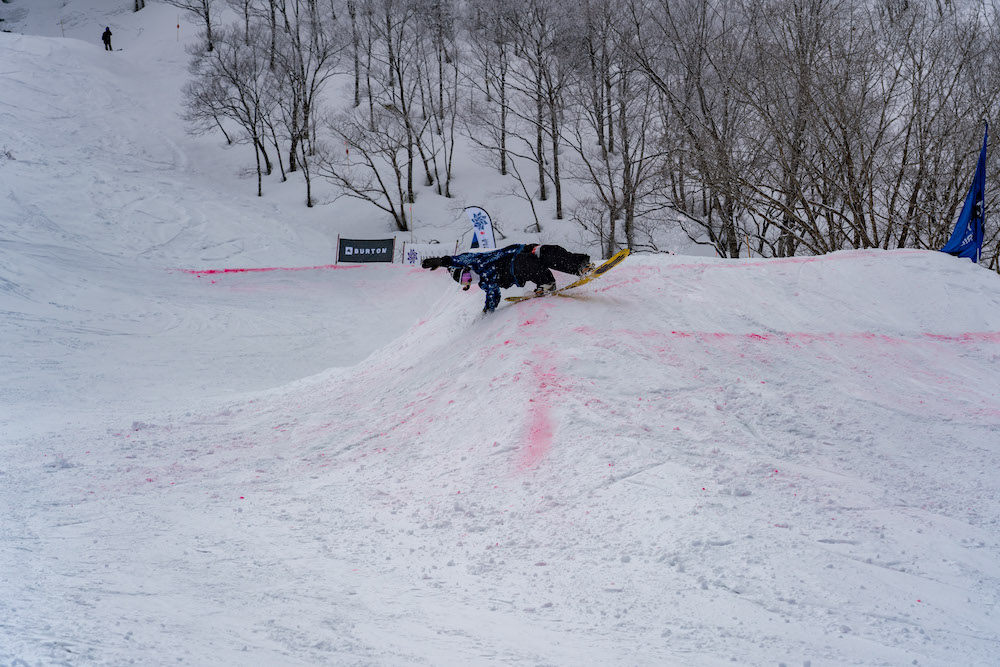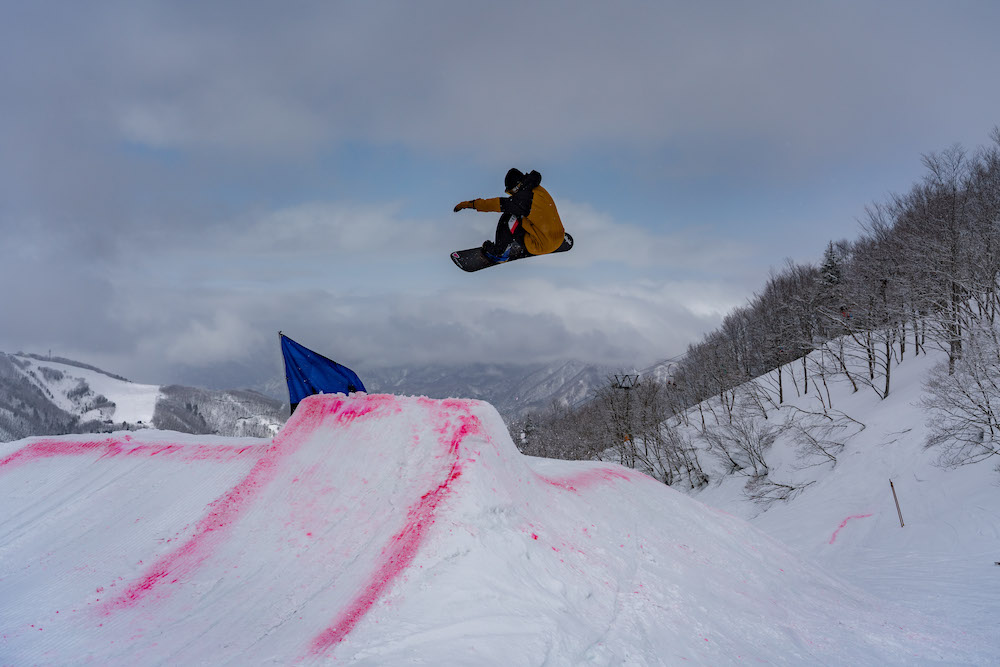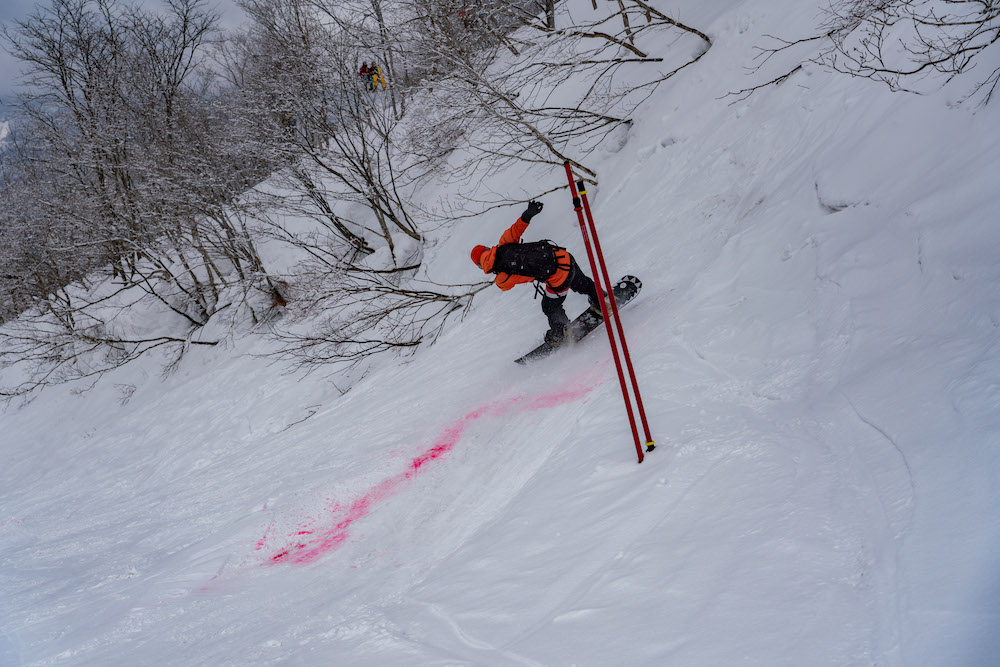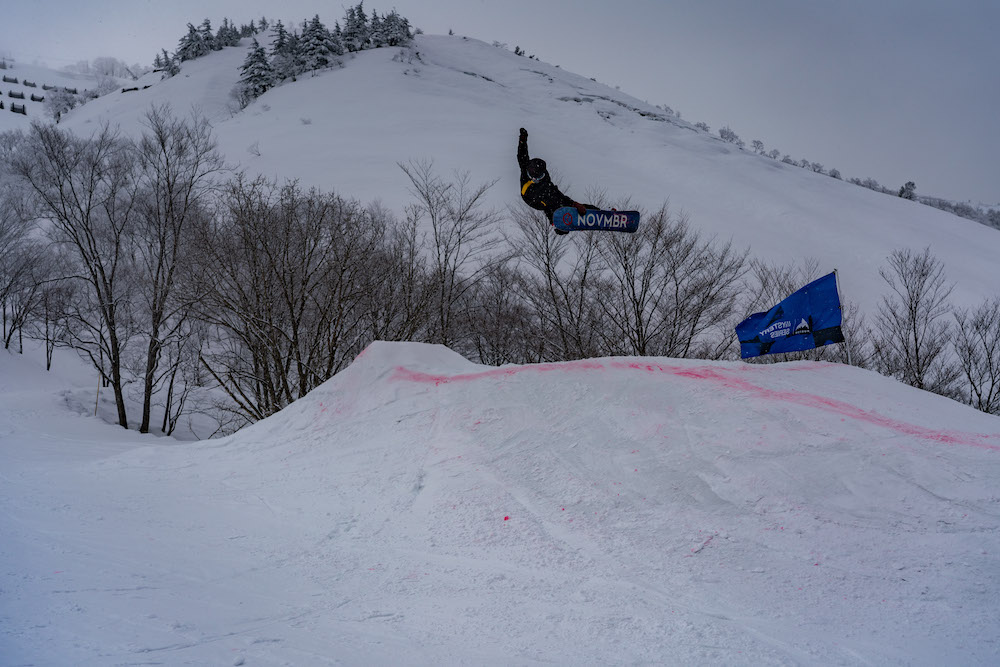 And in a blink of an eye, the session at three points was over.
We asked Yuka Fujimori, who also served as a judge, to look back on this event, from previewing the course to setting up items.
"Recently, the world's top riders are distributing side-hit riding videos on the slopes on the web. I thought it was very interesting to see it. Moreover, kids and beginners can participate. When it comes to tournament-style events that everyone can enjoy depending on their imagination and skill, side hits are the best. So, I consulted with various people and asked them to finish this special course. I thought that there might be no one to attack because it was hard, but there are people who try vertical rotation with side hits, people who challenge road gaps, people who find various lines and slide in their own way, watching while judging It was really fun to be there, and I was happy to see it because everyone was pushing me. "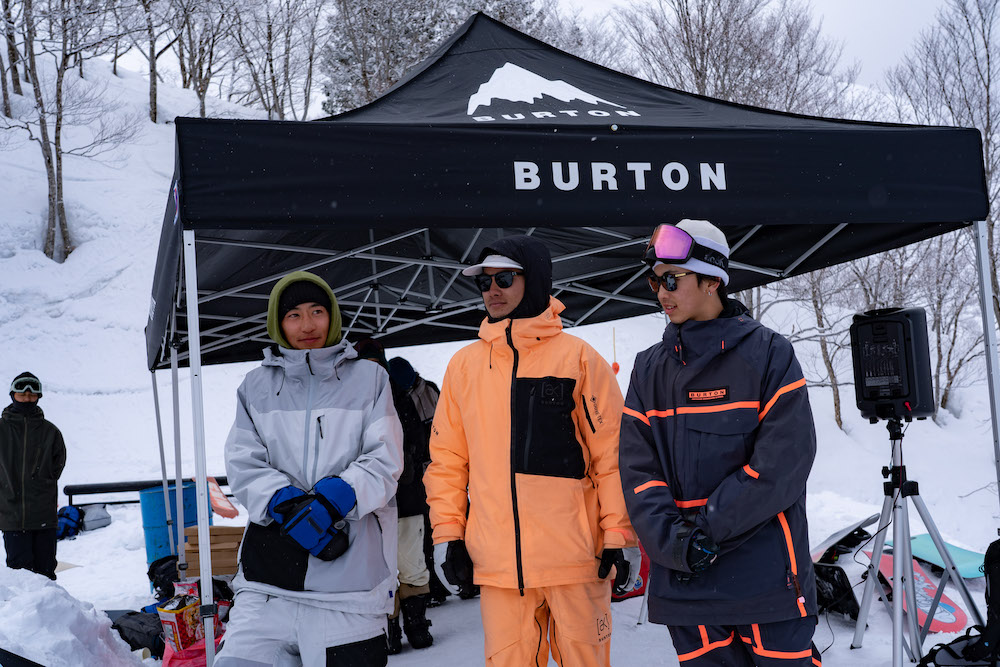 Also, when I talked to Tatsumasa Takahashi, who was also in charge of the judge, he said, "It's a very varied course, so people from different genres who don't usually slip together get together for a session.It was fun just to see such a scene.When I actually slipped, I could jump depending on the line, and even if I didn't fly, the points that I wanted to attack one after another expanded, so it was interesting.In fact, people who continue to follow their own path, people who slide freely without being addicted to the pattern, everyone drew a line that seems to be really comfortable. "And that.
<< Result(* All kana notation & titles omitted)>>
★ Upper session award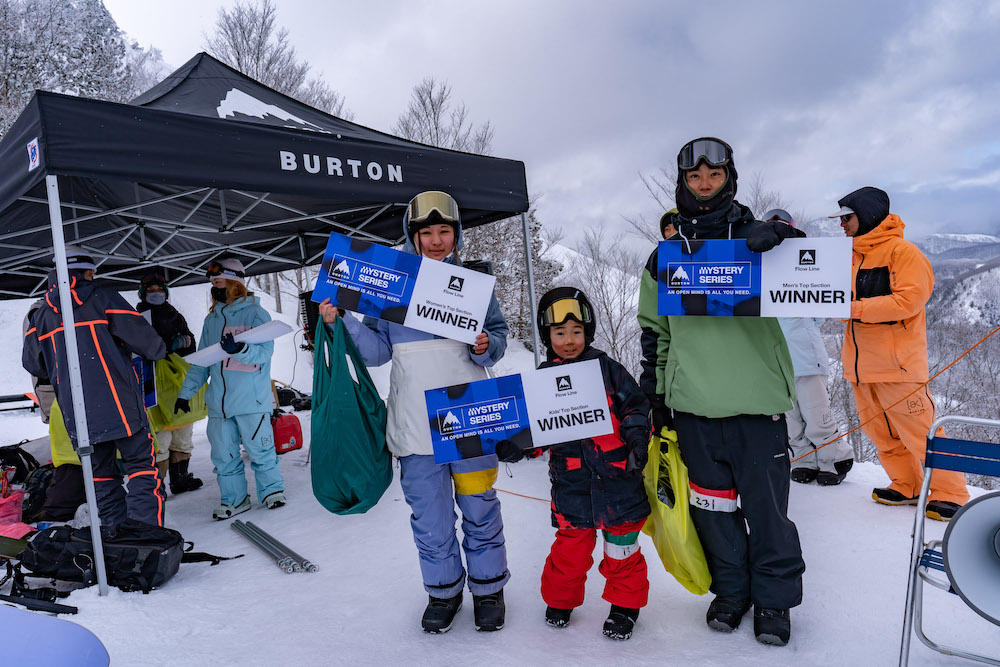 Kids: Riki Takeda
Women's: Hara Yukino
Men's: Nishii Takahiro
★ Chubu Session Award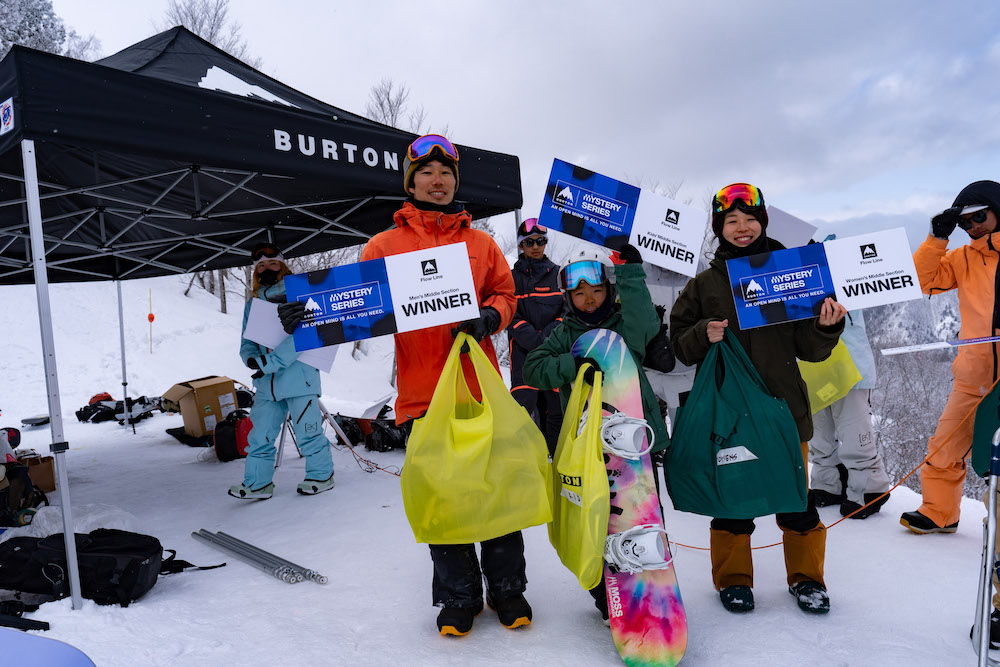 Kids: Jujube Mutsho
Women's: Shingai Minami
Men's: Sugiyama Kazuhiro
★ Lower session award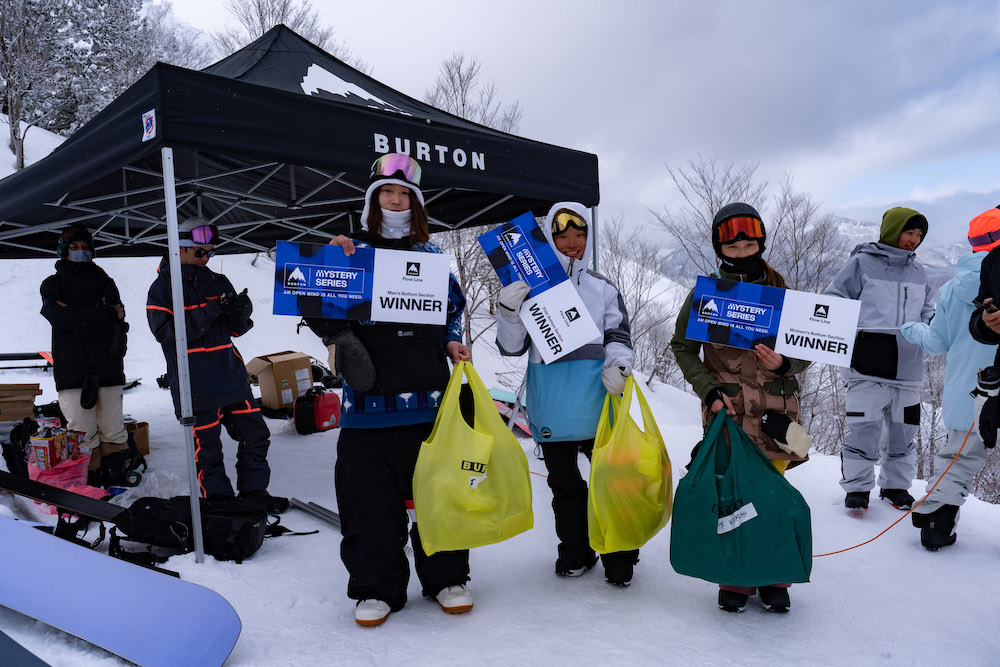 Kids: Maruyama Ichinosin
Women's: Ishii Himari
Men's: Arai Yoshikazu
★ BURTON Award: Mikami Rina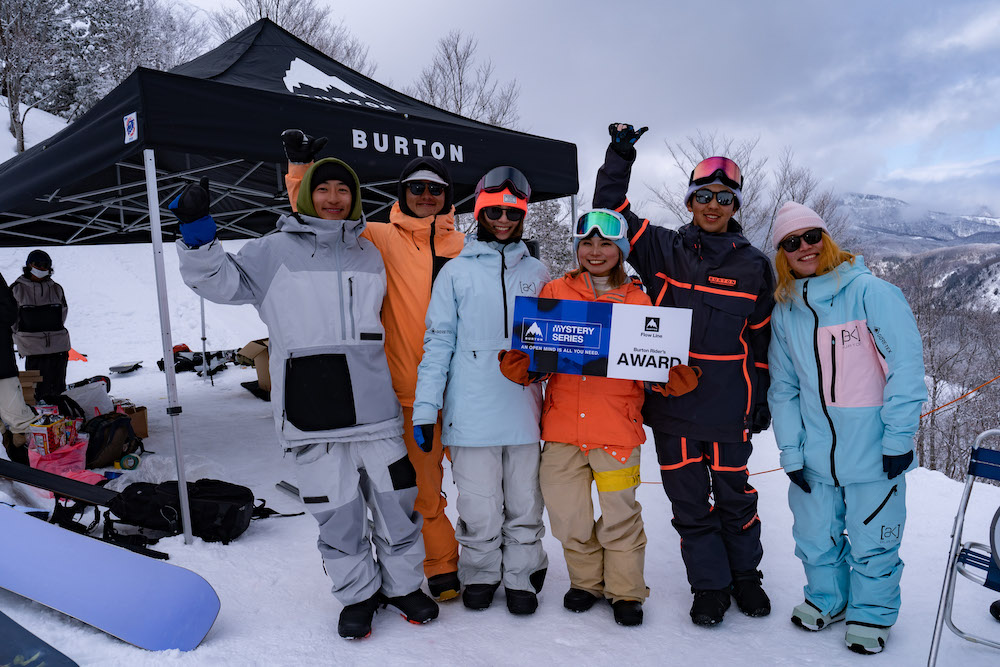 ★ INK Award: Sugiyama Kazuhiro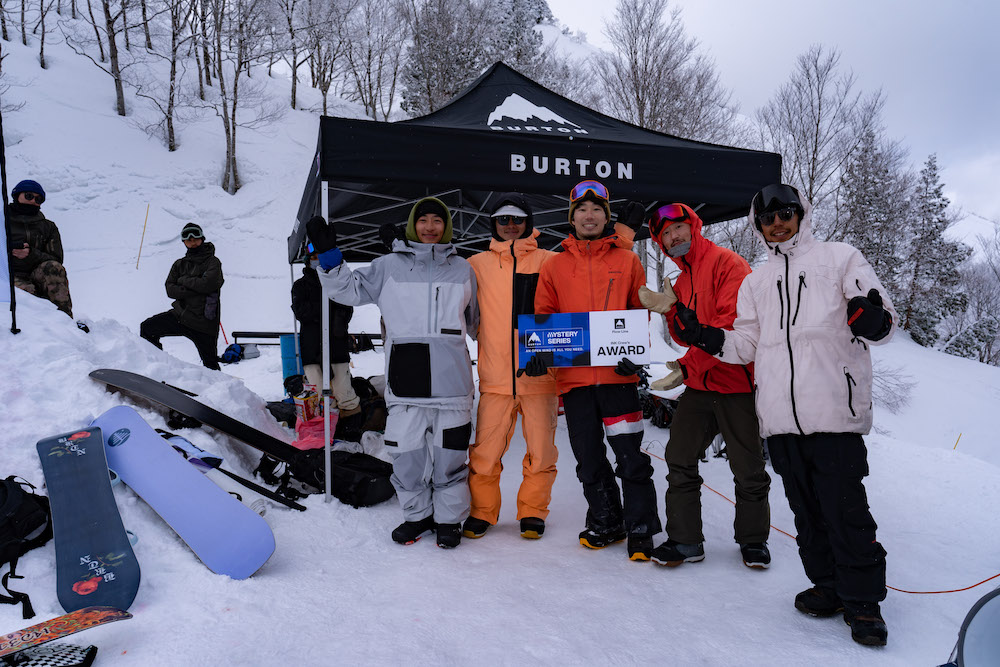 We asked Mr. Sugiyama, a participant who won both the Men's Award and the INK Award in the Chubu Session, about his impressions of participating.
"Every week, I go skiing from Shizuoka to the parks and backcountry in the Hakuba area, but I often play by taking advantage of the terrain. I think that the skiing that I usually do is useful. If there is an event, I would like to participate, and I wish that such a course would be permanently installed on the slopes. It was really fun. "
Finally, let's introduce 21 photos with a slider so that you can feel the atmosphere of the event more.
The first "MY STERY SERIES" held in Japan ended in this way.Eventually, Round 1 will be held in various parts of Japan, and Round 2 will be held from which the representatives of Japan will be decided. Finally, the representatives of each country will gather to decide the world champion.It is scheduled to be completed in 2024.An open series battle that anyone can participate in such a BURTON set up.I can't wait to see future trends from now on.
text: Haru
The special page of the series battle ishereFrom!
For those who are more interested, "#burtonmysteryseriesSearch by hashtag!