When it comes to the Hokkaido area, the topic of powder comes first, and I can't quite see the story that this park is in good shape.Of course, I want to enjoy powder, but there must be many people who want to enjoy the park in a relaxed atmosphere that is not found in the snowy mountain parks near the metropolitan area.For such people, I definitely recommend Hoshino Resorts Tomamu's "Slopestyle".
Hoshino Resorts has created high-quality parks at Alz Bandai and Nekoma Ski Resort, and has received high praise from many snowboarders, but Tomamu's park also boasts quality comparable to that.
Three lanes, beginner, intermediate, and advanced, have been set up to realize how to make and install items that skiers and snowboarders can safely enjoy, and how to enjoy them that are perfect for the skier's level of wanting to fly or have fun. Various styles of items are installed for each level so that you can do it.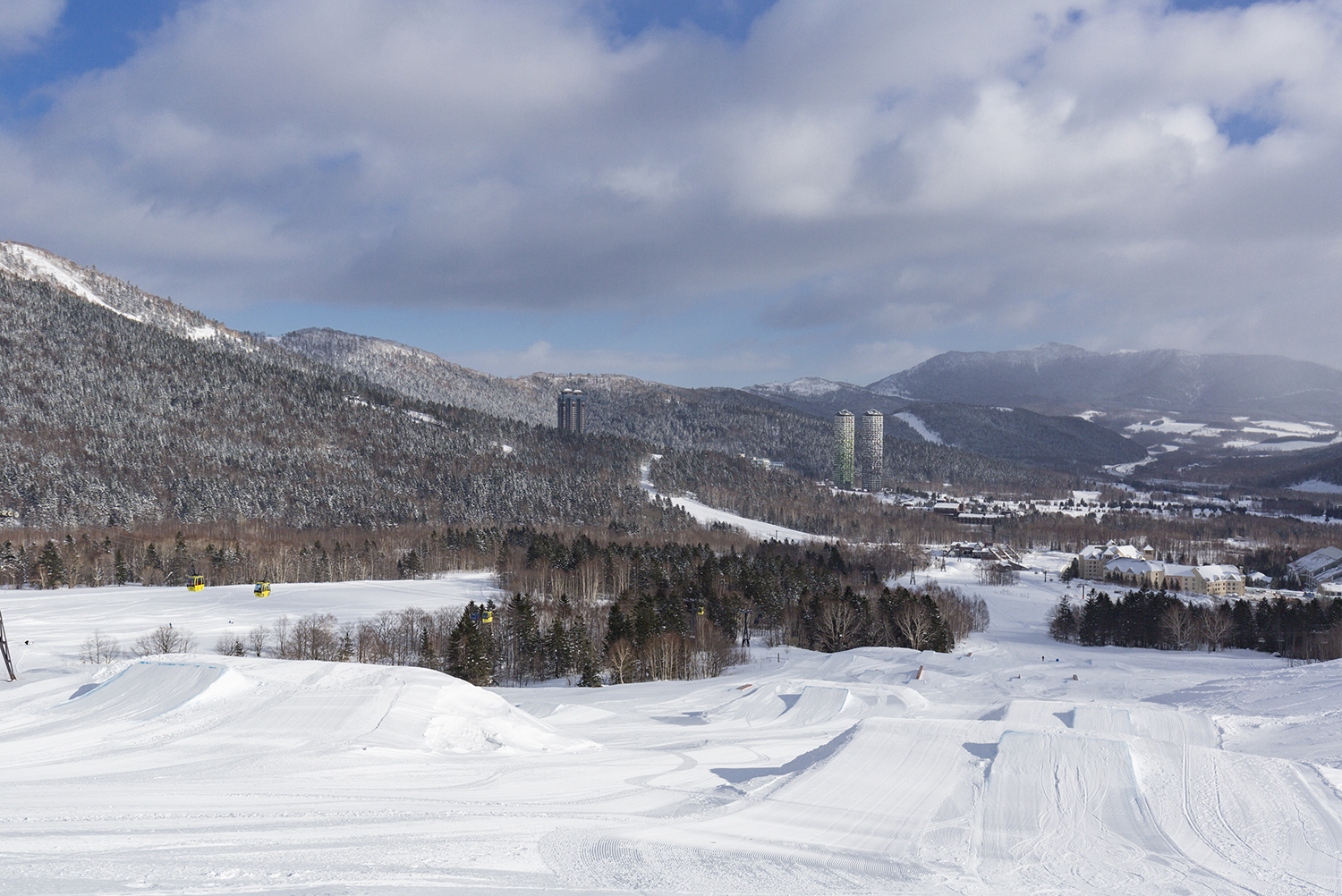 Even in Hokkaido, Tomamu is the only park that divides lanes by level with such quality, and it is a park where you can enjoy a wide range of levels, such as those who try the park for the first time and snowboarders who aim to step up.
Also, there is a jib zone at the bottom of each level lane, and it is also attractive that jib items can be flowed from all lanes.
A total of more than 20 items are maintained in the best condition by using machines and manual work every day, so you can rest assured.Especially on weekends and holidays when many snowboarders and skiers use the park, mechanical maintenance is carried out by a snow-packed car for about 12 minutes from around 30:XNUMX noon, and after the maintenance, the same quality as in the morning is restored.It is well managed so that you can enjoy it in the best condition for a whole day.
Furthermore, in Tomamu's official website"Slopestyle"On the page, send [Movie Report].Although it is an irregular distribution, new item release information and the status of the park are distributed as videos.It's very easy to see what kind of items are lined up, and the size of each level, so be sure to check it out.
A park made of high-quality snow unique to Hokkaido that you can enjoy in a relaxed atmosphere.You must want to go.
<Advanced Lane>

<Intermediate Lane>

<Beginner Lane>

Period: ~ April 2023, 3 (planned)
Time: 9: 30 to 15: 30
Location: Slopestyle area, near the foot of Tomamu EX (jib zone)
Park Terms of Use: Helmets are recommended.
Don't forget to check the speed when you enter the kicker.
<Declaration of the highest level of corona measures>
At all Hoshino Resorts, including Hoshino Resort Tomamu, we have taken thorough measures against corona in consideration of health and public health in order to enjoy traveling safely as part of measures against corona.
>>Please see here for measures for Hoshino Resort Tomamu
Click here for information on Hoshino Resort Tomamu
Hoshino Resorts ski resort information, travel informationhereから