"BENT METAL" is a binding brand that uses cutting-edge technology to meet the needs of binding, such as firm holding power, durability for hard use, and comfort that does not cause fatigue even after long periods of use.We have updated every year to provide the best and most reliable bindings, such as straps with excellent fit, lightweight chassis and highbacks, and our unique system "drive plate" that focuses on flex to maximize the performance of the board. to design. Among the many lineups of BENT METAL, the ones that drive the image of the brand are the high-performance mid-flex bindings "TRANSFER/FORTE" and "AXTION/STYLIST" that can handle everything from freestyle to freeriding in a well-balanced manner.This time, we will introduce the charm of these four models.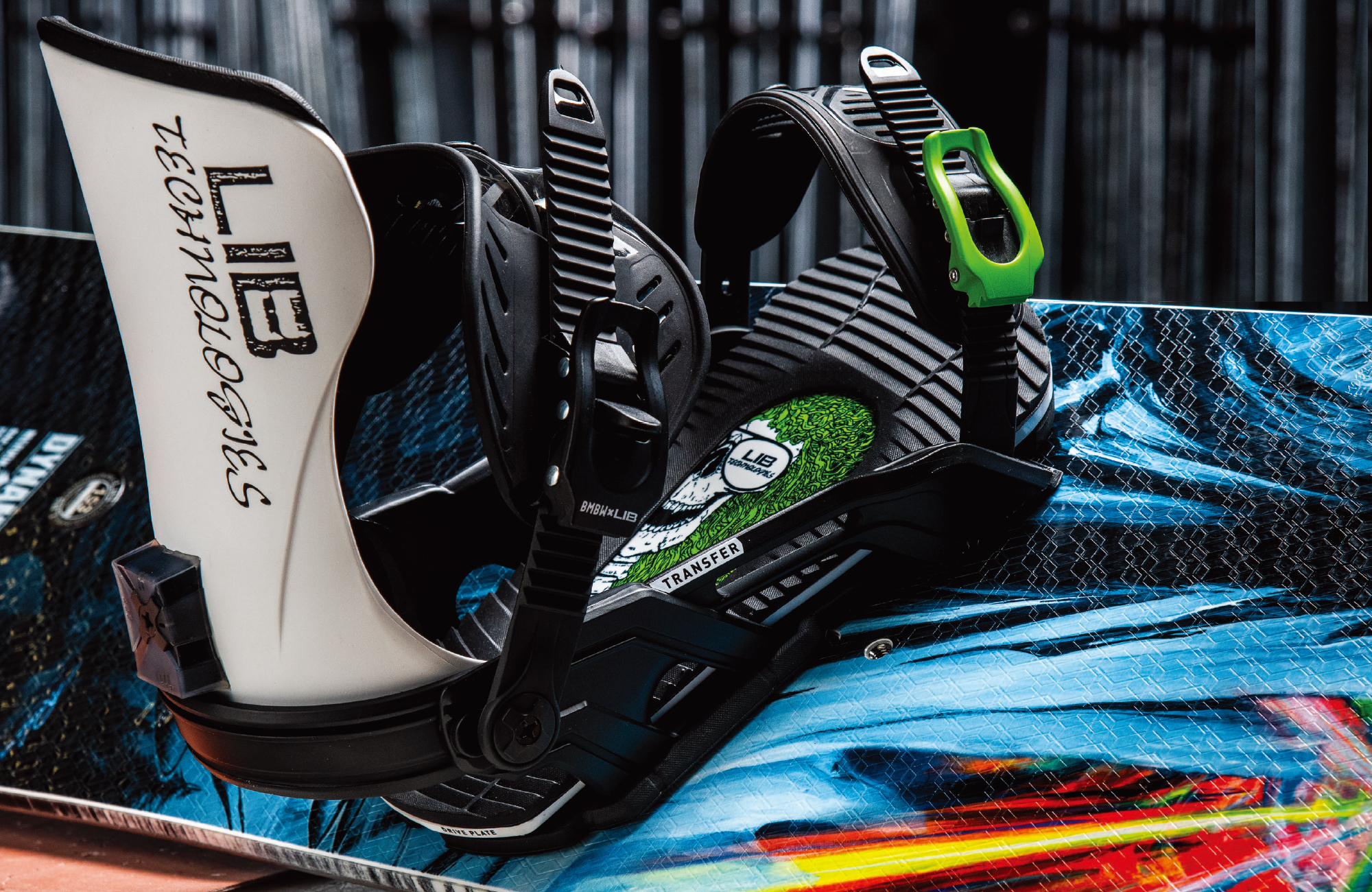 ---
TRANSFER
mini disc + 2 piece chassis
While maintaining flexibility, elicit excellent response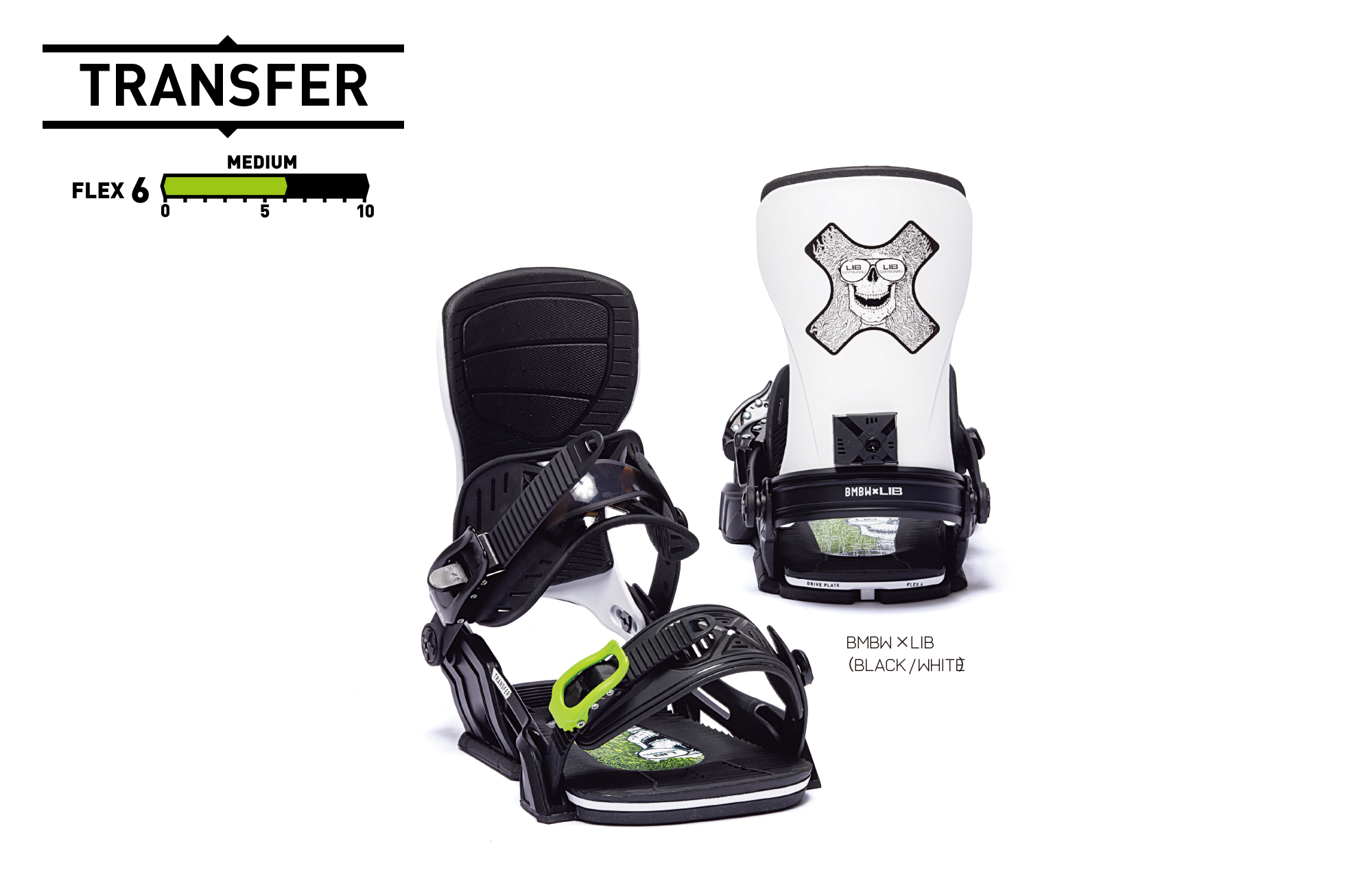 ▶ Functionality
It can be said that the model that has driven the popularity of BENT METAL greatly is the "TRANSFER", which can be used in a wide range of scenes such as freestyle and freeriding, and demonstrates its excellent performance in all snow mountain performances.The flex is a medium flex of 10 out of 6.In addition, it uses a two-piece chassis and employs a mini-disc to flexibly fit and control the board's flex.The highback responds flexibly and matches well with soft boards. The drive plate, which is the biggest feature of BENT METAL, is equipped with a one-piece specification using magnesium.The strap is equipped with a medium specification dual ankle strap that holds your feet firmly.While emphasizing flexibility, you can draw out a strong rebound at the timing of "Here it is!" with a firm hold and repulsive force.It is suitable for cruising in powder, jib, guratori, and other riding that emphasizes flexibility.It is also recommended for those who want to enjoy tricks with a firm repulsion while emphasizing flexibility.The fact that the binding is made very light overall is also a point that is highly rated by many snowboarders.
▶Design
TRANSFER's design is BENT METAL's design, such as the signature model that appears every year with artwork linked to LIB TECH's popular model JAMIE LYNN series, and the LIB TECH collaboration model that appears with attractive artwork. A lineup that symbolizes the height ofThis season, we have adopted the graphics of LIB TECH's popular artist Mark Gale.The unique charm of BENT METAL is that each color has its own individuality.
Size: S/23.0-26.0cm, M/26.0-29.0cm, L/29.0-32.0cm
Price: ¥ 49,500 (tax included)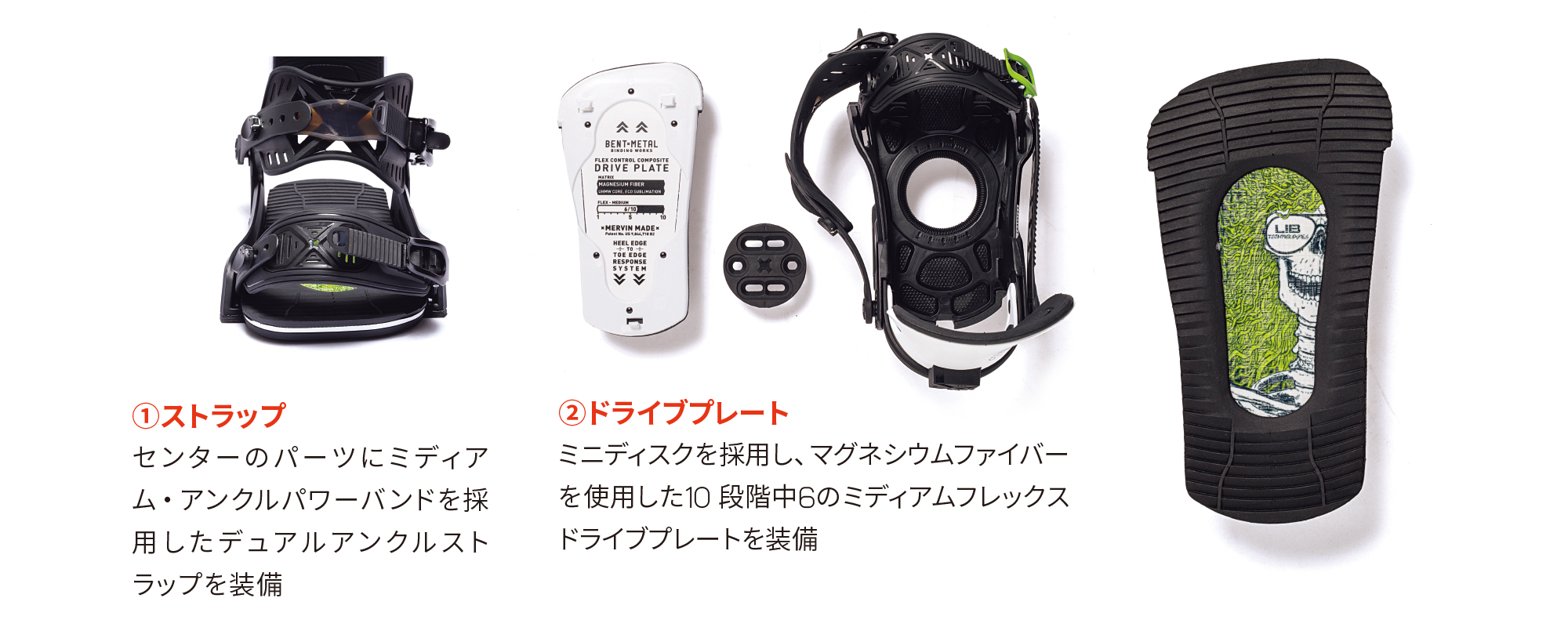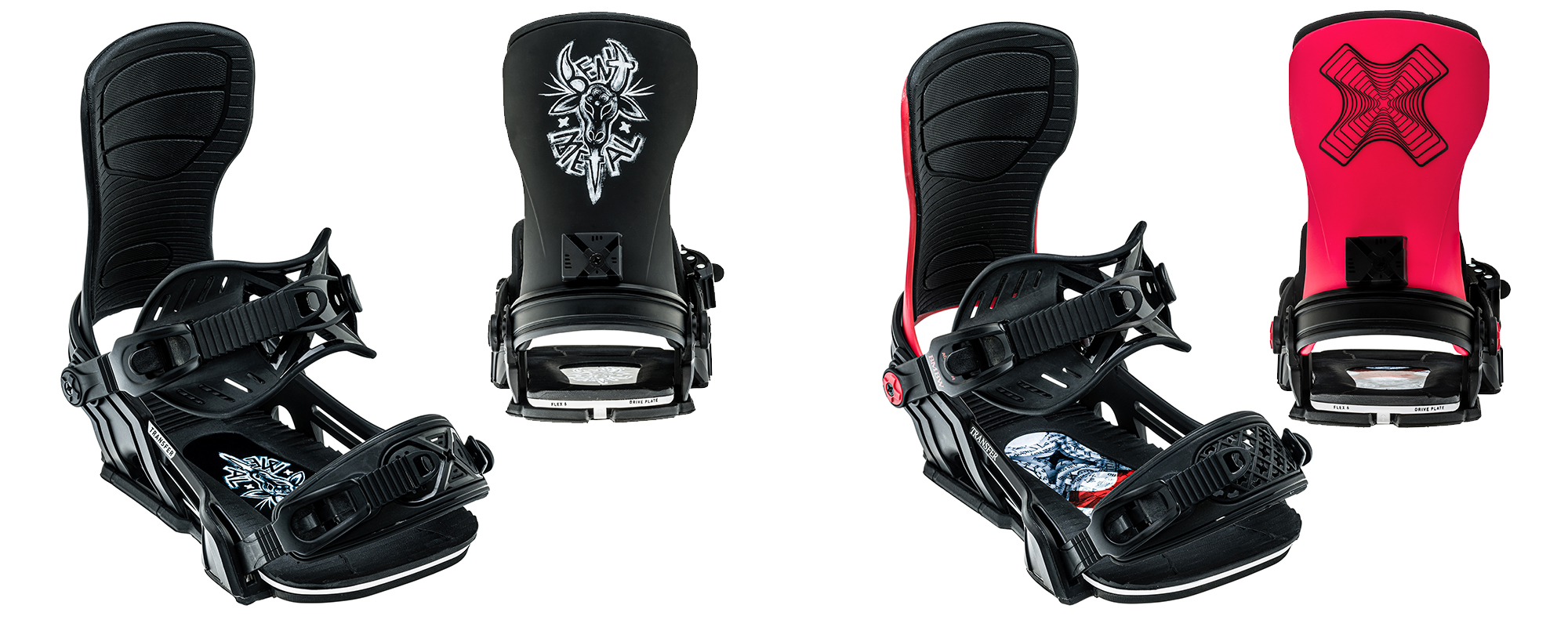 ---
FORTE
TRANSFER's performance in a women's model
comfortable control and
Both flexibility to enable versatile performance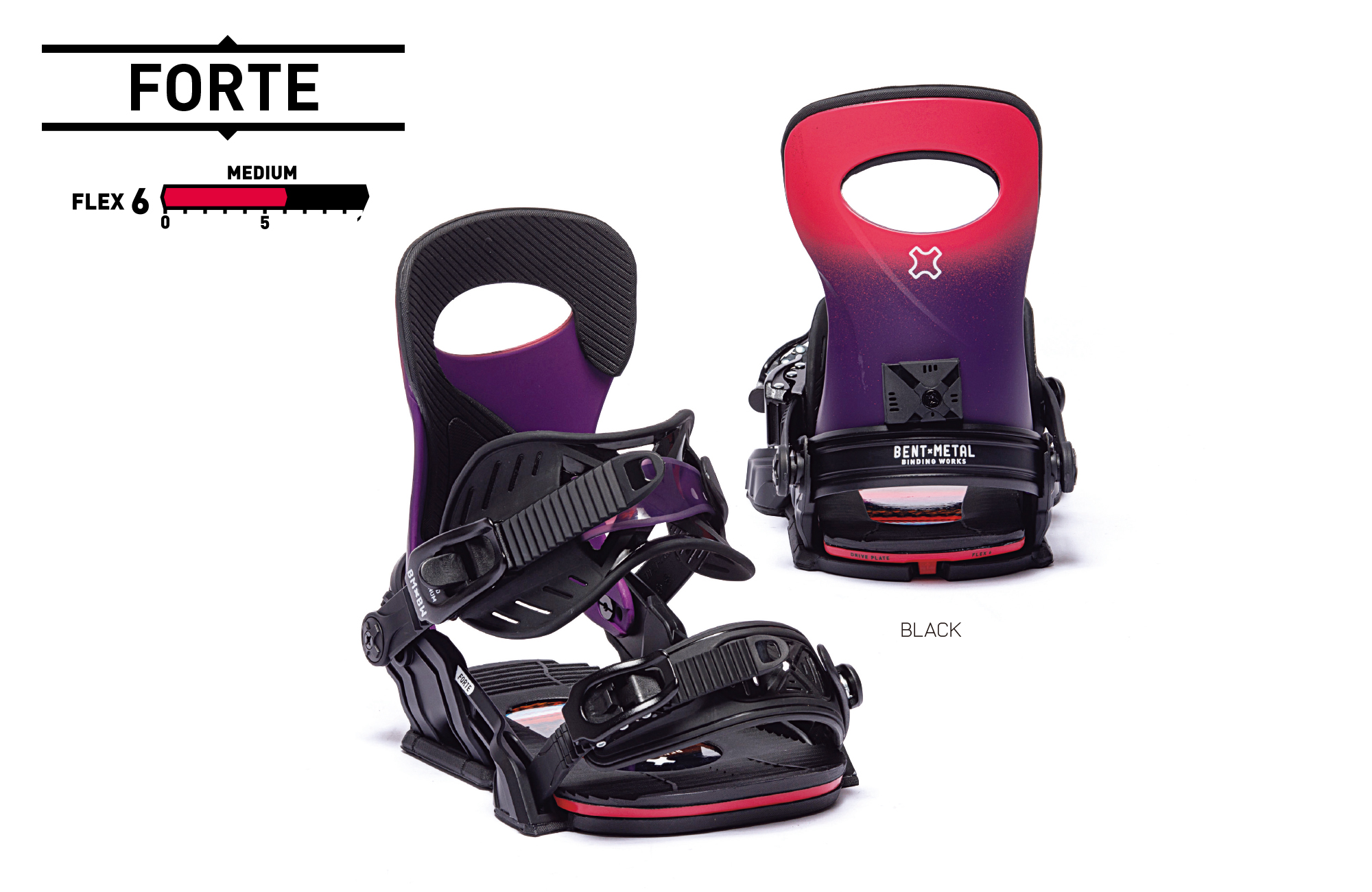 BENT METAL bindings are lightweight, fit well, and have a reputation for being intuitive and easy to operate, and the popularity of women's models is increasing.Among them, TRANSFER's women's version "FORTE" is a mini disc + 2-piece chassis specification, and is recommended for those who want a firm hold.The asymmetrical heel cup responds quickly to aggressive riding and enables versatile performance with comfortable control performance.The perfect model for snowboarders aiming to step up.

Size: M/22.0-25.0cm, L/26.0cm-
Price: ¥ 49,500 (tax included)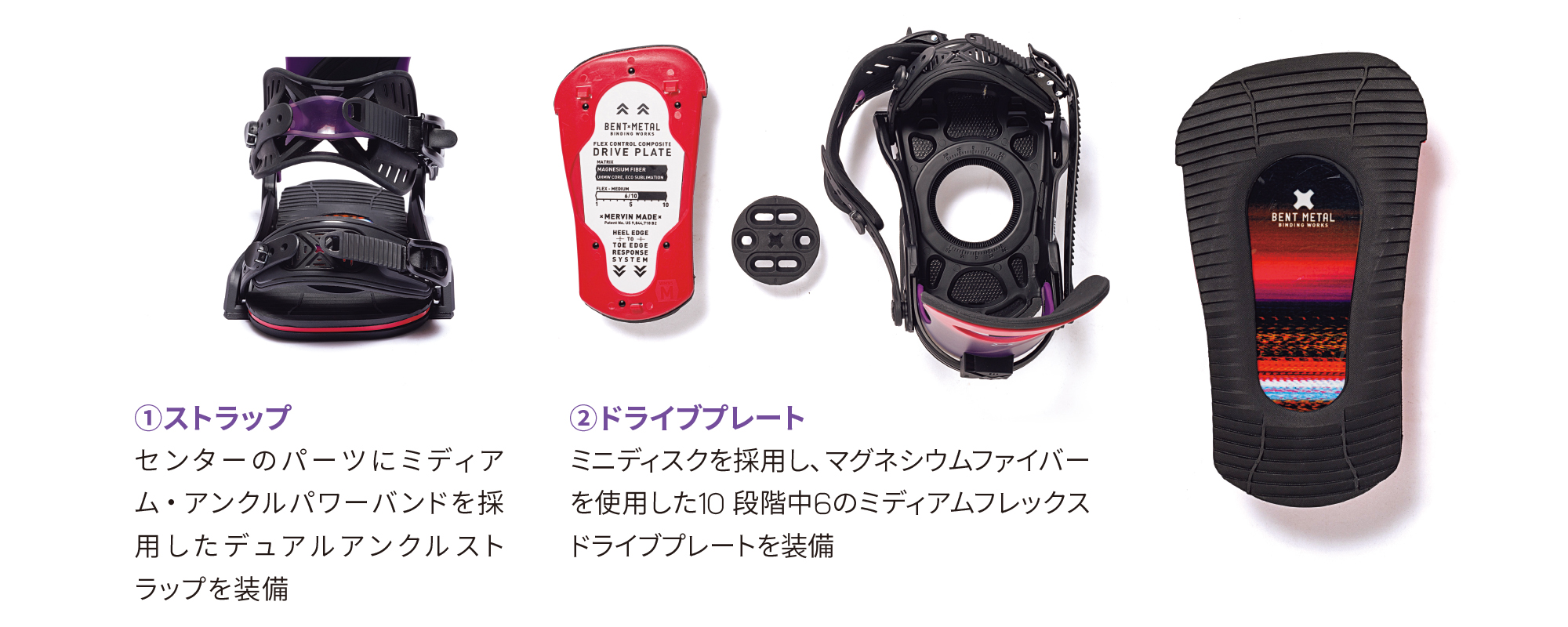 ---
AXTION
Lightweight design of normal disc + 1 piece chassis
All-mountain skiing with precise control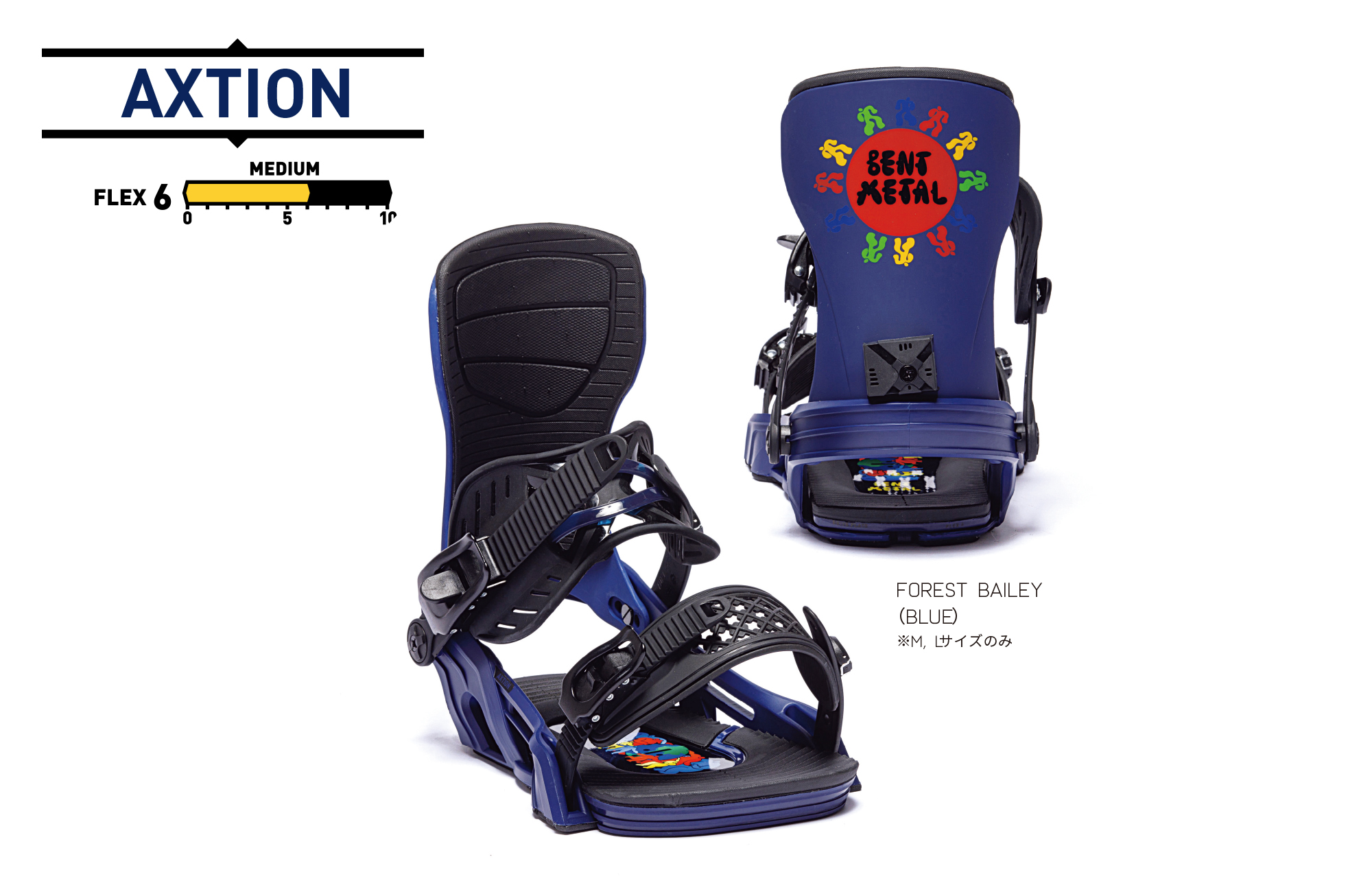 ▶ Functionality
"AXTION" is a model designed with a standard configuration of a one-piece chassis on a normal disc with a medium flex similar to TRANSFER.Developed to hold down the binding frame firmly and transmit it to the board more quickly and directly to get a response.Instead, the drive plate is separated into two pieces to create flex, and the strap uses a soft dual ankle strap.While holding the foot firmly, the drive plate secures controllability, and the soft ankle strap makes it easier to jump in style.This binding is recommended for snowboarders who want a feeling that emphasizes flexibility while holding their feet, such as turning at high speed and putting in full style while adding height with kickers.It is a high-performance model chosen by many snowboarders, including the signature model Forest Bailey.
▶ Design
The Forest Bailey model, which is also an icon of "AXTION", links the design with GNU's signature board "HEAD SPACE". BENT METAL does not develop color variations of a unified design, but many of them adopt different designs even for the same model.This is the reason why the presence of BENT METAL, which is particular about art, stands out even more, while there are many simple single-color bindings.
Size: S/23.0-26.0cm, M/26.0-29.0cm, L/29.0-32.0cm
Price: ¥46,200 (FOREST model only) ¥45,100 (tax included)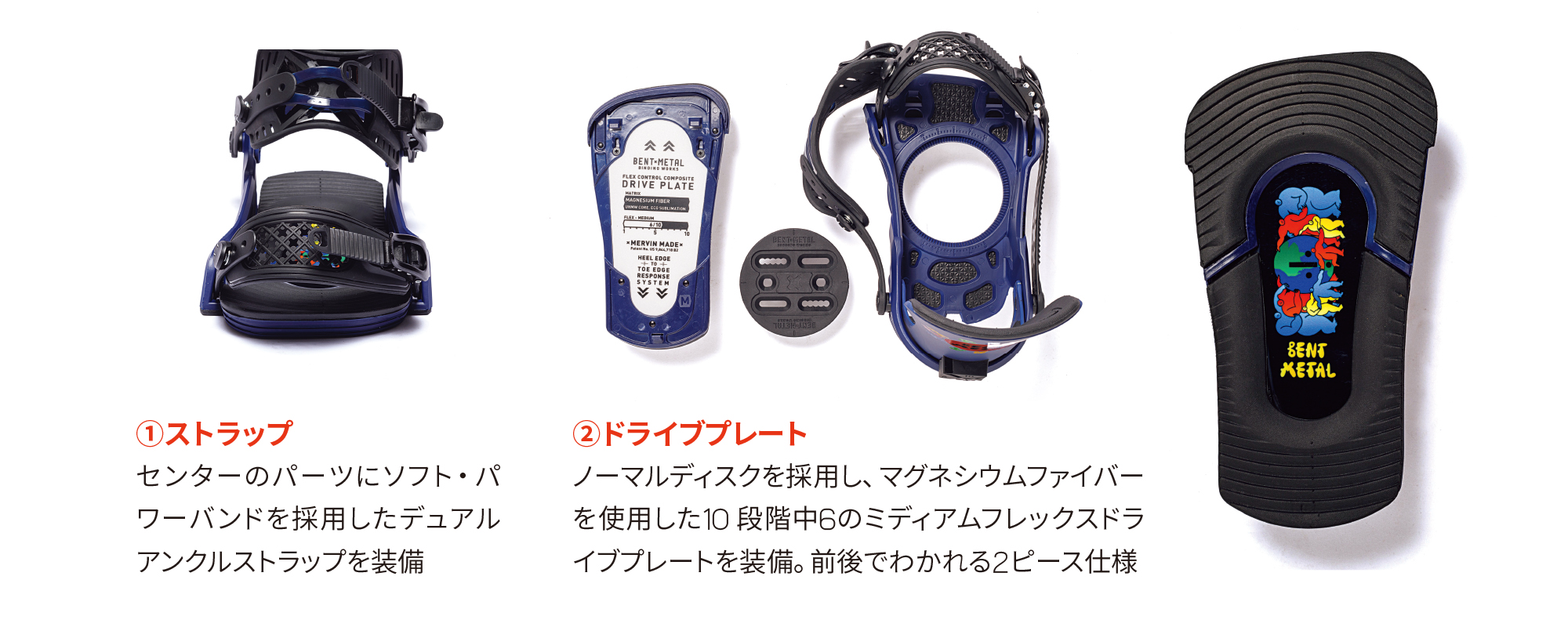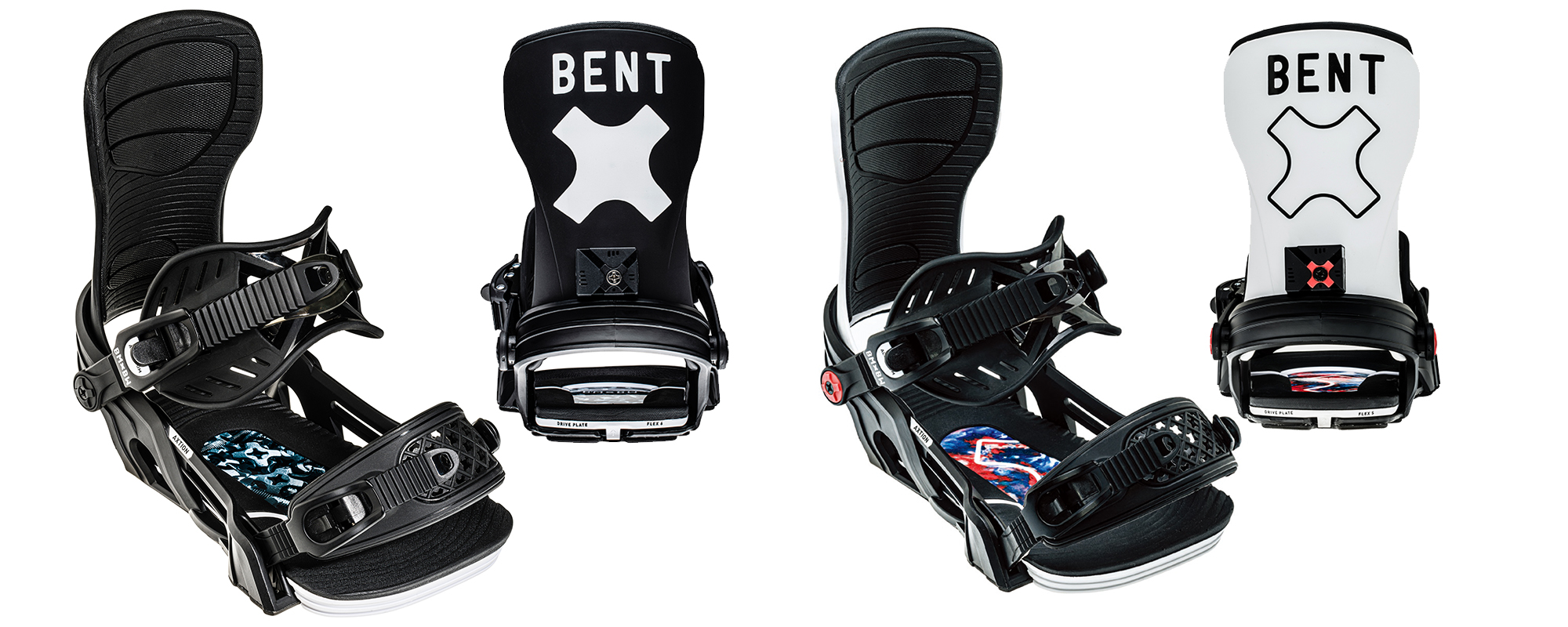 ---
STYLIST
AXTION's performance in a women's model
Moderate rigidity and flexible ease of handling
A high-performance model that combines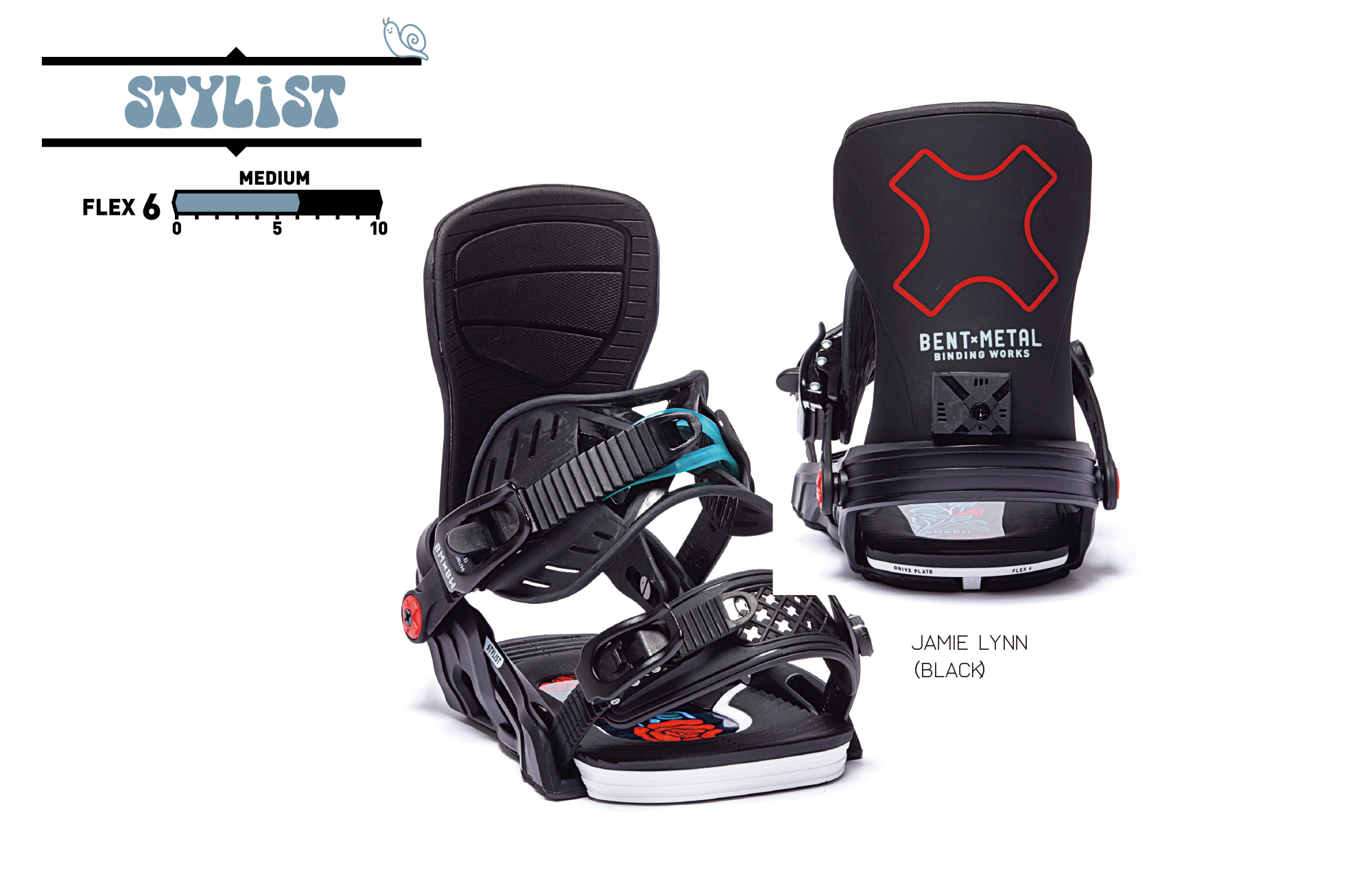 The women's version of AXTION, "STYLIST," is a model tuned for the best balance of mid-flexes, such as flexibility in the highback and ankle belts, and neither too hard nor too soft, while drawing out a firm response.The ankle belt is adjusted slightly softly to prevent the ankle from being too tight.It's light weight, all-around performance regardless of the conditions, and will push your limits. As the name suggests, JAMIE LYNN is an attractive model that uses JAMIE LYNN's art in conjunction with LIB TECH's "DYNAMISS".
Size: M/22.0-25.0cm, L/26.0cm-
Price: ¥ 45,100 (tax included)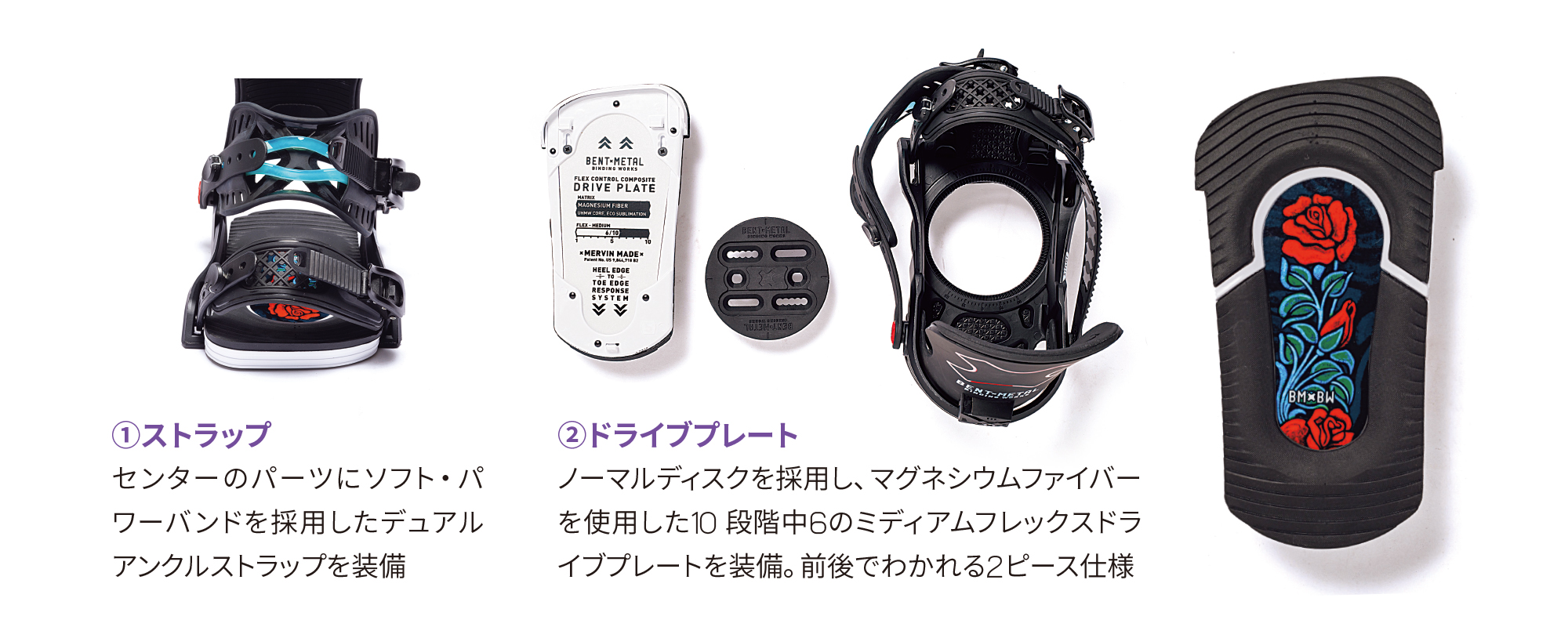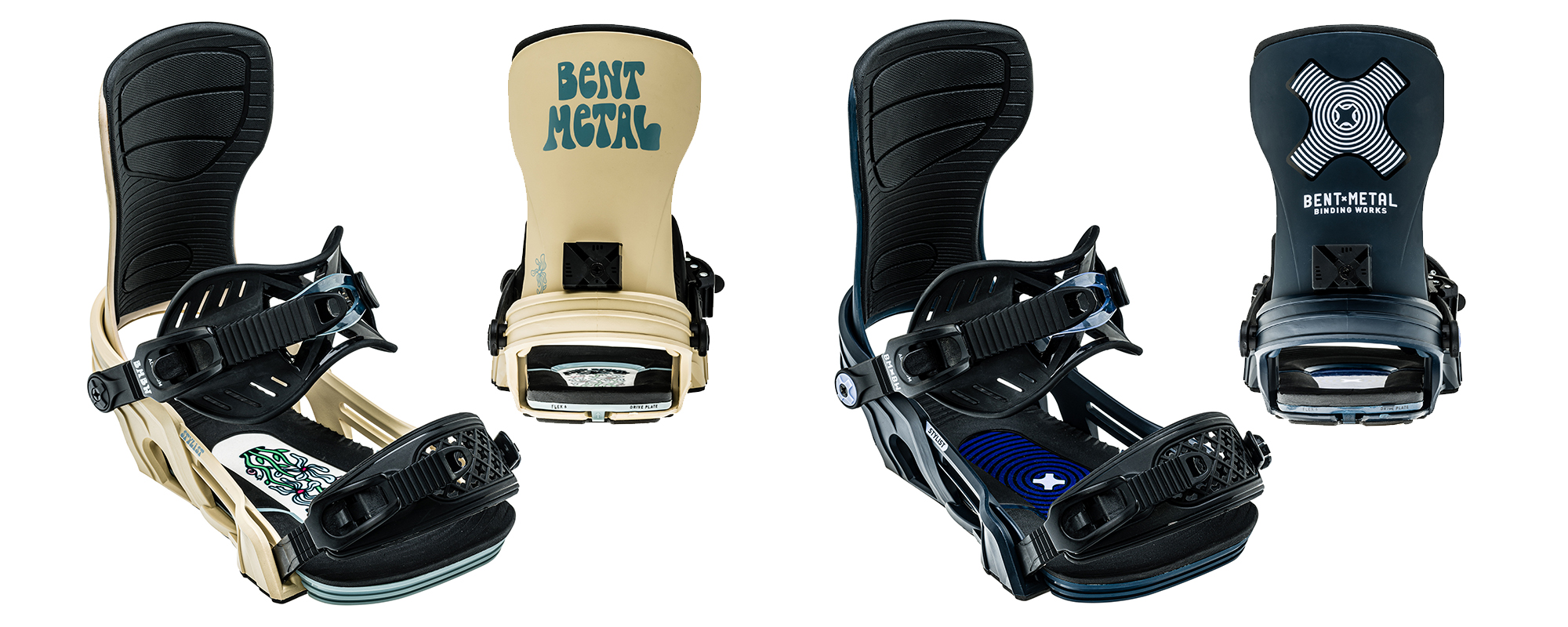 ---
What is a drive plate?
Techniques to maximize board performance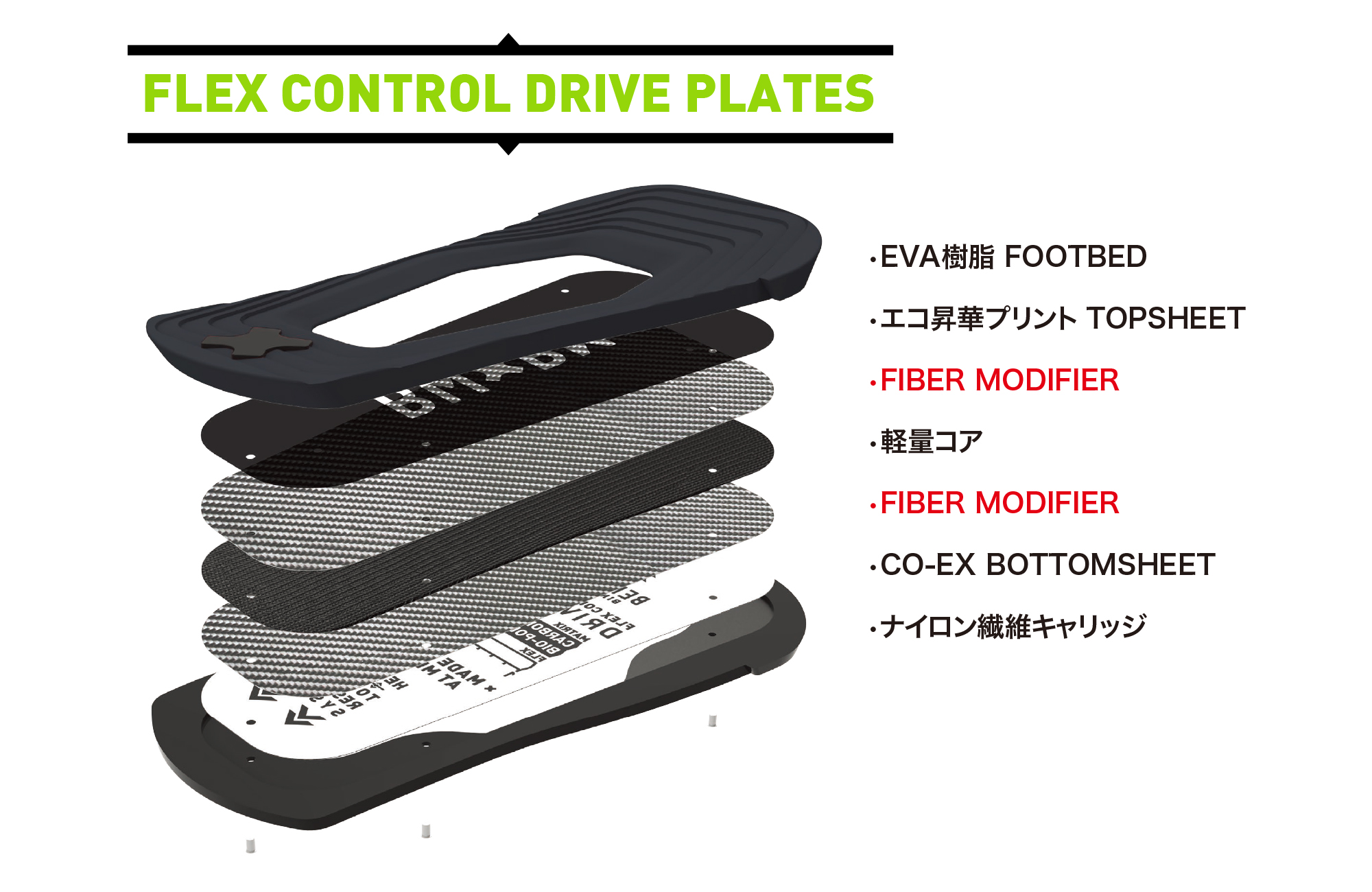 A drive plate that is completed by stacking multiple materials on the center disk plate.It is a unique system developed under the concept of improving the sense of unity with the board by flexing the binding. "TRANSFER/FORTE" and "AXTION/STYLIST" are equipped with a medium type laminated with magnesium fiber.If you replace it with an optional drive plate, you can customize the ride (three types: firm, medium, and medium soft).
Contact: ADVANCE MARKETING INC. 
www.advance-j.com 
facebook: advance marketing inc 
twitter: Advance SNOW 
Instagram: advancesurfandsnow
---
Click here for information on the latest lineup of BENT METAL
BENT METAL BRAND PAGE