When you want to enjoy Hokkaido's powder snow, staying at a hotel near the ski resort is a good idea, but we also recommend traveling based in a city near the ski resort.
City-based snowboard trips
(XNUMX) There are multiple ski resorts in the vicinity, so you can ski at the ski resort with the best conditions that day.
② There are many variations of ski resorts, so you can choose according to the characteristics of the course.
③There are many restaurants in the city, so there are many options for food.
(XNUMX) Even in bad weather, it is possible to shift to sightseeing and enjoy a trip without spending time at the resort.
There are so many benefits.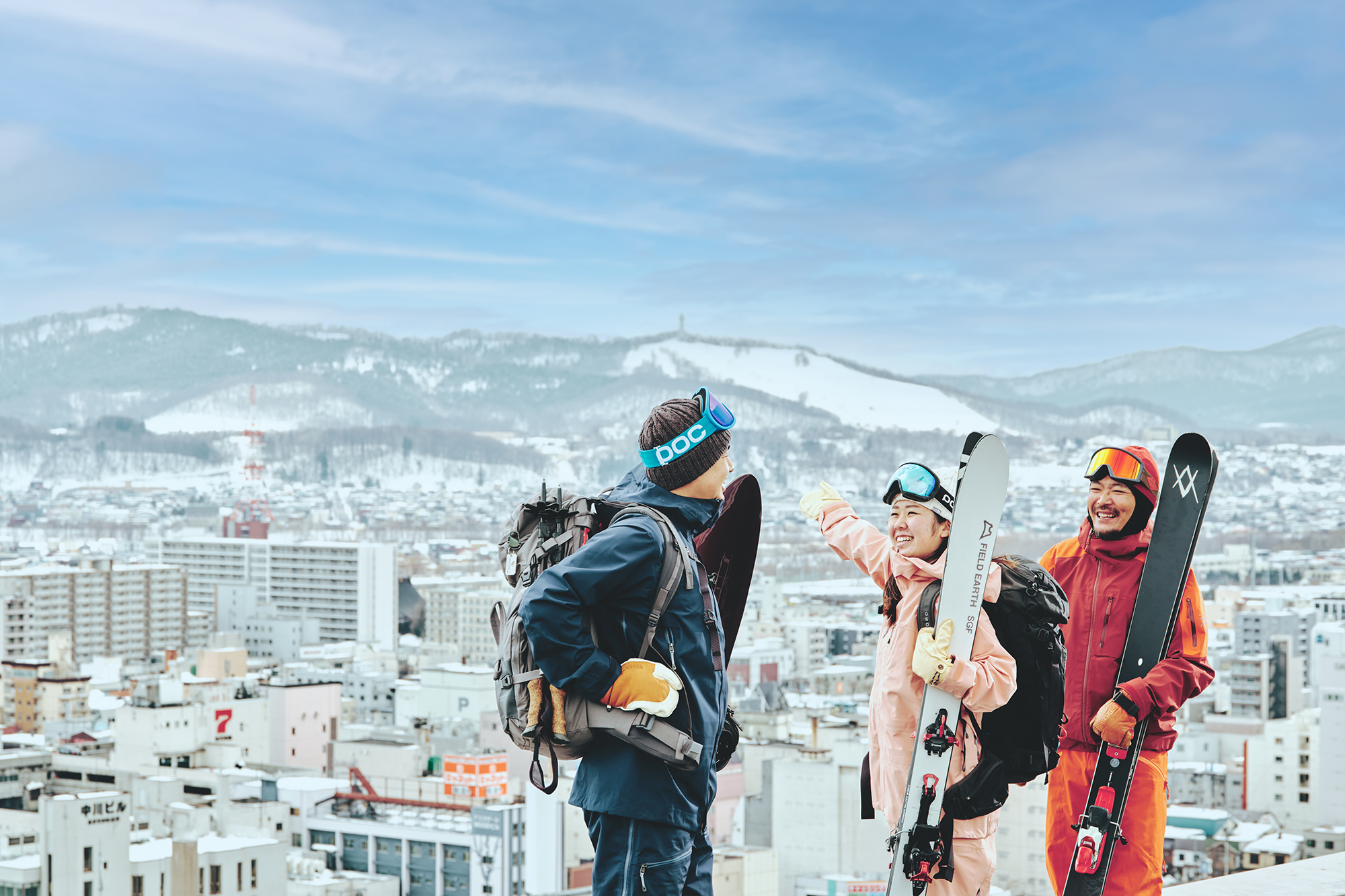 SBN FREERUN has recommended "OMO7 Asahikawa by Hoshino Resort" to everyone as a base for trips on the Hokkaido powder belt and Asahikawa local slopes. , OMO5 Sapporo Susukino and Hokkaido have three facilities in total.
Not only OMO7 Asahikawa, but also OMO5 Otaru and OMO3 Sapporo Susukino, each has a bus that can access the surrounding ski resorts, a "WAX BAR" where you can use more than 10 types of snow wax for free, and a drying space. We have prepared services to support snowboarding trips.
If you use "OMO", you can enjoy snowboarding trips in Hokkaido with peace of mind.
How about taking a trip to a snow resort in each area of ​​Hokkaido according to the condition of the day and the members who enjoy traveling together?
It will surely be a fun trip where you can experience different charms!!
---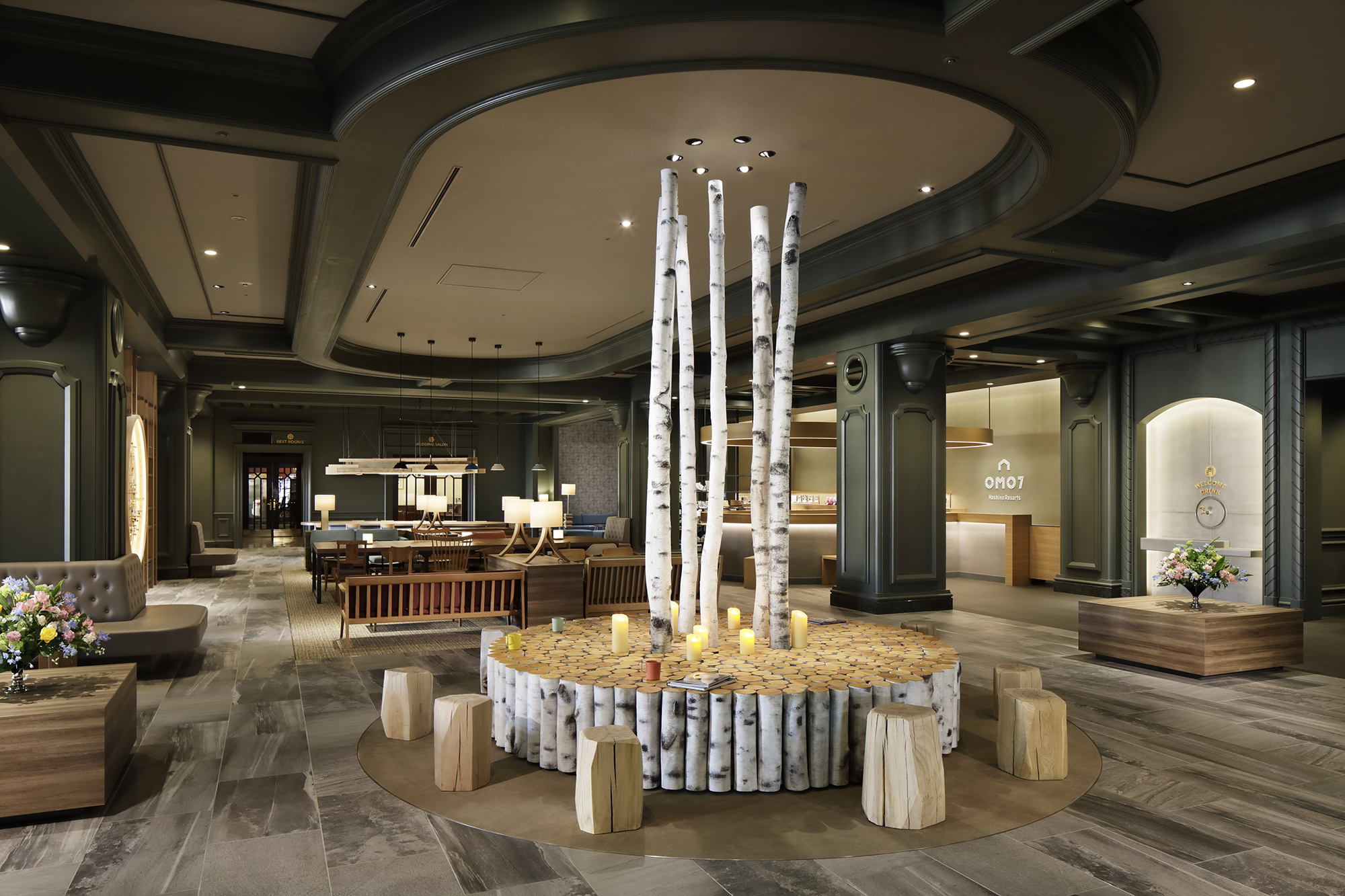 A base for enjoying the Hokkaido powder belt.A convenient environment where you can enjoy the attractive local slopes of the ski city Asahikawa.Abundant services to enjoy riding are perfect.You can enjoy your trip to the fullest with a full range of comfortable facilities and the charm of the city of Asahikawa, even for long stays.
Major snow resorts accessible from OMO7 Asahikawa
Kamui Ski Links > About 35 minutes by car
Santa Present Park > About 20 minutes by car
Pippu Ski Resort > About 50 minutes by car
Canmore Ski Village > About 35 minutes by car
Furano Ski Resort > 80 minutes by car
Daisetsuzan Asahidake > About 60 minutes by car
Hoshino Resort Tomamu > About 130 minutes by car
>>More detailed riding informationcheck here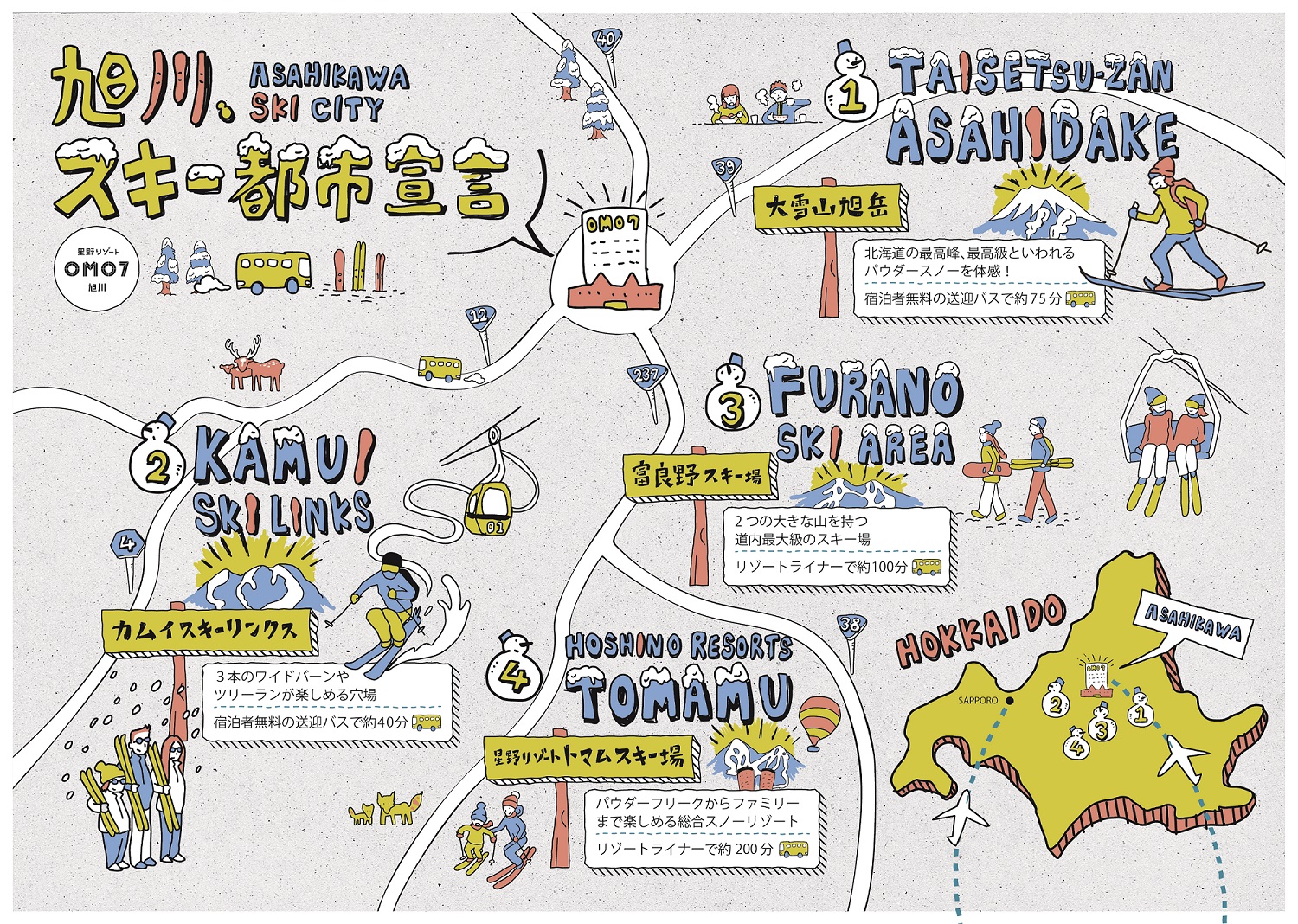 ---
While enjoying the retro atmosphere of the port town of Otaru, it is also a convenient base for visiting popular ski resorts such as Kiroro, Teine, and Sapporo Kokusai. Enjoy sightseeing and gourmet food while staying in a "city center" and travel at a reasonable price.
OMO5Major snow resorts accessible from Otaru
Kiroro Snow World > About 40 minutes by car
Otaru Tenguyama Ropeway/Ski Resort > About 10 minutes by car
Asarigawa Onsen Ski Resort > About 15 minutes by car
Snow Cruise Ons > About 22 minutes by car
Sapporo Kokusai Ski Resort > About 30 minutes by car
Sapporo Teine > About 55 minutes by car
>>More detailed riding informationcheck here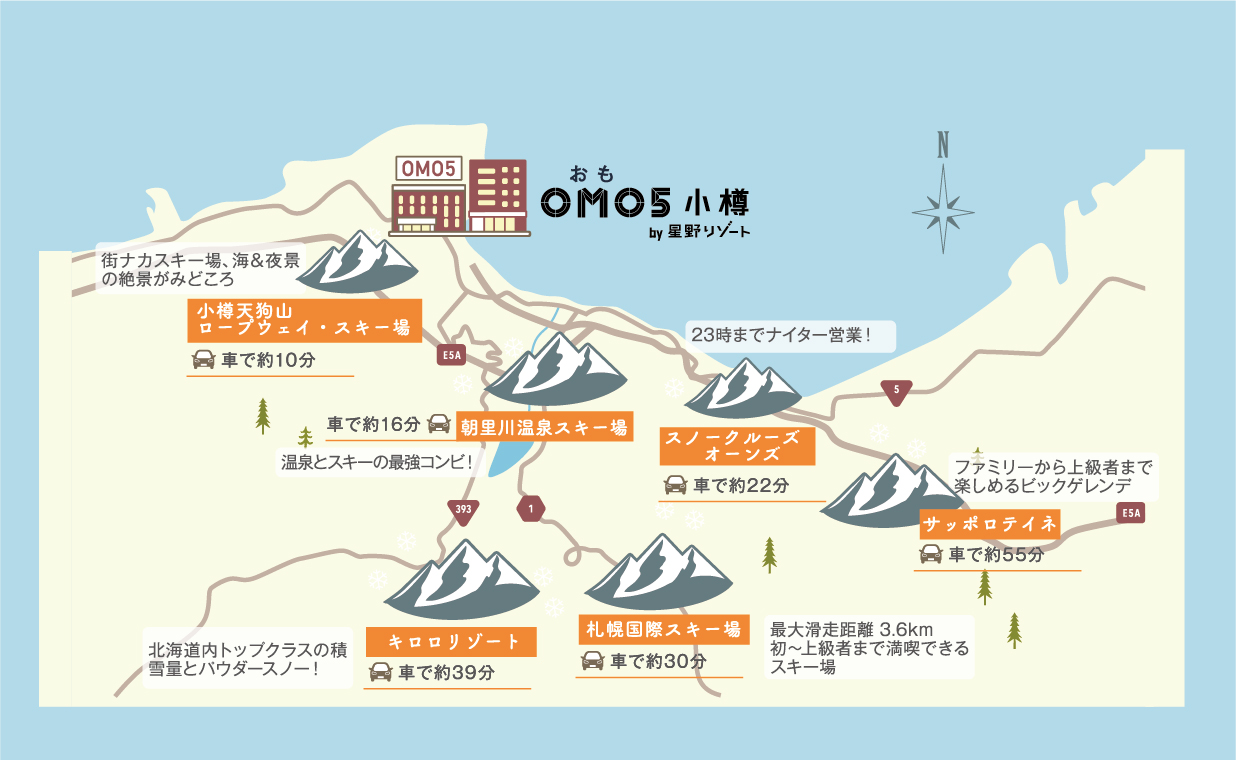 ---
Located in Susukino, the central downtown area of ​​Sapporo, it is an environment where you can enjoy the after-sales to the fullest, but there are also convenient access to six ski resorts and services to fully enjoy snowboarding trips, so you can fully enjoy the charm of Hokkaido. I can do it.
Major snow resorts accessible from OMO3 Sapporo Susukino
Sapporo Kokusai Ski Resort > About 60 minutes by car
Sapporo Teine > About 60 minutes by car
Sapporo Bankei Ski Resort > About 20 minutes by car
Sapporo Moiwayama Ski Resort > About 20 minutes by car (ski only)
Takino Snow World > About 35 minutes by car
Kiroro Snow World > About 70 minutes by car
>>More detailed riding informationcheck here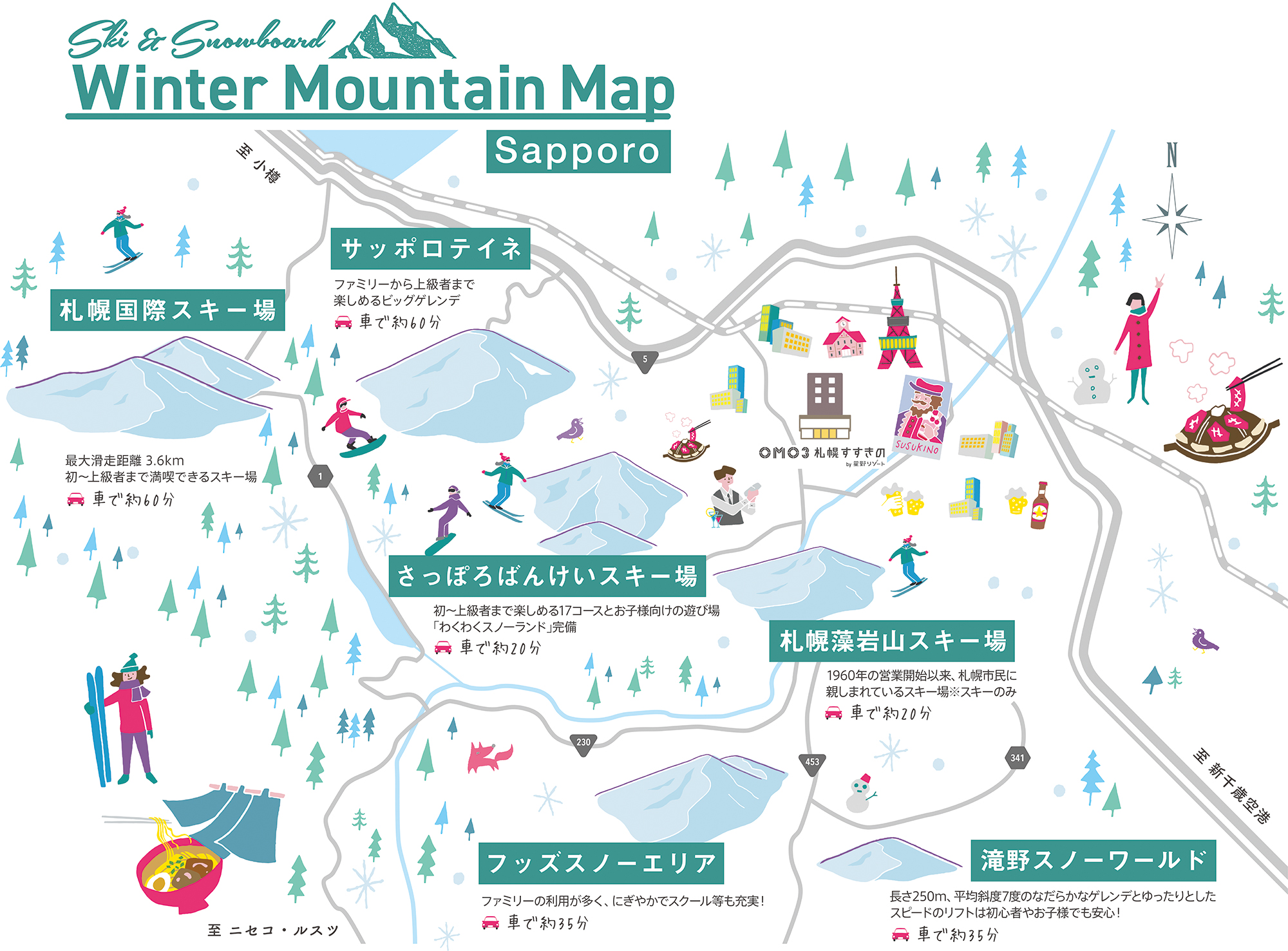 ---
Hoshino Resorts ski resort information, travel informationhereから