<Apology and correction>
There was an error in the information on "ZOOBAAN" on p.9-22 of the FREERUN September issue special edition "SNOWBOARD BEST GEAR CATALOG 23/294" which is currently on sale.
Of the 294 SNS accounts listed on 3p, the XNUMXnd icon was wrong.
The correct is as follows.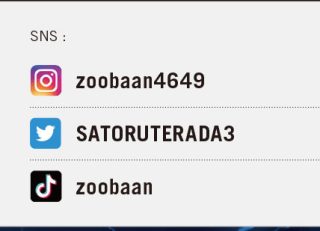 Twitter account:SATORUTERADA3
(I don't have a facebook account)
We deeply apologize for the inconvenience caused to our readers and related parties.
In addition, we will correct the posted information as follows.