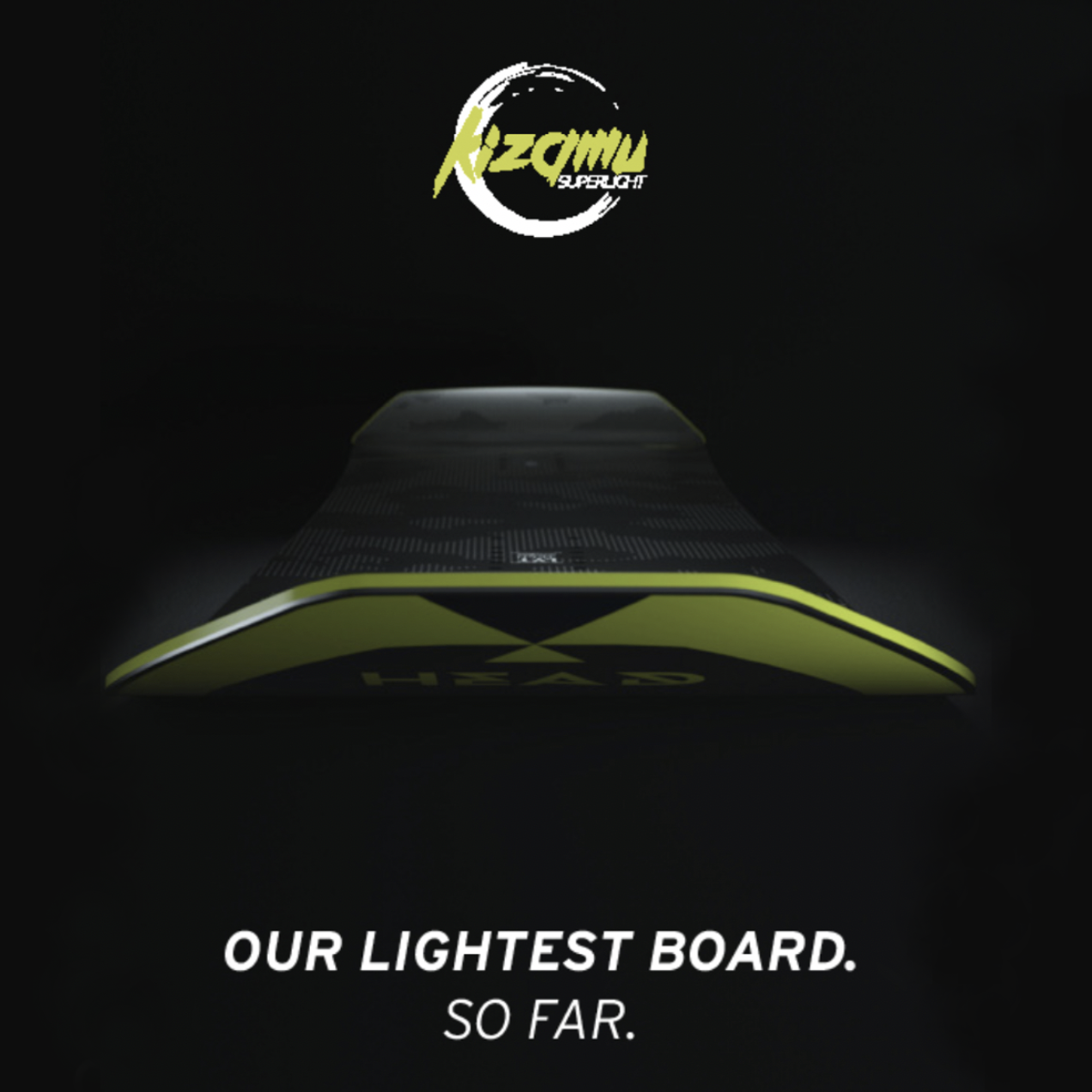 The carving board of head Snowboards has become a hot topic since last year's release.KIZAMU LYT"is.The ultra-high spec high speed carving board is exactly this model. Although it will continue to be released in the 20-21 season, it will withstand high speeds by making full use of the world's lightest snowboard that uses wood material as the core material, the fastest sole with extremely high running performance, and head's unique technology. Maintains durability.The long nose directional shape, side curves and tail shape that emphasize carving performance enable an exhilarating carving turn.


"KIZAMU LYT"
What kind of model !?
Thorough explanation of each function!
"KIZAMU LYTThe HYBRID CAMBER POP shape that connects the camber and camber in a flat shape is adopted for the 1.5 cm setback, directional shape, and camber.

The nose shape is a freeride shape that allows riding on compressed snow slopes, fresh snow, and uncompressed snow.Although the tail is slightly shorter, it has high edge holding force, stability, and strong repulsive force.Also, when the turn is introduced, the nose catches the snow surface, and in the second half, the tail does not let go of the snow surface, and the sharpness is outstanding until the end.In addition, the tail can be operated by removing the weight.
In addition, head's original weight control technology is installed to maximize the turn performance of the shape.While using super light wood core and carbon sheet for the entire board, the nose area is further reduced in weight by deploying hexagonal core and graphin in the nose area.This has made it possible to efficiently weight the tail.With such various technologies, it demonstrates unprecedented excellent turn performance!Amazing lightness and stability in the high speed rangeKIZAMU LYTIt is the charm of.
By riding
The technology of the slipper
Greatly improved
"KIZAMU LYTThe overall flex is stiffer, and the flat part of the hybrid camber pop shape is set higher.It is a board that requires a certain amount of leg strength on turns at medium speed and above, but let's imagine a turn in which the board is erected with a photograph of the rider.
Hayata Akakawa 169cm 62kg / KIZAMU 161cm
Even in the latter half of the heel side turn where G is heavily applied, it surely catches the snow surface and accelerates without removing the line.Not many snowboarders are aiming for such a turn.
Ayumi Kitahara 154cm 48kg / KIZAMU LYT 146cm
Anyway low and aggressive.The turn and posture to draw stylishly are beautiful.It's a really fascinating turn.


---
"KIZAMU LYT], You can enjoy high speed from middle turn to long turn.It is a model with sharpness and stability that allows you to enjoy all situations, from grooming in the morning to icy burn situations.The recommended target level is snowboarders of intermediate level and above who want to enjoy the turn.also,"KIZAMU LYTI would like to challenge even intermediate-level people with high aspirations who think "I want to get over it."It is correct to choose the one that is easy for you to ride now, but you can greatly improve your level by choosing a board that is a little higher than your level.
---
<About size>
The size variation is 146/155/161/170. 146 cm is prepared as a size for women, but women of intermediate level and above who mainly carve intermediate and above at the 20-21 season model snow test drive event Many users commented that "155 cm is a more comfortable turn."If you enjoy long turns from middle to long instead of short turns, you can think of 155 cm as a female option.For men, it is best to choose a slightly longer size than usual.However, the bigger the turn you want to enjoy, the more interesting it is to choose a longer size.And there were many people who said that the size of 170 cm was interesting because it felt a sense of speed and G that could not be tasted anywhere else. There were many users who chose the size to challenge 170 cm.
<Special insert hole>
Another hidden "KIZAMU LYTThere is fun.The secret to enjoying the deep snow of fresh snow and uncompressed snow is that there is a special insert hole inside the insert hole on the nose side.This was made to enjoy fresh and deep snow, but with it you can set back your forefoot, increase the buoyancy of your nose and enjoy powder riding speedily.Instead of cruising like a surf ride, you can enjoy the sense of speed and buoyancy, and enjoy giving an explosive spray.
"KIZAMU LYTWith overwhelming lightness and stable carving performance in the high speed range, I want you to face the turn and enjoy a stimulating time.