High-performance free carving machine to enjoy the real pleasure of the turn
"DESPERADO" "DESPERADO Ti Type R" _Gray Snowboards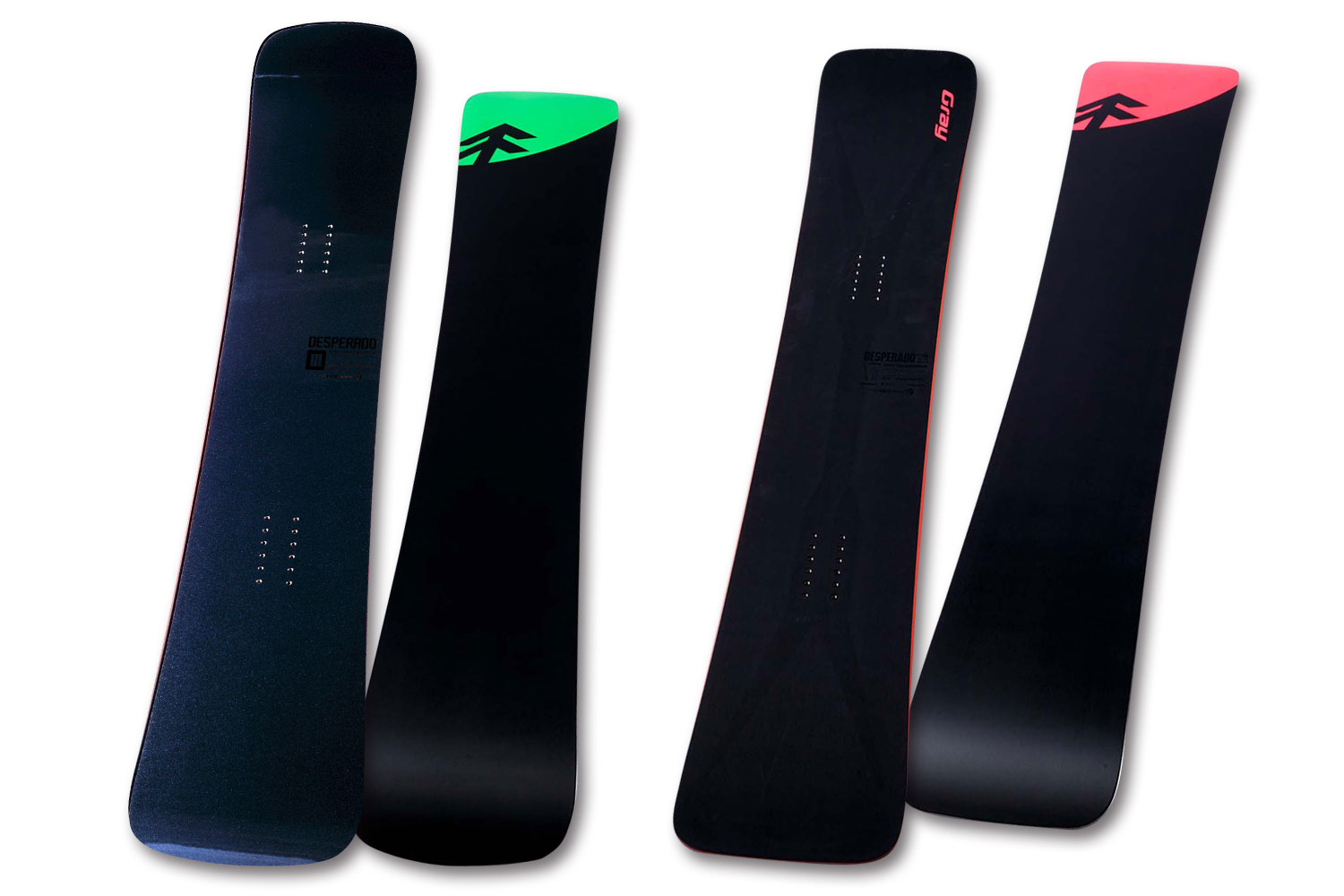 Gray Snowboards
DESPERADO(left)
SIZE: micro (132), mini (138), I (146), IIn (151), II (152), IIw (154), III (157), IIIw (157.6), IVw (161), IV (163) ), Vw (166)
PRICE: ¥ 97,900 (tax included)
DESPERADO Ti Vw Type R(right)
SIZE: Vw_Ti R (166), other sizes: VIw_Ti R (172), VIIw_Ti R (178)
PRICE: ¥ 174,900 (tax included)
Speaking of high-performance free carving machines, it is said to be "DESPERADO", a representative model that drives the image of "high-performance" boards in the Gray lineup.With a hammer head type shape and quick response, you can firmly grasp the introduction to the turn, and you can enjoy carving with the best drive feeling anyway.Although it has many achievements in technical competitions, it is also popular with general users because it shows the ease of riding Gray.
DESPERADO is a basic model of the series.With aged fiber construction, supple and sticky carving performance.A classic model of a free carving machine that you can enjoy comfortably. Available in a wide range of sizes from 132 to 166.Although it is a single camber specification, only 166 adopts active camber.The ABS top sheet with excellent vibration absorption is used to realize stable running even at high speeds.
The DESPERADO Ti Vw Type R is a long version of the Type R, which is all innovative based on the tapered shape and vario camber based on the original hammerhead theory, and the outstanding carving performance due to the composite side cut.The short tip shape has an extremely long snow contact length and effective edge.Multiple curves are combined with the up-round of the nose to smoothly control the capture of snow by cornering the board.A board for feeling and enjoying the best G at high speed in the unexperienced zone. A short version of Type R less than 160 is also available.

DESPERADO III (top) uses Single Camber, DESPERADO Ti Vw Type R (bottom) uses Vario Camber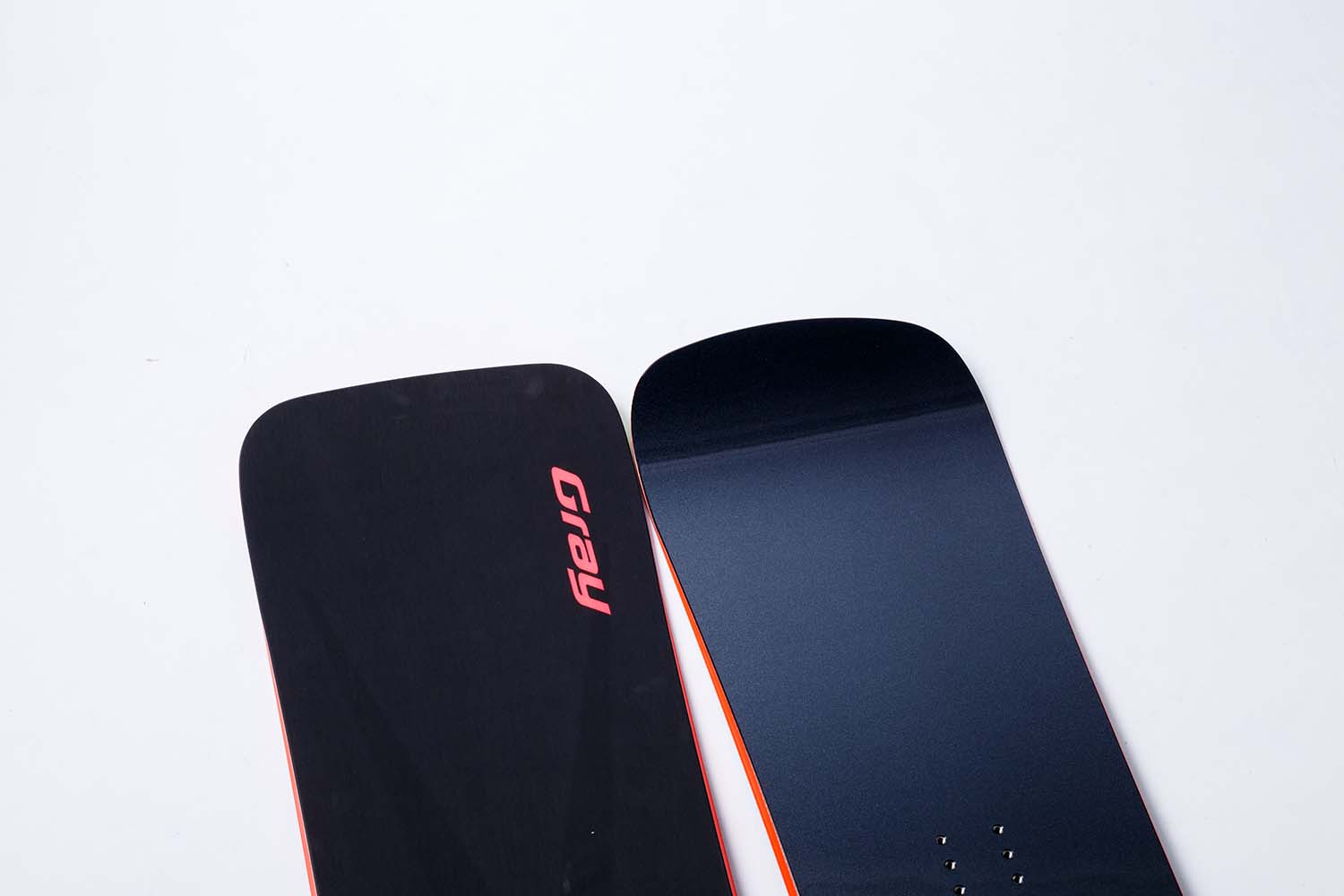 The left is the nose of Ti Vw Type R. Compared to the DESPERADO variant (right), you can see that the short tip is designed to have an extremely long snow contact length and effective edge.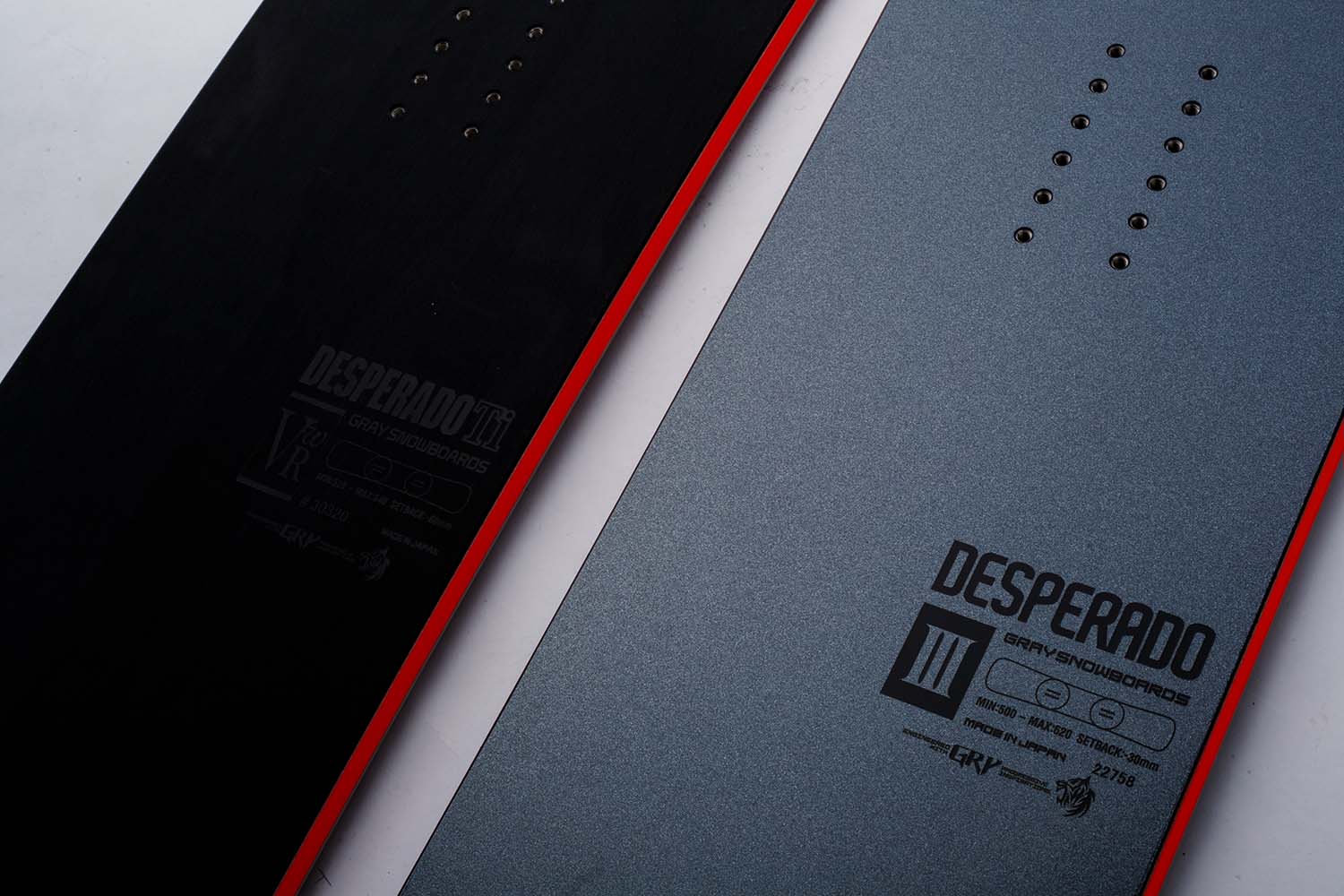 The basic type (right) and Ti (left) of DESPERADO that adopted the vibration-absorbing ABS top sheet further adopted 48 Rocwell high hardness steel edge in the structure that arranged the titanal ribbon at the edge and the carbon roving under the core.
>Gray Snowboards Gear Information
>Introducing a new structure, the super carving machine "MACH" was reborn as a run & trick model
>Two models "EPIC" and "TRICK STICK" that are very popular with Gratley users
>Confident work "LOVE BUZZ" to enjoy all-mountain & free carving
Click here for information on the latest lineup of Gray Snowboards
Gray Snowboards BRAND PAGE