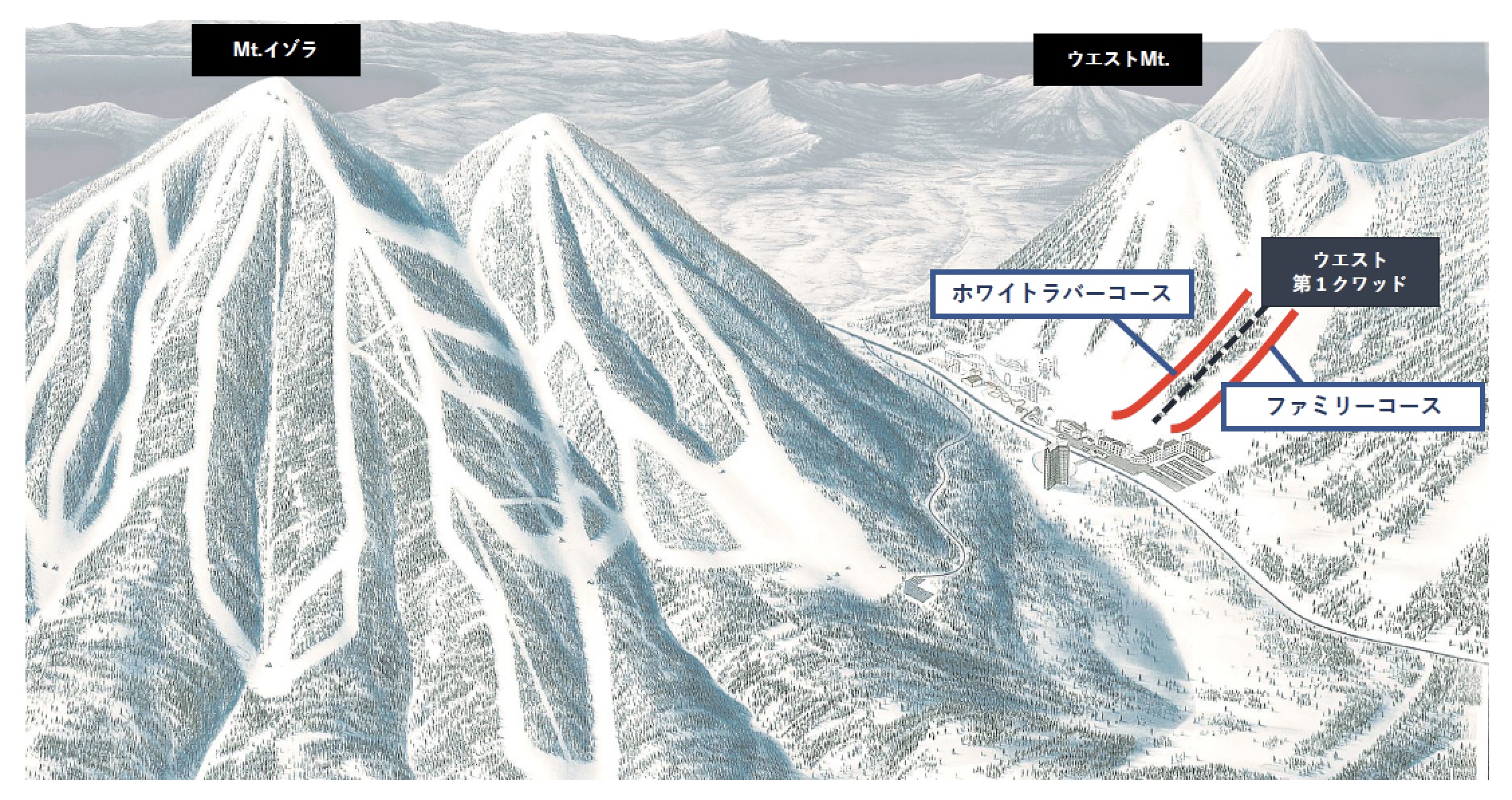 To a snow resort that incorporates New Normal with safe and secure corona measures
"Rusutsu Resort Ski Resort" will be open from December 12th (Friday).The following courses are planned for gliding, and the sales courses will be gradually expanded depending on the future snow conditions.
In order to prevent the spread of the new coronavirus, at Rustu Resort, travelers are safe and secure based on the Go To Travel Campaign Infection Prevention Measure "New Coronavirus Infection Prevention Effort Declaration" and the "New Hokkaido Style Safety Declaration" advocated by Hokkaido. Take measures to be able to use it.
Skiing and snowboarding are attracting attention as leisure activities with a low risk of infection, as they are less likely to become "dense" because their distances are maintained outdoors in nature.We are aiming to be a snow resort that incorporates New Normal by taking the highest level of corona measures so that everyone can enjoy it safely and securely.
■ Current situation (as of 12:2 on December 12nd)
・ Snow cover: Waist Mt: 40 cm
・ Temperature: -2 ℃
・ Weather: Snow
■ Lift fee First slip 12-day ticket (until December 11th (Friday))
・ Adult: 3,700 yen
・ Senior: 3,100 yen
・ Junior high school students: 3,100 yen
・ Children: 2,000 yen
■ Operation lift
・ West 9st Quad (00: 16-00: XNUMX)
■ Business course
Waist Mt.
・ White rubber course (650m, beginner)
・ Family course (650m, beginner)
In business, Rusutsu will work on the following measures to prevent infection with the new coronavirus.
[Request to customers]
・ Cooperation in temperature measurement and physical condition management
・ Wearing a mask / face mask
・ Ensuring social distance
・ Cooperation in hand washing and disinfection
・ Recommended WEB pre-registration / pre-payment
・ Recommended cashless payment
[Employee / Staff Initiatives]
・ Thorough management of staff's physical condition
・ Wearing a mask
・ Ensuring social distance
・ Install acrylic panels at the front desk and buffet venue
・ Strengthening and thorough disinfection and cleaning
・ Ventilation in the hall
[Adoption of smart gate system]
・ If you have an IC card, you can get on the gondola lift directly without stopping at the ticket office with Web charge.
[Ticket sales]
・ Advance ticket purchase online
・ Cashless payment at the ticket office
・ Installation of disinfectant and acrylic plate
[Ride on the gondola lift]
・ Wear face mask, gloves and goggles
・ Only the same group such as family and friends can ride
・ Thorough disinfection of the gondola carrier after the operation ends
[rental]
・ Disinfection and cleaning every time rental equipment is used
・ Gloves and knit hats can be rented as new products and can be taken home without returning.
・ The conventional paper application form has been abolished. Adopt web reservation
[School]
・ All participants check temperature and health
・ Please refrain from loud conversations during the meeting place and lessons.
・ Wear a face mask during the course
・ Securing a distance from other students and school staff (at least 2m with 1m as a guide)
[Courtesy bus]
・ Temperature measurement before boarding. (Customers over 37.5 degrees cannot board.)
・ Disinfection of fingers and wearing a mask
・ Please refrain from eating, drinking and talking in the car.
・ Secure the number of seats so that there are no shared seats with other customers (shared seats for families and companions)
・ Ventilation in the car for each operation, ventilation during operation
・ Strengthening cleaning and disinfection work
・ Physical condition management of crew members (temperature measurement, disinfection, wearing masks)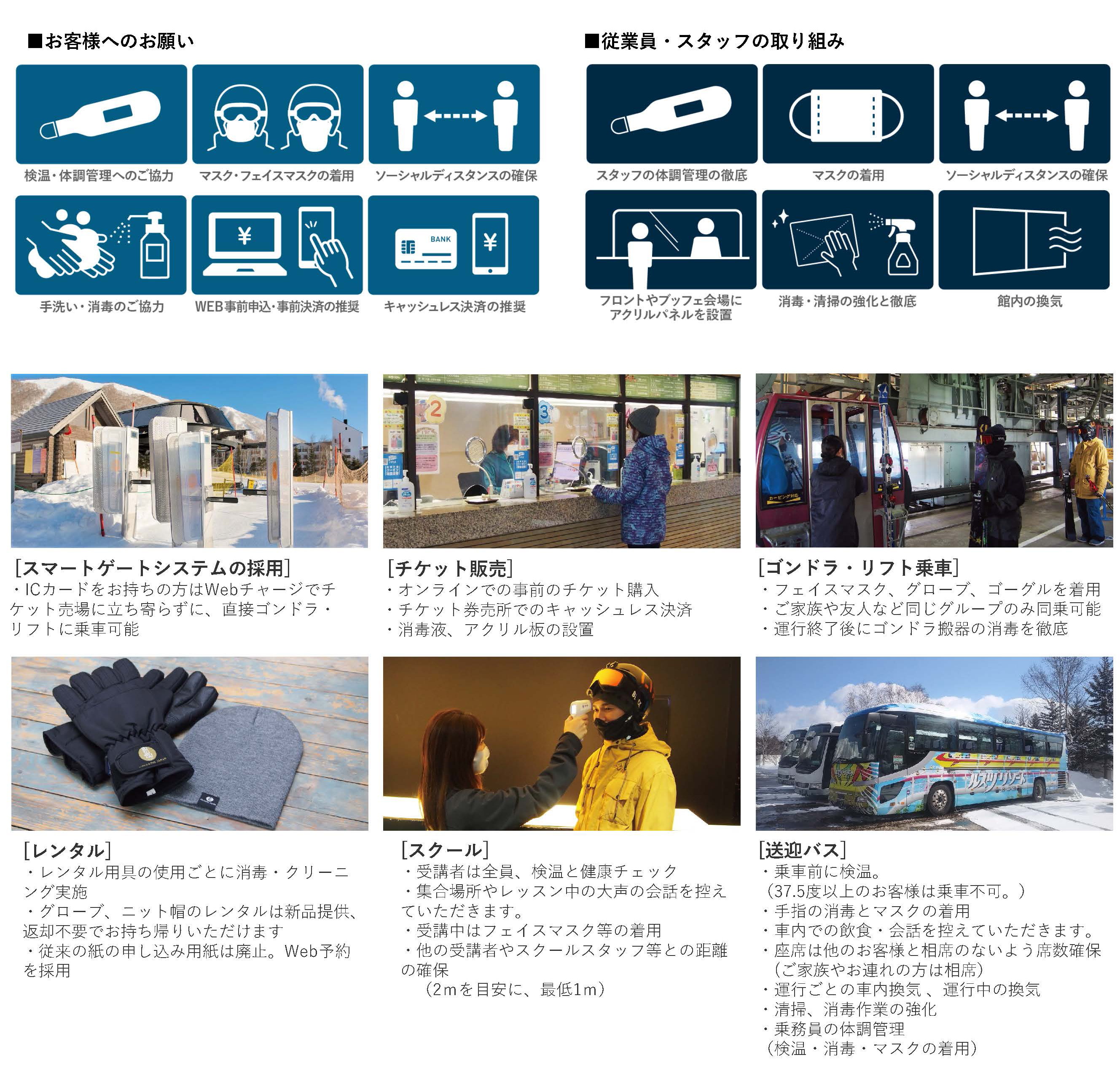 In addition, we will take the highest level of corona measures in all services such as hotels, guest rooms, restaurants and shops in Rusutsu Resort so that you can enjoy skiing and snowboarding safely and securely.
For more information on Rusutsu Resort's new coronavirus prevention measures here
SBN FREERUN Rusutsu Resort page here