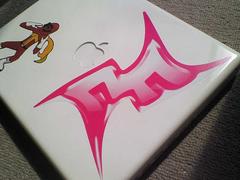 The preview will finally start this year as well.
Today on the first day is Nagano.
I'm running on the Kanetsu Expressway with Tonchi-san and Marbo right now, but it's crowded.
I'm late again ...
Every year, I get nervous about the preview.
But I'm looking forward to seeing everyone's part in Part 10 "Red Orbit".
Oh, and the FC logo has been renewed from this year.
The atmosphere has changed drastically again.