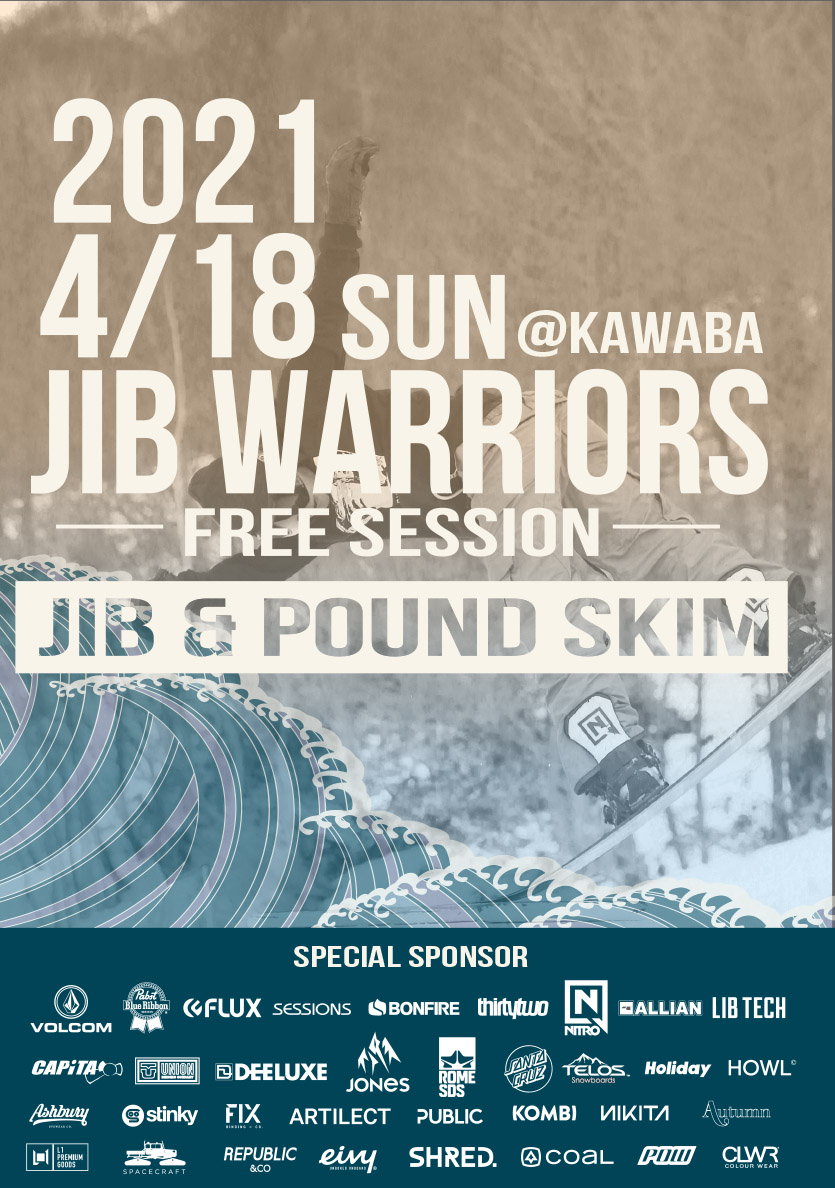 Can you get through the 20m / 15m connected JIB item and Poundskim?Difficult Poundskim?It seems to come off and it's difficult ...
JIB WARRIORS competes for how far it can survive a long connected JIB.
This time, it will be held at Kawaba Ski Resort Special Park on Sunday, April 2021, 4!
In addition to the long connected JIB, the difficult Poundskim is added!A simple but interesting JIB & Poundskim will be held on Sunday, April 2021, 4 as the 18-2020 season Kawaba Ski Resort Last Event.
【competition summary】
Even people who are not good at JIB do not compete for skill, so whether or not they can escape requires not only skill but also luck.
The long connected JIB has two lanes, "THE 15" and "THE 20". Installed the difficult Poundskim that awaits you after exiting the JIB section. You can clear from "THE 2", or you can aim to clear from the difficult "THE 15" first.Is it necessary to have a strategy to clear both lanes in time? !!
* The JIB section has two lanes, "THE 20" and "THE 15". "THE 2" will have a 20-series PVC pipe → skim pond, and "THE 4" will have a T-shaped kamaboko rail → skim pond.
Only those who have pulled out 2 lanes + Poundskim will get a luxurious prize!
Is there a chance that not only those who missed the event but also all the participants will win the participation prize, as well as the audience who will liven up the tournament? !!Let's liven up the tournament together! !!
[Meeting]
JIB WARRIORS IN KAWABA
【Schedule】
2021 years 4 month 18 (day)
【application】
FREE (entry on the day)

[Meeting venue]
Kawaba Ski Resort Intermediate Special Park

【time schedule】
Reception (7th floor slope entrance special venue) AM8: 30-9: 30
Tournament AM10: 00 ~ FREE SESSION
* Please note that the schedule may change due to snow, weather, etc.

[Fee]
Tournament entry fee free
* For participants only, a one-day lift ticket will be sold for 1 yen. (Normal lift 3,000-day ticket, 1 yen)

[Participation conditions]
Everyone
* A parental consent form is required for minors to participate.
* Participants are requested to bring and wear a helmet.

【Capacity】
About 100 people (subject to change depending on the number of visitors)

【Notes】
* We recommend that you purchase sports insurance.
* It may be canceled depending on the weather conditions.
■ As a measure to prevent new corona infectious diseases
At Kawaba Ski Resort, we are implementing the following measures as measures to prevent new coronavirus infectious diseases.https://www.kawaba.co.jp/snow/archives/20-21kawaba-covid19/
Please be sure to check the above contents before applying.It is assumed that you have agreed at the time of application.
There are many requests to visitors such as wearing masks and thorough disinfection, but we ask for your understanding and cooperation in infectious disease control measures so that you can enjoy winter sports safely.
[Sponsored]
Kawaba Ski Resort

[Sponsor]
VOLCOM, Pabst Blue Ribbom, FLUX, SESSIONS, BONFIRE, THIRTYTWO, TELOS, Holiday, HOWL, L1 PREMIUM GOODS, SPACECRAFT, REPUBLIC & CO, EIVY, NITRO, ALLIAN, LIB TECH, CAPITA, UNION, DEELUX, JONES, ROMESDS, STANTA CRUZ, SHRED, COAL, POW, COLOR WEAR
---
SBN FREERUN Kawaba Ski Resort page here