Hoshino Resorts Alts Bandai, a popular snow resort in Fukushima Prefecture that is easily accessible from the Tokyo metropolitan area and continues to be loved by many snowboarders.In the past, he has held world-class competitions such as NIPPON OPEN, ASIA OPEN, and SLOPE STYLE.Even now, we continue to pursue the creation of high-quality snowboard parks and fully support the skill improvement of snowboarders.There is also a place in the back of the area where you can enjoy high-quality powder, and during the season, there is also a walking route that allows you to access the Nekoma Ski Resort located in Urabandai in search of even higher-quality snow.
From beginners to experts and professional riders, Alts Bandai can be enjoyed by all snowboarders. Alts Bandai is constantly advancing as a "sanctuary for snowboarders".
Topics of this season arrived from such Alts Bandai.
>>>>>>> TOPICS-1
▼ Get Over-Miyabi Onitsuka x Hoshino Resort-Trailer Miyabi Onitsuka Ver released
The second trailer of "Get Over -Miyabi Onitsuka x Hoshino Resorts-", a documentary about Onitsuka who continues to challenge for the world and the staff of Hoshino Resorts who support it, has been released.
The main story will be released on the series from mid-September!Please enjoy it.
In the 21-22 season, which is ahead of the Beijing Olympics, preparations are underway to create a custom-made park "Miyabi Park" in Alts Bandai as an environment where you can practice just before.
Onizuka player special site is also open!
>>>>>>> TOPICS-2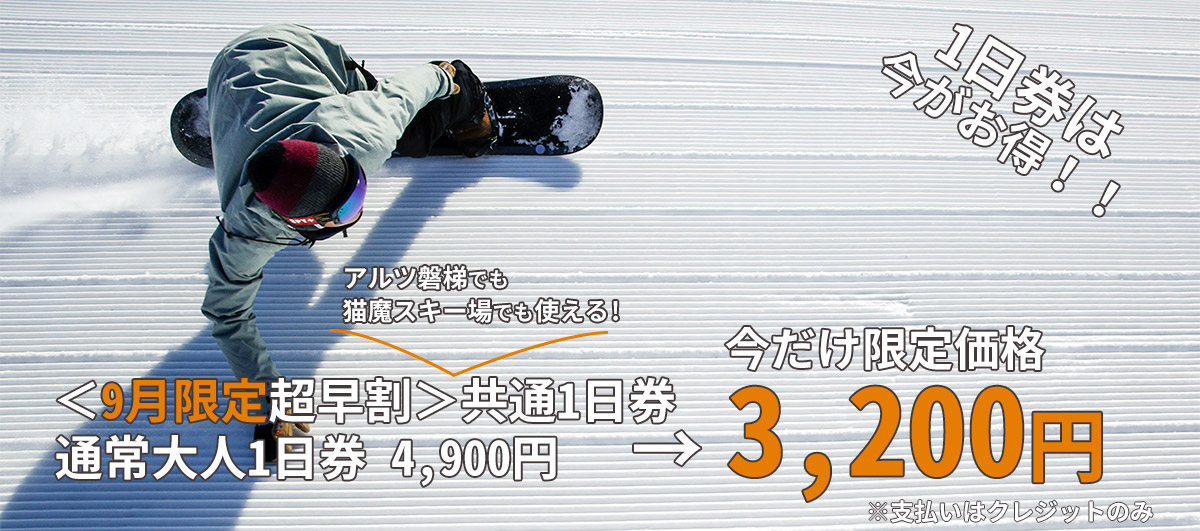 ▼ Alz Bandai / Nekoma Ski Resort Super Early Bird 1-day ticket is on sale!
Business information for the 2021-22 season of the Alts Bandai / Nekoma Ski Resort has been lifted.Also, along with that, we will start selling the September limited super early discount 9-day ticket!
An adult one-day pass is usually 1 yen, but you can buy it for 4900 yen.
Season tickets are scheduled to go on sale in October.
This season, Nekoma Ski Resort is scheduled to open on December 12st, and Alts Bandai is scheduled to open on December 1th.Furthermore, it is said that the Alz night game will be revived this year.