The 2022 Beijing Olympics is still fresh in our memory.
Rina Yoshiie won tickets for two events: snowboarding "Slopestyle" and "Big Air".
Overwhelm the surroundings with aggressive riding that you can not imagine from a small and modest atmosphere
she walked
What is the road to the Olympics and the passionate fighting spirit hidden in your heart?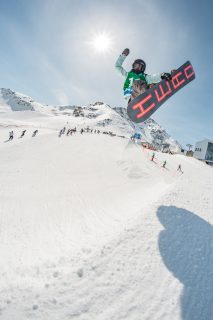 Q23: Mr. Yoshiie, you are currently XNUMX years old. How old were you when you started snowboarding?Please let me know if there is any reason for you to start.
Yoshiya: When I was eight years old.His father said he wanted to try snowboarding, so the family went there, and since then his sisters have continued snowboarding.
QXNUMX: Both of you are currently active as head riders, but please tell us if you had any fun experiences snowboarding with your sisters.
Yoshiya: It's a really fun time to be able to always skate together, teach each other during practice, learn from each other, and talk about our favorite things, snowboarding.I worked hard with my sister on the road to the Olympics, which I decided to participate in this time.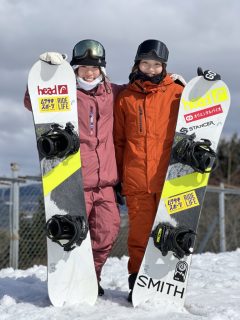 Q2: At this year's Beijing Olympics, you won tickets to participate in two events in slopestyle and big air. When did you start thinking about competing in the Olympics?
Yoshiya: When I first started snowboarding, I said that I wanted to go to the Olympics.However, I didn't think it would really come true, so it's only been the last three or four years that I've started to think that I might actually be able to go to the Olympics.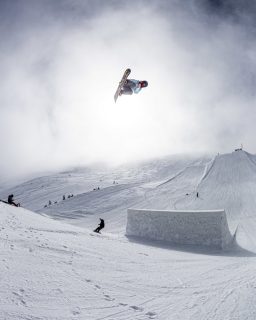 QXNUMX: Once you start to seriously aim for the Olympics, I think the content of your training will change.
Also, I think it will be necessary to practice putting on large items in time for the Olympics, but did you have any fears?
Yoshiya: In order to improve the degree of perfection of the technique, I tried to concentrate on each practice more carefully than ever before.Even a small mistake can affect the score of the tournament, so I was particularly conscious of making sure that I could score perfectly in the same way every time.
I've always been very scared, so I'm very scared as the size increases.However, I always get over it by thinking about the joy of being able to decide.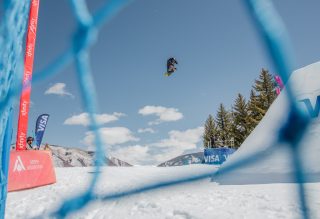 QXNUMX: After all, it is important to reduce mistakes and increase the degree of perfection.I want to do this trick at the Olympics!Do you have any tricks or routines that you decided to do?
Yoshiya: It wasn't about technique, but I wanted to enter a slopestyle course that was different from everyone else's.
QXNUMX: How did you feel when you were selected to participate in the Olympics?
How was the atmosphere of the venue when you actually went to the Olympics?
Yoshiya: I was very happy.I never thought that I would be able to go there, so when I finally went there, I felt a sense of reality.
The atmosphere at the venue was different than usual, and I felt tense, and I wanted to see the course as soon as possible.
QXNUMX: Most of the snow at the Beijing Olympics was artificial snow, and I think the snow was very hard and hard.How was it when you actually skied the course?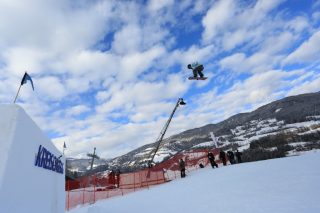 Yoshiya: It's true that the barn was solid, but more than that, I was overwhelmed by the size of the item.
Even though I was skiing, the fear didn't go away, and I was desperate.
QXNUMX: This Olympics may have left you with a sense of fear, but do you have any desire to participate in the Olympics again?
Yoshiya: Yes.It won't end like this.
That feeling is strong, so I'm thinking of aiming for the next Olympics with all my might.
QXNUMX: Do you have any challenges for the next Olympics?
Yoshiya: There are still many things that must be done.Right now, I would like to do my best to strengthen my physical strength.
QXNUMX: Lastly, please tell us about your enthusiasm for the Olympics.
At the next Olympics, I will start and do my best to do what I want to do.I want to finish with a smile when the Olympics are over.
Thank you for your continued support!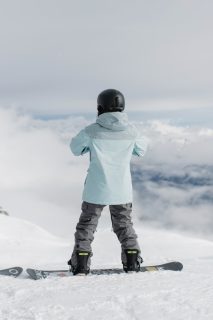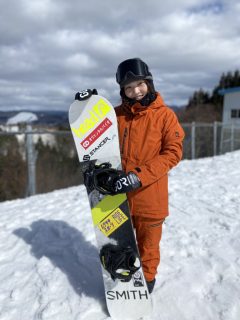 [Profile]
Rina Yoshie/Born April 1999, 4
■ Height/149cm ■ Stance/Goofy
■ Angle / front 18 degrees, rear 0 degrees
■Snowboard history/ 15 years
■Home Mountain/Washigatake Ski Resort
■ Items used/
board: ARCHITECT
binding:NX SIX
■ Instagram/ @rinayoshika