From TOM, Erika Fujiwara, Asuka Susumu, and Asami Hirono will participate! !! !!
let's have fun~! !!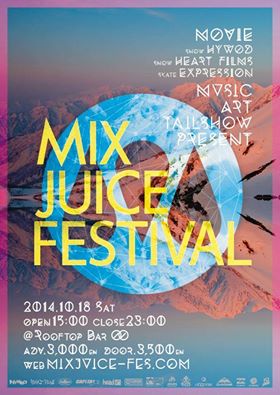 On October 10th, the side-riding festival "MIX JUICE FESTIVAL" will be coming to Osaka again this year!
Date and time: Saturday, October 10th, 18: 15-00: 23
Venue: Dotonbori, Osaka "ROOF TOP BAR OO"
https://www.facebook.com/oo.rooftop
Amount: Advance ¥ 3,000 / Same day ¥ 3,500
How to get advance tickets
① Internet purchase ↓ ↓ ↓
http://eplus.jp/sys/T1U14P0010163P0108P002138152P0050001P006001P0030001
② Purchase Osaka Kings ↓ ↓ ↓
https://www.facebook.com/osakakings01
We will create the best day by unifying all kinds of side-riding culture centered on snowboarding, such as snowboarding, skating, music, photography, and movie screening, with Osaka's unique mixed culture.
This year's participating productions are
From the snowboard
Japan's leading team "HYWOD" from Kansai to the world
"HERAT FILMS" based in Canada and active in shooting Big Mountain
From skating, the legendary team "EXPRESSION" has been active in Osaka for a long time.
Super gorgeous riders gather with the new face of snowboarding and skating.
And from this year, which is the 3rd time, the venue will be "ROOF TOP BAR OO" in Dotonbori, Osaka!
It is fully equipped with multiple floors and offers a variety of events such as DJ sets, exhibitions, previews, and large lottery.
Furthermore, from this year, a "talk show" will be held as a main event by professional riders and creators of videos and photographs!
You can directly hear the feelings and feelings that you cannot usually hear.
Advance tickets will be on sale from September 9nd.
If you like sideways riding, you can't miss this big event! !!
Let's get MIX JUICE FES together! !!
http://eplus.jp/sys/T1U14P0010163P0108P002138152P0050001P006001P0030001