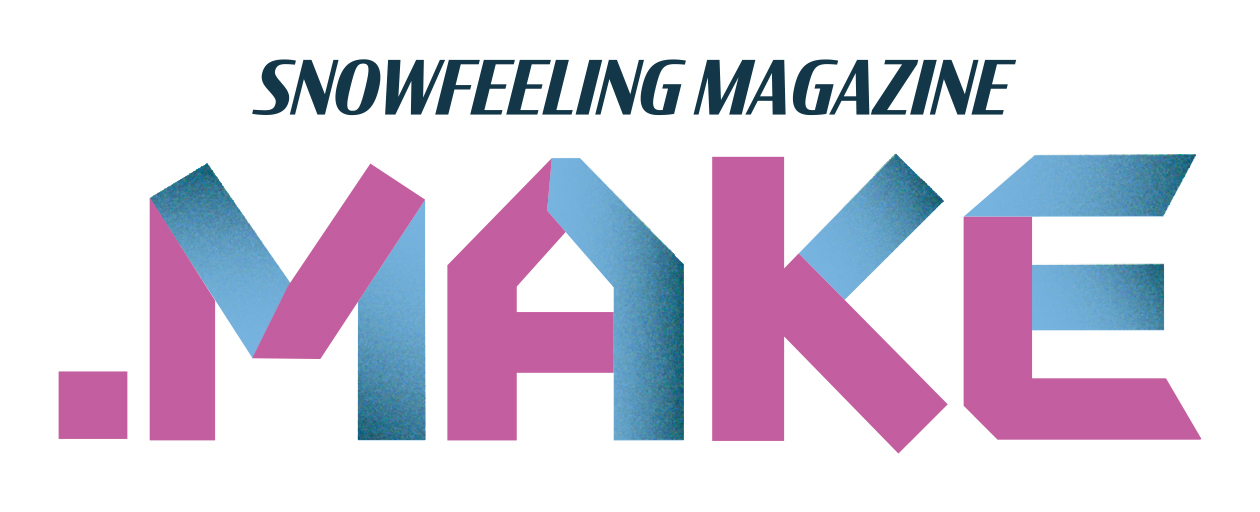 I would like to introduce a new work ".MAKE" headed by Rie Watanabe, who is active as an editor and writer in Japanese snowboard media and lifestyle media of various genres.
In order to convey the feelings of women's riders and snowboard enthusiast musicians who have a deep connection with themselves, I created a tabloid work called [SNOWFEELING MAGAZINE ".MAKE"].
It will be released on December 12th, so please take a look at the works filled with their feelings.
<Official release of ".MAKE" below>
".MAKE" was created by focusing on women who are fascinated by the beautiful and harsh nature of snowy mountains from various angles and expressing what they want to express together.
You are free to think of ".MAKE".By touching this work in an era when everyone unknowingly puts up a shield, wonders where they are heading, or is influenced by too much information and adapts themselves to something. , It will be close to the work with the desire to create a moment where you can stop once and open yourself up.
This time, which will be vol.1, we will discuss what we want to express on each page with athletes, musicians, and photographers, and write and artwork on our own pages, valuing the simple "What if we want to express now?" , I finished it while thinking about the page structure.Since it is a doublooid format, you can also decorate and enjoy your favorite pages.We hope that you will enjoy the world view that can only be seen here.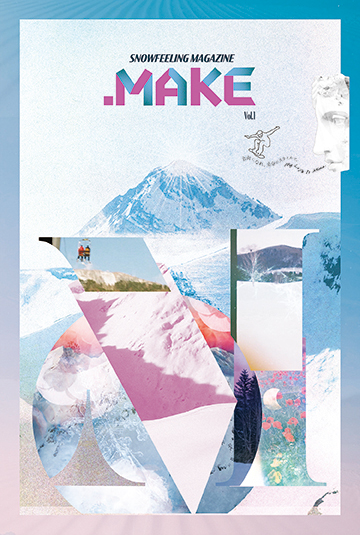 【Product Summary】
Product name: SNOWFEELING MAGAZINE ".MAKE"
Price: 500 yen (tax included)
Release date: Scheduled for December 2021, 12 (Monday)
Specifications: Tabloid / Full color / 12 pages
[Paper size] 406 x 546 mm
[Finished size] 273 x 406 mm
Dealer: Online
https://makemagazine.theshop.jp/
SNS: Instagram only #Make Mug
@_makemagazine_
* There is no advertisement page
* There are no plans for a WEB magazine.
Reservations have started from November 11th, and you can make reservations with free shipping until November 12nd.
<Expression themes of participating riders and artists>
Aya Sato
SEIZE THE DAY ✖️ AYA SATO
Aya Sato cherishes that "now" does not stop moving.Expressing your feelings of living "now" with words, photographs, and artwork without being tied up as a matter of course.
Kiki Vivi Lily
FEEL THE NATURE, PLAY THE SOUNDS ✖️KIKI VIVI LILY
Interview with Kiki Vivi Lily, a musician who loves snowboarding.The photo is taken in Hakuba with the photographer who was in charge of shooting the latest work "Tasty" and SAEKA SHIMADA.
Yoko Nakamura
STAY HUNGRY, STAY FOOLISH ✖️YOKO NAKAMURA
Fascinate with one piece.Expressing what Yoko Nakamura has done so far.Steve Jobs' words, because life is limited, follow your heart and do what you want to do.Photos and words that I always craved and chose to pursue the path I believed in.
Yuka Fujimori
LIFE IS A JOURNEY WEEK END EVERYDAY ✖️ YUKA FUJIMORI
There is a way to where there is a will.Yuka Fujimori's snowboarding life, which she has traveled in search of snow, met, learned, and experienced in various ways.
Haruna Matsumoto
BEING A PLAYER ✖️ HARUNA MATSUMOTO
Interview with Haruna Matsumoto, a competitor interviewed in October 2021.10 of the Olympic season.Sena Tomita, who works hard in the same field, shoots
Responsible.
Fumika Hoshino
WHO AND ME ✖︎ FUMIKA HOSHINO
Snowboarding, video distribution, animal charity, agriculture ...Fumika Hoshino never stops moving.My present where everything is connected and continues to expand
Represented.
Asami Hirono
MY HOMETOWN ✖︎ ASAMI HIRONO
Asami Hirono has traveled and experienced many things through snowboarding and reaffirmed the charm of her hometown of Toyama.Cut out and convey the charm of Toyama, the sea, mountains, flowers, hot springs ...
Aya Kato
FEEL THE EARTH ~ GET INTO A RHYTHM ✖︎ SAYAKA KATO
A record of an unforgettable trip to Hokkaido where you can feel the great outdoors, take on challenges, and grow.Wherever I can go ...If you look back and push yourself, this trip is a huge success.
Mi-yeon
ART WORK ✖︎ MIYON
Artwork with your favorite riding photos arranged on the theme of creativity.Speaking of creation ...Drawn with thoughts in the universe that comes to mind
Also, Miyon's view of the world.