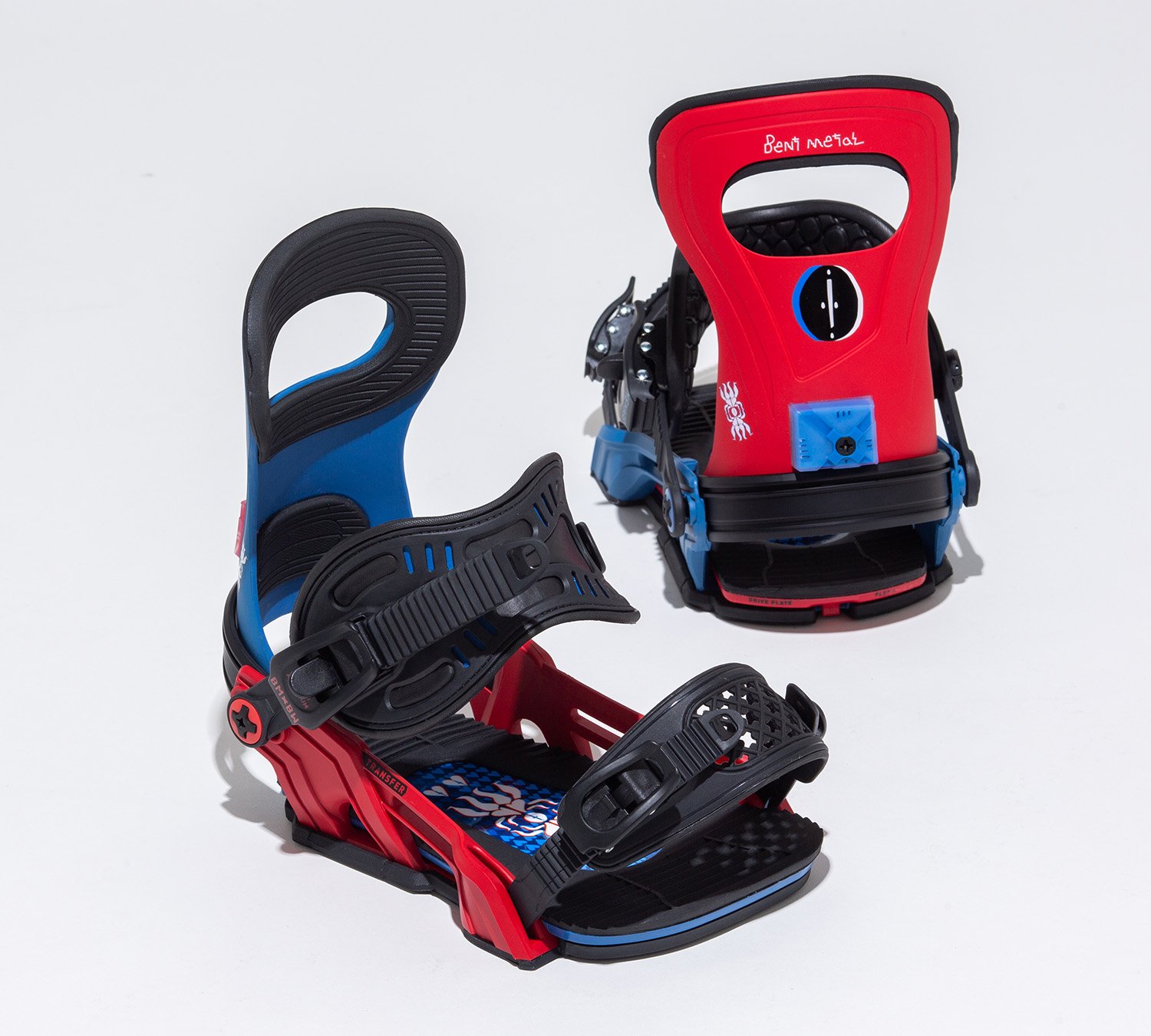 TRANSFER
SIZE: S (23-26cm), M (26-29cm),
L (29-32 cm)
COLOR: Forest Bailey (Blue / Red),
Jamie Lynn (Black), Red (Art by Schoph)
PRICE: ¥ 40,000 (excluding tax)
Equipped with a drive plate that allows you to customize the flex to your liking,
Let's slide comfortably on all terrain with the universal model "TRANSFER"
The binding brand "BENT METAL" is gaining attention by introducing a unique system "Drive Plate" that greatly improves the controllability of the board by customizing the flex of the binding.Started in the 90's with the goal of developing the optimum binding for "GNU" and "LIB TECH" produced by Marvin.Designing bindings with a unique approach not found in other brands, such as incorporating the work of riders who work on their own artwork such as Jamie Lynn, Forest Bailey, and Sean Genovese into their products.
Like a board structure, this drive plate is completed by sandwiching lightweight cores made of different materials in layers.Depending on the riding style suitability of each model, one of three types, medium soft, medium, and farm, is standard equipment.You can also purchase an optional drive plate and replace it to customize it from its original performance.In other words, based on one binding, you can adjust your feet to the best condition according to the flex, riding style and condition of the board.
BENT METAL has been highly evaluated for its basic performance, fitting and durability, which are important in binding.It's due to the ultra-lightweight ankle strap (ankle) made of advanced IMEVA material and the stress-free and comfortable hold of the grip foam toe strap (toe), which has been improved for safety and functionality. ..The high-back forward lean adjustment function using a unique cube is simple and highly practical.
"TRANSFER" is a free riding model for all terrain.The slightly longer and slightly stiffer highback made of light and tough carbon fiber firmly supports your feet in all conditions and demonstrates quick control without loss.The standard medium flex drive plate made of magnesium fiber naturally flexes as the board moves, maximizing the performance of the board.If you want to enjoy sharp carving, replace the drive plate with a medium soft and a drive plate when you need a farm, gratri or flex at your feet.
In addition to the Forest Bailey model, Jamie Lynn model, RED colored with SCHOPH artwork and 3 models will be released.Among them, the forest model has a novel left-right asymmetric color designed in combination with the signature board "HEAD SPACE" produced by GNU.Forrest's art pushes slippery from both your feet and your feelings.With BENT METAL bindings equipped with the latest technology, let's take your slide to the next level while enjoying customizing.