This is the third SEL-produced snowboard jib tournament this year.
The Hamakko Festival attracts XNUMX people every year.Fireworks display.
Sponsored SEL
Date and time Saturday, August XNUMXth, rainy weather
Location Hamada Fishing Port, Hamada City, Shimane Prefecture
   (Next to the fish center in the Hamakko Festival venue. Special venue for youth plaza)
Hours XNUMX: XNUMX-XNUMX: XNUMX (reception XNUMX: XNUMX-XNUMX: XNUMX)
Capacity XNUMX people
The cost is XNUMX yen.Plus XNUMX yen on the day.
   (Riders may be free of charge, so please contact us as soon as possible.)
SEL homepage URL
    http://www.snowenjoylife.com
FAX: XNUMX-XNUMX-XNUMX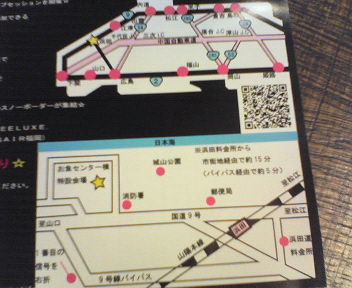 Hamada City, Shimane Prefecture is the place where my father was born and raised.
It is XNUMX minutes from Masuda city where I live.
Fireworks on the day of the fireworks display in midsummer in a place that has little connection with snow
Isn't the jib session in the back fashionable?
I also go out to play with the sponsorship items.
I'm not slipping this time, so I'm planning to come to Yukata and go play ☆
I am looking forward to seeing your brave figure.