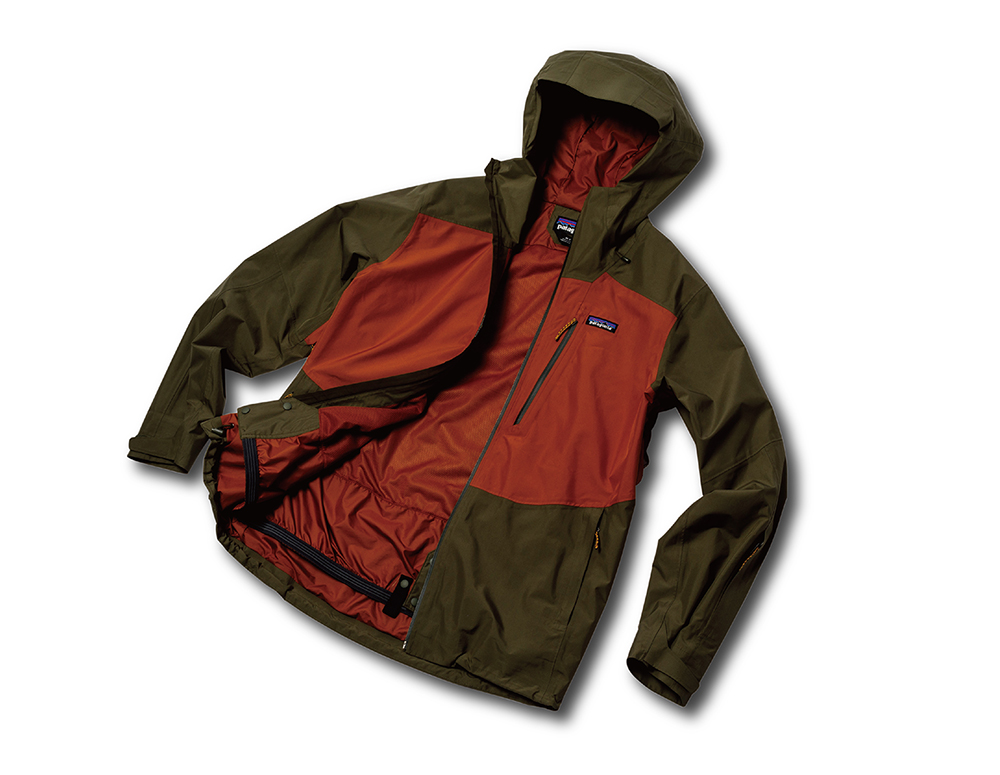 Since its founding, Patagonia has continued to create products that reduce the burden on the environment.This is because they realized early on that their production activities, which love to play in nature, were ironically a factor in harming nature.Actively introducing recycled materials to reduce carbon dioxide emissions, and adopting organic cotton to prevent soil pollution from pesticides.In the production process of clothing, what is the factor that puts a load on it, and how it can be improved, setting goals and implementing them.One of the keywords for this initiative is "PFC-free."
The movement to PFC-free is progressing not only in apparel but also in various fields.In terms of the snow scene, this trend is also noticeable in wax.It is becoming a global movement, such as banning the use of wax containing PFC in international competitions.Such PFC-free snow wear will appear in Patagonia this season.
---
Motoki Takahashi
×
Powder Town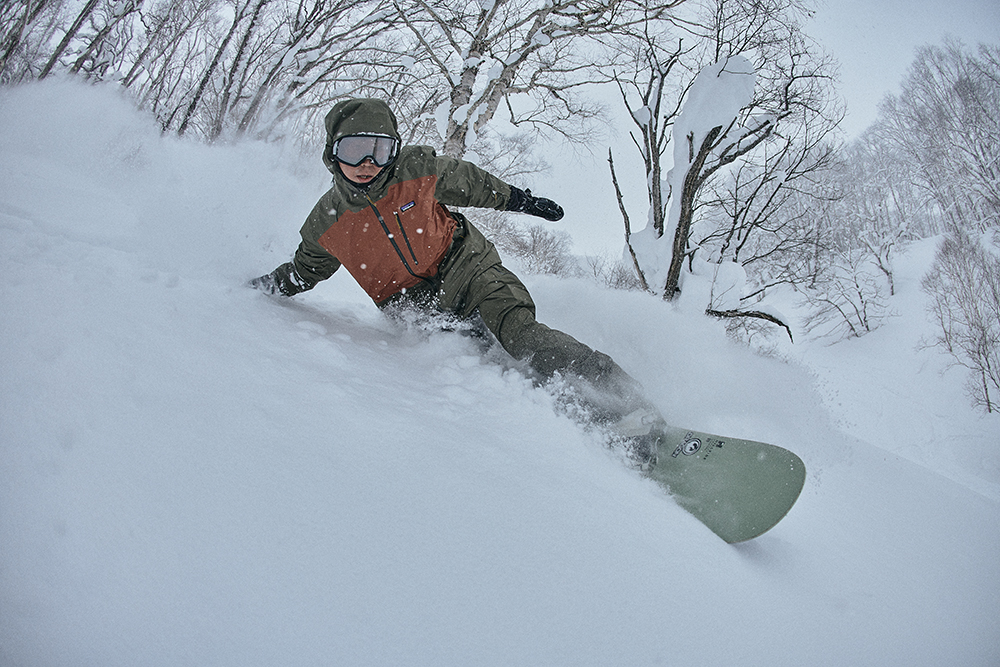 Patagonia's wear, which is completed by repeating tests in the lab and in the field so that it can withstand harsh environments, is trusted by riders who ski hard throughout the season.So what happened to the new model?
We interviewed Fukuki Takahashi, a mountain freestyler based in Hokkaido.He was a halfpipe player until high school, and now spends his main field in the backcountry every winter.As he climbed into the mountains with Koji Nakai and other local seniors, he came to feel that skating was more "suitable" for him.
"I was fascinated by the long rides in the backcountry because it felt so good. When I was a teenager, it was normal to ski on half pipes and parks, but if you broaden your horizons, all snowy mountains in the world will become fields. I felt that snowboarding was becoming more and more cool because of the hugeness of such possibilities, and I began to see natural topography as sections and items."
Motoki, who constantly moves around in the mountains, looking for good slopes, and sometimes unexplored slopes, says that the important points when choosing clothing are that it protects the body and is easy to move.
"For example, the shoulder position of the bib pant doesn't match, and that kind of detail worries me. In Patagonia, Powder Town is thick and can be worn loosely, but the fabric is so soft, It doesn't get in the way when you move your body.
There seems to be no complaints about waterproofness or water repellency.
"At first glance, it's soft enough to make you wonder if it's okay, but it's also waterproof. In the case of Hokkaido, it's dry during the high season, so you don't really need it. However, it didn't soak in. After washing it once in early spring, the water repellency was restored considerably."
At the time of the interview, they were in the middle of the harp pipe camp at Kamui Misaka, but they said that there is no problem with the sticky artificial snow indoors.Furthermore, it is said that it feels reliable even in areas other than performance.
"To be honest, I have always been worried about not only my clothing but also my tools when they break.
Patagonia advocates the idea of ​​"worn wear", which is worn as long as possible while repairing, but there seems to be some sympathy.
"If you really like something, you will feel attached to it and you will feel a sense of trust. Patagonia also recommends wearing old models, so I like that kind of stance. I really don't like the trend of switching to new things...or rather, I've always been unable to understand it."
Including this part, Motoki continues to wear Patagonia.
"I think it's great that a company is doing things like focusing on recycling-oriented manufacturing and tackling energy issues. It's simply cool for a brand to do that without regard to profitability. I think"
This season, Motoki plans to leave Hokkaido for a road trip to ski in the mountains of Honshu for the first time in a year.What kind of slopes and what kind of friends can you meet in Honshu, where the climate, snow quality, and mountains are completely different?
---
Without using persistent fluorine compounds
Able to withstand tough conditions
Powder Town
Environmentally friendly and people-friendly PFC-free
PFCs are chemicals used in durable water repellent (DWR) finishes on clothing. PFC contains harmful fluorine compounds, and the water quality is polluted during the manufacturing process of these fluorine compounds.If it enters the human body through polluted water, air, or food, it can then accumulate in the body and affect our health.Moreover, since it does not decompose naturally, it continues to remain in the natural world for a long time. Not using PFC = touching PFC-free products is an opportunity to learn about the current situation and think about how to act to protect the field.
<Patagonia's approach to PFC-free durable water repellent (DWR)>
Promising sufficient waterproof and water repellent performance
Patagonia's PFC-free efforts began in 2013.So why wasn't it adopted for snow wear until this year?At first, it was difficult to achieve the same level of water repellency as PFC without fluorine.After several years of repeated tests, we finally achieved sufficient water repellency.As for waterproofness, the unique waterproof standard H2No® guarantees its performance. The "H2No" logo is proof that it has passed rigorous tests carried out both in the lab and in the outdoor field.Patagonia defines the best products as those that have the least negative impact on the environment without sacrificing functionality.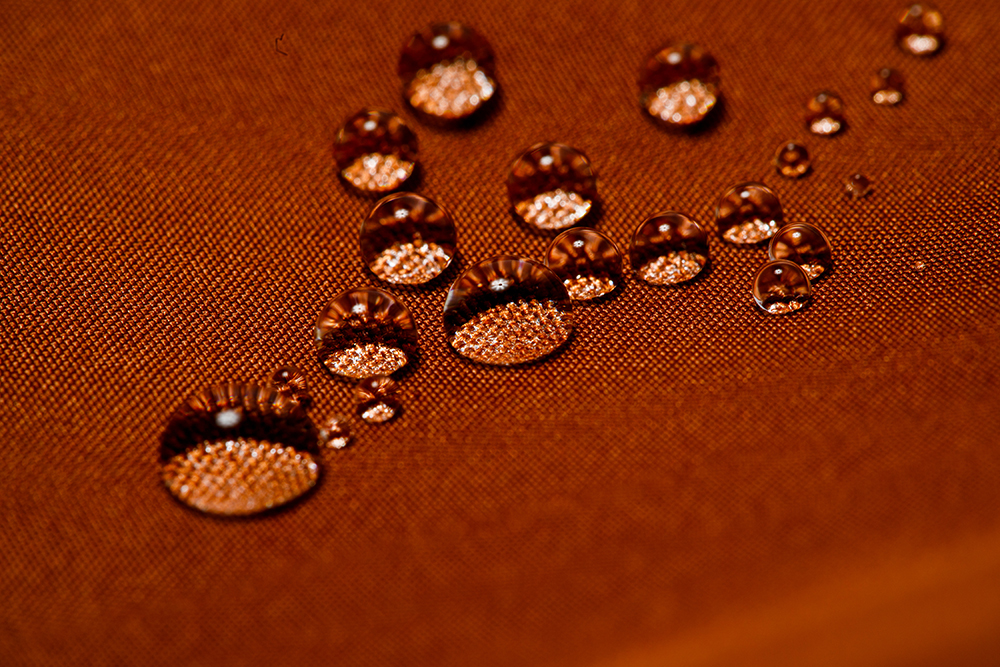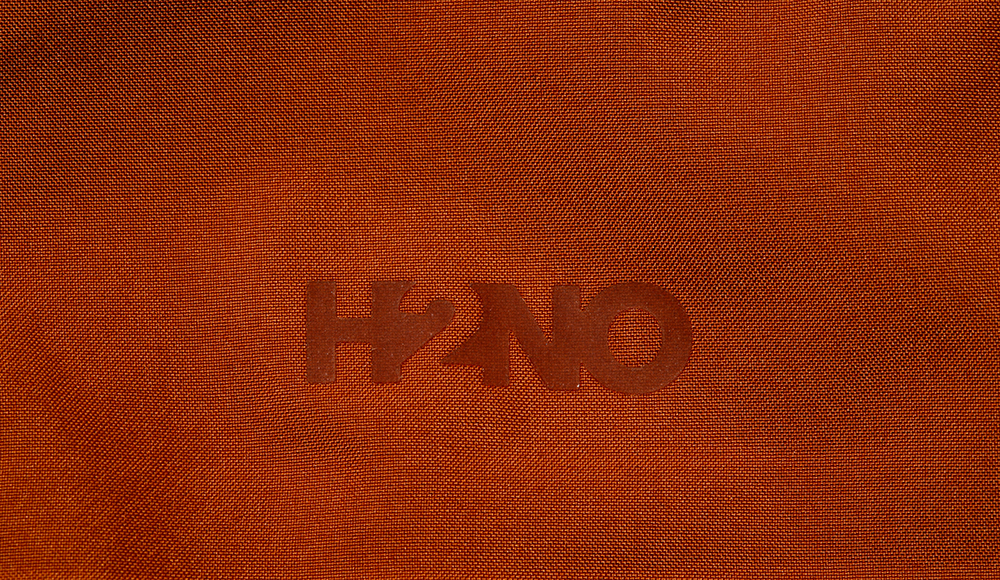 Here's how H2No tests
Regular maintenance keeps your garment functioning properly
Through many years of research efforts, water repellency has reached the same level as when using PFC, but it does not repel oil and mud at the same level.Therefore, if oil or mud adheres to the surface of the fabric, the water repellency will temporarily decrease.
Therefore, maintenance (washing) of wear is important.If the dirt attached to the fabric is removed and dried properly, the water repellent effect will be restored.It is necessary to avoid using detergents that contain bleach or fabric softener, but keeping your clothes clean helps prevent deterioration, and as a result, you can continue to wear your clothes for a long time.Just like applying wax to a board, how about incorporating maintenance of your wear into your snow life?
<Check this page for how to wash Patagonia products>
User friendly
Powder Town is priced fairly cheaply among Patagonia snowwear.In the background is the following thought, which is their goal. "If more people want to use it, the number of people who sympathize with the story of this clothing may increase. I would like to see more products with this philosophy, and my goal is to spread the ripples.I hope that thinking about how it's made when choosing clothes will become the standard for snowboarding enthusiasts.
---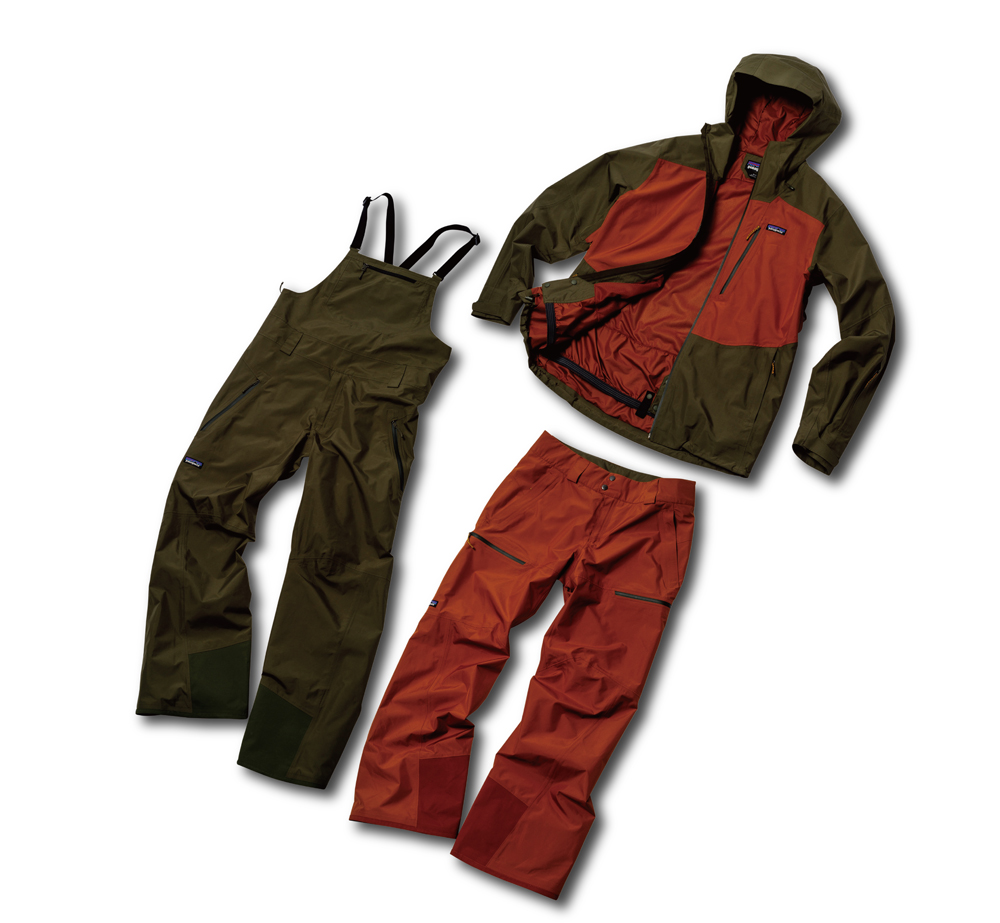 Powder Town
A 2-layer shell that emphasizes ease of movement.Many ambassadors love it because the very soft fabric and draping fit do not hinder movement during riding.Patagonia's first PFC-free wear made from recycled polyester.For women, the same 2-layer shell jacket, pants, and bibs as men's.And for women who don't like the cold, we've released padded jackets and pants.
M's Powder Town Jkt
Size: XS ~ XL Color: 5 colors Price: ¥42,900
M's Powder Town Pants
Size: XS ~ XL Color: 4 colors Price: ¥30,800
M's Powder Town Bibs
Size: XS ~ XL Color: 4 colors Price: ¥38,500
Patagonia Japan Customer Service
Tel: 0800-8887-447