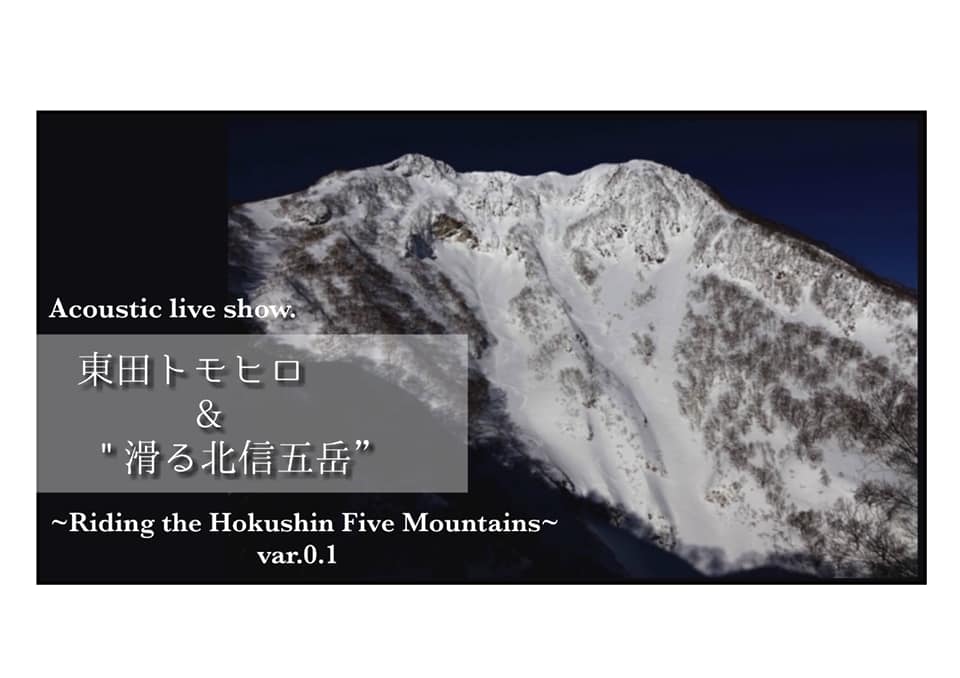 Higashida Tomohiro continues his journey to surf, snowboard, and live a lifestyle that is in harmony with nature, and deliver songs to places where there are people with the same mindset.
On 2/14 (Friday) that I told you the other dayKabuike Cowbell LIVEThe next day, on Saturday, February 2th, a LIVE will be held at "Bincho Charcoal Fire Yakitori Asagao-" in Akakura Onsen, Myoko.Here, it will be held in conjunction with the Hokushin Godake backcountry movie show by Mr. Mdmranran.This day should be a wonderful night too!
FREERUN will also cover the pattern of this Hakuba / Myoko TRIP and will publish it in the magazine next season, so please look forward to it!
Saturday Feb.15th.2020
Higashida Tomohiro acoustic Live show & Back cuntry movie around Myoko eria by Mdmranran
Location: Bincho charcoal fire Yakitori Asagao -Yakitori Asagao-
9492111 Akakura, Myoko-shi, 476 B1F left
FB page
Open 19:30
Entrance free
Tip for artist! !!
1st Live 20:00
Movie show 21:00
2nd Live⁇
and more ..
Live
Tomohiro Toda
Youtube
Mdm ran ran
FB page

The sea town that is the base of the summer
I met in the sea, a town called Surftown
Musician living with nature
Inviting Tomohiro Higashida for a deep after snow party ❄︎
Light snow season rarely seen nationwide
On a global scale, it may not be strange to have such a year.
But I can't hide my confusion in this scenery of Myoko that I've never seen in my life
I noticed various things because it didn't snow much, which was a matter of course.
Not just negative things
We are part of this beautiful earth
How to live with the earth from daily life
I believe that a bright future will surely be created by making each person conscious, raising their voice, taking action, and making small accumulations.
I want ourselves and our children to enjoy skiing and snowboarding on this beautiful planet forever.
I was truly pleased with the beautiful white world I saw in the snowfall after a long absence.
It may be the first time this season to see such deep snow
The town is full of smiles
Ah, I realized again that this is our favorite scenery
A generation that must not only naturally give an environment to enjoy, but also return it to this earth
With the message of Tomohiro Higashida, who feels such great nature in various places, travels with that feeling, and lives while singing.
Mdmranran-kun's Hokushin Godake backcountry movie show, which is screened every year
Even though it's light snow, I went into the mountains with experience and knowledge and shot the latest footage!
Video of Kitashin Godake, which moved to this area and cultivated over many years with its own legs
Coexisting with harsh nature in this Mt. Myoko area
To be more integrated with the earth
Those who can share, those who love Myoko
We are waiting for you with delicious sake and yakitori!
If you have time, please come visit us ♪
--------
On the night of Valentine's Day on 2/14 (Friday), a SPECIAL NIGHT presented by Tomohiro Higashida will be held at Kabuike Cowbell.Let's get drunk in his Love & Free world while chewing on draft beer and special kebab ♪
For details, here