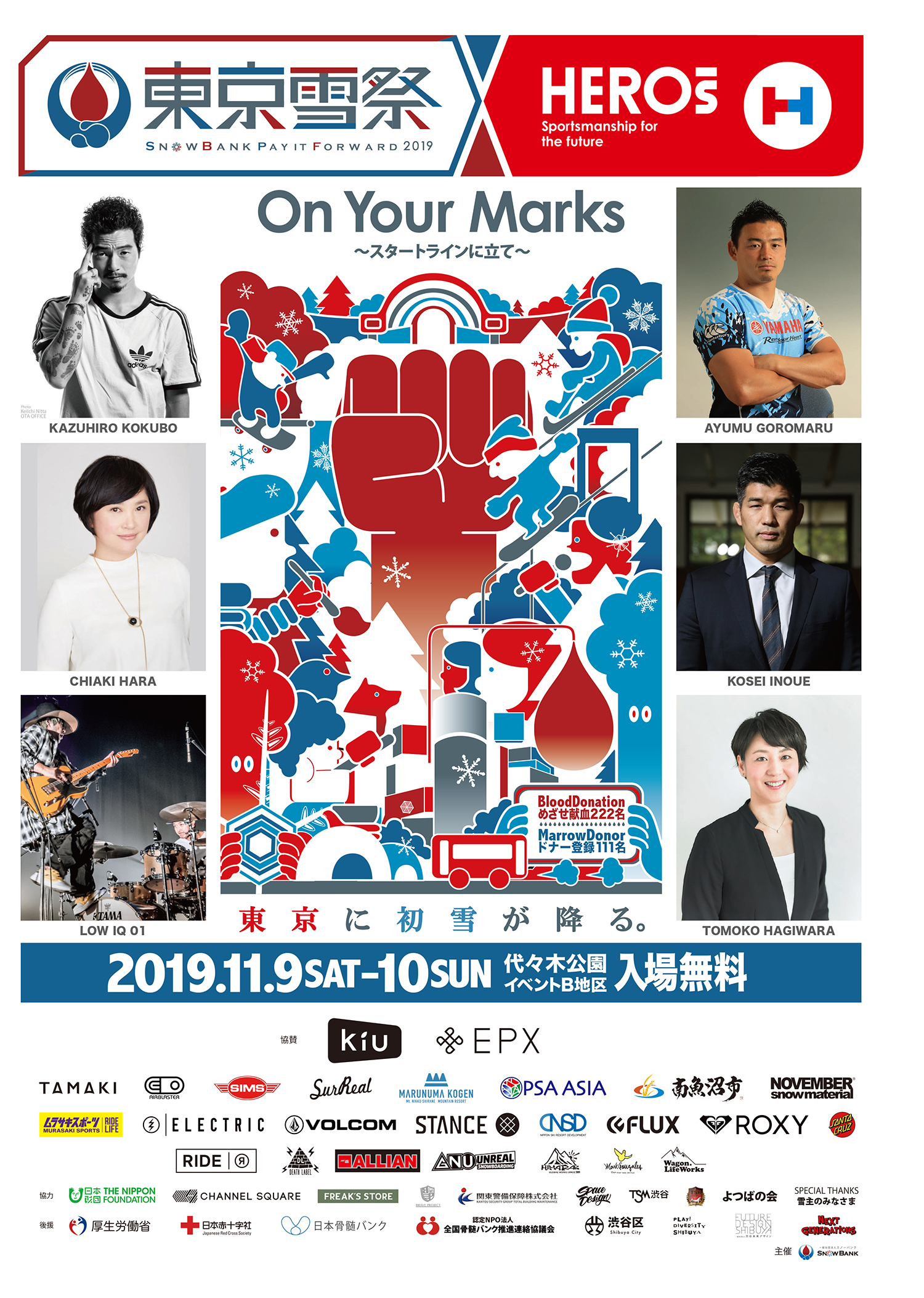 The 9th "Tokyo Snow Festival SNOWBANK PAY IT FORWARD" will be held at Yoyogi Park for two days, November 11th (Sat) and November 11th (Sun).
Tokyo Snow Festival SNOWBANK PAY IT FORWARD, which was realized from the experience and thoughts of professional snowboarder Arai DAZE Yoshimasa who overcame an intractable disease of 100 in 1 million by bone marrow transplantation, enlightens "blood donation / bone marrow bank" in sports, art and music.・ A participatory charity event aimed at increasing the number of registered bone marrow donors and donating blood to young people by communicating the enjoyment of food.
This year, in collaboration with HEROs, top athletes such as Ayumu Goromaru, Kosei Inoue, Norihiro Akahoshi, Seiji Iinuma, Shunsuke Azuma, and Shintaro Ikeda will also visit and various workshops are planned.
At the annual jib contest held during this event, jibers who are proud of their skills gather from all over the country, and a heated battle will be held for two days.Last year a new hero was born. (Last year's articleherecheck)
What kind of drama will be born this year !?
I'm looking forward from now!
Tokyo Snow Festival SNOWBANK PAY IT FORWARD x HEROs FESTA 2019
Date and time: November 11th (Sat) / 10th (Sun) from 10:17 to XNUMX:XNUMX on both days
Venue: Yoyogi Park B District Event Plaza / Outdoor Stage
Organizer: General Incorporated Association SNOWBANK
Cooperation: The Nippon Foundation
Sponsored by: Ministry of Health, Labor and Welfare, Japanese Red Cross Society, Japan Bone Marrow Bank, Shibuya Ward
Specified non-profit corporation National Bone Bank Promotion Liaison Council
For details, here