About two years after the start of this corona disaster, what happened to Niseko, which was called the city of foreigners?
I often hear from acquaintances living in Niseko that "Niseko is the best now."That's right, because Niseko before Corona was occupied by Westerners, Aussies, and Asians.Without foreigners, it would have turned into a less competitive powder slope for Niseko residents.I've always wanted to go, but I gave up last year, and this year I got a chance to visit Niseko.I would like to report on what kind of city the site is changing now.
TEXT & PHOTO: HAL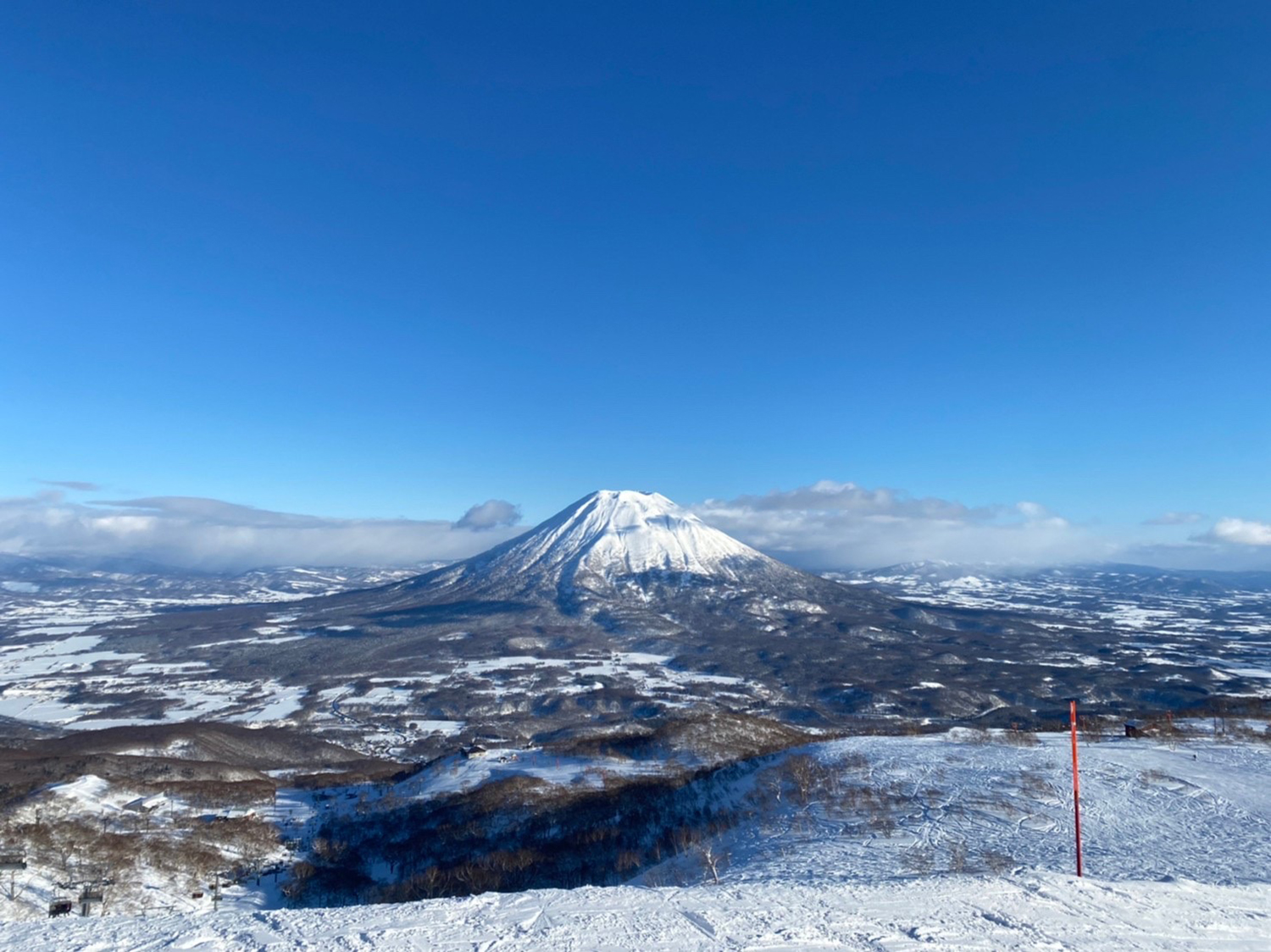 I traveled by bus from New Chitose Airport to Niseko Hirafu.I heard that it was rattle last year, but the bus was full unexpectedly because there were some travelers who sewn in between.Of course, there were no foreigners, and it seems that there were many young people and student travelers.When I arrived at the parking lot, the day trip parking lot was filled up as it was, and the first impression was that "What are you doing ...".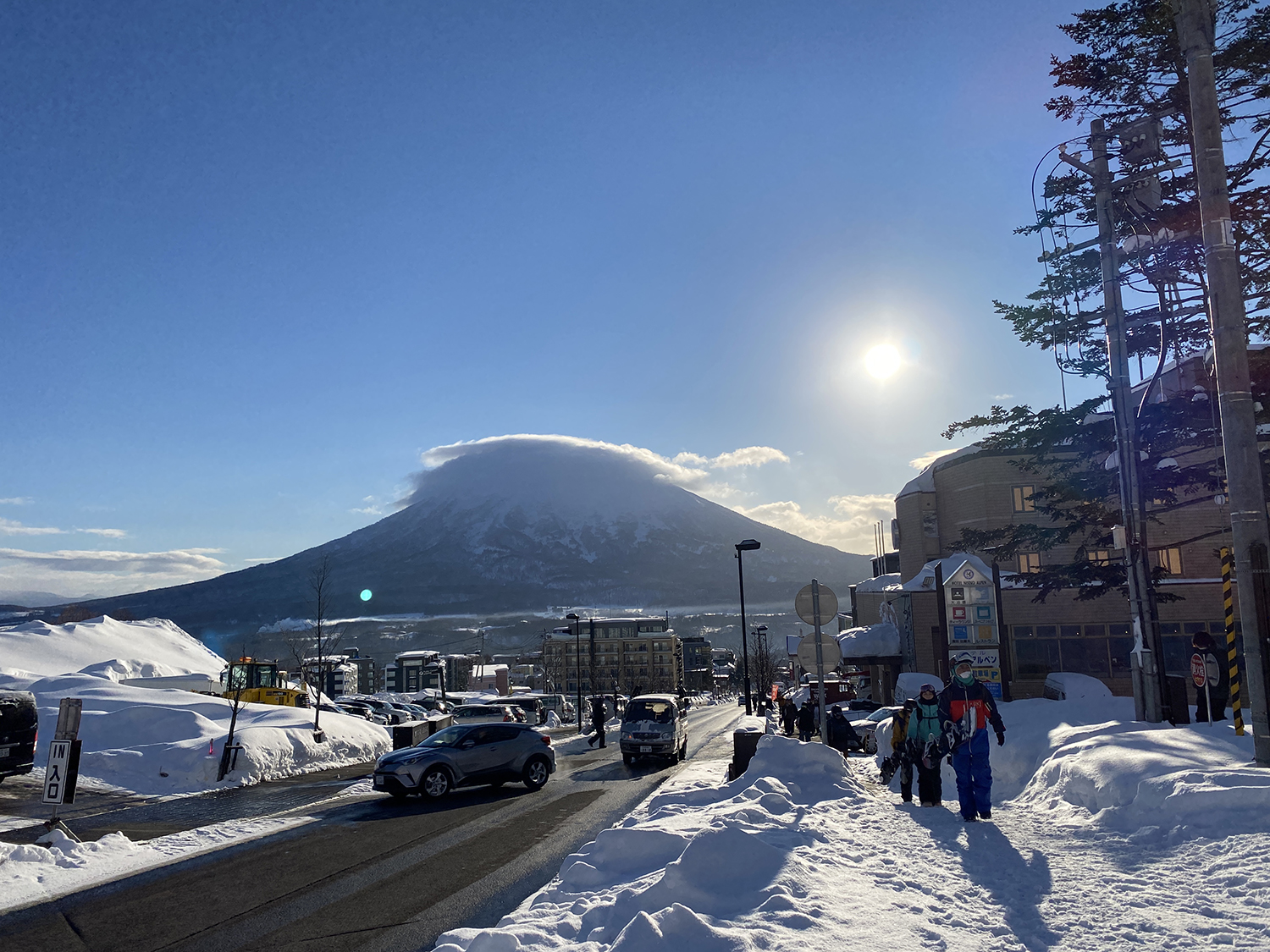 However, while walking to the inn for a few minutes, I thought, "Oh, it changed completely."There are few people in Hirafu Jujigai, and many shops are closed. There are many places I can't remember, "What kind of store was there?", But it was a shock that Satsudora (a drugstore in Hokkaido) was closed.When I came last time, it was crowded with many foreign tourists, and Asians who bought up Japanese cosmetics and Westerners who stayed in condominiums were buying wine and cheese, but it was not crowded and it was a gallan. Because I was there.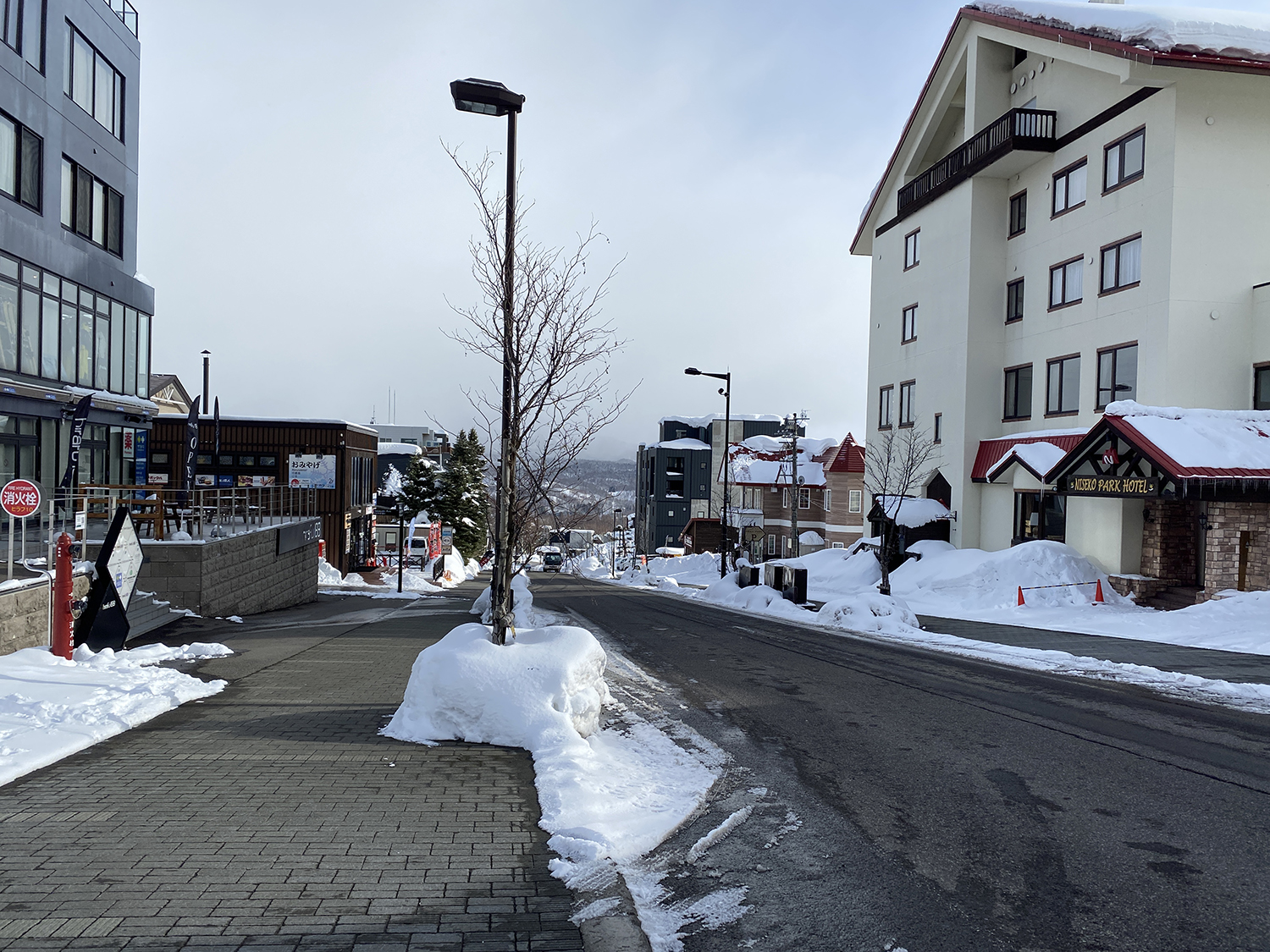 The location of the condominiums beyond that was also the same.It seems that the snow has not been completely removed because there are no people there even though many buildings have been built in such a small land.
It's a waste to buy such land and build it. I walked while jokingly saying, "If you don't use it, you can sell it cheaply ...".Perhaps this scenery is only now.Next year, the number of foreign tourists will increase and it will be restored.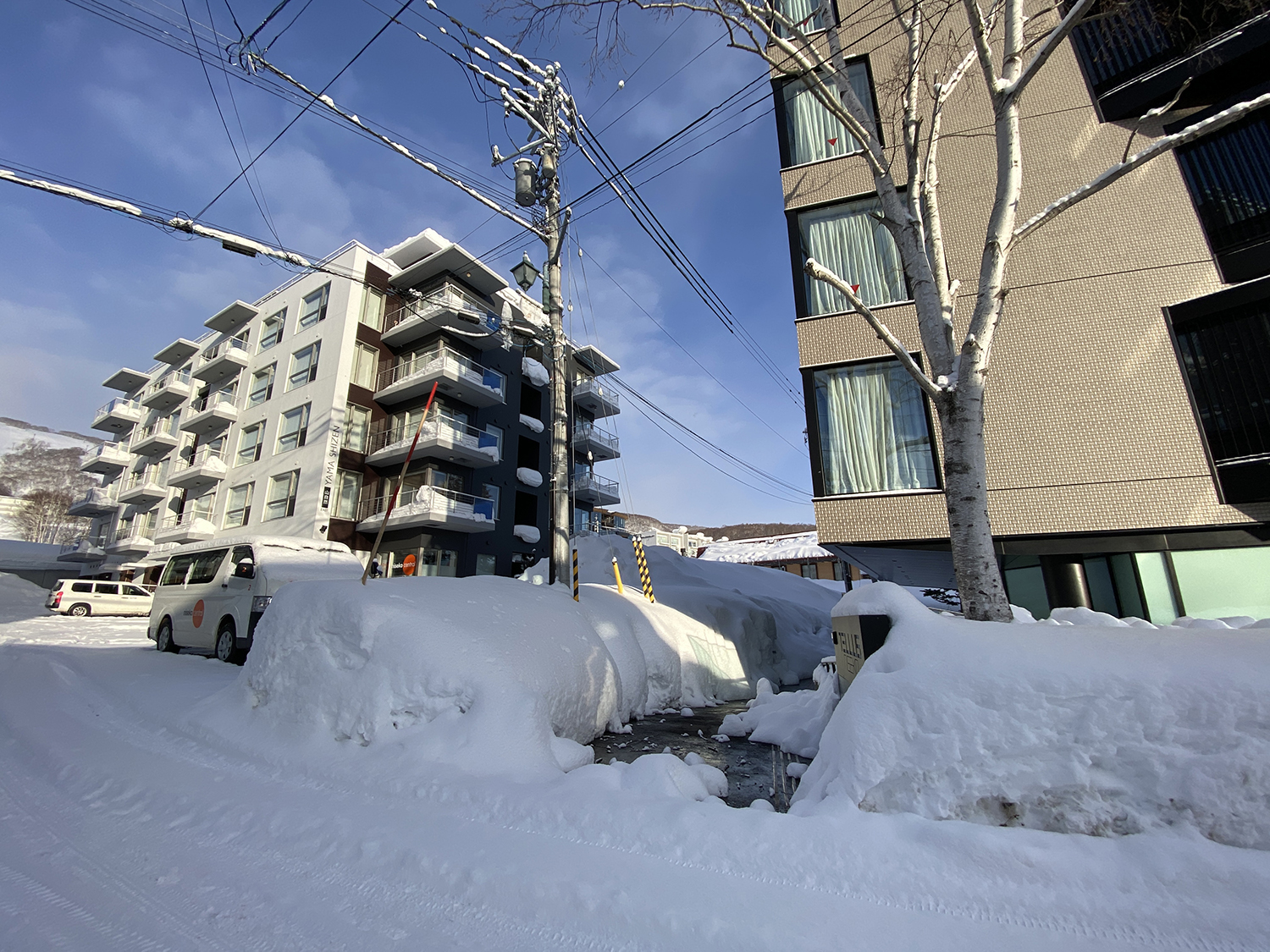 When I arrived at the inn, there was an unchanging smile on my face.The pension JAM, which is taken care of every year, is alive and well, and the owner's mother is "I'm sorry I'm sorry".She said, but it reassured me.There is Niseko here that doesn't change, and we like this warmth.It was said that this inn, which is made up of the warmth of mothers, has no guests other than those on our tour, and there is only one regular Japanese guest.
I used to hear from accommodation sites that foreigners were only making reservations and holding rooms, but that is no longer the case, and it's a normal business in the old days.However, of course, the number of guests is still decreasing.Where should we stay if this is gone next year?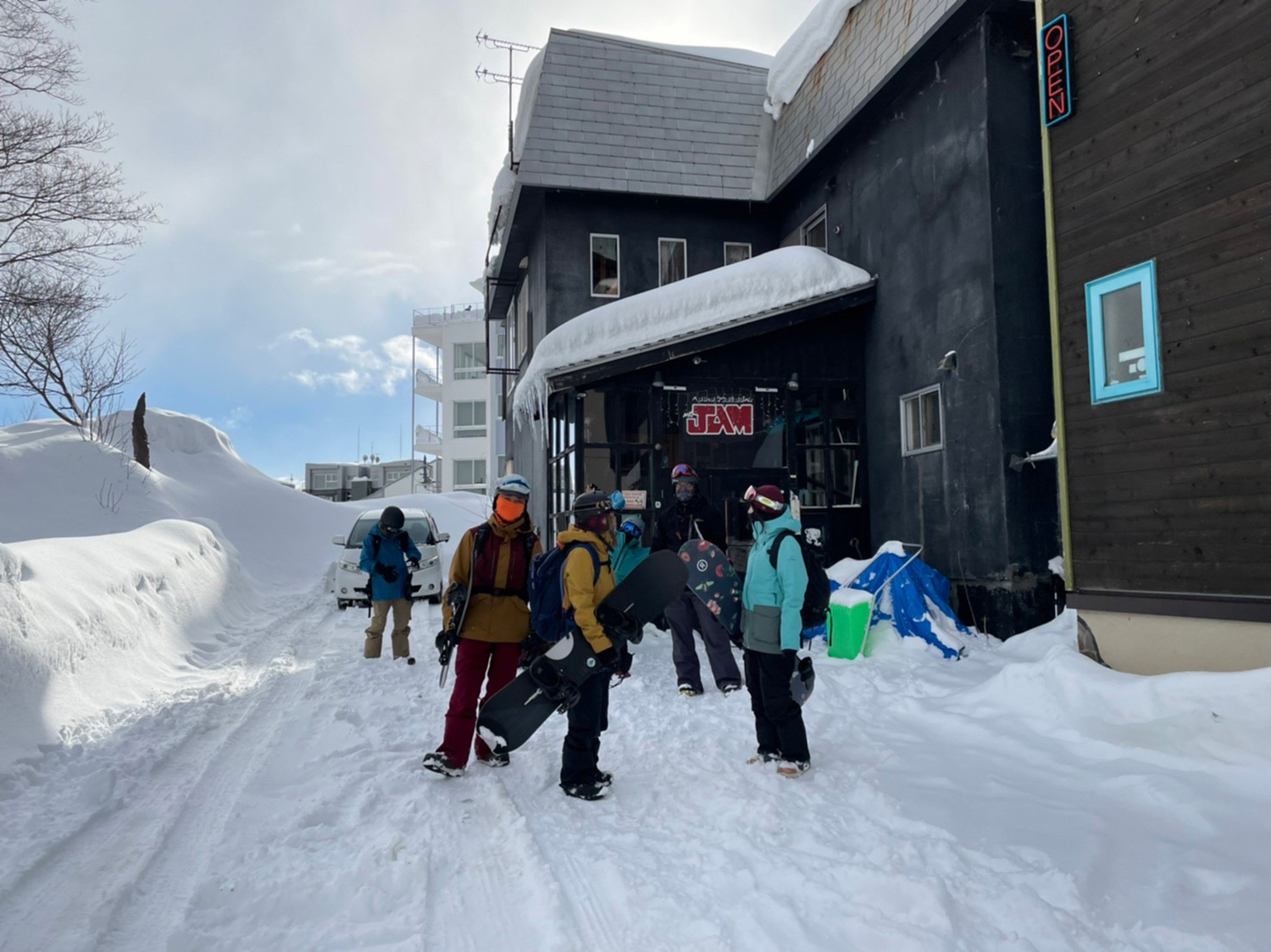 When I was sent off by such a mother and headed for the slopes, I was surprised at the situation where there were few people instead of in front of Corona even though it was daytime on weekdays.It may be because the snow that had been falling for a long time has settled down, but there is no waiting for a lift and the slopes are smooth.
I headed to the HANAZONO area, where I saw several foreigners.Since there is a Park Hyatt Niseko Hotel directly connected to the slopes in this area, it seems that there are still wealthy people. I finally got used to the sight of hotels lined up in HANAZONO, but what surprised me more was that the gondola was completed.She had heard rumors that the lift would also be renewed, but here again.
When I got off, I felt a little uncomfortable, and I didn't notice the change so much, but the lift position was also slightly changed, and the Hana 6 lift was Japan's first 10-seater genuine leather seat heater. It has been renewed to a lift with.In addition, the newly built gondola seats XNUMX people and has an intermediate station, so it seems that it is made for beginners and tourists. Located on the east side of the HANAZONO slope, a new course has been set up along the gondola, and it is rumored that the gondola will continue to grow.Due to the influence of Corona, people think that at least the HANAZONO area, which has been properly constructed and is evolving, is really amazing.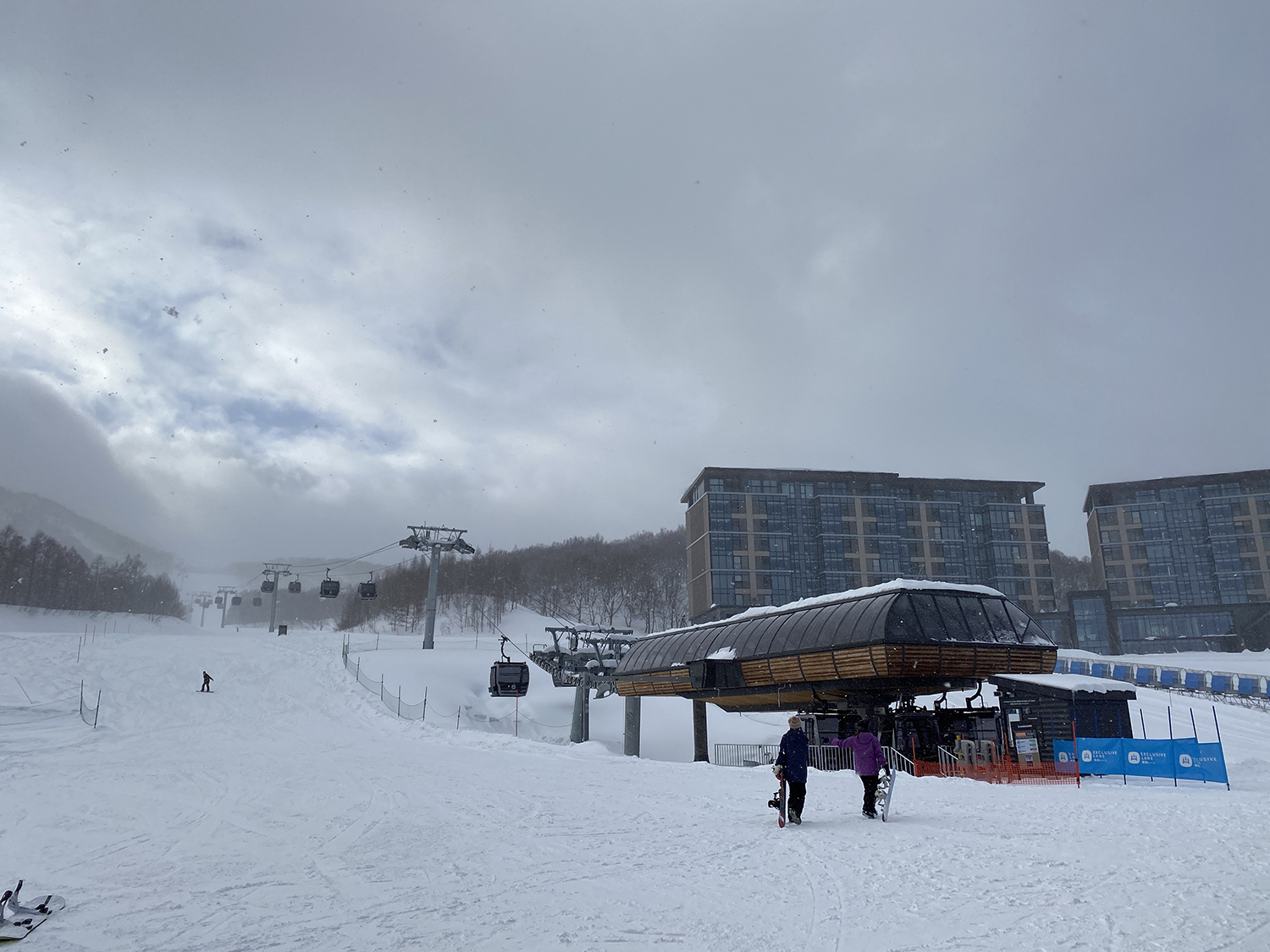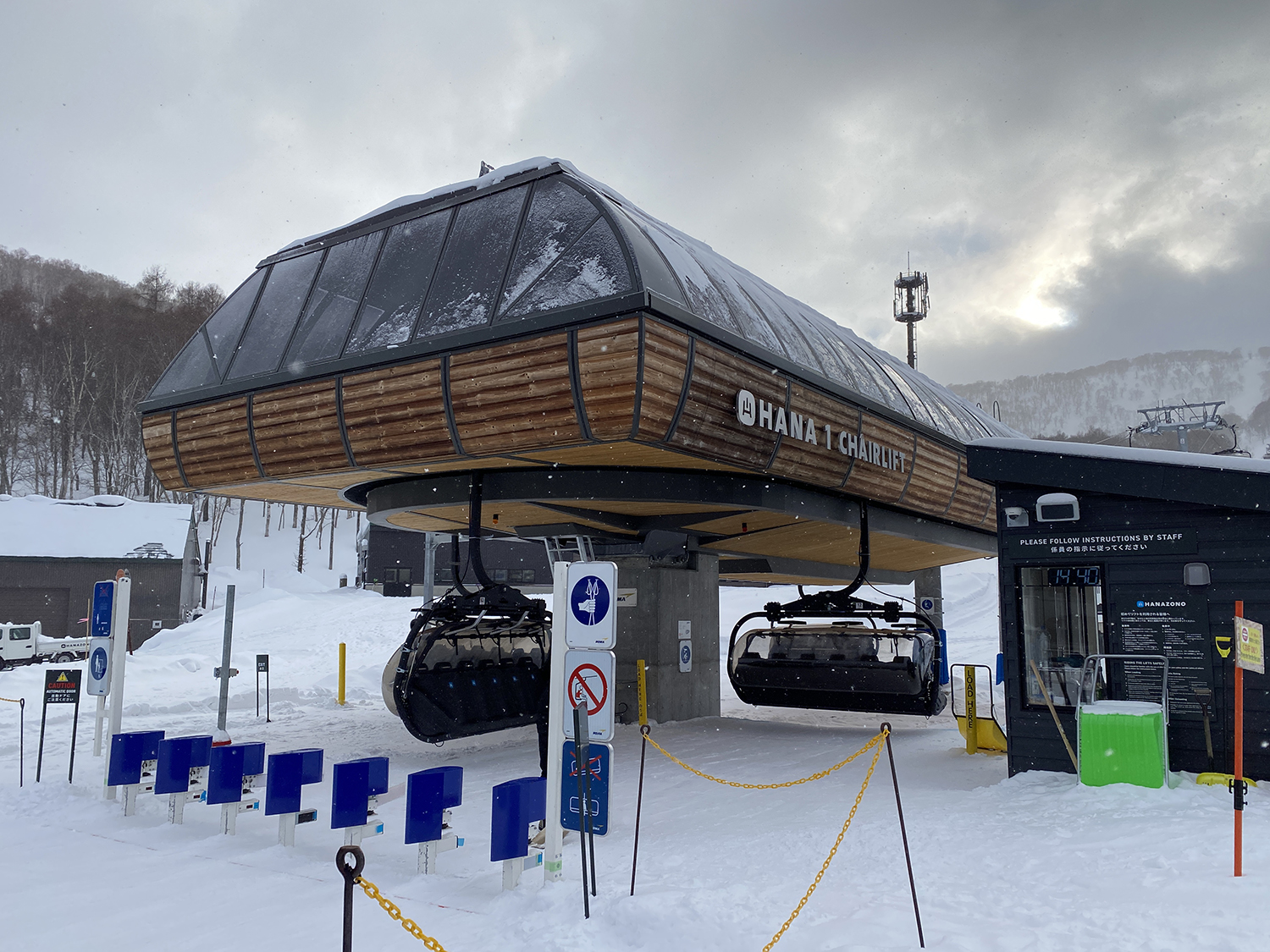 When I got on the renewed Hana XNUMX lift, I felt that there were few people in the Strawberry Fields on the left side.I thought it was an afternoon when it wasn't snowing, but I don't think that was the case the next day ...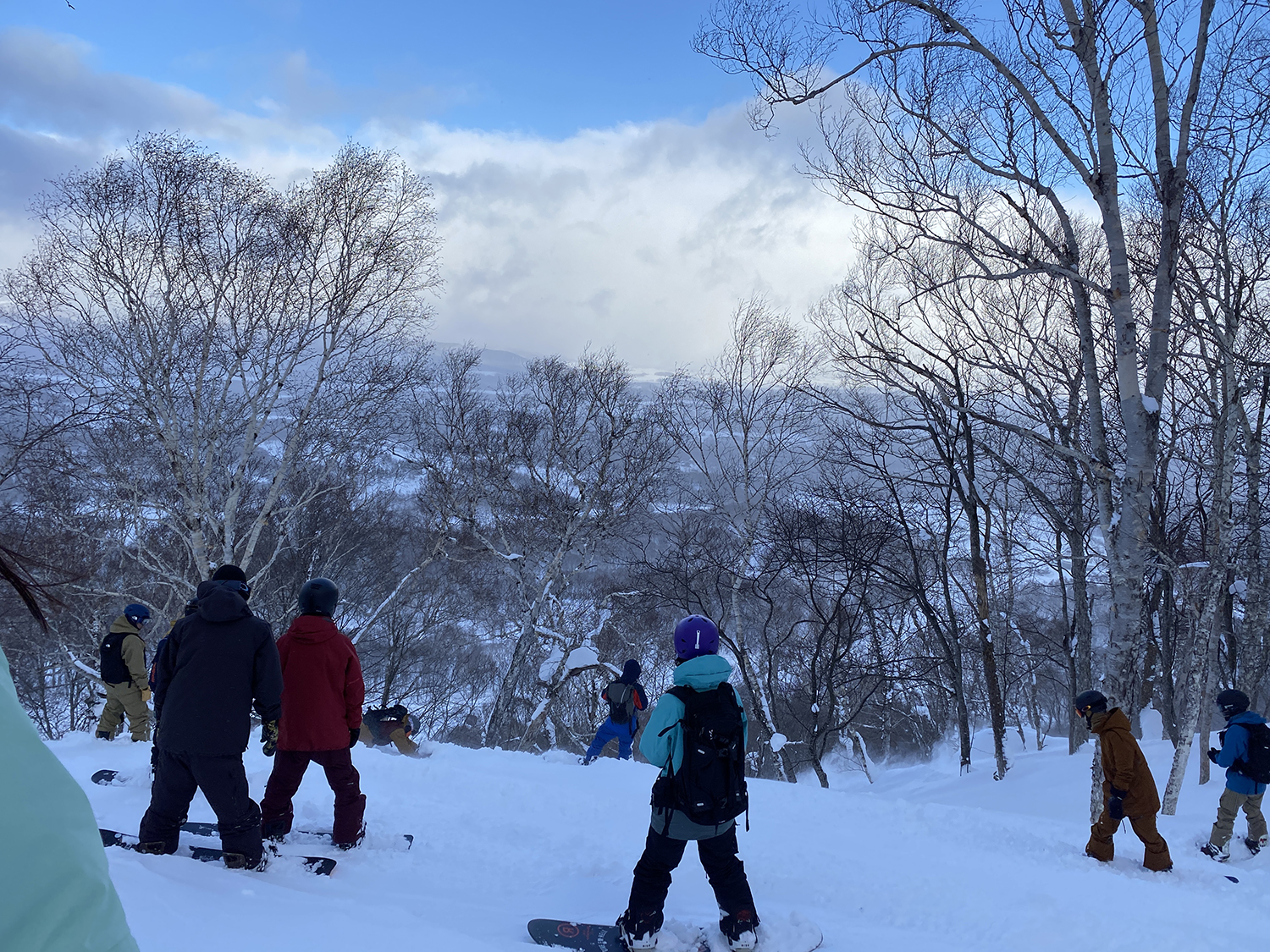 Niseko usually lined up early in the morning on Saturday when it rained.Of course, there were a few lines on this day before the start, but the line disappeared 5 minutes after the start of operation.There were only a few people lined up at the lift ticket office, and the congestion soon disappeared.Mr. Snow Bum Obata, the organizer of the tour, also said, "I feel like I've returned to Niseko 25 years ago."
The condition wasn't so rushing on this day, and there weren't enough people to rush, so I got on the lift relaxedly.The first group to arrive will drop, but it's not like I'm on my own, but it's slipping as I wish.
There are few foreigners there.I'm sure this scene is only now.Even now, only Japan does not allow foreign tourists to enter the country.If it is lifted, tourists will surely come to Japan, a safe country, a rare powder snow country.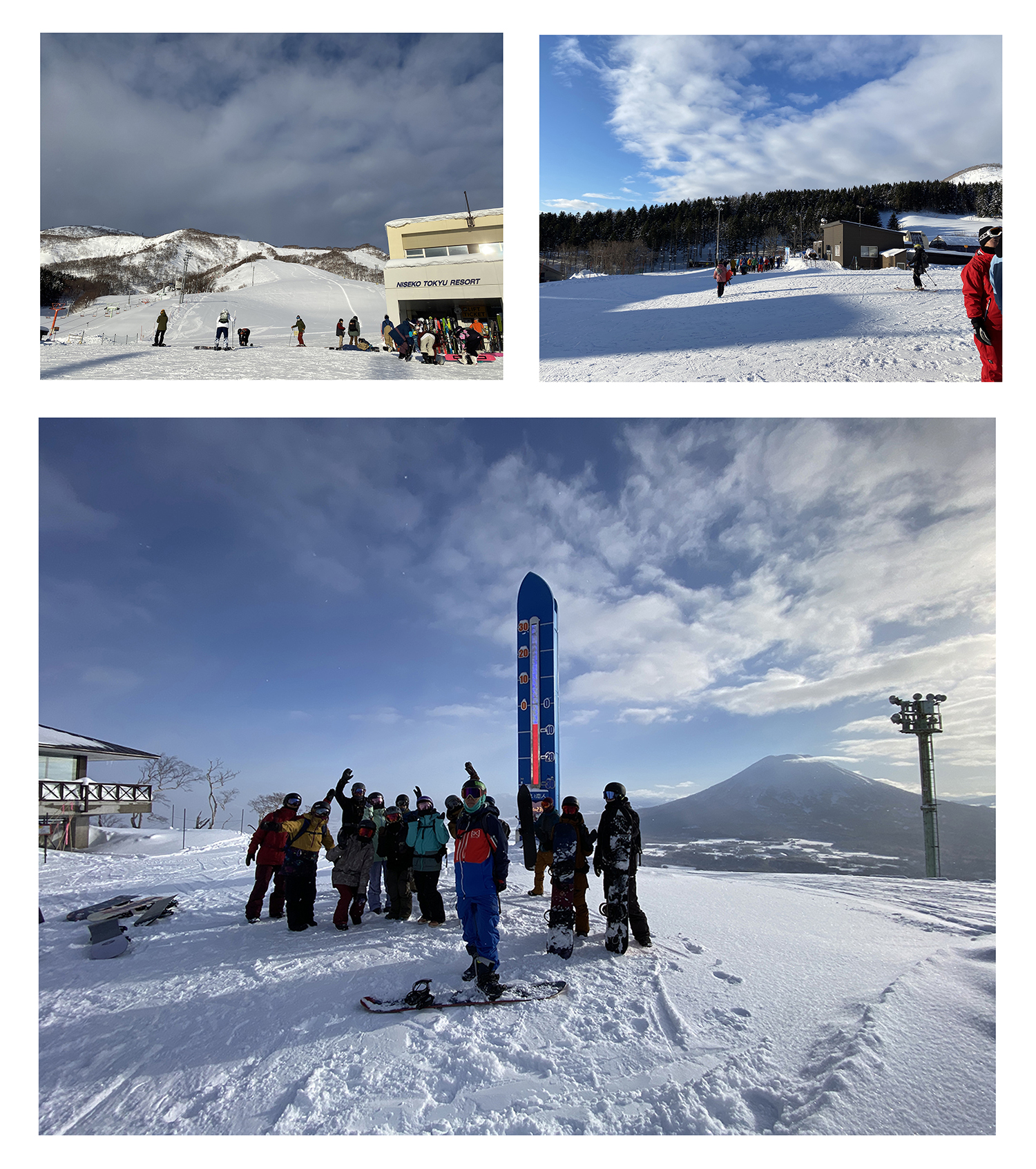 We also asked Mr. Nagata, who lives in Niseko, who always asks for a guide, about the current situation. "Is this situation now that the Niseko bubble burst?" The answer was no.Because the construction rush of this foreign capital hasn't stopped, he says.Powder lovers from all over the world come here.Now that I'm a corona, I can't just come, and as time goes by, I'm sure I'll be rushing in as soon as I've been waiting.This is because Niseko is one of the most famous sanctuaries of powder snow in the world.So I wanted to have fun now.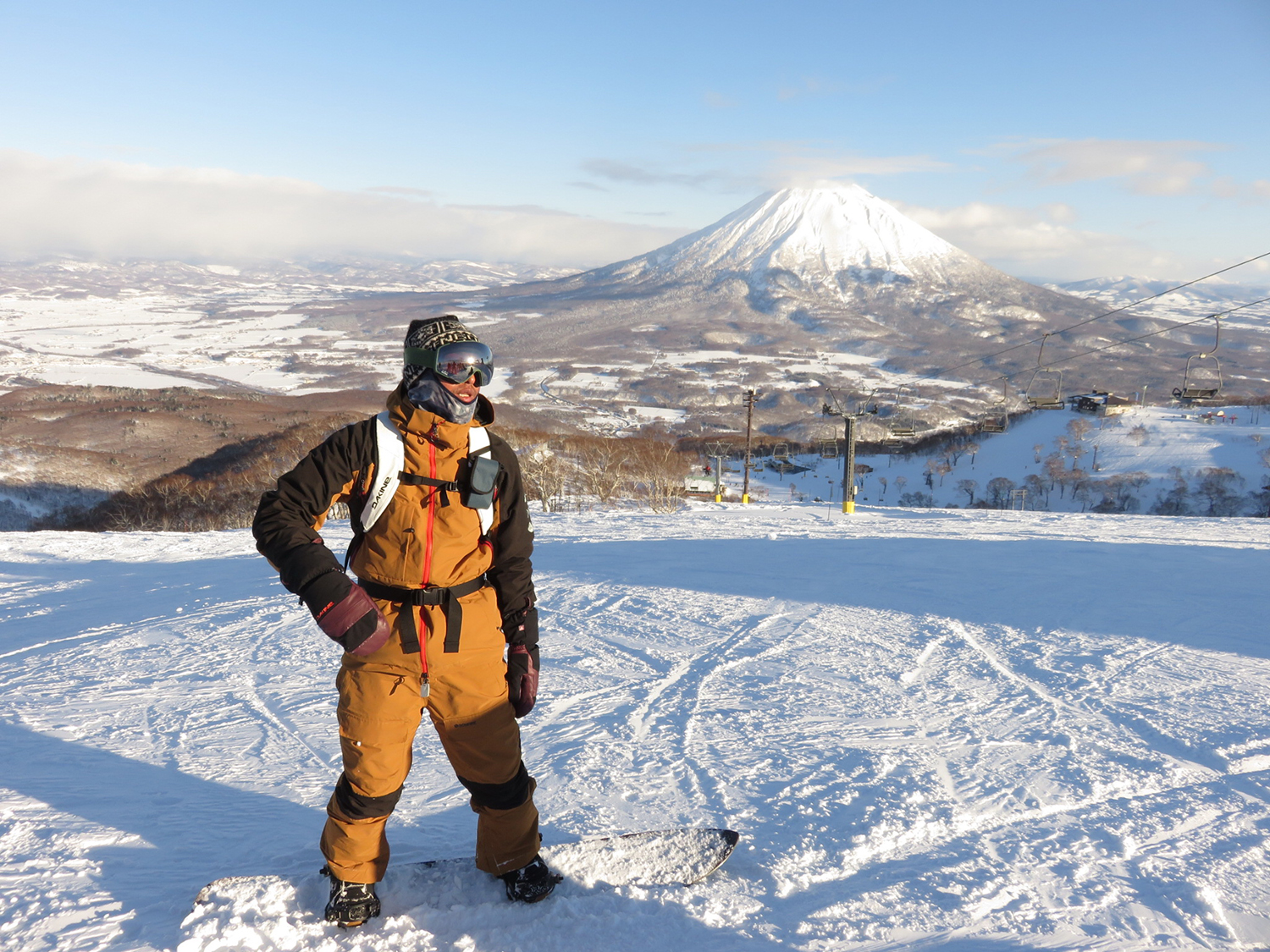 The reset powder snow was waiting for us the next morning, as if we were welcoming us.There are countless spots in Niseko, a big mountain, and the moment when you can spray as much as you want and scream for joy will come.We want to enjoy this situation now because it is the best powder slope in the world.Because he is the only Japanese who can enjoy himself.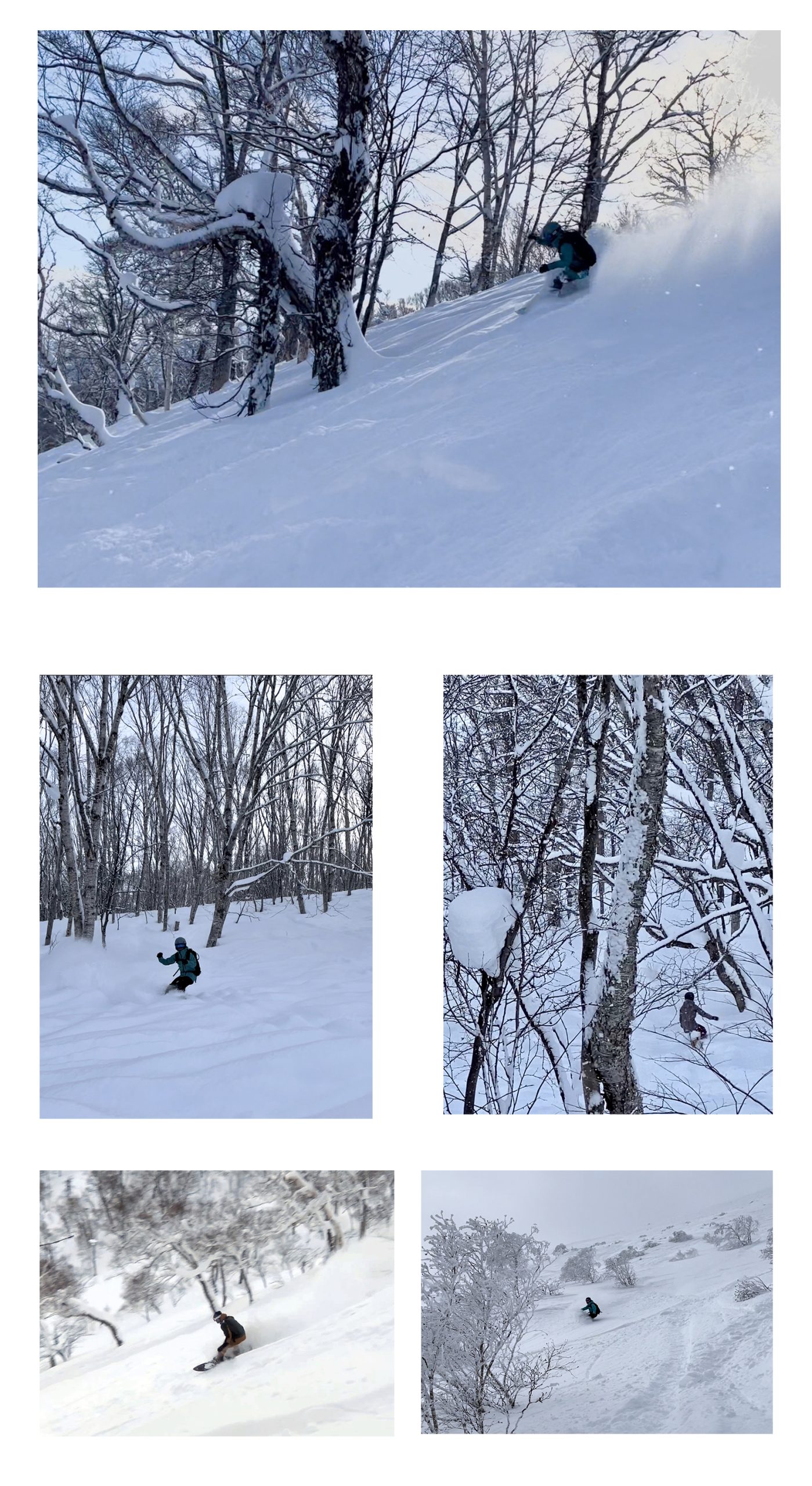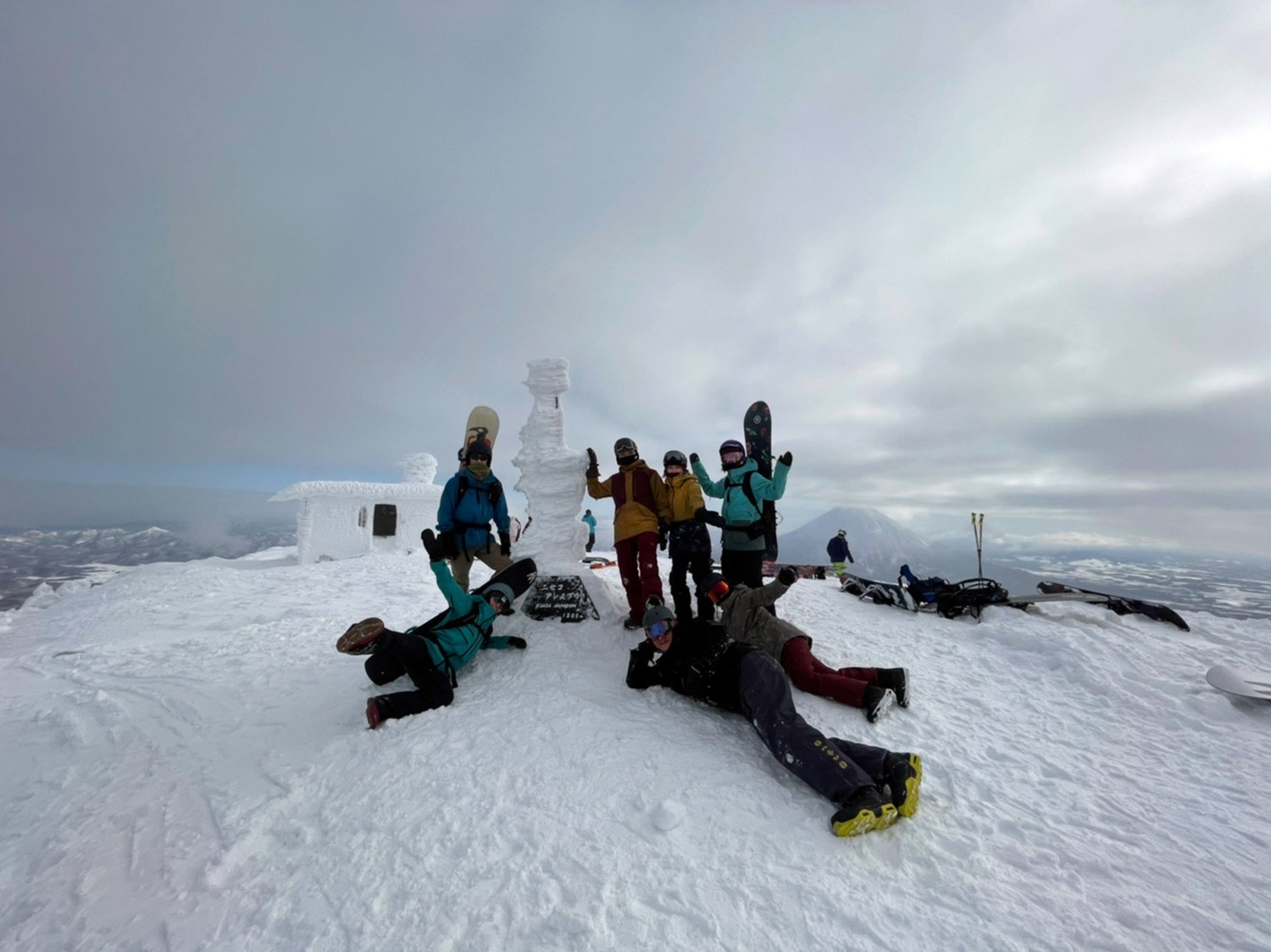 I have been to Niseko every year since 2005, but I gave up last year because of the corona sickness.This cut off the continuous Niseko record, but I was really happy to see Mt. Yotei again this year.
I'm sure the city will change in the future.But I'm sure the mountains and snow will not change.I would like to continue to record such Niseko.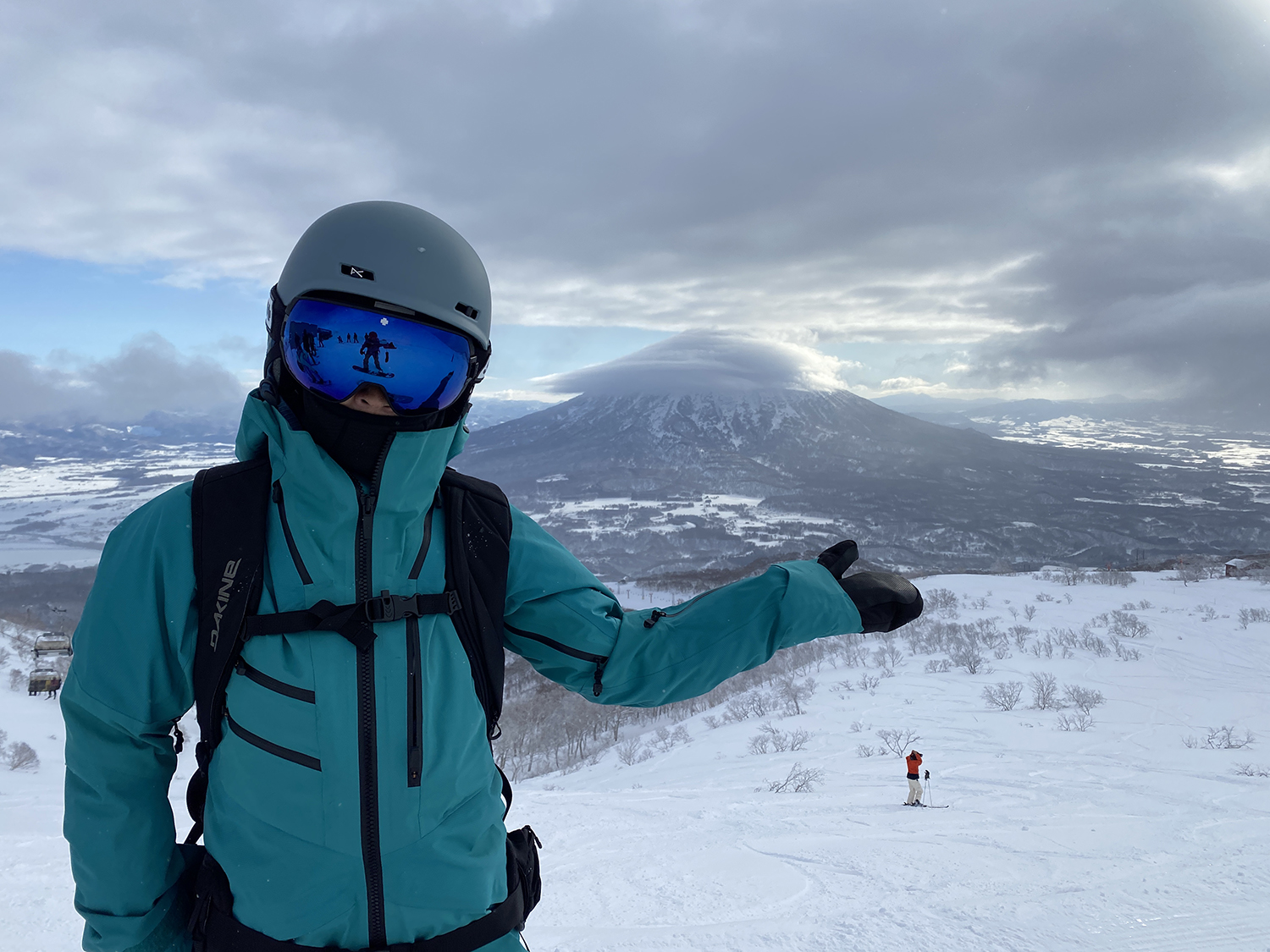 Cooperation:Niseko Tokyu Grand Hirafu
Tour cooperation:Snow bum