Hello.
The rainy season is over
It's summer soon.Is it really summer? ??
Recently, I am in my favorite Toyama prefecture.
Surrounded by nature
There is also Toyama kings and the best skate park in Japan.
it's the best.Toyama.
We will camp in Toyama prefecture for XNUMX nights and XNUMX days.
What kind of camp?
It's not just a lesson.
Touching nature, riders and waiwai, friends who participated together, waiwai, and new friends that day.
Above all, we receive advice from professional riders and surely improve our skills.
There is no doubt that it will be the absolute best memory.
I can't be with Olympic athlete Yuka Fujimori for XNUMX days ...
Participation is limited, so apply early! !! !!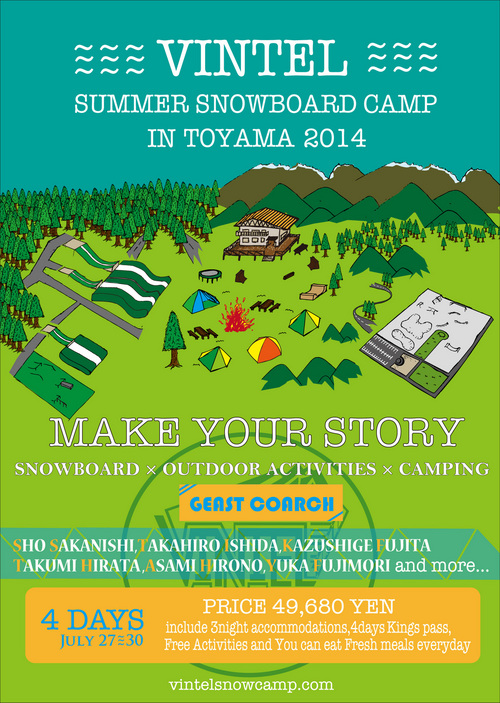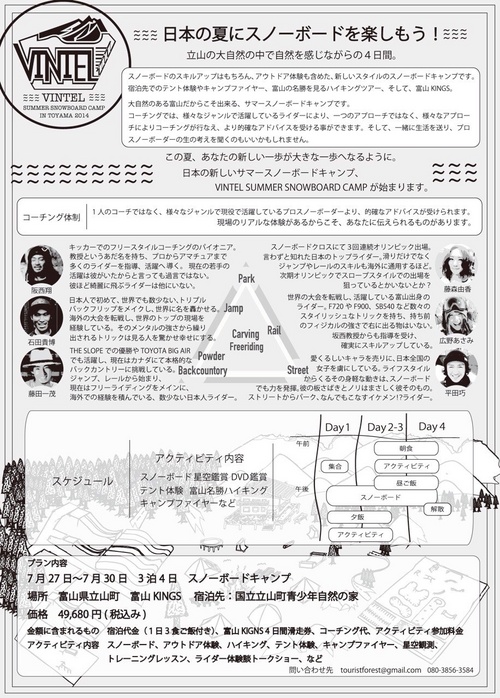 Let's enjoy snowboarding in the summer of Japan!
May your new step be a big step this summer.
Japan's new summer snowboard camp.
VINTEL SUMMER SNOWBOARD CAMP will start.
スノーボード×アウトドア
スノーボードとスノーボードに大きく関わる"自然"を学ぶ4日間。
スノーボードやアウトドア体験を通じスノーボードカルチャーや自然について学ぶ事で、新しい視野や興味を広げます。

VINTEL SUMMER SNOWBOARD CAMP is not just about improving your snowboarding skills, but you will find your own joy and discover how to enjoy snowboarding while experiencing nature in the great outdoors.
■日程 2014年 7月27日(日)11:00 〜7月30日(水)14:00 3泊4日
■場所 富山県立山町 富山KINGS 宿泊先:国立立山町青少年自然の家
■価格 49,680円(税込み)
(金額に含まれるもの:3泊4日(1日3食の食事付)の宿泊、4日間の富山KINGS滑走券、コーチング代金、各アクティビティ参加費)
※食事は1日目の夜ご飯から、最終日の昼ご飯まで提供します。
■参加資格 小学生(自分で自分の事が一人できる方)から大学生・専門学生のスノーボード好きな方(無邪気な心を持った大人の方はご相談ください。)
■コーチング体制
一人のコーチングではなく、様々なジャンルの現役で活躍しているプロスノーボーダーによるコーチングにより、一つのアプローチではなく、様々なアプローチによる的確な指導が行なえます。そしてなにより、現場のリアルな体験があるからこそ伝えれる事があります。コーチングのプロフェッショナルに始まり、世界の大会を転戦しているもの、海外でのバックカントリー経験を積んでいるもの、ストリートを中心にビデオで活躍するもの、そしてオリンピック選手。様々なジャンルのライダーを集めました。
阪西翔、石田貴博、藤田一茂、藤森由香、広野あさみ、平田巧
※詳しいプロフィールはフライヤーで!

■ Activity content
Snowboarding, training lessons, rider experience talk shows, video viewing, tent experience, campfire, scenic hiking, astronomical observation, etc.
~~~~~~~~~~~~~~~~~~~~~~~~~~~~~~~~~~~~~~~~~~
■ Contact Information
VINTEL SUMMER SNOWBOARD CAMP Facebook message or touristforest@gmail.com
For inquiries by phone, please call 080-3856-3584!
* If you have any questions or inquiries about the content, feel free to send us a message or call us!We are looking forward to hearing from you.
web http://vintelsnowcamp.com
Facebook https://www.facebook.com/vintelsnowcamp