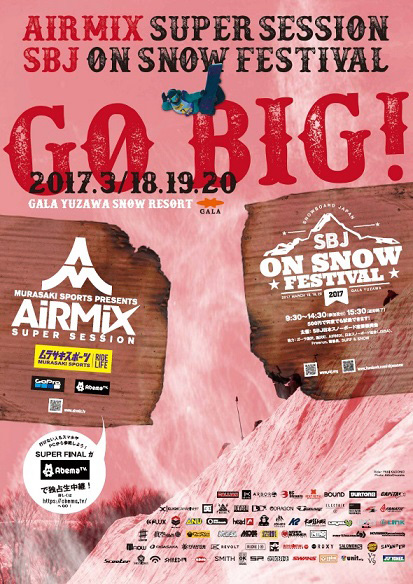 New MODEL gear from Japan and overseas for the 3/18 season gathered in Gala Yuzawa for 19 days from March 3th to 2017th !!
It will be held at the same time as the famous tournament <AIRMIX>, which is famous for many top riders participating, so you can watch the game.Many super famous riders will also visit.A lottery and a rock-paper-scissors tournament are also planned!Anyway, please visit Gala Yuzawa in Niigata for 3 days like a festival!
There are three ways to accept the test drive: shop reception, advance reception, and same-day reception.Pre-registration is open until 3:3 on March 16th (Wednesday) !!
◆ SBJ Official Page
http://www.sbj.org/
◆ SBJ on snow FESTIVAL Facebook page
http://www.facebook.com/sbjonsnow
◆ Simultaneous holding! AIRMIX official page
http://www.airmix.tv/
[2017 SBJ on snow FESTIVAL]
◆日時: 2017年3月18日(土)・19日(日)・20日(祝月)9:30〜14:30受付 15:30返却終了
◆ Venue: Niigata Prefecture, Gala Yuzawa North Area
◆ Organizer: Japan Snowboard Industry Promotion Association (SBJ)
◆ Event details: 2017/2018 NEW MODEL Gear exhibition & test drive event
◆ Participating brands: ALLIAN / Anon / ARBOR / BC Stream Snowboards / BATALEON / BENT METAL / BOUND / Burton / CAPiTA / CLICK CARABINER / DC / DETHLABEL / DEVGRU / DICE / DRAGON / DRAKE / ELECTRIC / ENDEAVOR / F2 SNOWBOARDS / FANATIC SNOWBOARDS / FLUX / FTWO SNOWBOARDS / GNU / GRAY SNOWBOARDS / head / HOLIDAY / JONES / K2 SNOWBOARDING / KESSLER / LEVEL / LIBTECH / LINK BINDINGS / LOBSTER / Matsumoto wax / MOSS SNOWBOARDS / MOSS SNOWSTICK / Murasaki Sports NOVEMBER / NOW BINDINGS / OGASAKA / PHANTOM IN THE SUN / REVOLT / RIDE SNOWBOARDS / ROME SDS / ROSSIGNOL / ROXY / SABRINA / SALOMON SNOWBOARDS / SANTA CRUZ / SAVANDER / SCOOTER / SESSIONS / SHRED / SIMS / SMITH United / SURGE / SWANS / SWITCHBACK / UNION / UNIT MFG. / V7 & V9 / YONEX / Xraeb