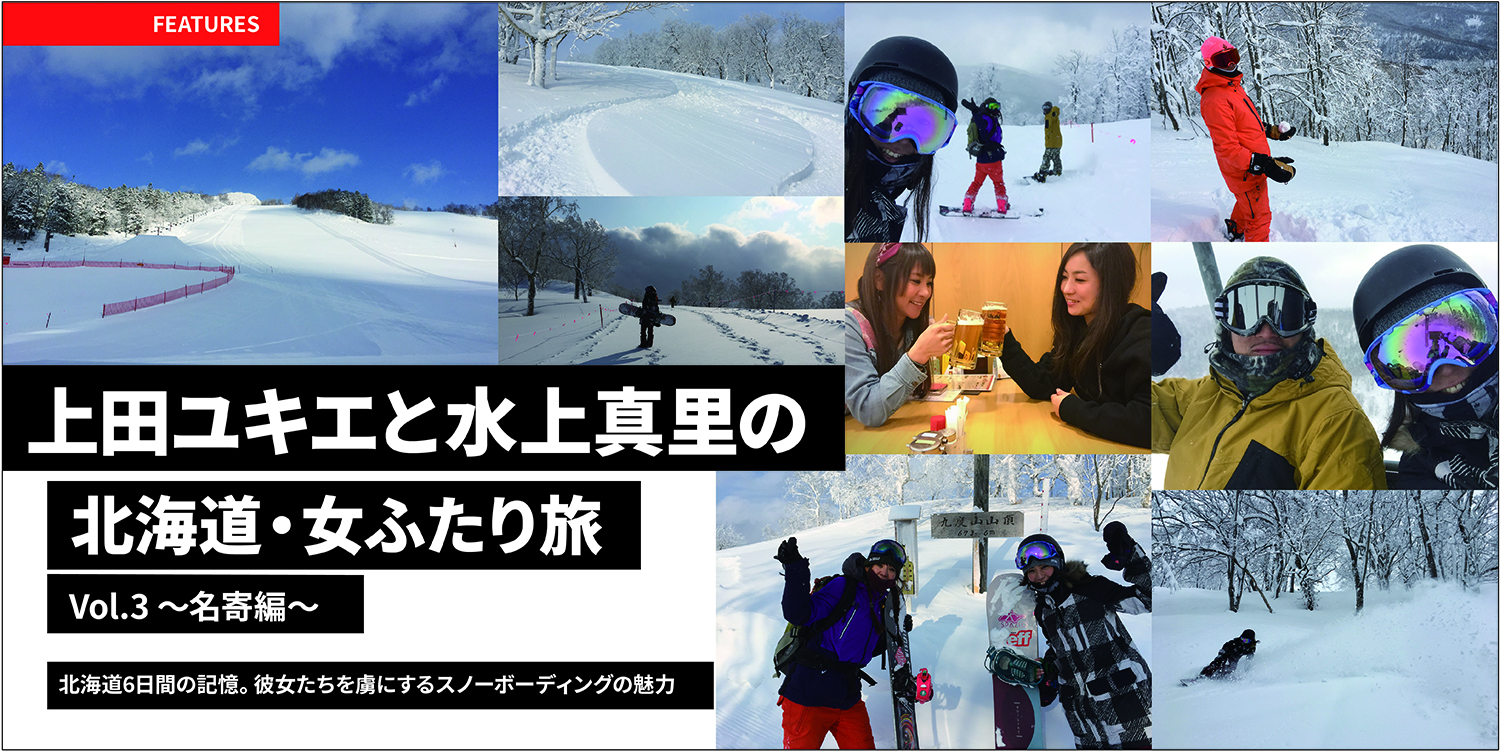 In mid-February last month, Yukie Ueda and Mari Mizukami, who are indispensable for the Japanese girls snowboarding scene, traveled together in Hokkaido.The two met on the slopes for the first time 2 years ago, and have spent 22 seasons as snowboarders since then.There were seasons when we cried for injuries, and there were seasons when we spent time together in snowy mountains overseas.As snowboarders, the two have always felt each other's turning points.I decided to travel this time at an inevitable timing like a coincidence.
In this project, Yukie Ueda will share the memories of the six days they spent in Hokkaido, sessions with guest riders they meet in various places, the charm of Hokkaido, and the charm of snowboarding that still captivates them. The story I wrote will be delivered four times in a series.
Text: Yukie Ueda
VOL.3 ~ Nayoro Edition ~
DAY3 from Kurodake to Nayoro
What's different is that there is a fun reunion waiting for you.
For Mari and for me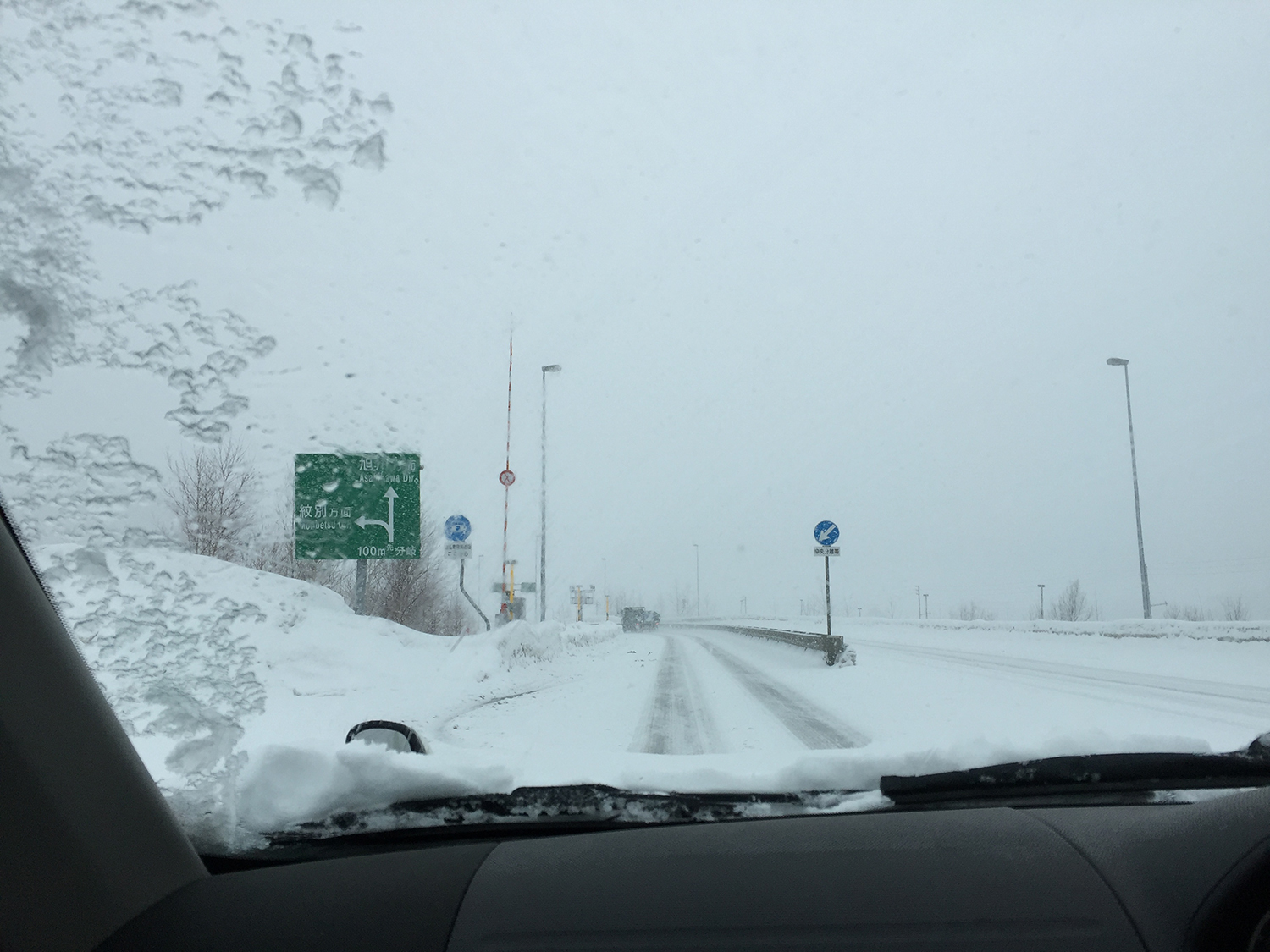 Haku Suzuki, a man who went up to the podium in the 2000s at the top of the world in big air.He was the rider we wanted to meet in Nayoro.In the first place, it was a few days before the trip that the story "Let's go to Nayoro!" Came out.We enjoyed the away experience in unfamiliar lands, but knew that local information was essential to skiing the good.Mari in Hokkaido worked here and there to collect information, and I was also collecting information from the United States via messenger and the Internet.When the trip somehow went toward Asahikawa, Nayoro was nominated as a candidate.
"I want to go," "I'm far away," and "I have a count," and the swift action of Mari made it possible to have a session with the local big star Count in Nayoro, and at that moment Nayoro was on our journey. It became the main event.
Mari was the first Nayoro, and I had strong memories of Nayoro.It goes back to 2004 when Haku was a big star on the podium at big air such as Toyota Big Air and X-Trail Jam at Tokyo Dome.Around that time, a huge turret was built in front of the station in Nayoro, the hometown of Haku, and a big air show was to be held.I still remember that the jumping platform was freezing and throbbing.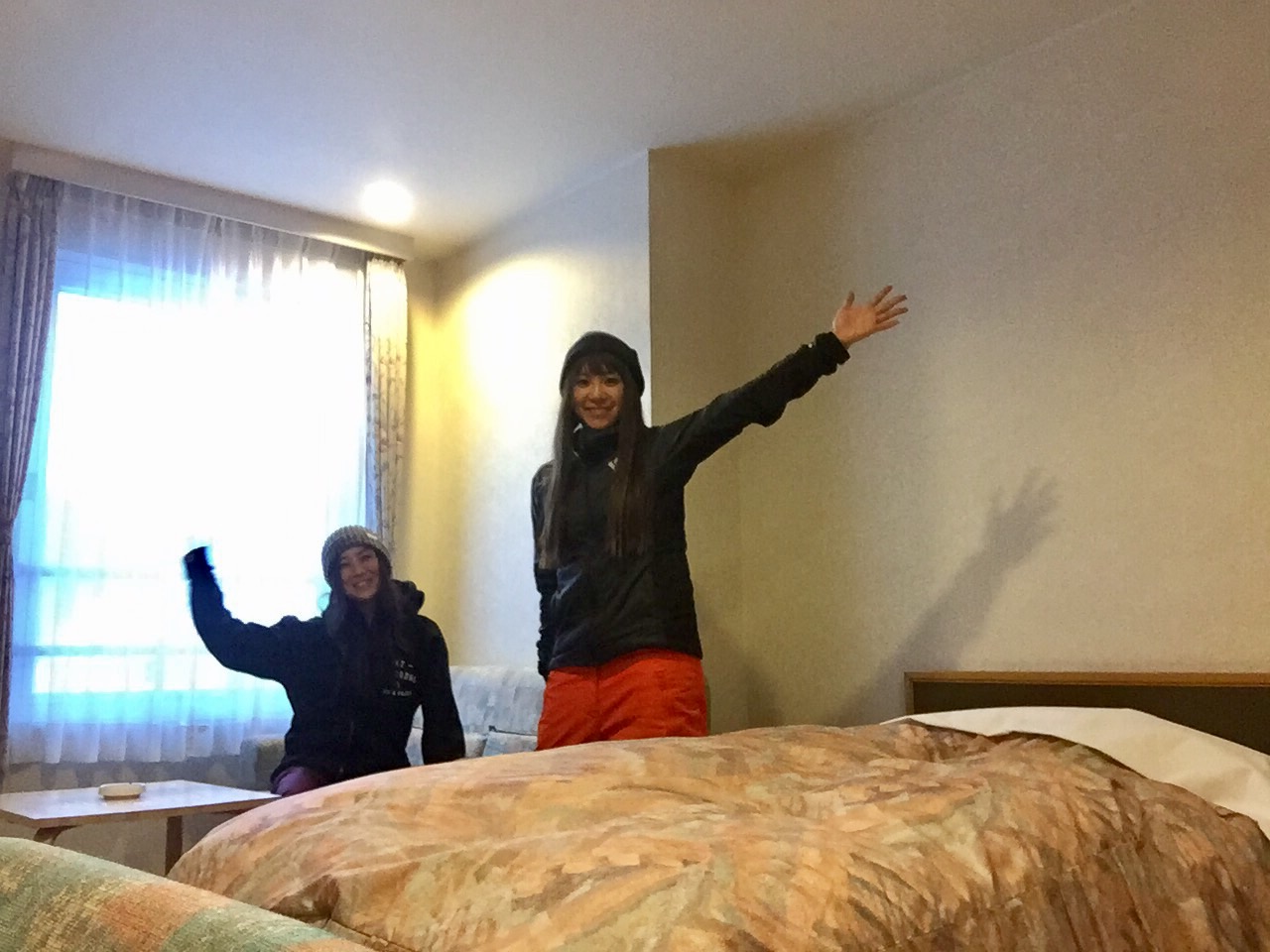 After a short detour in Asahikawa and a two and a half hour drive, we arrived at Nayoro Piyashiri Ski Resort, and when we opened the window of the room, the night game slope was shining in front of us. "Are you going to slip a little?" Women who forget their physical strength and try to attack immediately ... lol.But there was good reason to discourage.This trip had one purpose on the night of Nayoro.
First of all, I healed the tiredness of slipping on Kurodake at Nayoro Onsen, and put on makeup while inspiring the desire to lie down. "I can't help but get dressed to meet Haku for the first time in a long time," while persuading each other (laughs).While doing so, Haku arrived at the lobby.Mari was perfect, and I had a reunion without much makeup perfection.
Haku, it hasn't changed at all (laughs).Haku, who appeared with snow on his clothes, was too different from the one he met more than 10 years ago, and the tension suddenly disappeared.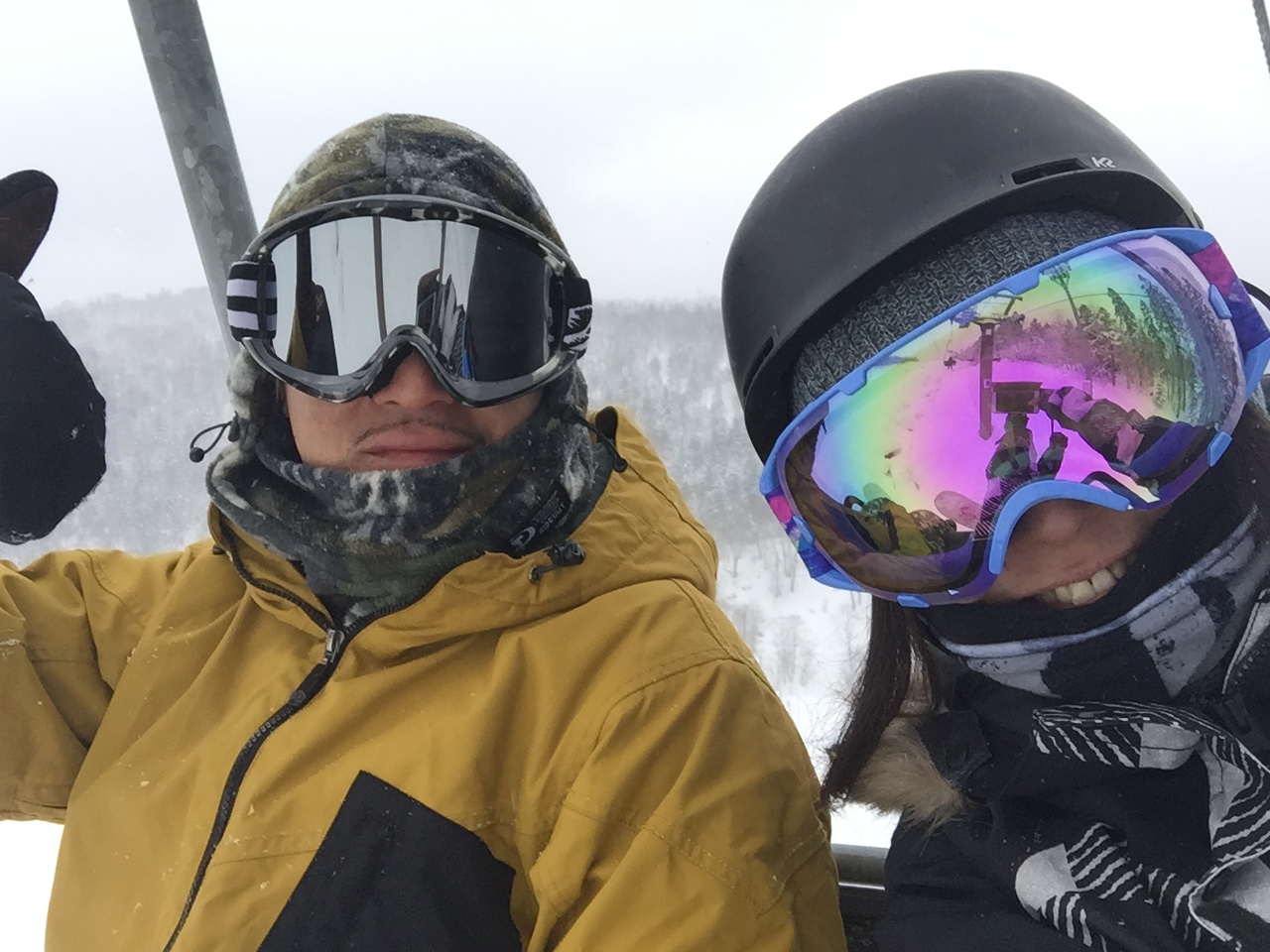 One of the places we would like to visit in Nayoro was the BAR that Haku started this season.It was very strange and interesting that Haku started BAR.However, he said, "Please come to the BAR tomorrow night, because I'm calling people who want to meet you," so we decided to withdraw and go to the hotel tavern.Haku says, "It's delicious here!" And went to the recommended restaurant.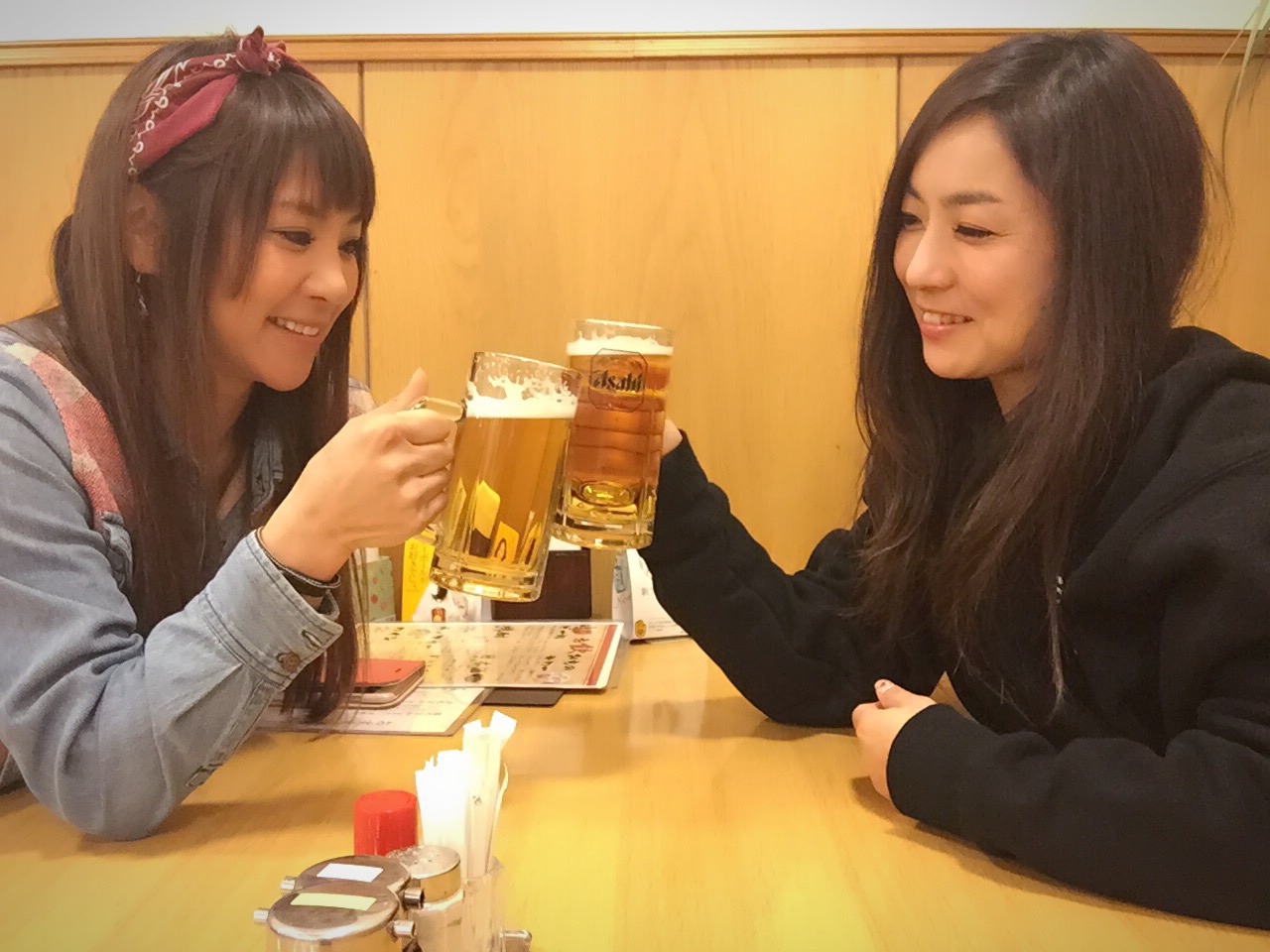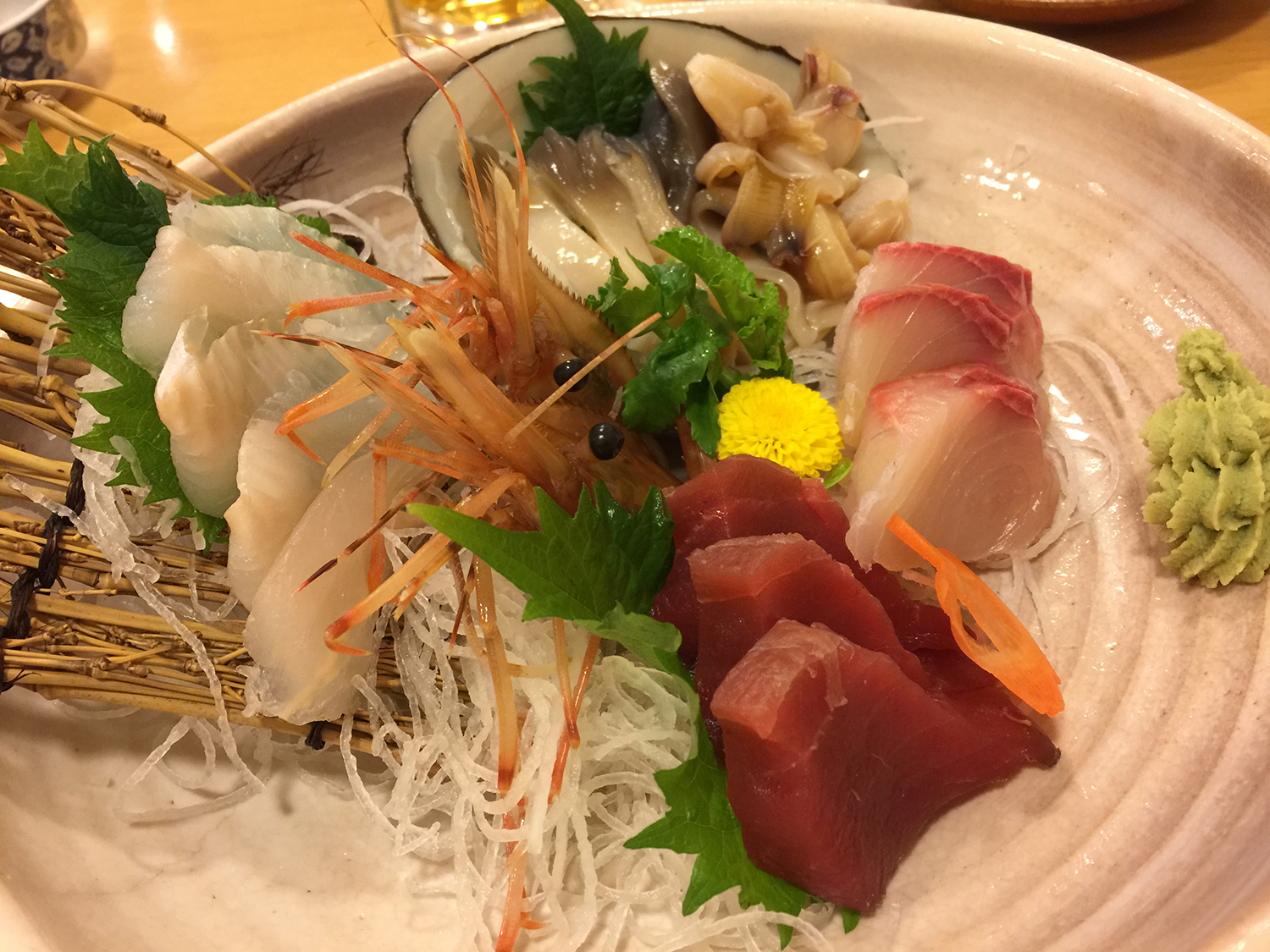 This izakaya was ridiculously delicious, as Haku said. Starting with "I've never eaten such fried sweet shrimp!", Draft beer and sake passed through my throat as I was almost fainted by the sashimi fish.
The talk after entering the futon seemed to continue forever this night, but I think that the tired adults were sleeping in 2 seconds.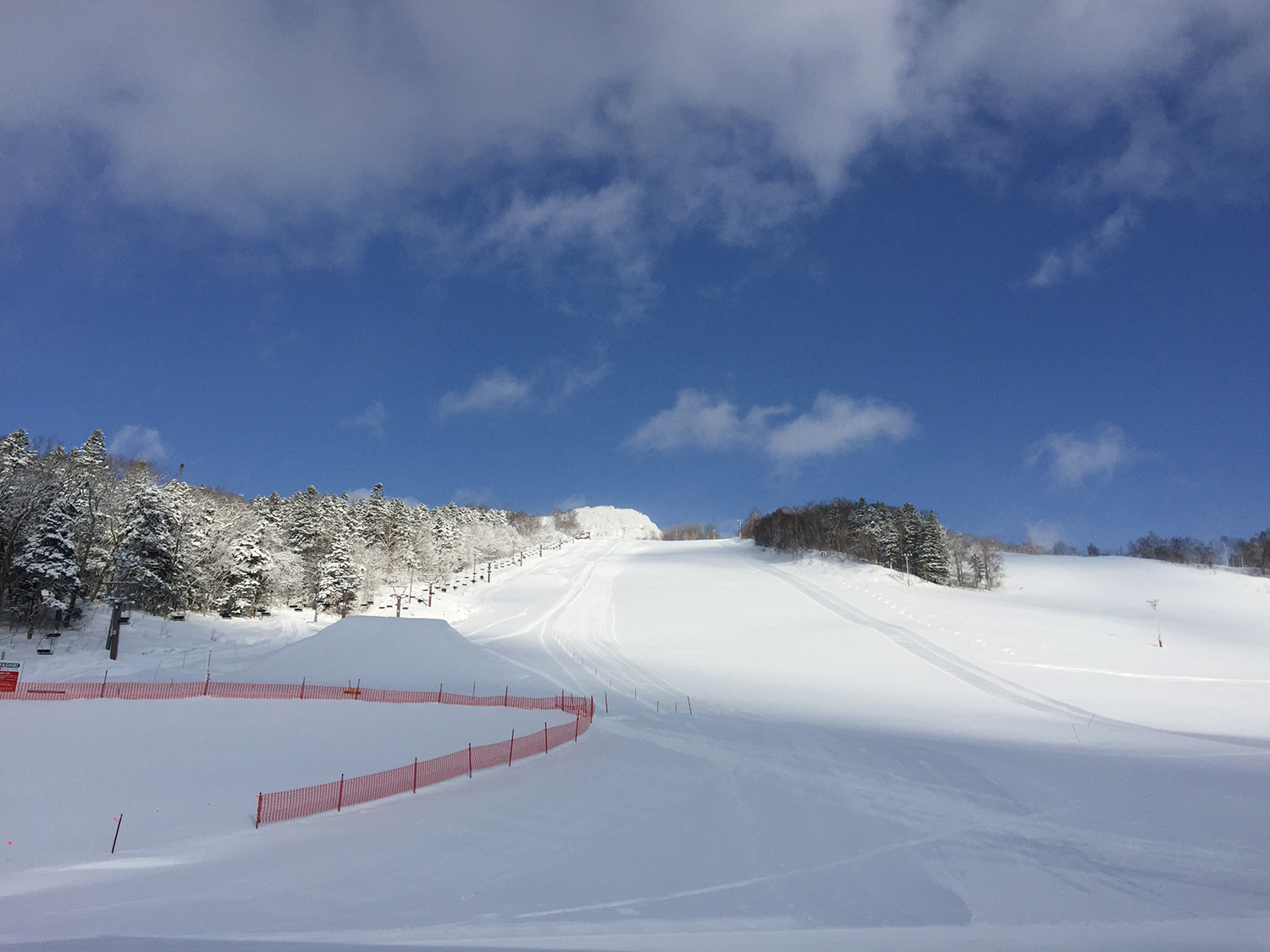 The next morning, it was forecast that the weather would be rough.Still good.I was tired of traveling, so I took a rest and said, "I wish I could enjoy the slopes of Nayoro."However, contrary to our expectations, when I woke up, a dazzling blue sky was spreading.
Sadly, when you look at the slopes covered with fresh snow in the sun, your energy is better than your tiredness.To Mari, who was trying to relax a little until Haku arrived, I said with a lot of energy. "Hey, I'm slipping!" I quickly headed to the slopes.
The morning sunny days on bad weather forecasts are often momentary sunny days.I don't want to miss this.There was also the aim of slipping while I could see it and slowing down if the weather collapsed.
Sure enough, as soon as I slipped one, the mountains were covered with clouds and the blue sky disappeared.Still, it was surprising in this part of Hokkaido, but the ski resort park was interesting.Enjoy the break-in while playing with the spine and undulations with light snow.
Soon the count came.Mari also joined and this time the three of us headed for the slope again.It was such a weather and I didn't expect much, but on that day we were drawn into the unimaginable Haku World and learned about the immense fun of Nayoro.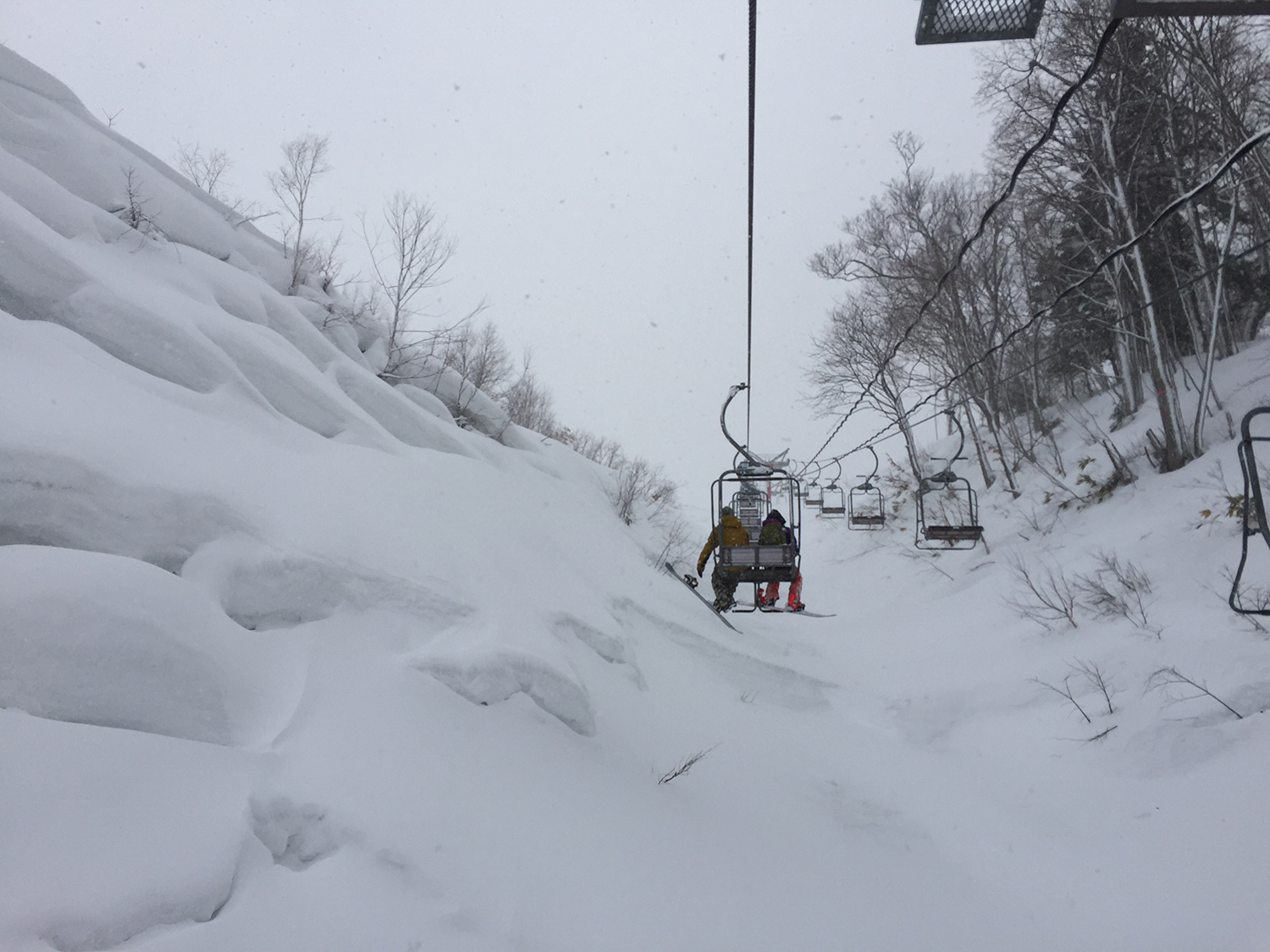 The snow quality of Nayoro, which is located further north of Asahikawa, is extremely light.The line that Haku takes me is very mellow, but it feels like I'm in a different space.Moreover, since everyone was Goofy, it was easy to match the image of the sliding line and it was interesting.Mari and I both enjoyed following Haku, who slides through the trees with surprisingly supple and soft movements like animals.When I slide behind Haku, I feel like I'm moving softly.In fact, it was the lightness of the snow in Nayoro that made it slip.
Special Thanks: Nayoro Piyashiri Ski Resort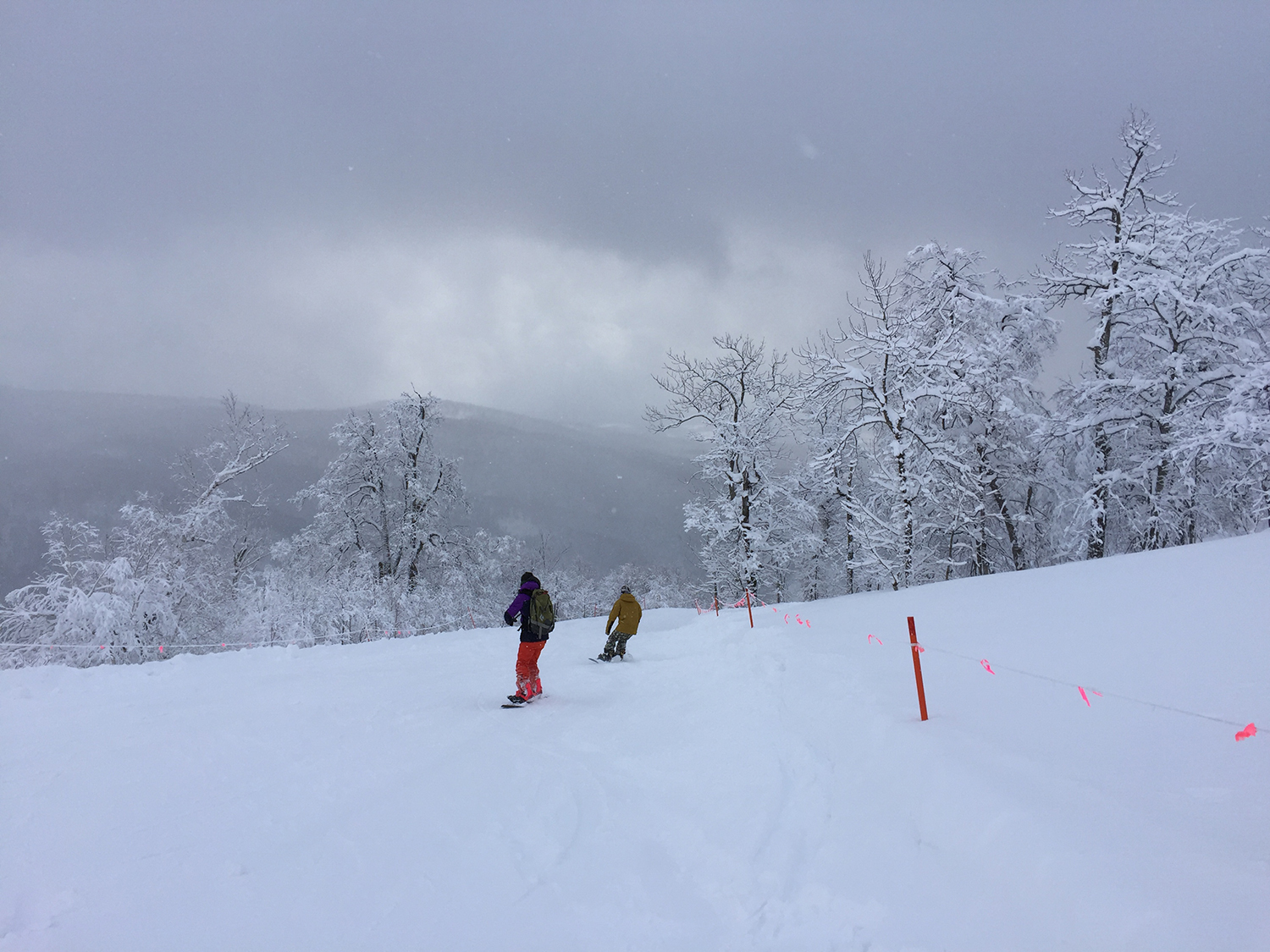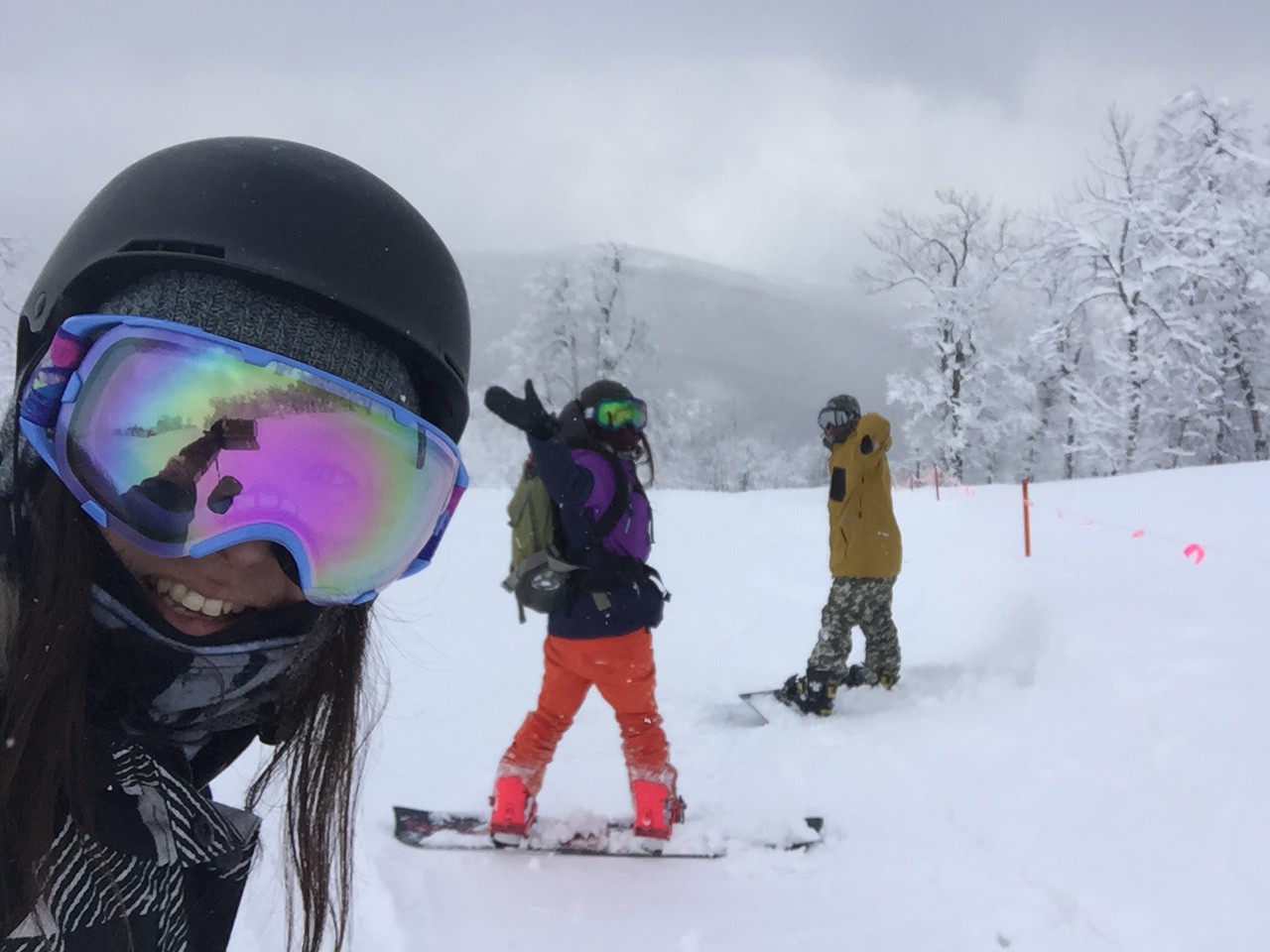 By the time I ate a notebook rack tree run, my true stomach was fluffy.Haku said he recommended it and took me to a mountain lodge restaurant on the slopes.The soup curry I ate here was excellent!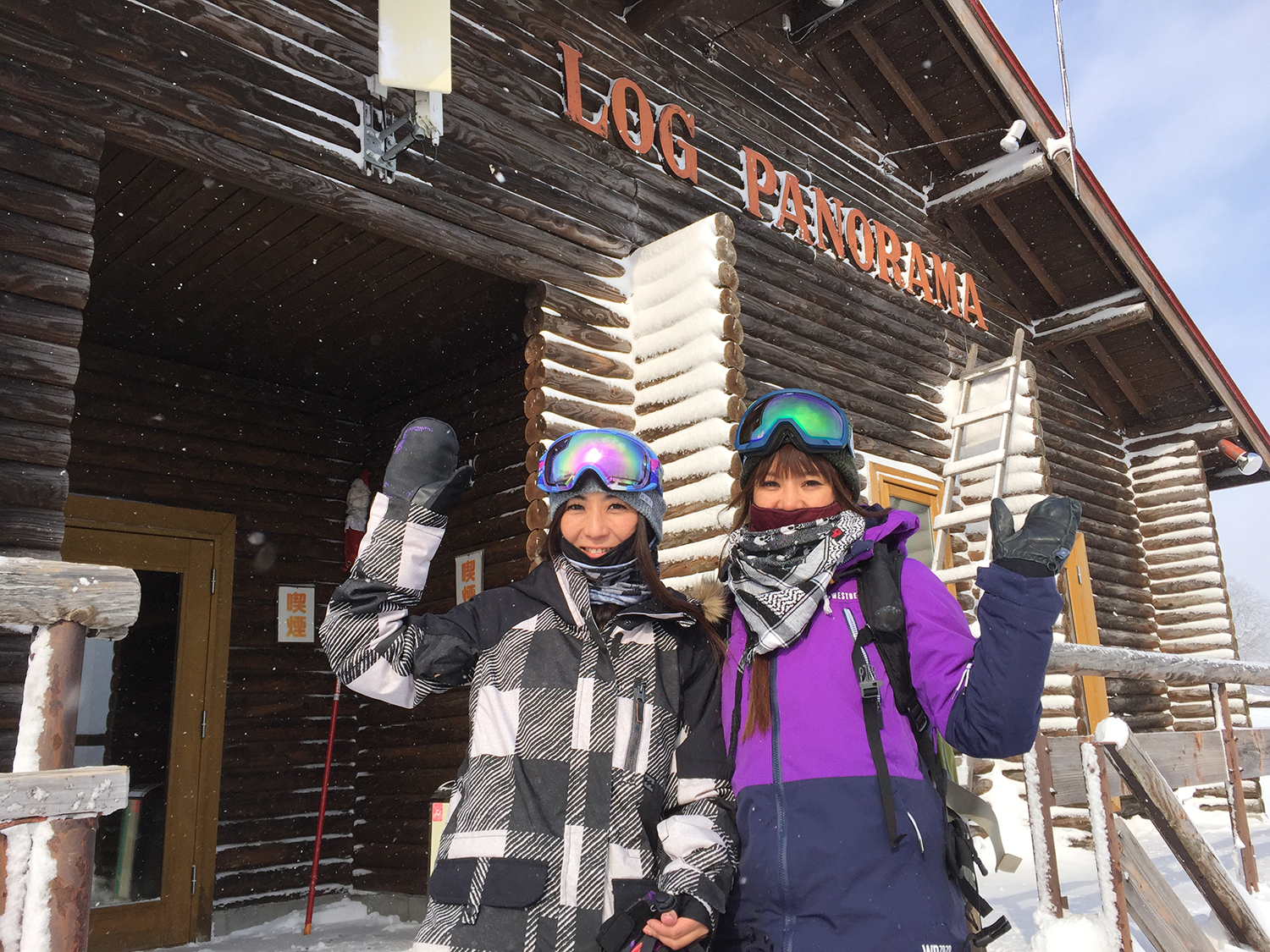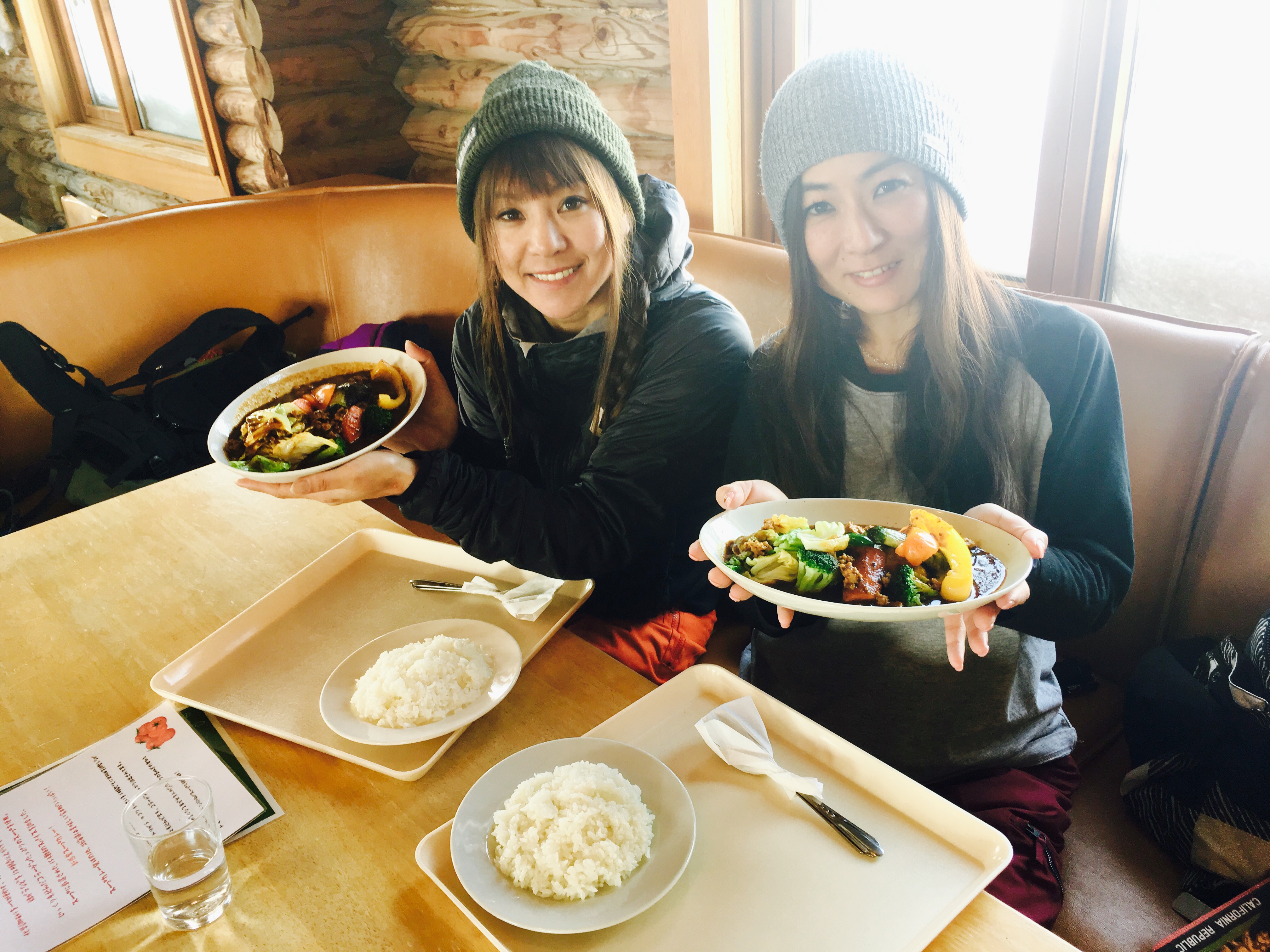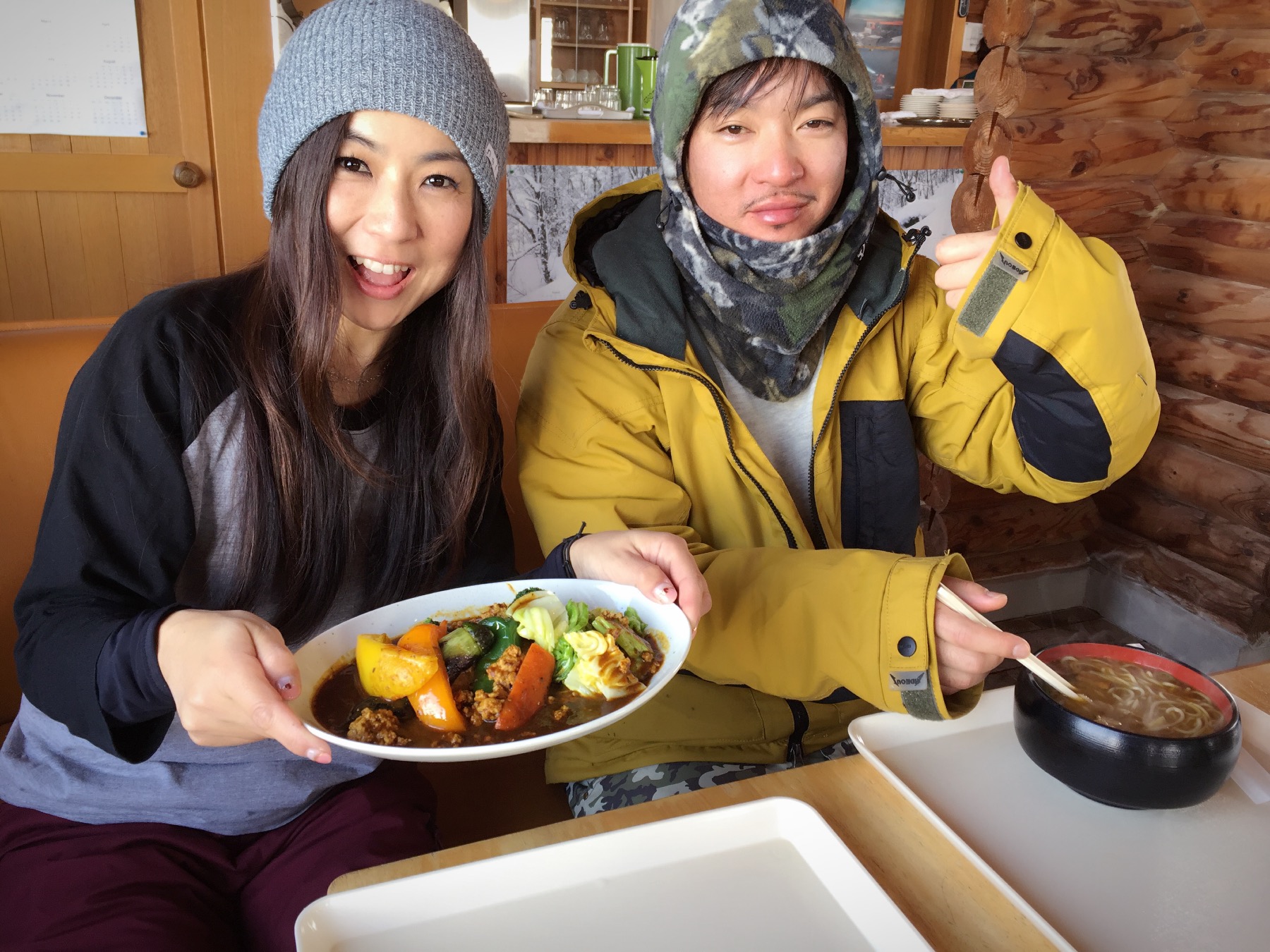 When I was full with a delicious lunch and went out to the afternoon round, Haku was waving something big.Looking beyond that ... an object that glows orange !!!
Speaking of Nayoro local, this person!Another person appeared.It is the appearance of Hayato Doi who was rumored on the lift earlier.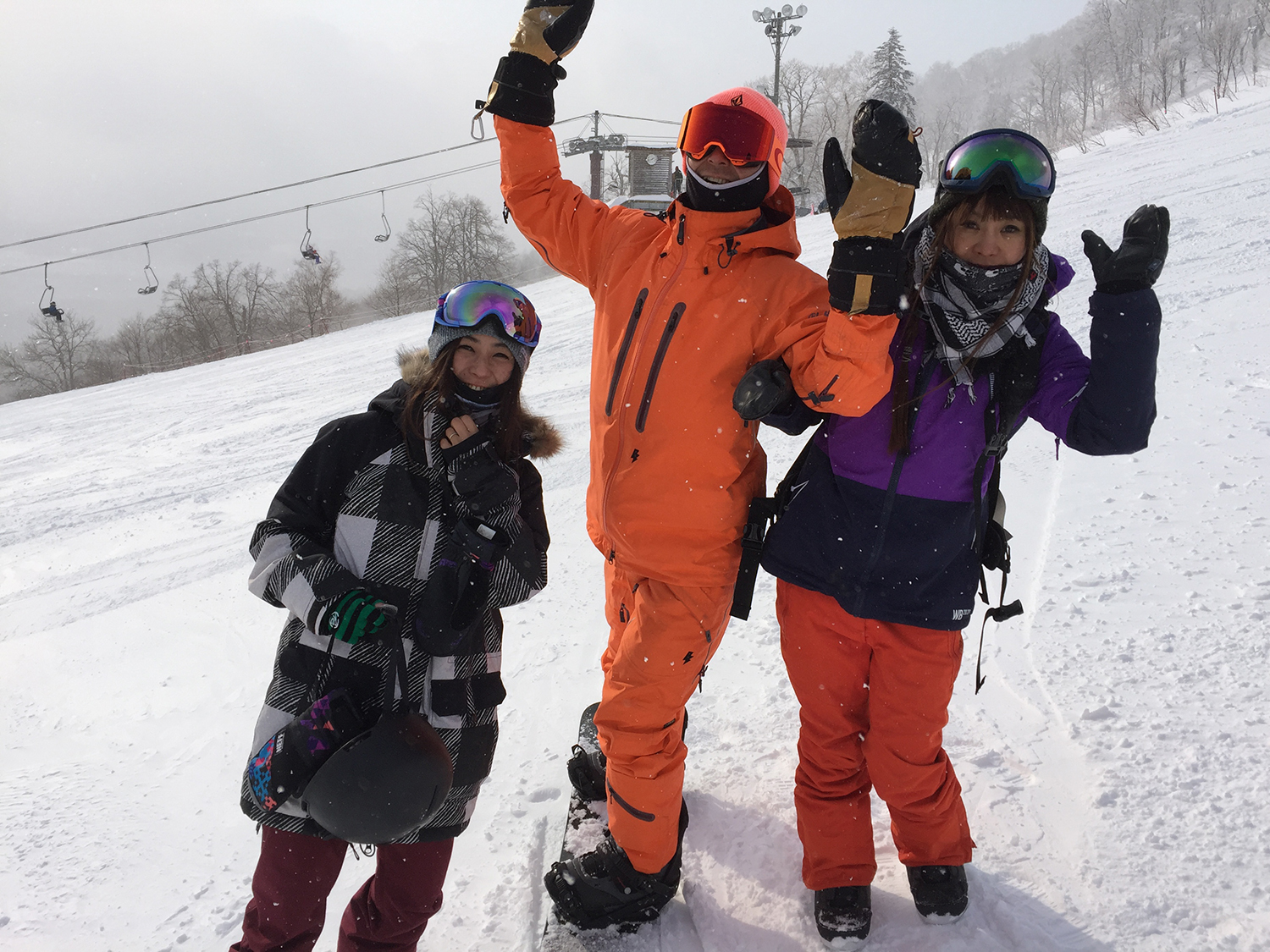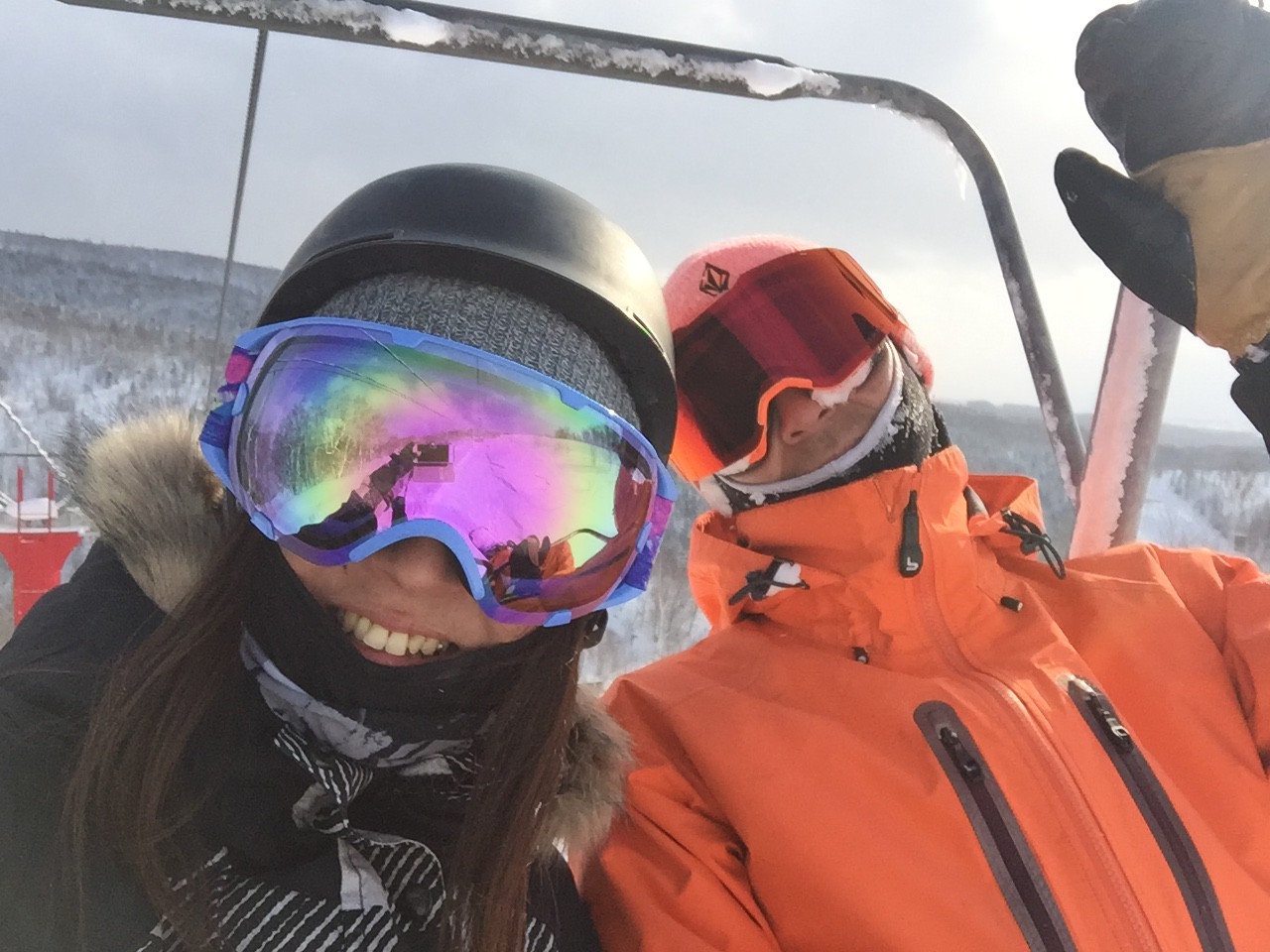 With the appearance of Hayato, the sun miraculously appeared in the sky of the rough forecast, and the session of these four people began.Their Nayoro world is just a wonderful place that we couldn't imagine, "I want to go more! I slipped over and over again.And on this day when I skated only on the no-track, I realized the greatness of Nayoro in the fact that I never skated on the same line.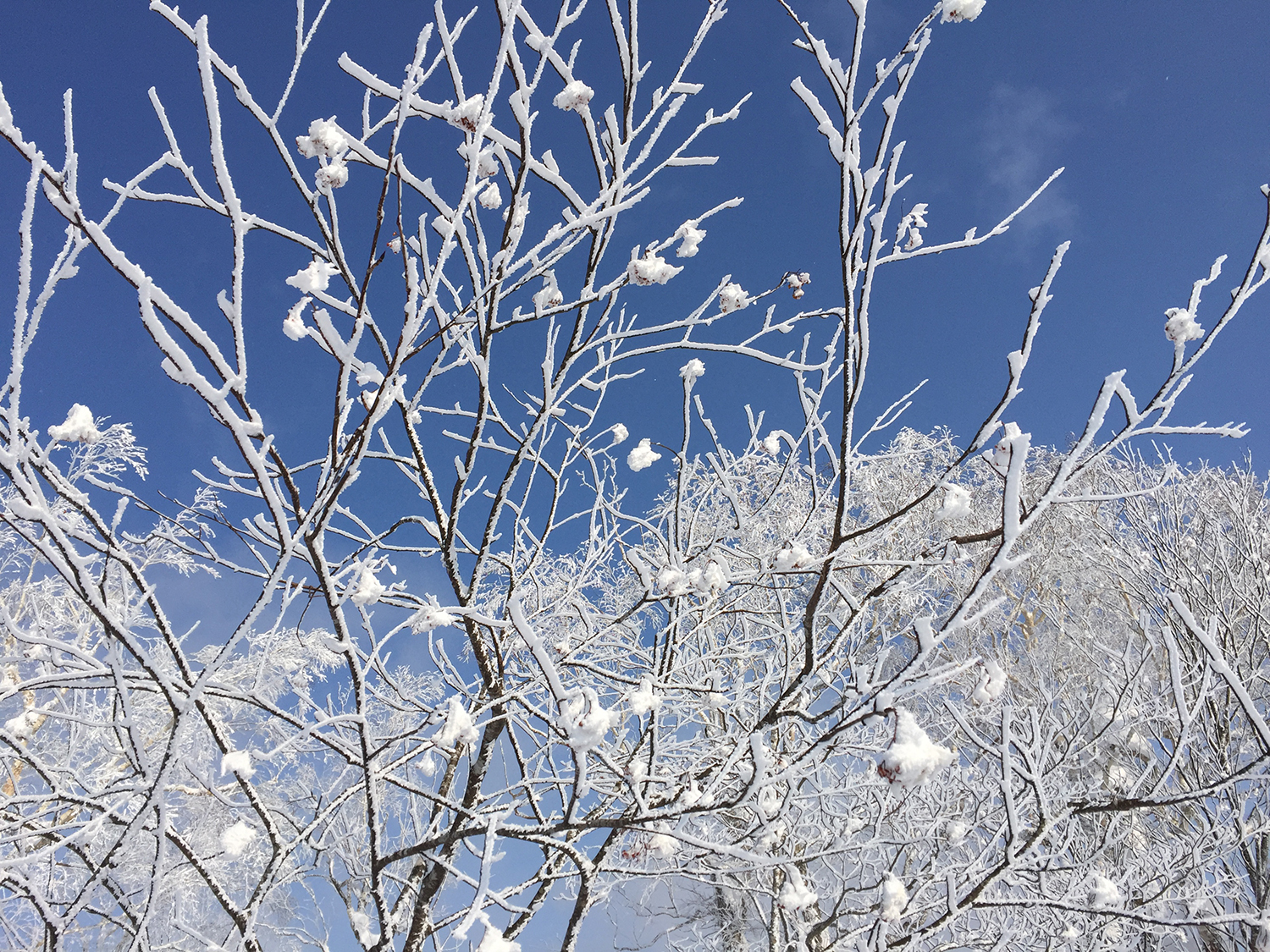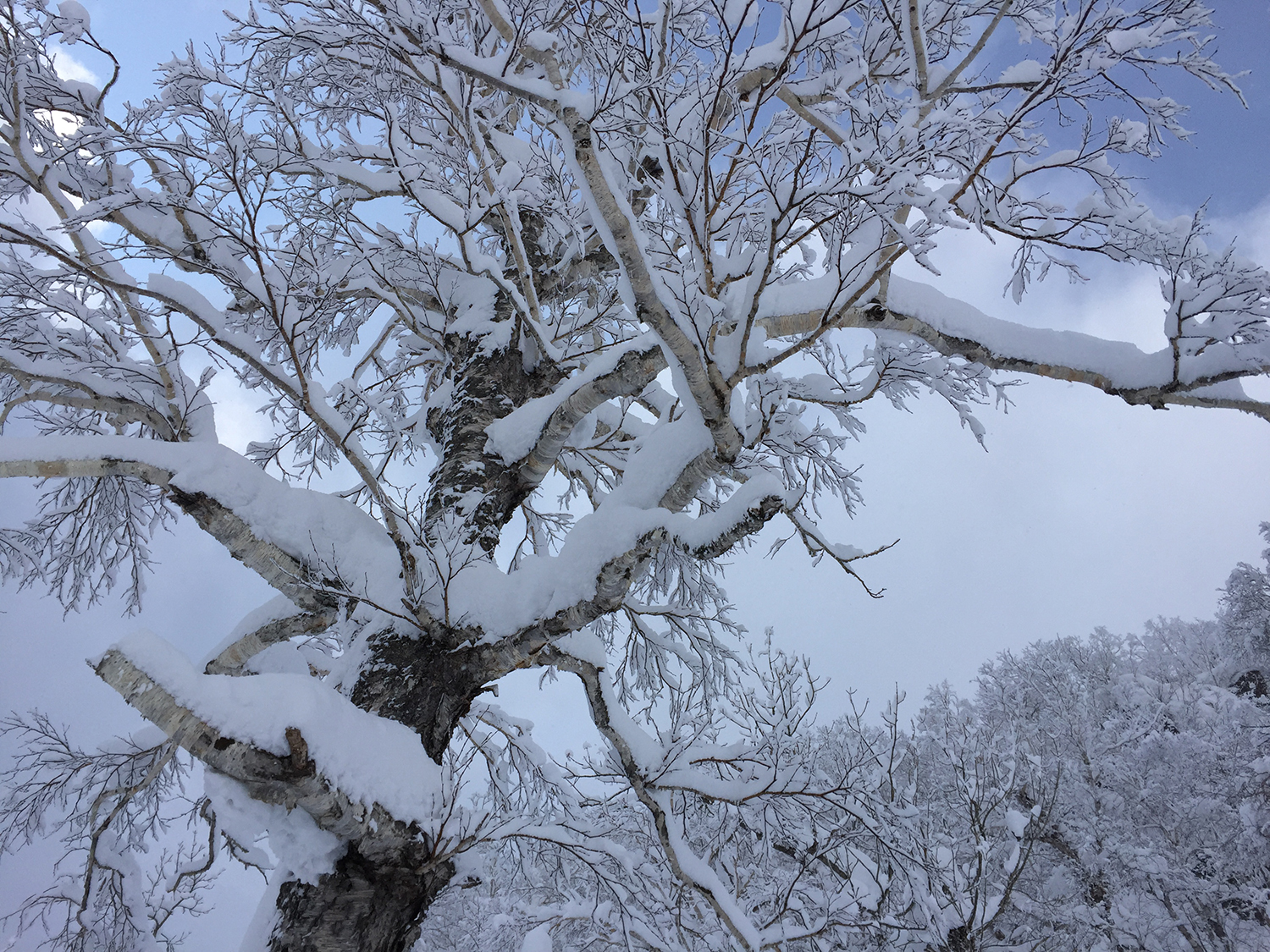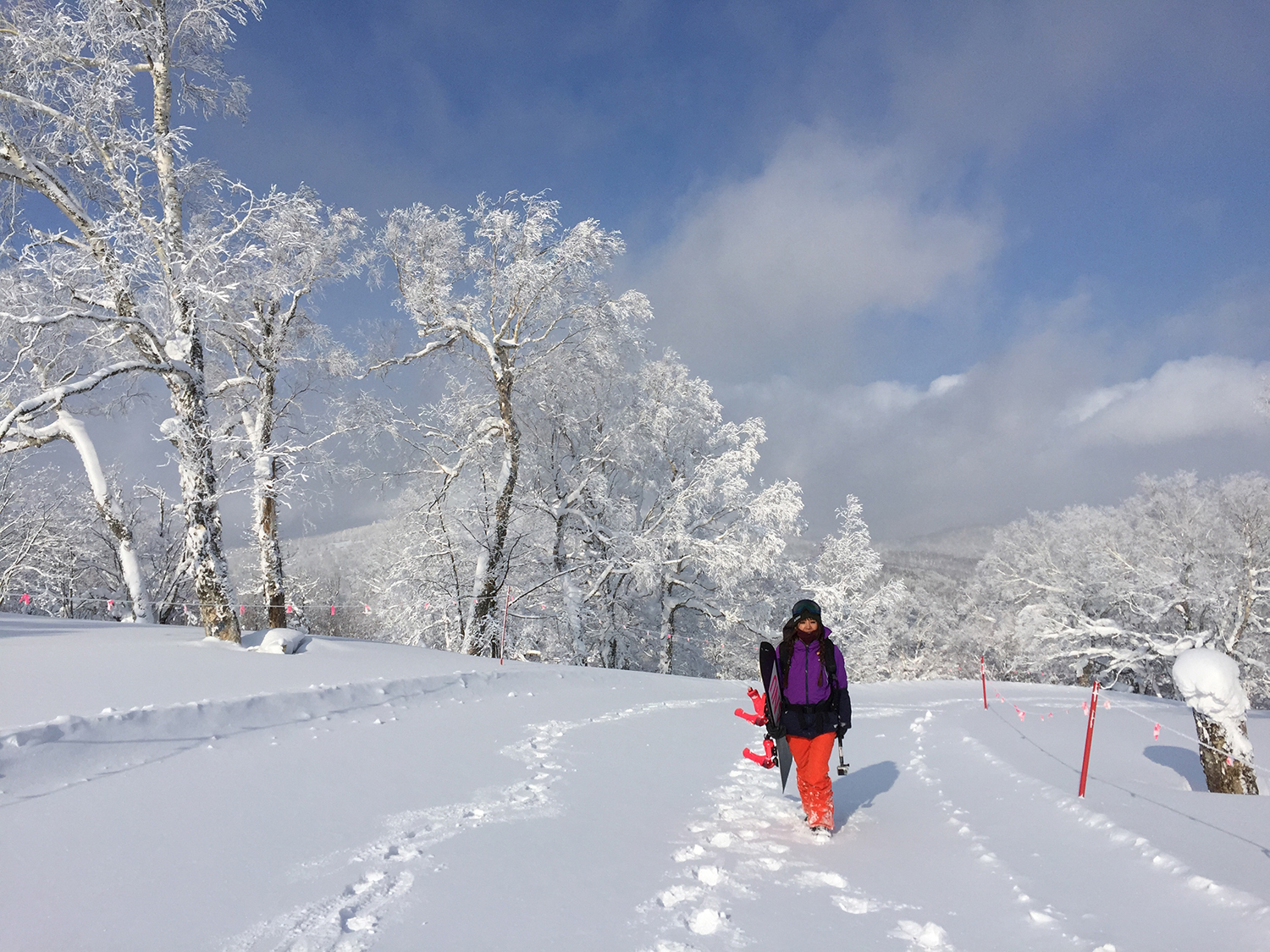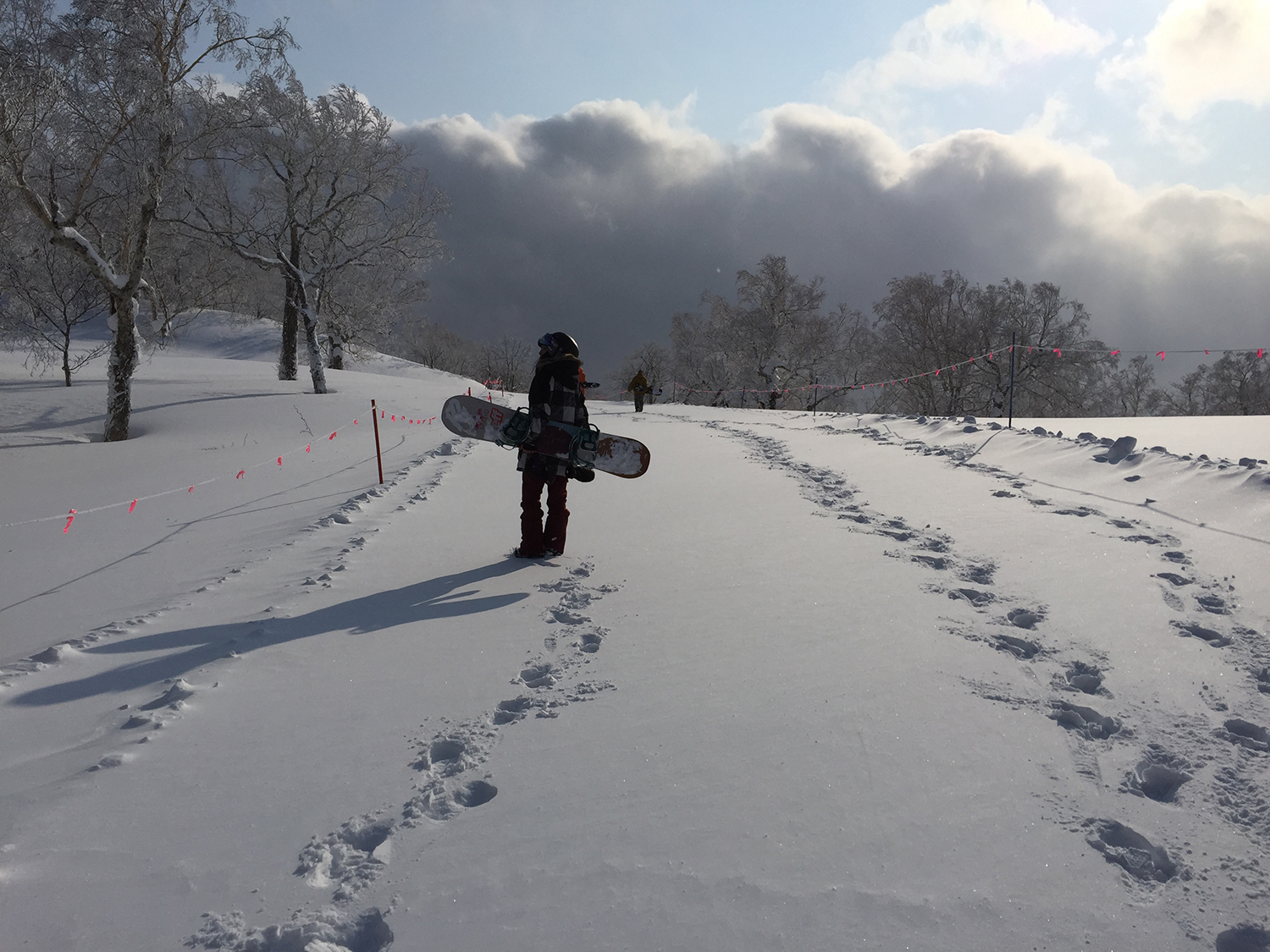 With the best locals, Haku and Hayato, we skated in the quietest and most calm we've ever experienced.It was a session where both Haku and Hayato were attacking, but their soft movements and gentle personality made it feel like a relaxed atmosphere.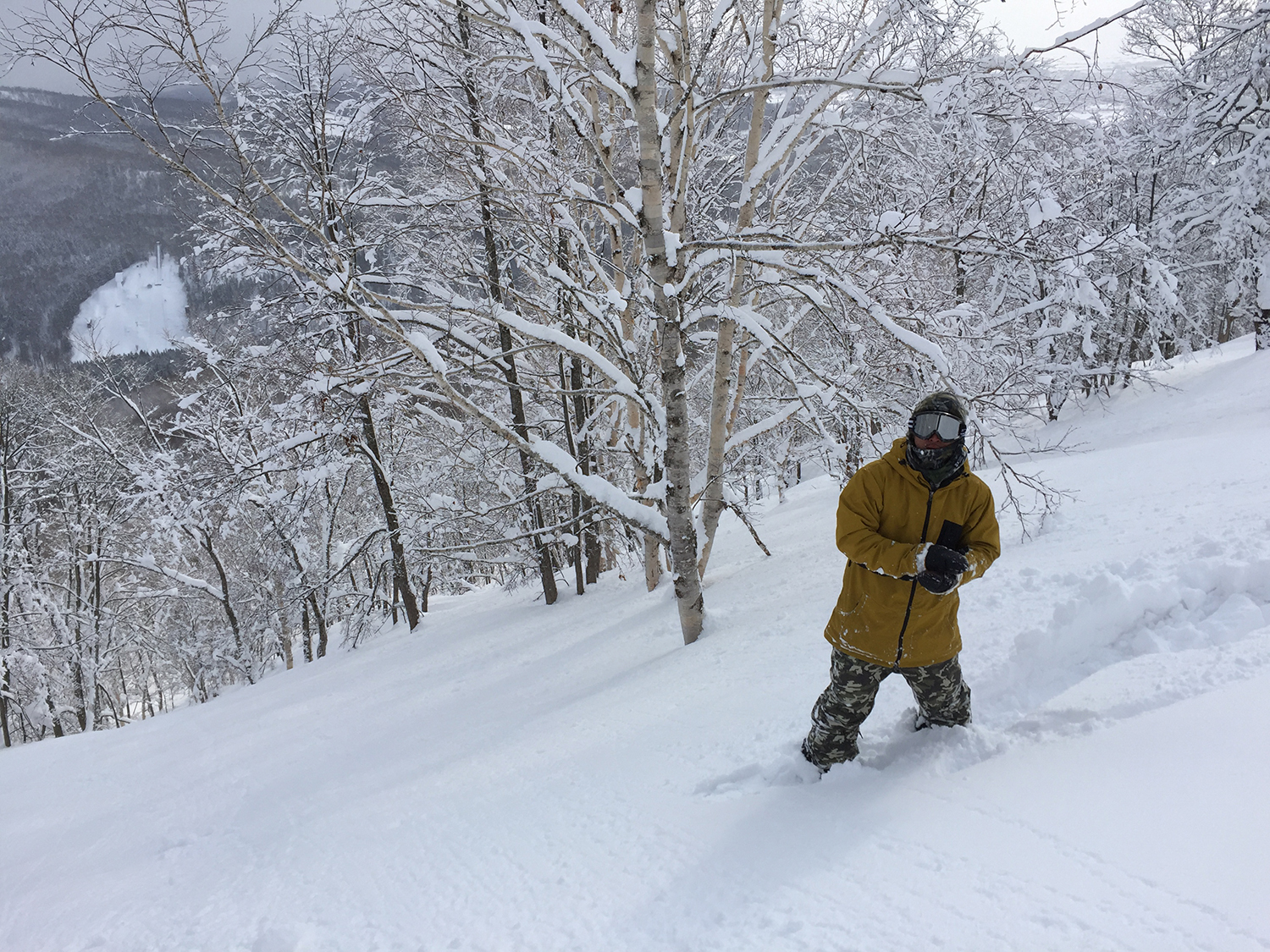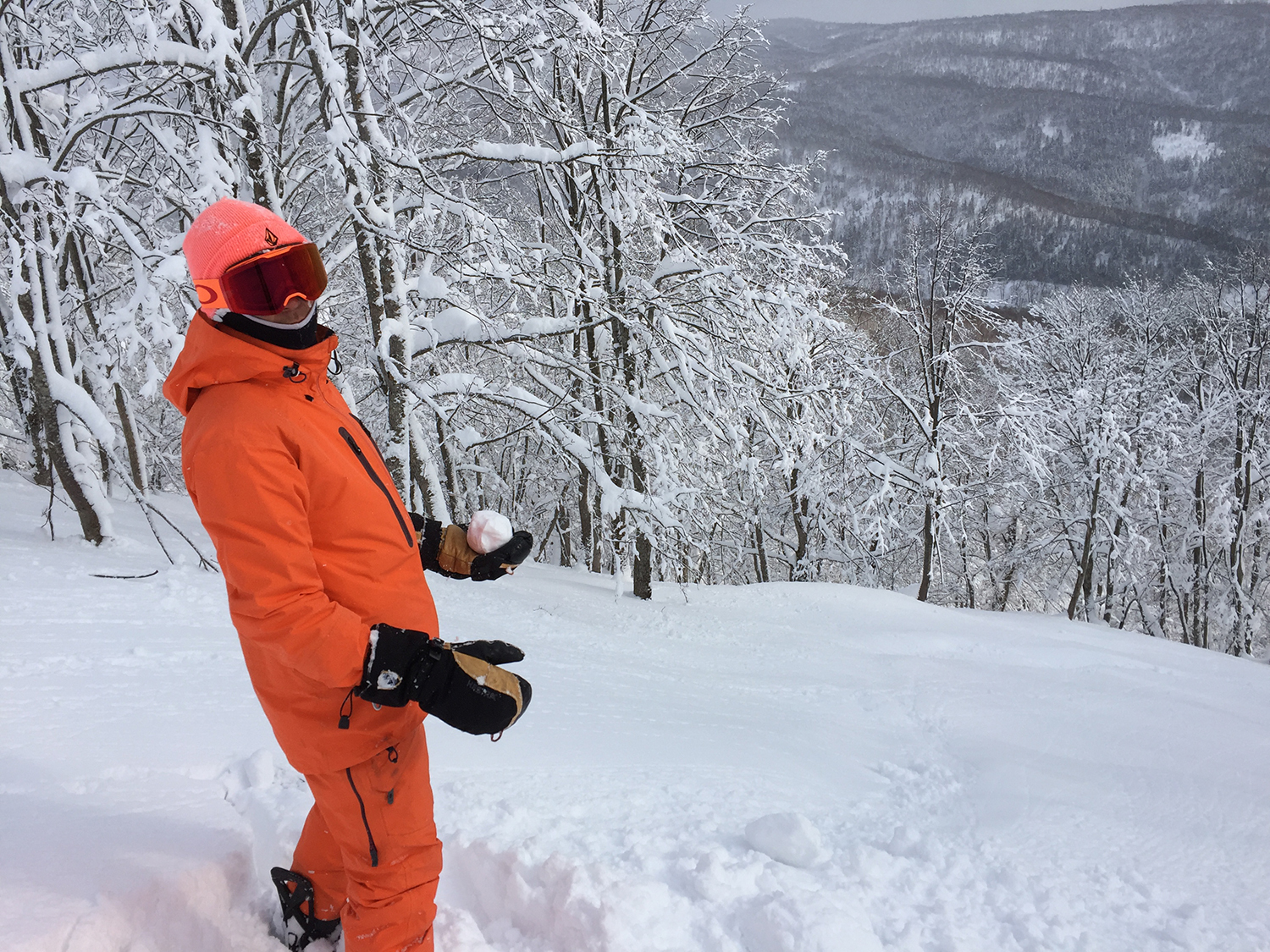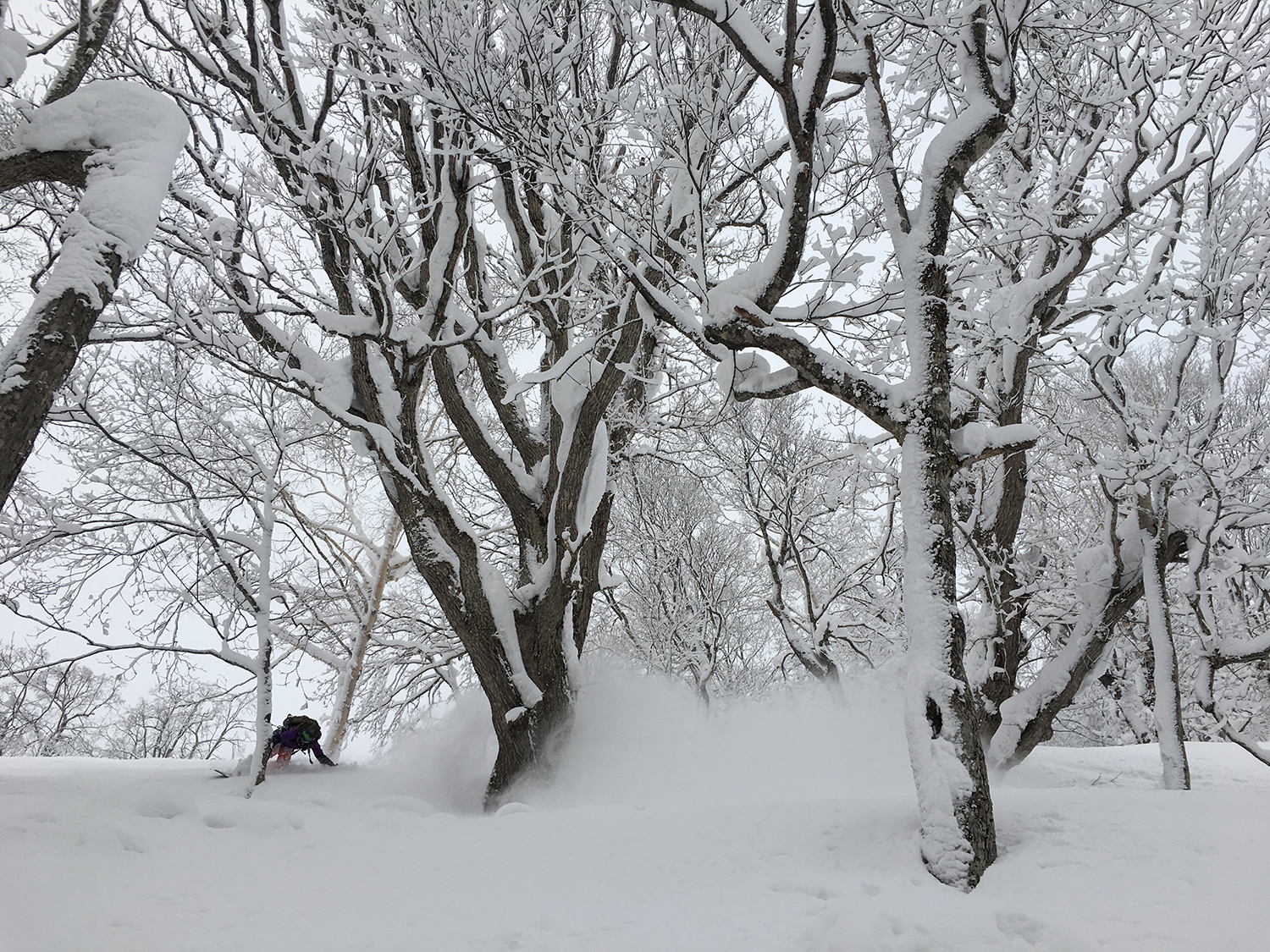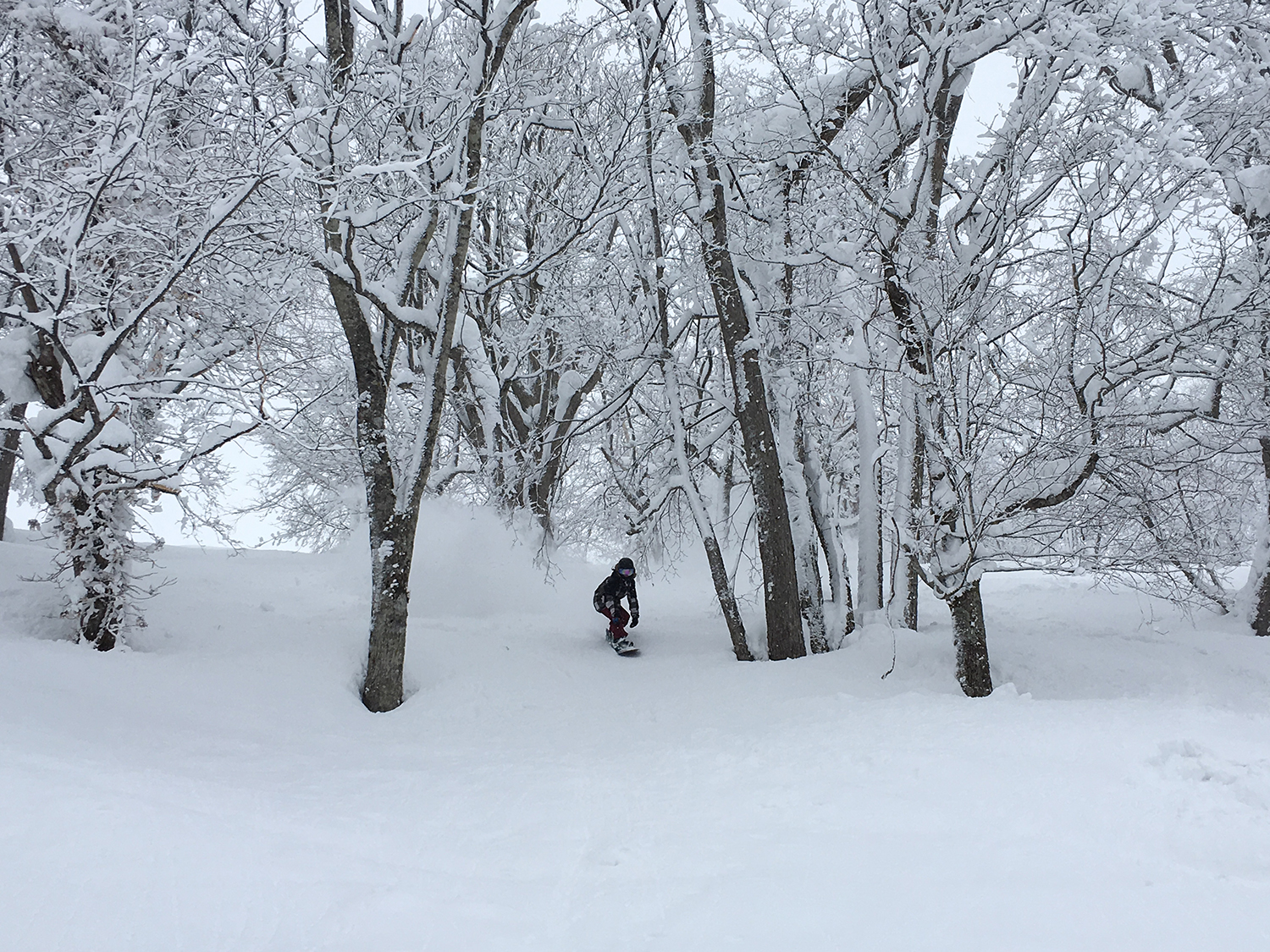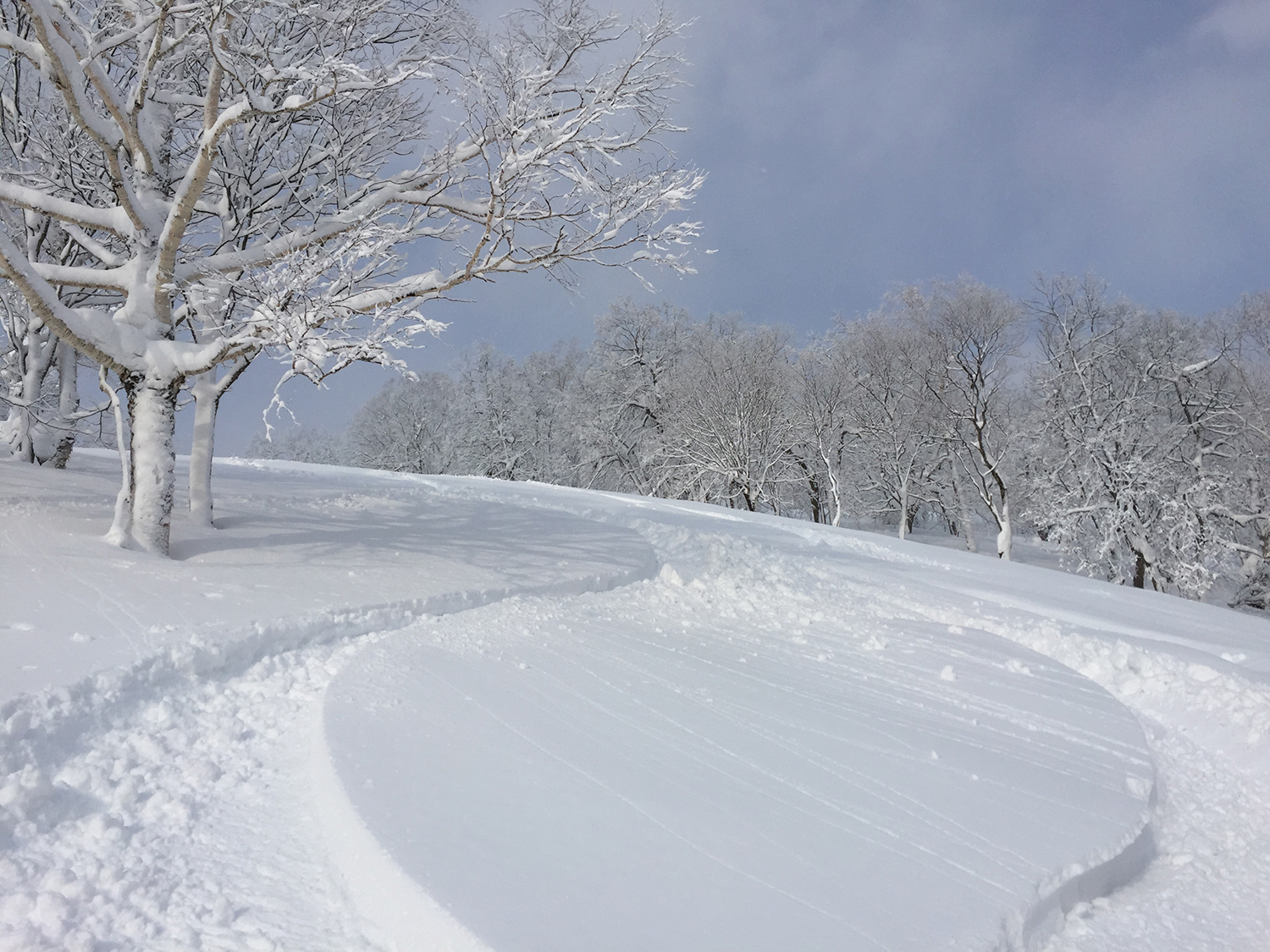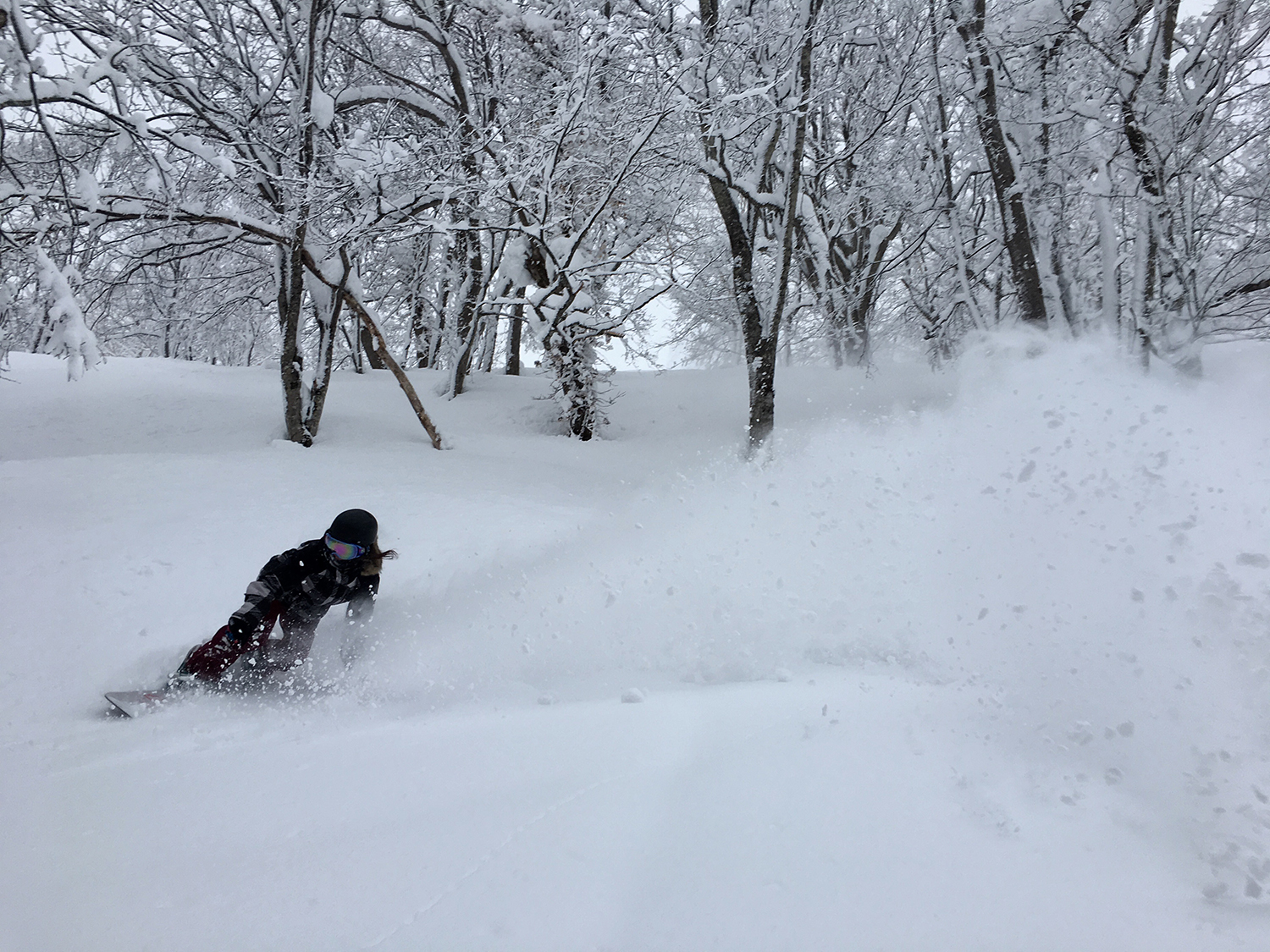 The path that Mari and I have taken seems to be completely different, and they are quite involved.I had Mari Mizukami appear as an indispensable member of the girls team "Lil" that I started as a leader for many years, but before that, Mari and I were involved as female riders in "First Children". Can you remember it?At that time, we were in a whirlpool that changed the Japanese snowboarding world.From the mainstream half pipe to big air and street rails, the range has expanded.Mari and I at that time were also rivals with the ambition to jump out of the frame of "Japanese girl rider".So sometimes the range of action was covered, and the places we were interested in, the riders, and the brands were the same.There is no doubt that they have lived with mutual awareness.
I'm sure Haku Suzuki and Hayato Doi have run through their snowboarding lives in the same way.There were times when I was burning with ambitions, and there were times when I was injured and suffering from consequences.If you look at snowboarding so far without telling us, we have something in common.
That night, Mari and I went out to the town of Nayoro and had a cup of sake at Haku's recommended izakaya.It's a celebration of this trip.It's not over yet.
It's different from drinking in the room.The events that happened when I couldn't meet, and the thoughts of the past that I couldn't say much.Feelings overflowed at once, and laughter and tears overflowed.I'm sure that I'm traveling together like this, so I'm sure there is a feeling that it will overflow naturally.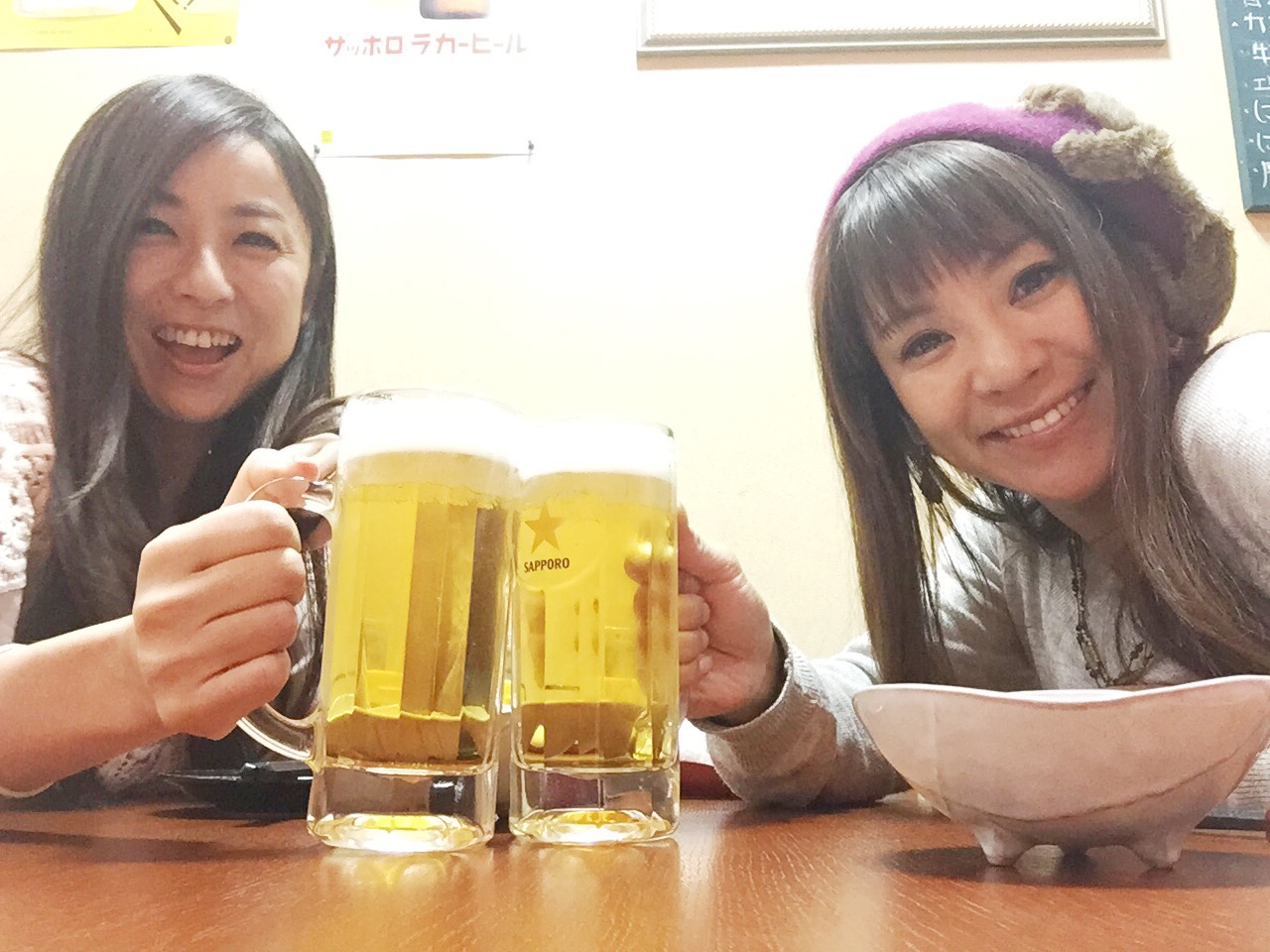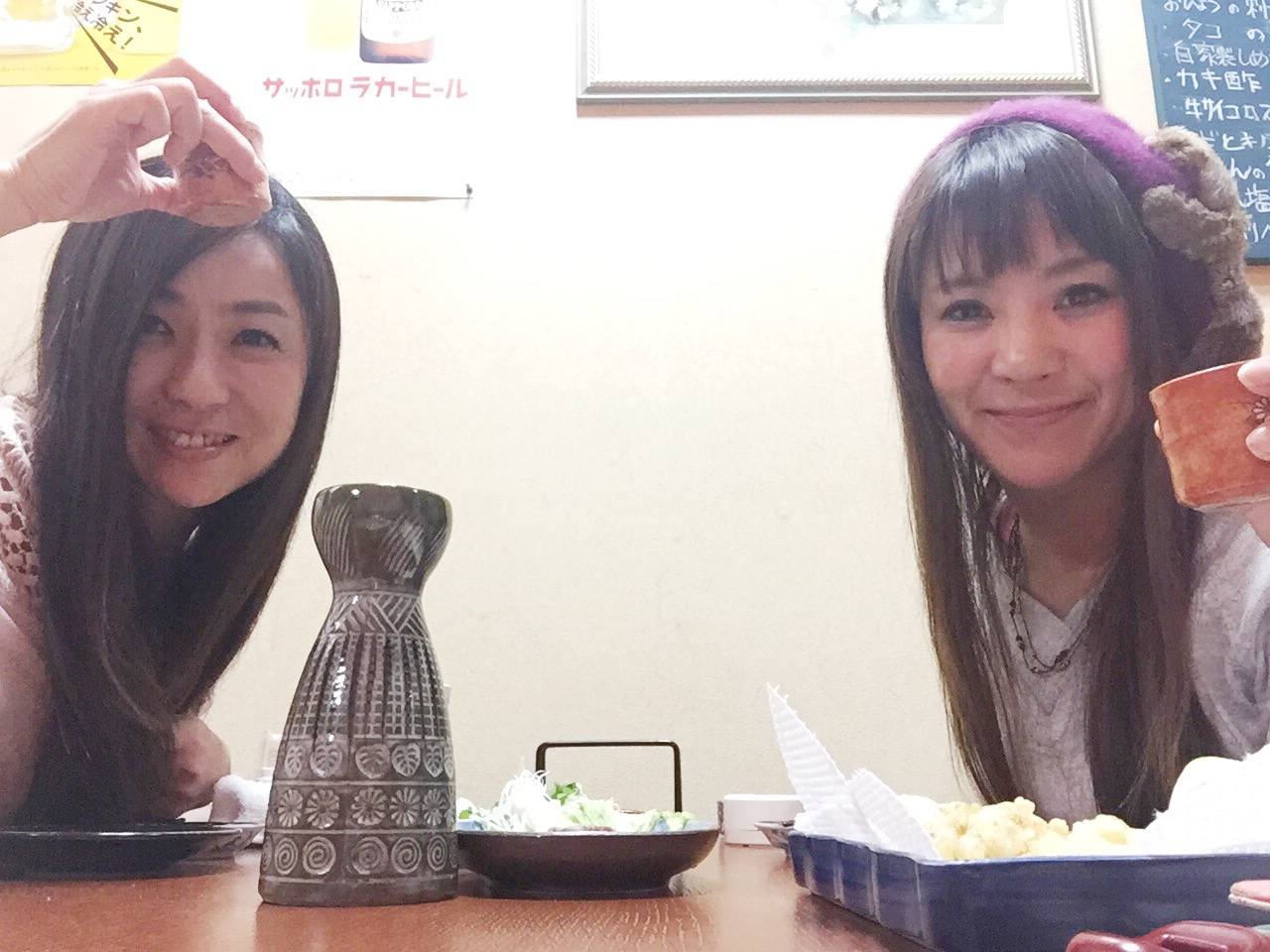 We talked and had a good time, and we finally got a good feeling. We are finally the main dish on the night of this trip!Haku's BAR, also known as "Stale Fish", has set foot.HIP HOP artist HI TOP was waiting for us there.Do many people remember it?It was he who wrote the song for Lil's exciting legendary rider C4.
"It was Lil that gave me the opportunity to continue playing music."
His words, which said so modestly but clearly, touched my heart.I was sick at that time, but I was so happy that I was happy to do it.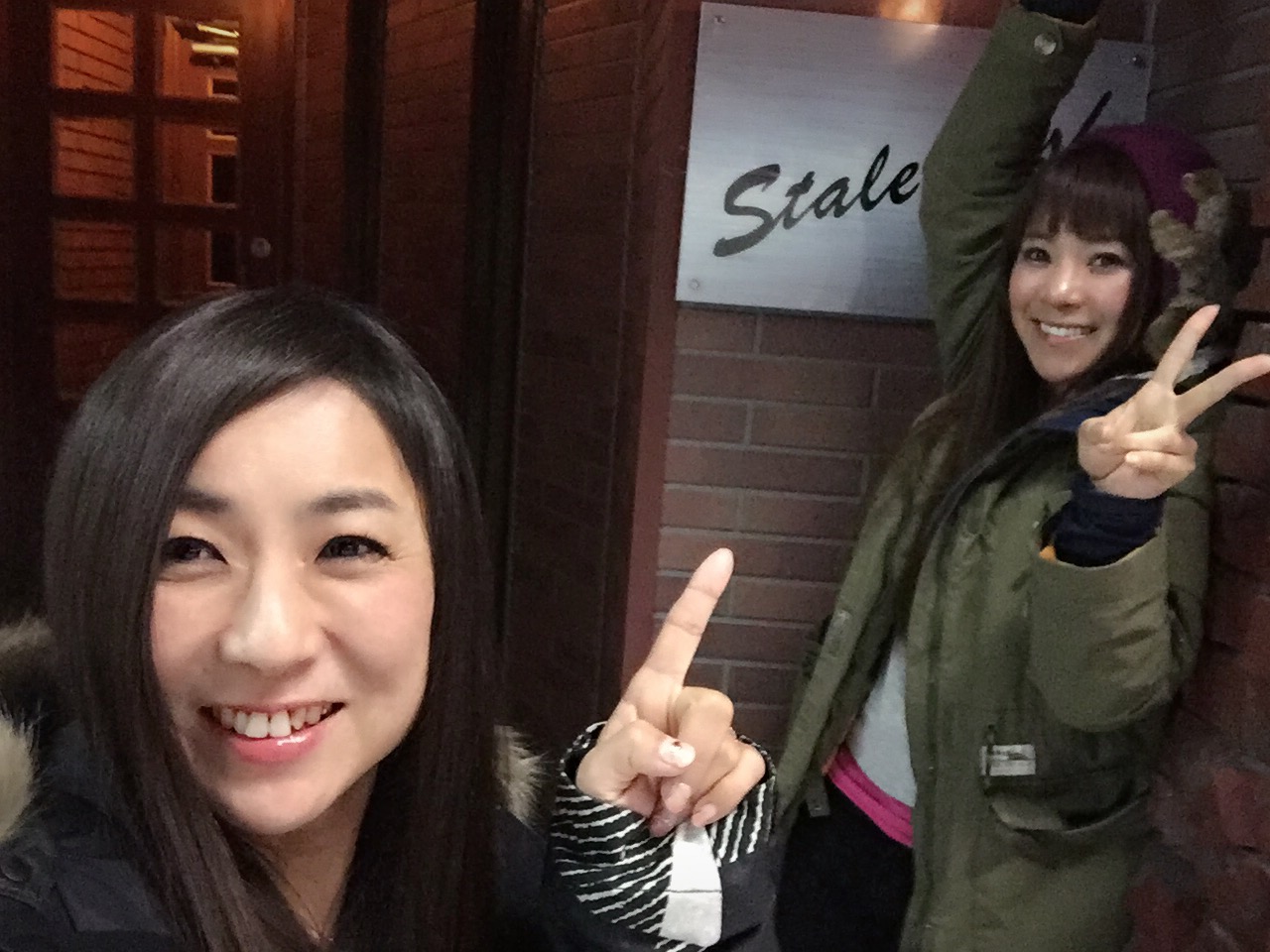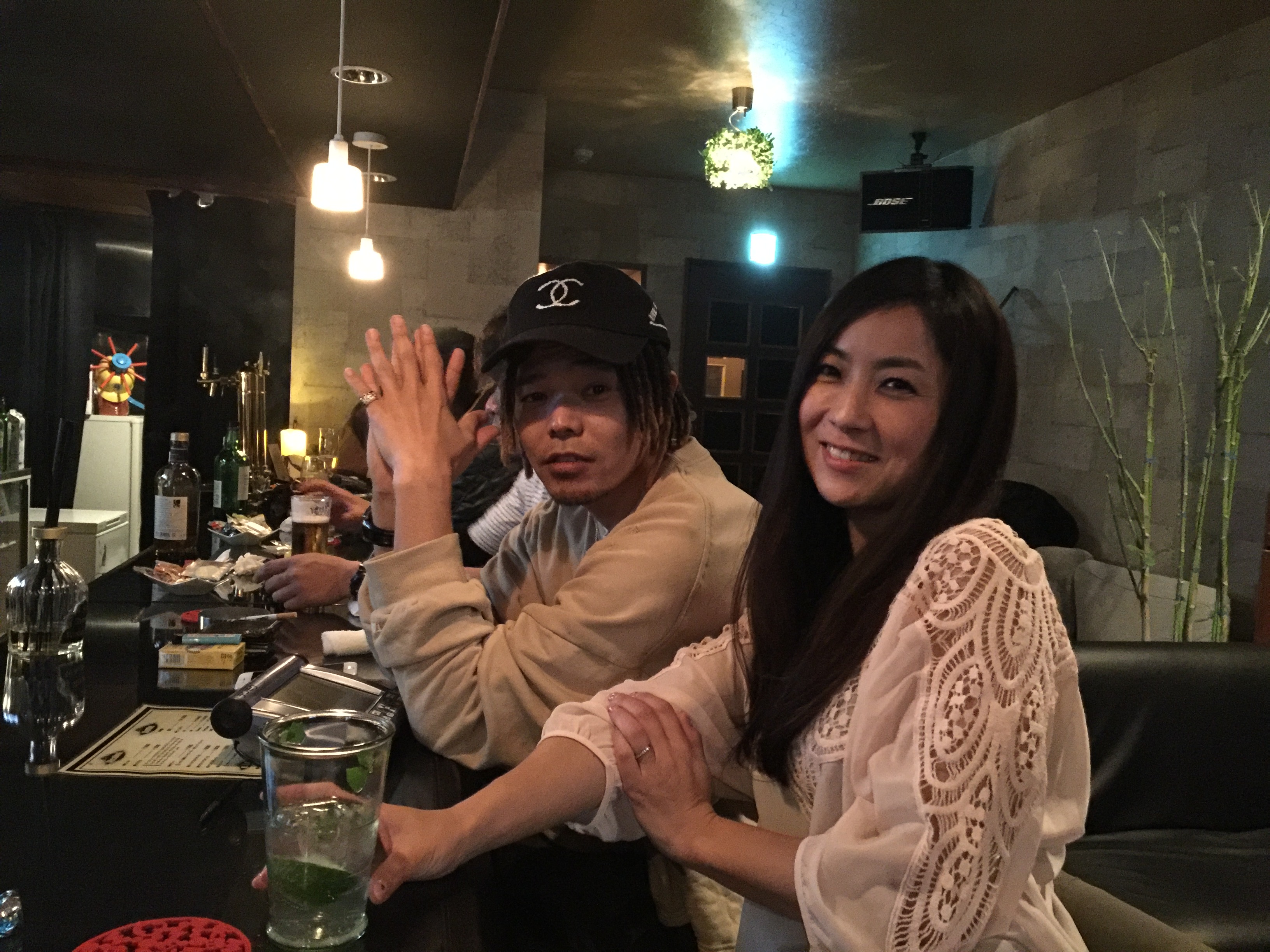 Our bodies were softly relaxed in the snowy mountains of Nayoro, our hearts were filled with heat in the night town of Nayoro, and at the end we sang karaoke with Mari and the night of Nayoro ended.
There was no doubt that the few happy reunions here colored our journey.With a hot feeling in my chest, I got to bed soundly.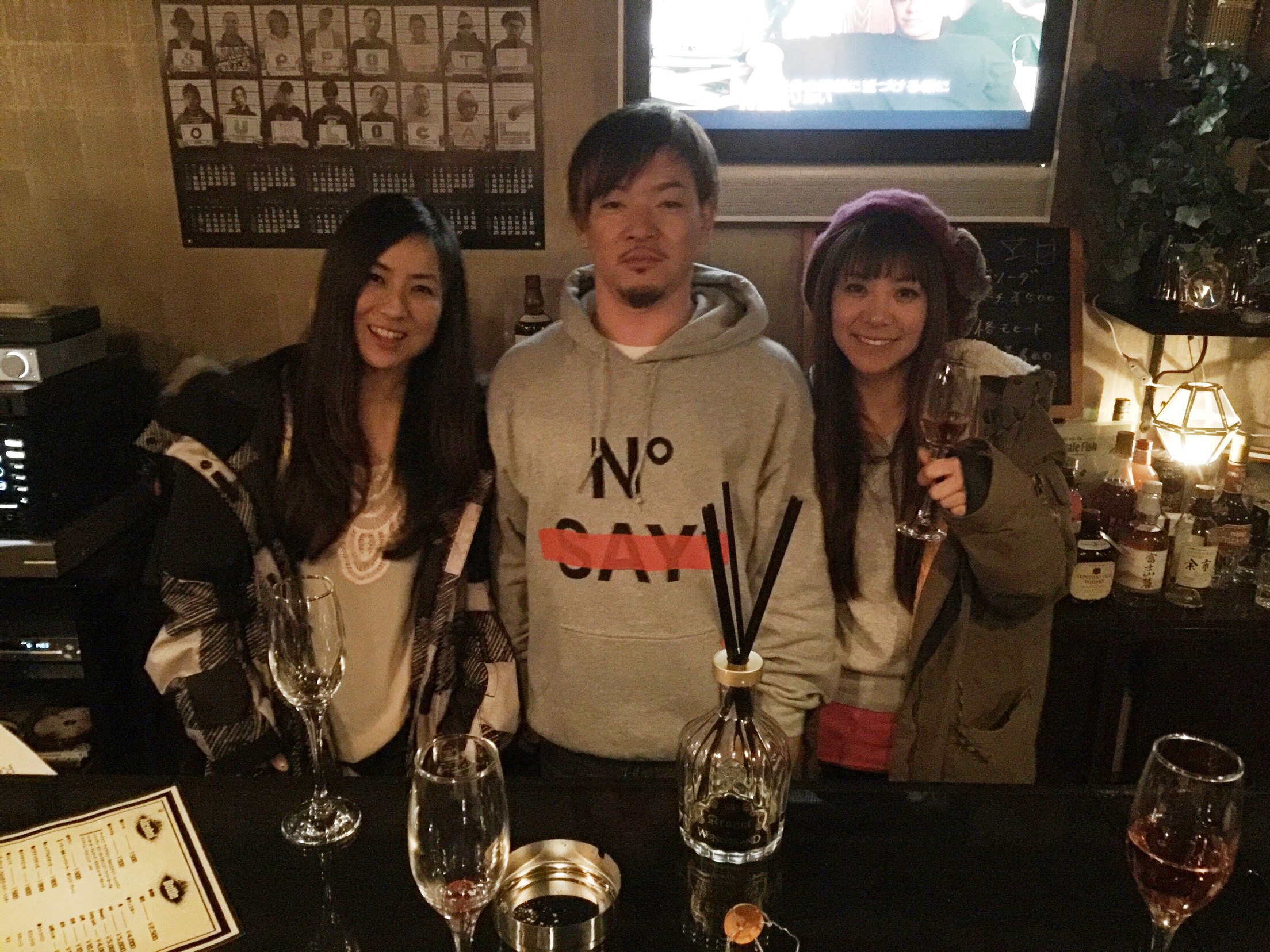 Two Women Journey ~ Nayoro Edition MOVIE ~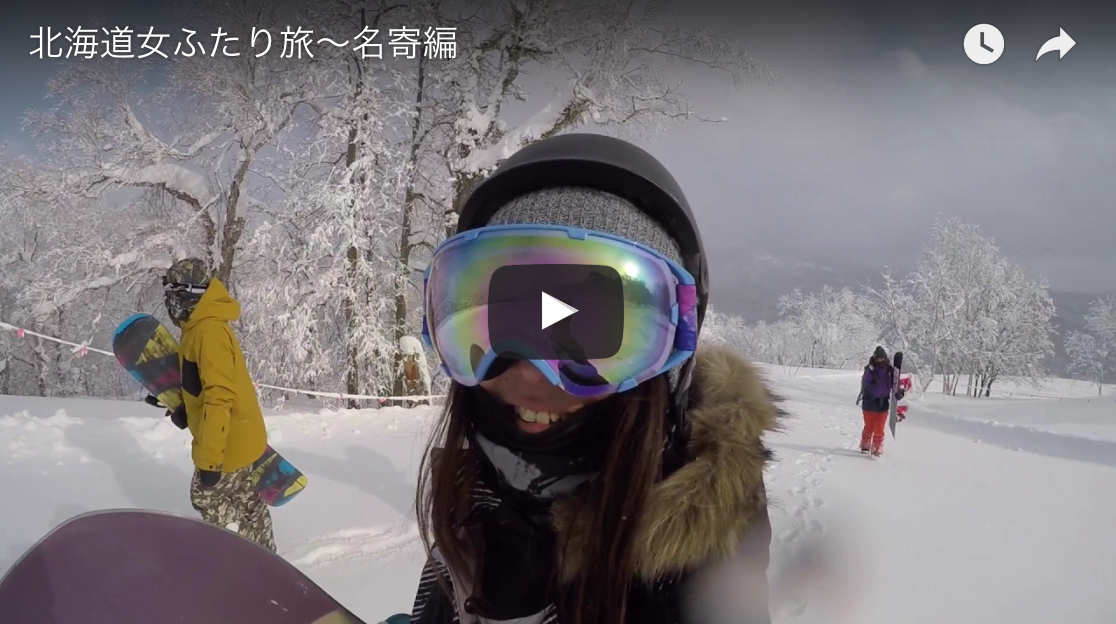 (Haku and Hayato's comfortable slip, our slip is also included in the video. Please check it out)
Continue to Furano.
Next time, one week later, the final episode "VOL.1 ~ Furano Hen ~" will be uploaded.
looking forward to!
★ PROFILE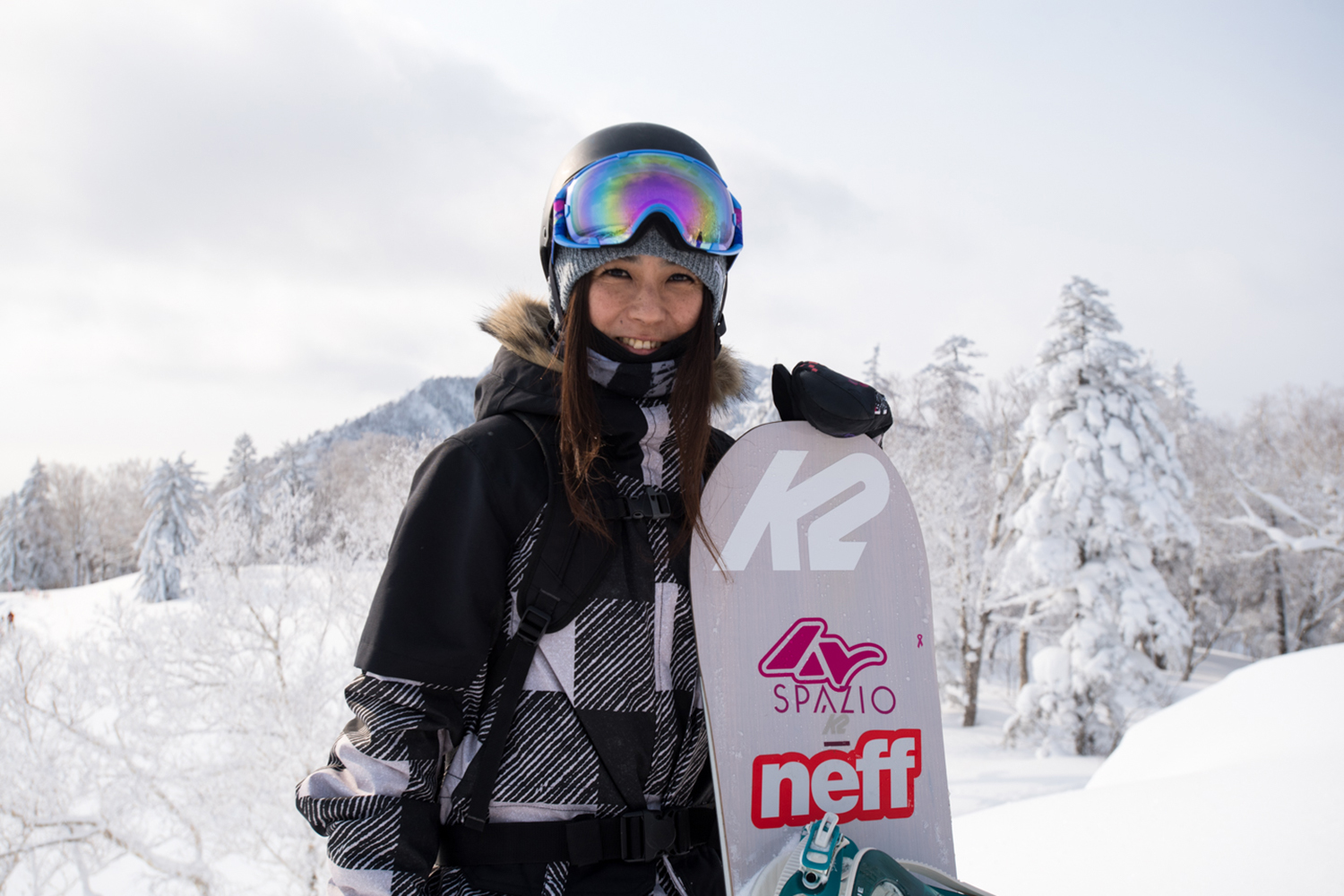 Yukie Ueda
Born January 1973, 1.He started snowboarding in Whistler, Canada, and after 22 years of competitions such as halfpipe and big air, he fell in love with the backcountry.Currently, while moving to the United States and raising a 23-year-old son while continuing his professional activities, he runs a project for kids and mothers (LILKIDS & MAMA) and a camp for young Japanese people to experience in the United States (CALI LIFE CAMP). ..
SPONSOR: K2 SNOWBOARDING, Billabong, MORISPO SPAZIO, NEFF, RONIN, ZOOT, CORAZON SHIBUYA, LALALATV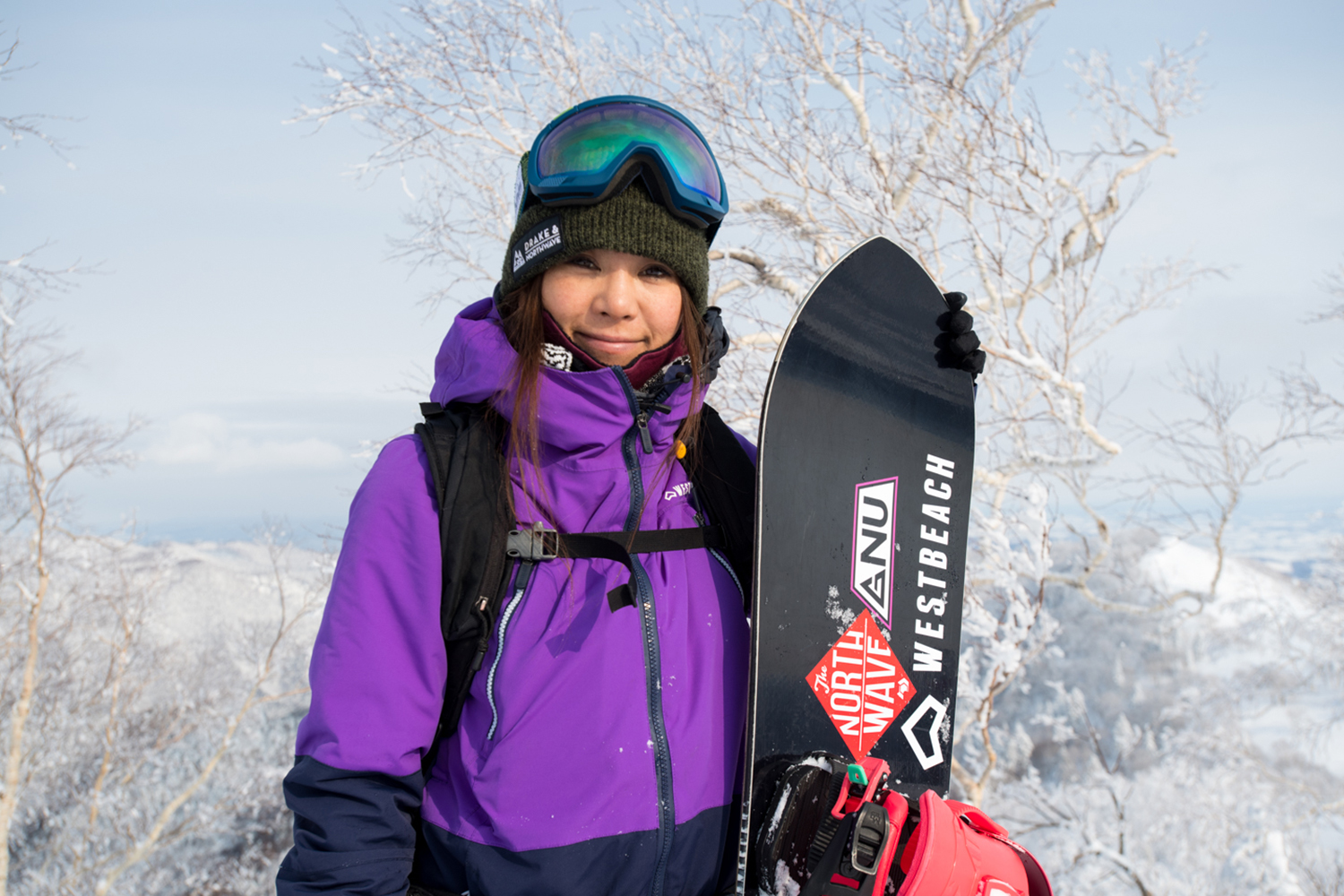 Mari Mizukami
Born July 1976, 7.I met snowboarding at NEW ZEALAND, which I went to as an exchange student in high school.After going through pipes, street rails and slopestyle, he now skis mainly in the backcountry.We are holding parties (PARTY BUNNYS) and events (SHREDDING GIRLS) where snowboarders can enjoy themselves in Tokyo and in the snowy mountains after being unable to slip for several years due to injury.
SPONSOR: GNU, NORTHWAVE, DRAKE, WESTBEACH, SPY, BLACKDIAMOND, SBN FREERUN, SHREDDING GIRLS, PARTY BUNNYS Event, Akabane First Dental