It's been a long time since I posted it.
A lot has happened since I wrote my last blog
First of all, Travis Rice decided to make a movie!That said, a movie called IKIGAI was released in December 2018, and although it is a lot of exposure that exposes even my bathing scene, there is also a travis riding and shooting was helped by Mr. YONE (Live naturaly). Mainly Justin Taylor, of course editing.Justin has produced a number of masterpieces.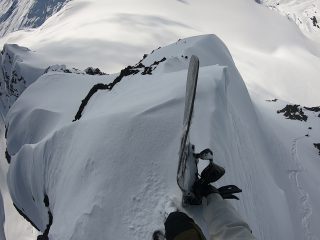 In December XNUMX, I went to Hokkaido for the first time in a while.
Niseko, Furano, and a little powder trip for XNUMX weeks.
It took a while for the people of the northern land to meet after a long time.
Gabe came from Santa Cruz, so I laughed at Sapporo Night with the legendary professional Komori.
New Year's Eve at Zenkoji Temple in Nagano
I didn't always go to see people, but there are Gaves, so I thought I should go see them.
Travis appears in place of Gabe.
And now I can't tell you yet, but I participated in the shooting of American works.
Travis wins FWT Hakuba twice in a row.
XNUMX weeks of shooting angry waves.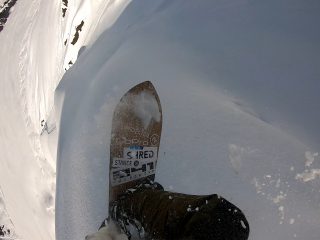 From GoProCamp @ Naeba sponsored by GoProJP
I slipped a little on Hakuba, and this time, a UK duo named Sam and Ed came to shoot Nidecker, and from Haneda to Asahikawa, I shot for two days in the Daisetsu mountain range, and from the next day I went to dig a banked course at Tenjindaira.This was ridiculous again.
I have been with Tenjin Banked's boss Fukushima Daizo for a long time, and since I joined about XNUMX years ago, I have always been abroad so I couldn't participate, but this year I'll be gathering with the Nidecker team!So I had a schedule.The demon's course digging responded to the body that usually only snowboards ~ However, rather than that, I really feel that Daizo who realizes such a large-scale play is respectful.Many people agreed and helped, and one piece of snowboarding culture was so visible that it was amazing.I thought.
The tournament will come to Mathieu Crépel of Nidecker's QuickSilver!So, I'm going to borrow my chest because I'm going to the same race, and I'd like to do it!I was enthusiastic and passed the final even though I was sick in the qualifying.The course was cut in half after the temperature dropped steadily and the upper part of the course that I made hard became ice and the course went out one after another.Well final.I went to "win" because I had the simple idea that winning a race wouldn't normally be applied where the brakes were applied.It's true that I'm suspicious, and when various people are taking their feet, I'm brilliantly slipping and making a mistake of falling.
It is said badly in MC (sweat) I thought that I should do something, and the transfer from the bank to the back slope that I was watching at the time of the course check came to my eyes and B3 without hesitation.In the middle of B3 with a prayer that there should be no one on the landing, I could see people holding a camera diagonally below the bank, people involved, and some people looking at me. ..I didn't know where to go and somehow cut the finish line and didn't know how to react.Actually, I'm sorry, but B3 was comfortable and I wondered if it was perfect for me as an evil spirit. After all, Matthew suddenly won the championship when he arrived in Japan two days ago.By the way, he is a snowboarder named HAKA who challenges Jaws by surfing.The documentary Maby is being sent.You can get a glimpse of his French feeling.
And as I write this, XNUMX, XNUMX, XNUMX.
In addition, I am planning to participate in Tenjin Banked again this year, so I want to slip so that I can leave good results!I think.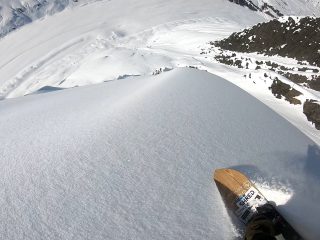 After that, I went to shoot the Nidecker team and then to Alaska.
This year I set up one shot.Until now, I wanted to go to Alaska and slip, and when the timing was right, I would shoot.I wanted to get a solid shot of it this year and make a work.
When I went to Niseko to talk about such a story, I was talking with Mr. Tomoki (takaku tomoki), and I managed to raise a budget and finally realize the dream pattern for myself to shoot on a helicopter.I've had such an opportunity so far, but this time it's more special than ever.Because if you don't completely decide where you will fly and which one you will slide, and use the helicopter efficiently in a limited amount of time, no matter how much helicopter time you have, you can end up in vain. There are many things to think about and decide, not just slip.That's why the number of riders who have left their works in this kind of shooting is limited, and those people are amazing.I think.
Then, with the intention of returning to the ephemeral world where he may die at that time due to a one-turn mistake, he will use his whole body and all his abilities to bargain.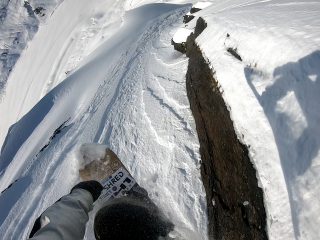 And this December, the movie that was finally completed and released
-MIND-
snowboarding movies
.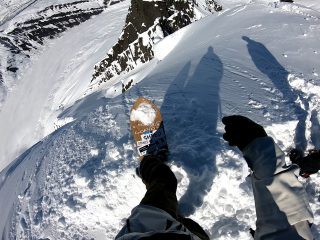 I will continue to go to Alaska.Because it's a place where you have left your soul. I am conscious of snowboarding in Alaska all year round.
That's why I want to continue making works.
In doing so, the first work, this one, is with Tomoki.
Then, XNUMX years ago, for the first time in ICON shooting, Captain Daisuke Sasaki, Hideyuki Nagashima, Shisa, I, Nihikai, and Kenya.
That's why Filmer and the photographer asked Kenya and Hikai to start doing it again for the first time in XNUMX years.Of course, I'm a professional who has experience and can be trusted even in the backcountry, so I definitely wanted to ask.
And it came true.
Die-go, the editor-in-chief of Diggin'Magazine, who loves the scene, also accompanies the slide.It is featured in the Alaskan Journey issue currently on sale.Check it out
All photos are from Movie-MIND-