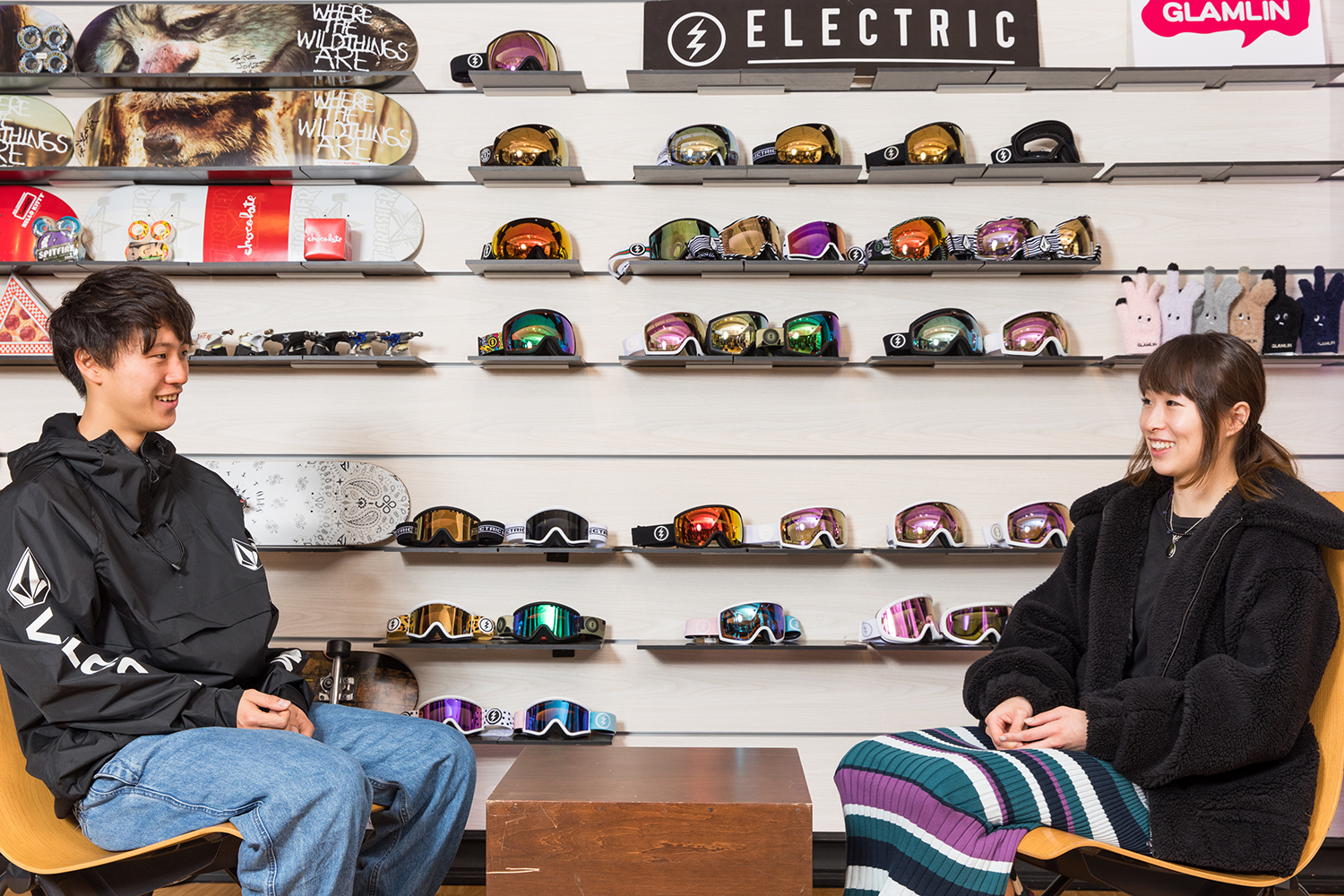 Last article<Part XNUMX>Then, the two people talked about the strengths of each other's sliding and recent courses and items.This time as well, we asked Miyabi Onitsuka and Ruki Tobita to talk on the theme of the contest.What are your future goals?And what is the must-have item that supports them in the shadows?
Photo: Yoshifumi Shimizu


Reasons for aiming for the Olympics.And what is the significance of the tournament?
FREERUN editorial department (F): Currently, Japanese female riders of the generation below Miyabi are active, but will they be pushed?
Miyabi Onizuka (M): Well, it's pushed, or the age group of female top riders overseas is high now ... Jamie (Anderson) is about 30 years old, Anna (Gasser) is about 28 years old.That's why I'm only Japanese, and young riders are active.So, rather, I feel like young Japanese riders are pushing the world's riders.However, now that we have a lot of air mat facilities overseas, I felt like I was leading a little until now, but from now on, I think that overseas riders will improve at once.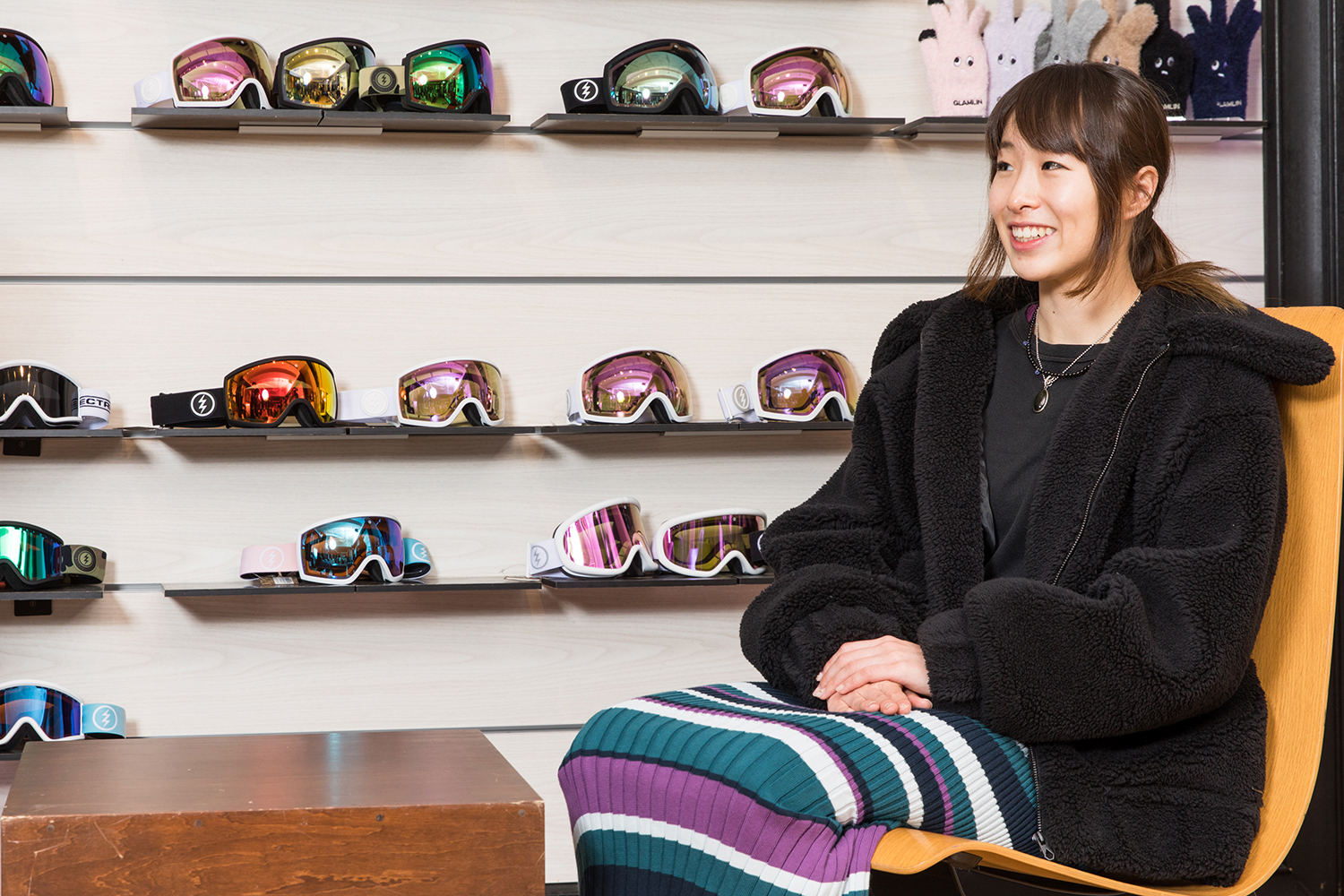 F: Where do the two often go during the off-season?
M: Toyama Kings and Saitama QUEST.
Ruki Tobita (R): I'm a KINGS rider, so I go to Chiba Kings about once a week.After that, when I want to practice with a big kicker, I go to Toyama Kings.
F: After all, is there a big jump practice facility that uses air mats?
M: Yes.If it weren't there, I wouldn't have done double cork yet ...I went to the last summer almost every day after school.
F: Do you feel the difference in level between Japanese riders and overseas riders these days when you are touring the world championships?
M: I don't think it's about girls.Isn't it?You can fight, right?
R: Yes.I think so.For boys, I feel that American riders are good at it.Compared to Japanese riders, I'm used to the course, and I'm quick to deal with various items.The line of the course and the degree of perfection of the technique are also the same, but the overall gliding ability is high.American riders also do backcountry and I think it's big to enjoy snowboarding all round.Japanese people are only in the park, so I wonder if there is a difference in that kind of place.The size of the slopes and the size of the country itself are different ...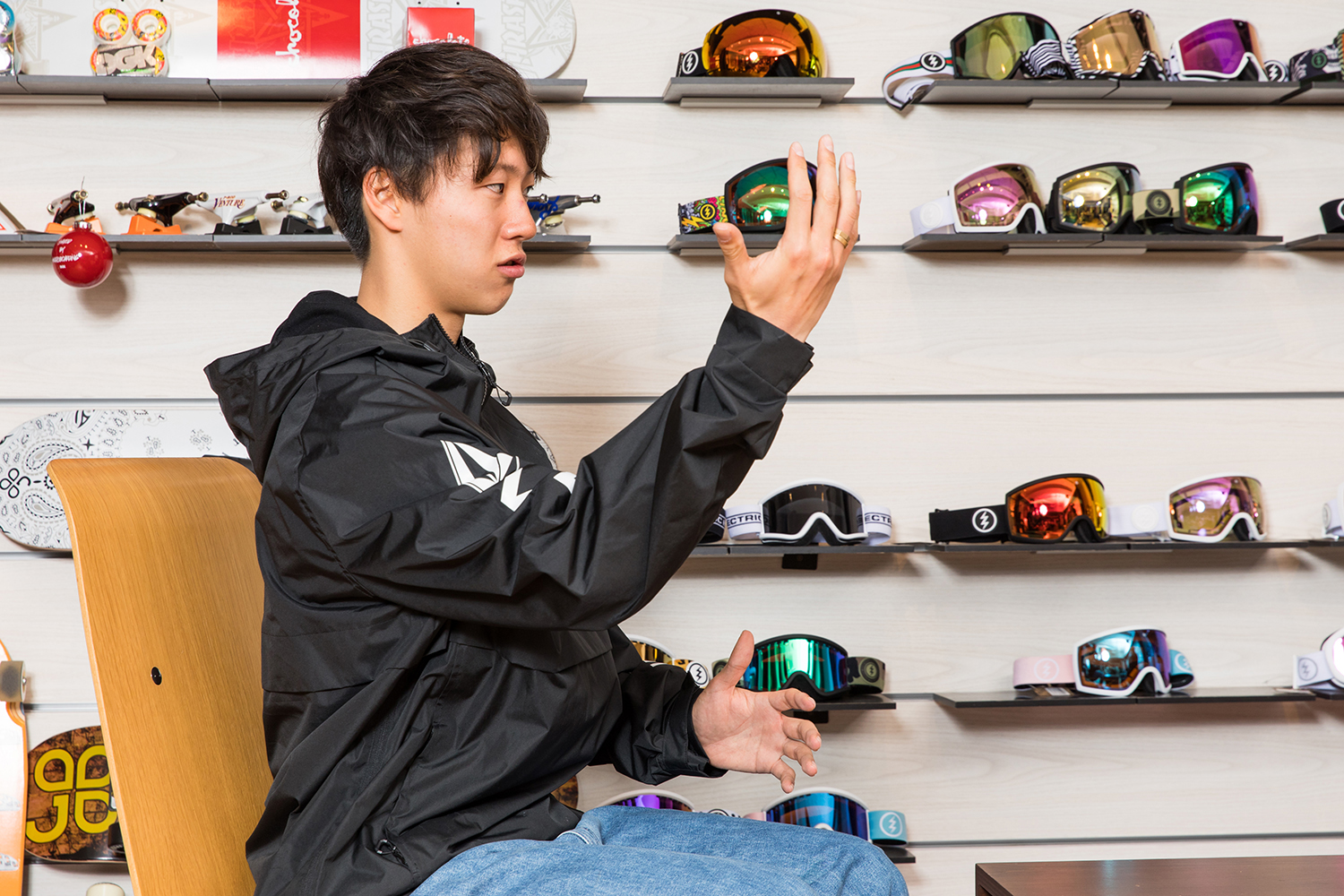 F: That said, maybe because Ruki is skateboarding, I think it's interesting to follow the course even if you're watching the competition.
M: Oh, it may be.
R: That's nice.
F: Which do you like better, slopestyle or big air?
R: I'm a slope.
M: I'm big air.The slope has many sections, so there are many points to make mistakes.There are some courses that don't suit me ... I don't want to lose anyway, but I don't want to lose more because it's big air.
F: Where do you want to polish up before the Beijing Olympics?
R: I think that R-type items such as the US OPEN and transition jumps will appear in the next Olympics.I want to increase the difficulty of jumping there, and I want to increase the degree of perfection of the jib.There are still many challenges.
M: I think there is no choice but to increase the difficulty of the skill.I think that the degree of perfection will gradually increase if it appears in the tournament.So now I'm just focusing on increasing the difficulty of the trick.
R: It's hard to predict what kind of tricks will come out at the Olympics, but I especially want to train the switch tricks.Switch backside 1620 and so on.Also, jib is a trick that overseas riders do not do, and I want to acquire creative and interesting movements that have judges on my side.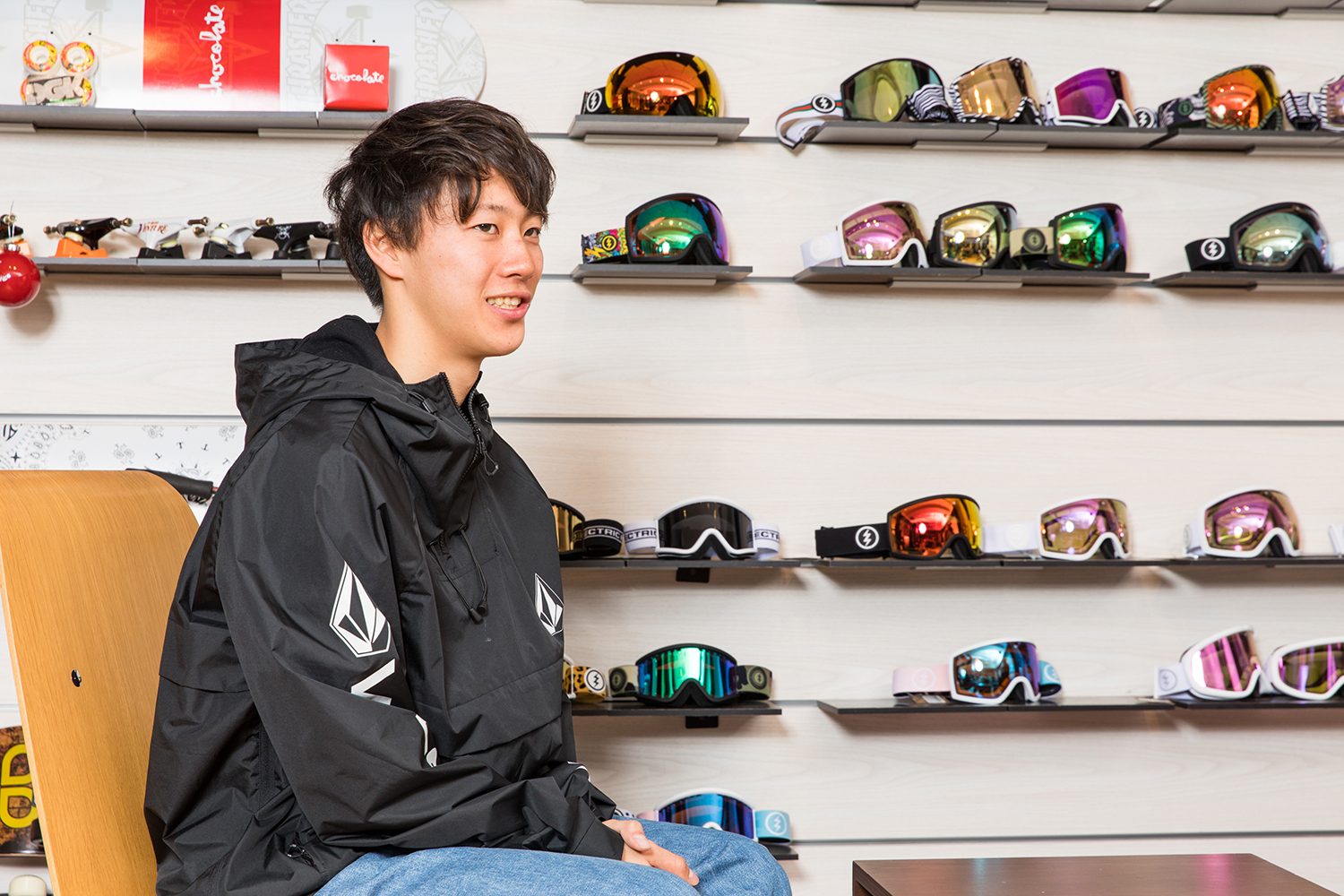 F: Do those creative tricks lead to points?
R: Yes, I think it will connect.There is a risk, though.
M: Jamie often chooses a line for items that can be creatively attacked.In that case, even if the trick itself is not difficult, the score will increase with creativity.Isn't it more fun to watch such riders?But it's harder to do it ... (bitter smile).
R: But now I feel like I can't win unless I go.
M: Yup.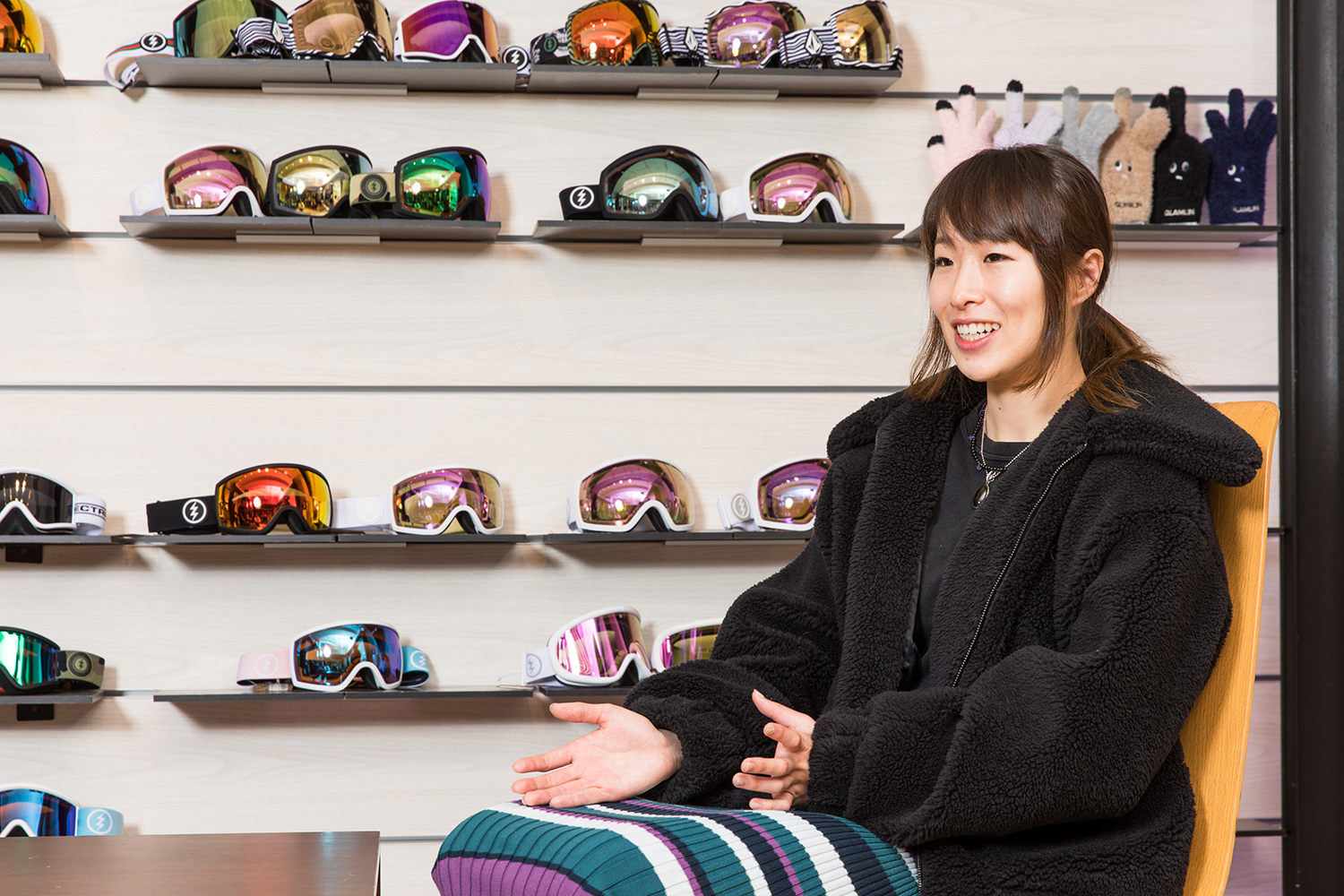 F: What does the Olympics mean to them?
M: I think all the competitions are important, but as I said before, the Olympics are a special existence that only happens once every four years.Many people watch it in Japan, and I think it is the most influential tournament.I want to play an active role there and give back to the people and manufacturers who took care of me.Because of that feeling, I'm focusing on doing my best.
R: If you can get results at the Olympics, it will be taken up quite extensively.It feels like a dawn in mass media such as TV and newspapers.
M: Isn't that just what you want to be popular?
R: Yes.No, I think it's a place where you can show your sponsors, family and relatives doing their best ...
M: Also, do you want to increase your Instagram followers?
R: Oh yeah, that will increase ... Hey (laughs).If we get good results at the Olympics, I think the range will expand beyond that.Isn't it a chance for people who don't know snowboarding to know the goodness of snowboarding?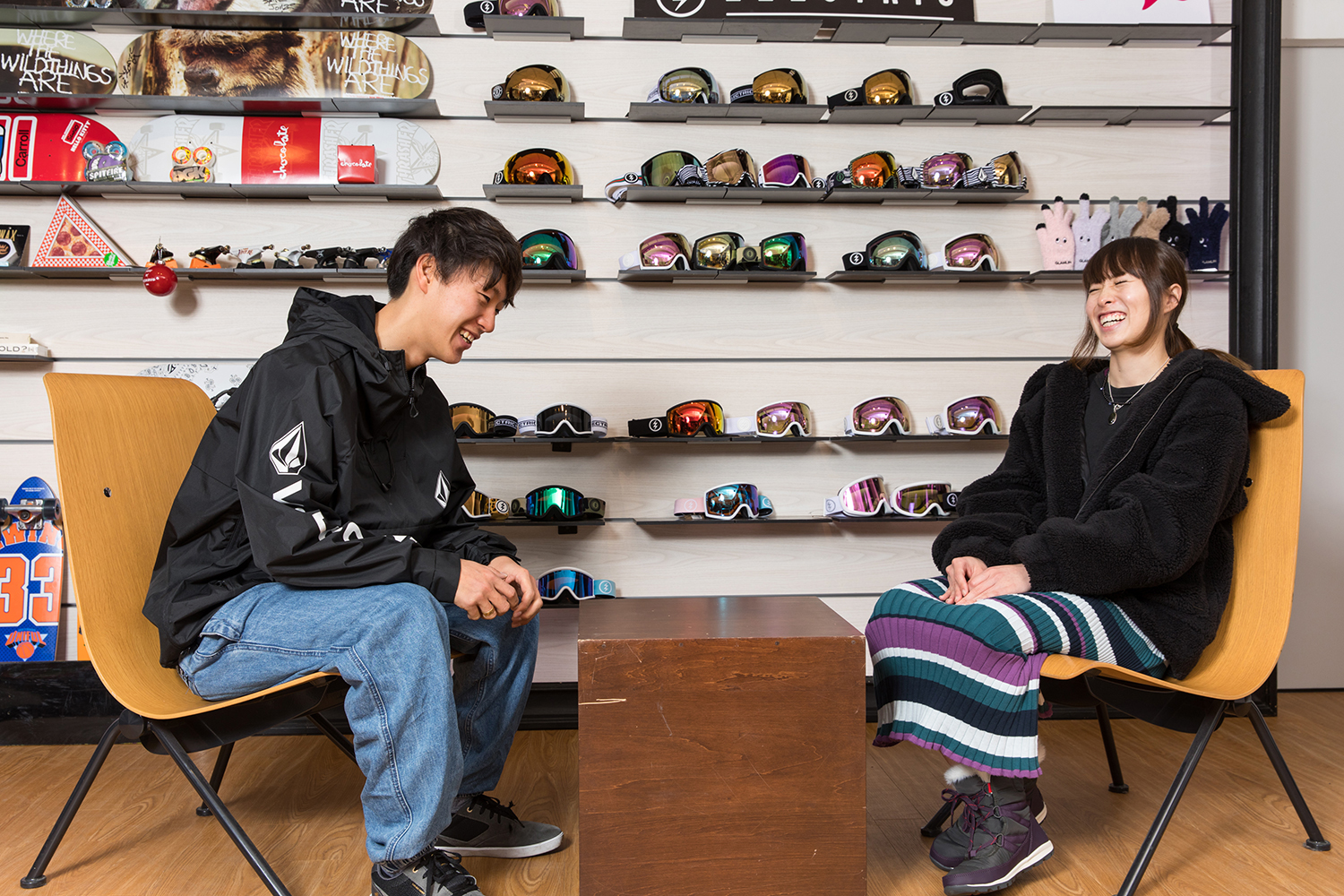 F: What is the best thing about the contest in the first place?
M: Of course, the culture part of snowboarding is important.However, because there is a tournament, I think that it is possible to get the media to pick up and let various people know about snowboarding.Also, I think that it may be a challenge to raise the difficulty of tricks, or it may be connected to raising the limit of snowboarding because there is a tournament.
R: Because it's a tournament, I sometimes try tricks that exceed my limits, and I wonder if it's the driving force to push the limits ...I also have a dream that if I win, I can win millions of prizes.The deliciousness of champagne that you actually reach your goal and drink on the podium is exceptional.
M: Have you ever seen a video of Ruki's champagne fight?It's really interesting.What if you use it?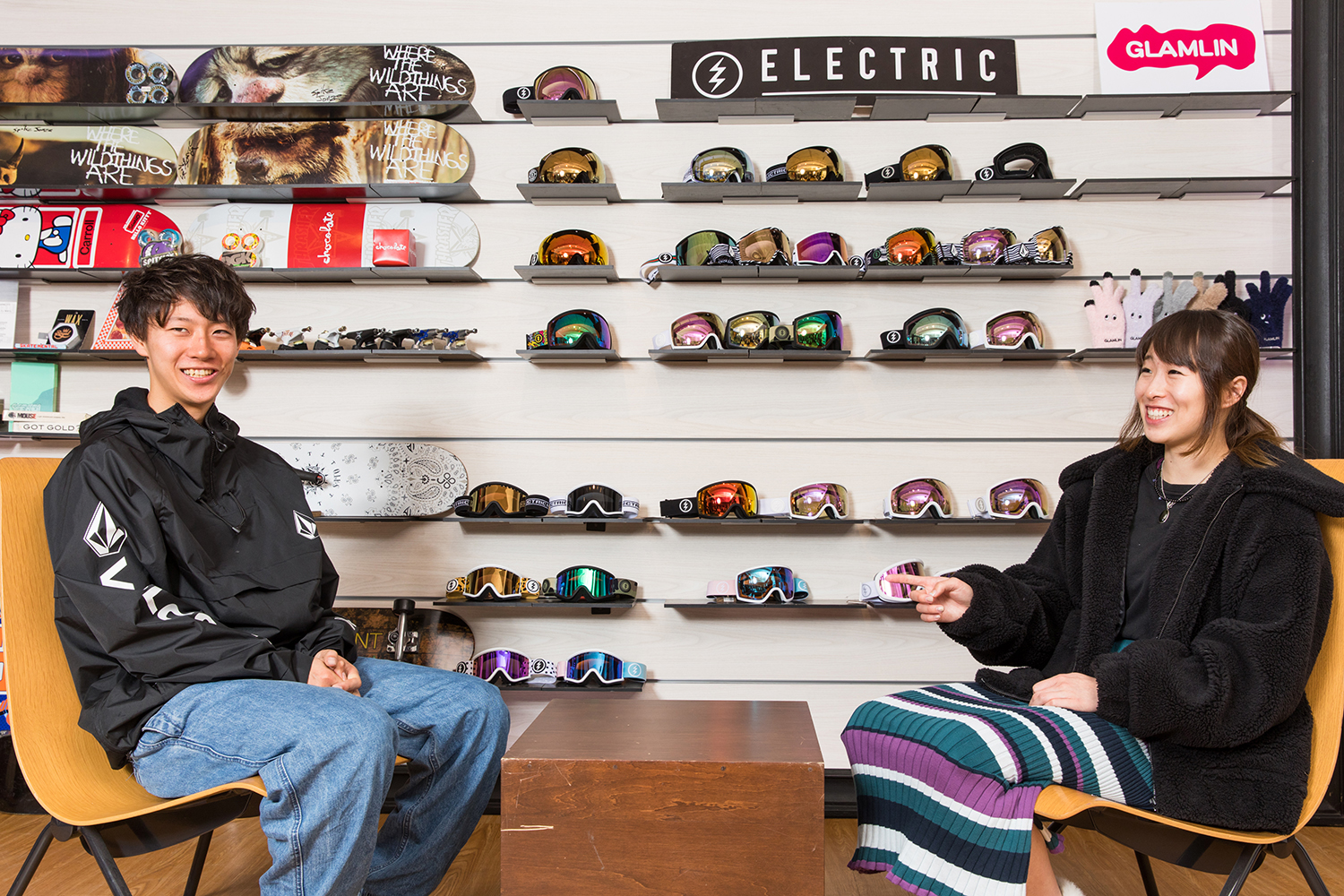 ELECTRIC goggles that support world-class competitors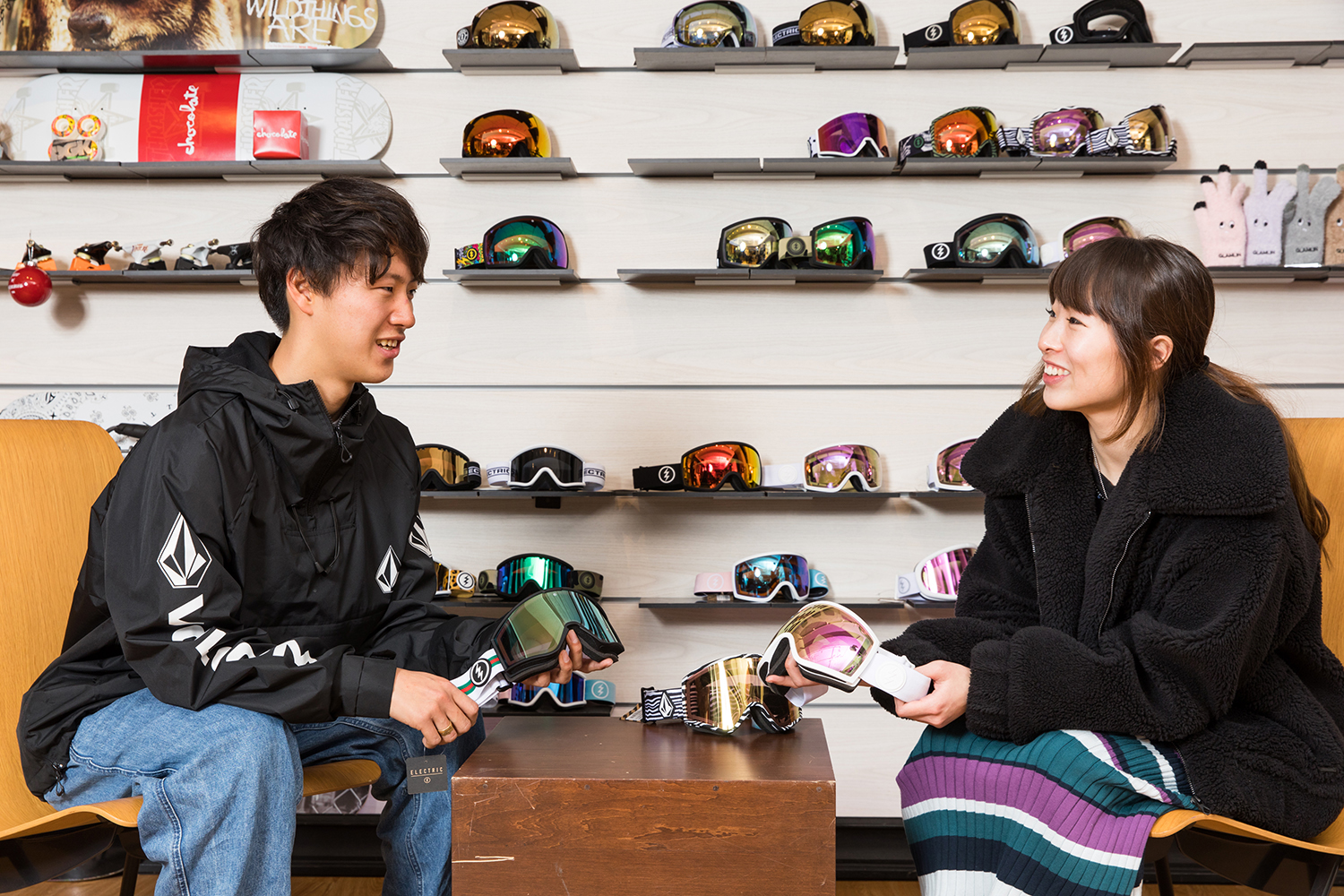 F: It's not just about contests, but I think the information you can see is important for the two people who are constantly pushing their limits.Right now, both of you are using ELECTRIC goggles, right?
R: When I was in the lower grades of elementary school, I said to the manufacturer, "If you win this event, please support me", and for more than XNUMX years, I have been using ELECTRIC for more than XNUMX years.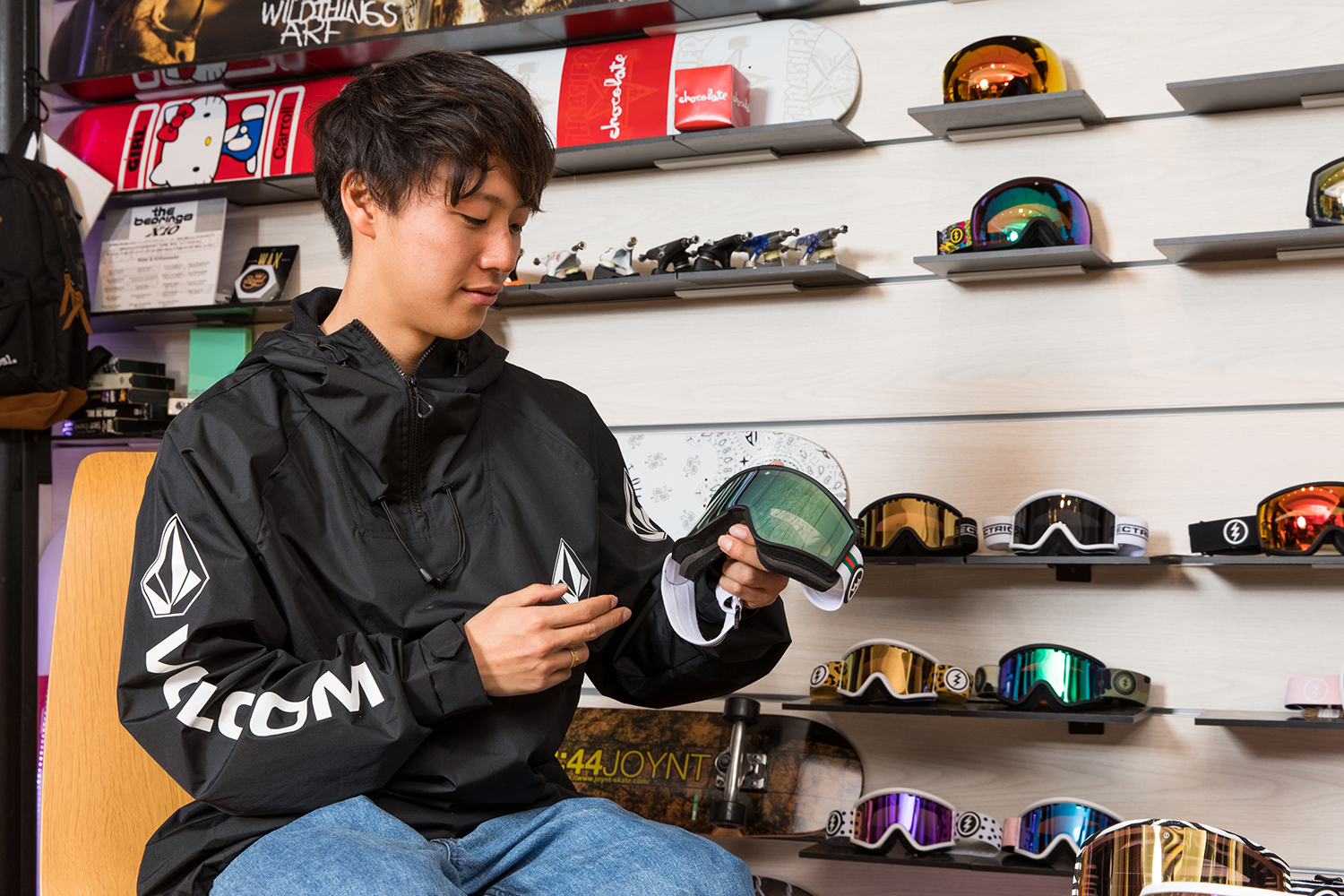 F: What about Miyabi?
M: It's been two years since I started receiving support, but I had a strong impression that there are many players who have been cool and have achieved good results, such as Tregale Berglem and Marcus Kleveland.Actually, I bought and used goggles myself before I became an ELECTRIC rider.At that time, the lens is easy to see!At first, I had a strong image that it was cool, but I'm really happy to actually use it, so I'm glad that ELECTRIC has supported me.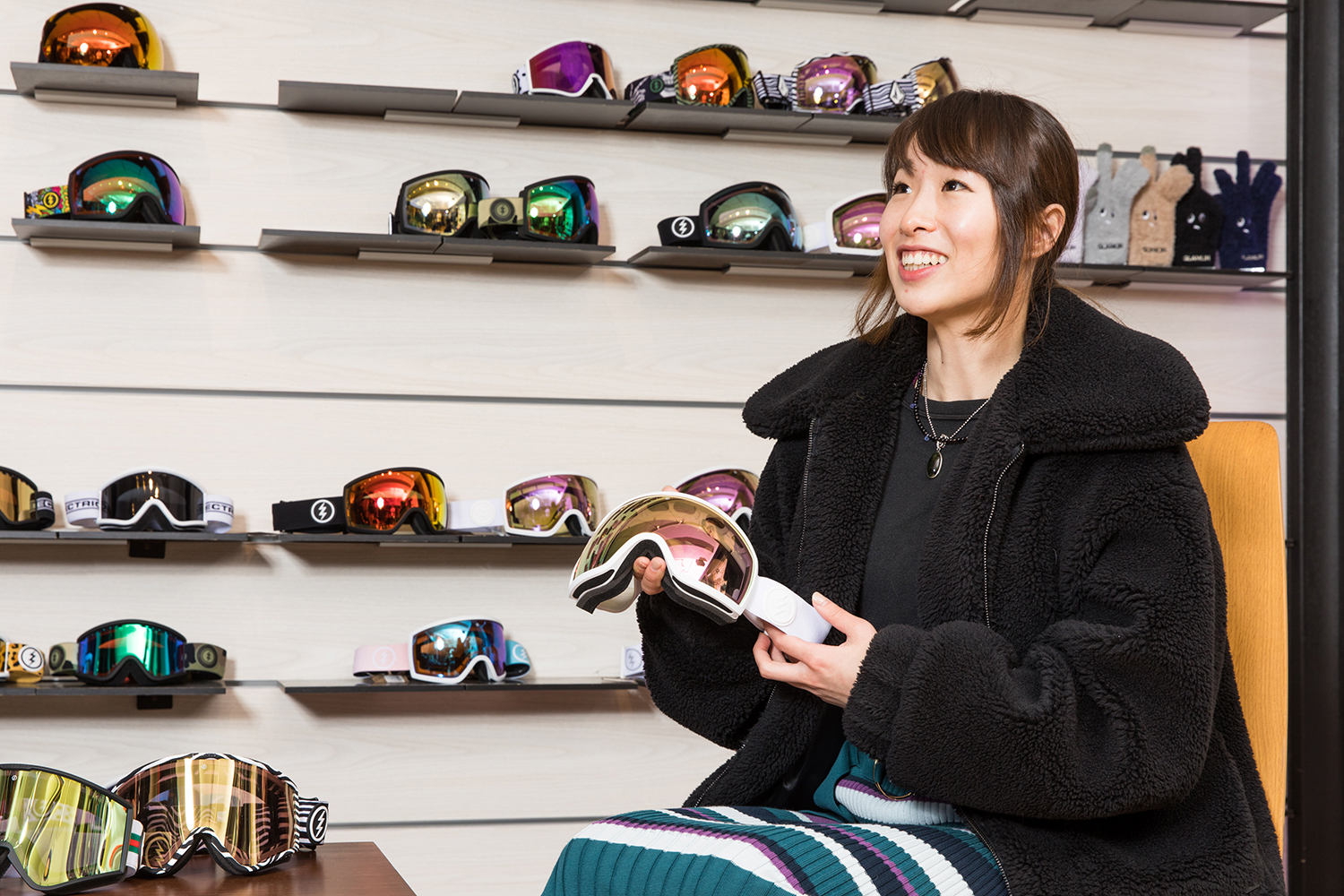 F: How much goggles do you use in a season?
R: Is it about four?
M: I think about three.But I got about 3 lenses.Because it will be replaced considerably.In addition to the weather and the moss and snow, there are times when the champagne fight on the podium will ruin the lens (bitter smile).
R: I may change the lens quite a bit.However, it used to be cloudy immediately, but nowadays the quality of the lens is so high that I feel that it hasn't become cloudy.
M: Isn't it really famous? ELECTRIC doesn't get cloudy.Also, it's resistant to the cold, isn't it?There is no problem even if you use it at -30 degrees.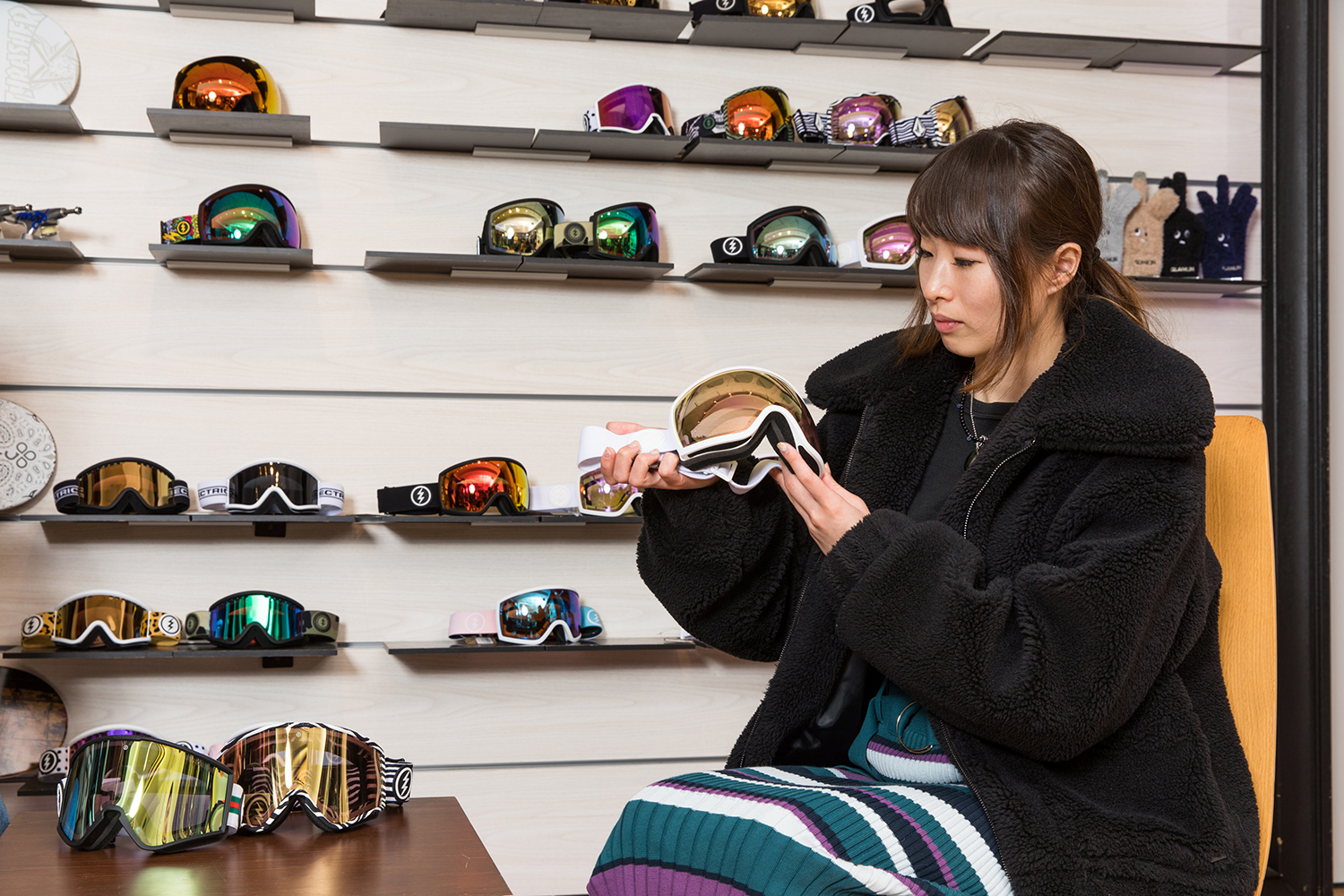 F: By the way, which lens do you like?
M: I use about 3 types of lenses properly, but I think it's the broad pink that I often use.Also, the Japan lens is easy to see.It's a really nice lens that you can see on cloudy days or when it's hard to see.Other than Brose Pink, I often use gray gold, gray red, and Brose Light Gold Japan lenses.
R: I think Blows Light Gold is in good shape on a sunny day.You can see the unevenness of the blow rose light of Japan lens very clearly.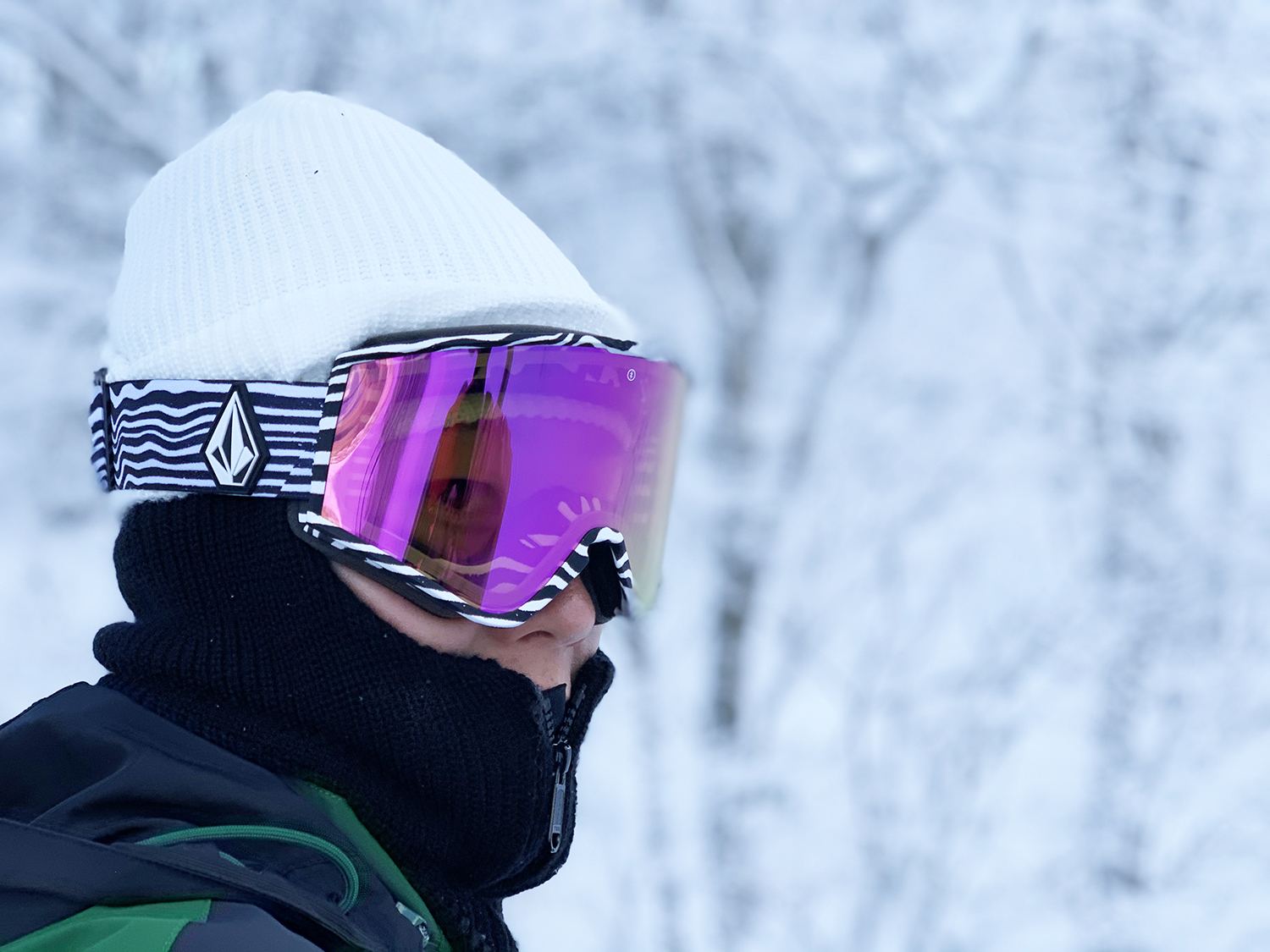 F: What are you using for the frame?
R: I use KLEVELAND and EGX.The reason is that I like flat lenses.The spherical surface is also easy to see, but it doesn't fit my face ...
M: You just want to look good and be popular, right?
R: No, no ... No, it may not be different (laughs).I don't look good with a spherical lens because it looks like a dragonfly.
F: ELECTRIC's spherical lens is big, and Ruki's face is small.What is Miyabi using?
M: KLEVELAND and EGG.However, the usage rate of KLEVELAND may be particularly high these days.Spherical lenses are also easy to see, but the KLEVELAND + lens I'm trying now is insanely easy to see!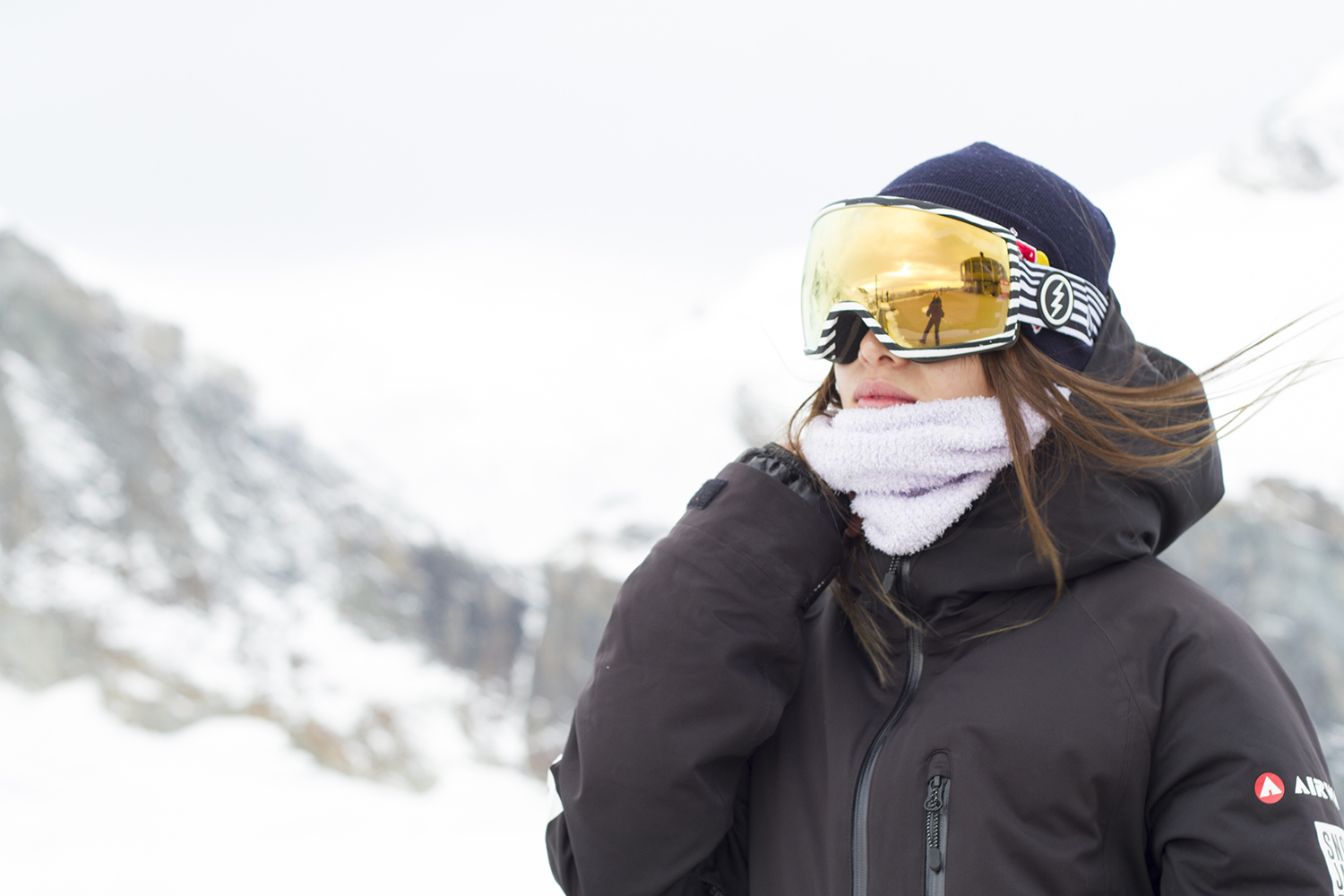 F: I like molded injection lenses that are made to fit the frame, even if they are flat lenses.
M: I don't know the name of the lens, but it may be (bitter smile).
R: I also like being thick, hard and stiff.
F: Well, I'm pretty curious about KLEVELAND and EGG, which they are trying now.
M&R: It's really good!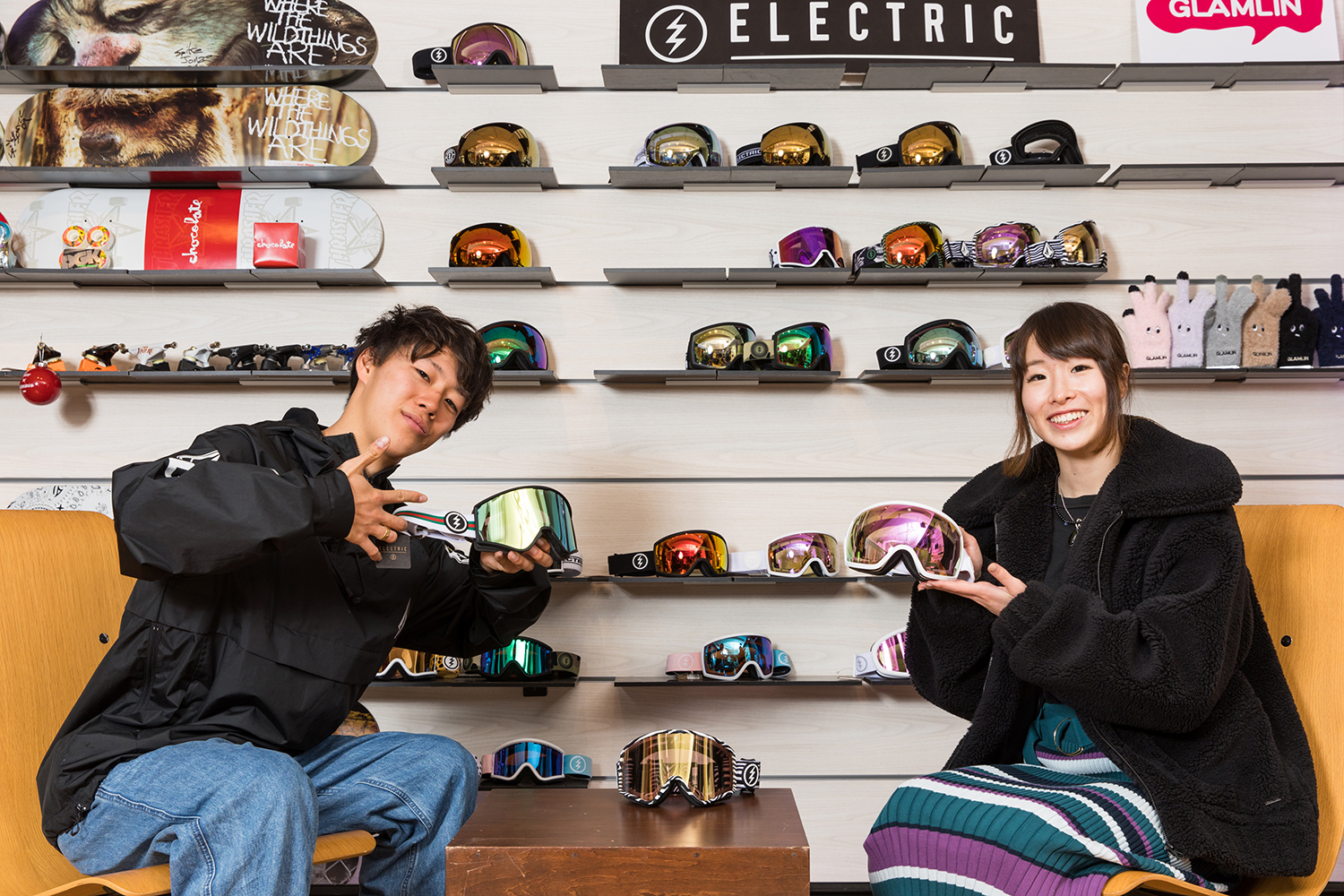 ----------
ELECTRIC 20/21 Season Product TOPICS
A clear and distortion-free view with ELECTRIC's "KLEVELAND +"!

The cost performance is too good ELECTRIC normal version "KLEVELAND"
ELECTRIC "EGG" with an egg-shaped lens that promises a wide field of view

A convenient item of ELECTRIC that makes the inside of the car comfortable up to the snowy mountains
----------
★ PROFILE
Miyabi Onitsuka
Miyabi Onitsuka
Born October 1998, 10.Born in Kumamoto prefecture. He started snowboarding on the indoor slopes of Fukuoka when he was 12 years old, and has been doing well in jib competitions since he was in elementary school.Since then, he has worked to improve his jumping skills and has won the All Japan Championships, World Cup and other slopestyles.Participated in the Pyeongchang Olympics as a representative of Japan.
Ruki Tobita
Ruki Tobita
Born May 1999, 5.Born in Saitama prefecture.From an early age, he has high skills in snowboarding, pipes, jib, jumps and all genres. From the 7-2018 season, the World Cup will be played. 19th in the 2019 US OPEN slopestyle.He won the SCLOVER CUP, which was held the other day, where the top domestic competitors gathered.