Entering mid-February, various items have been added and the size has been increased at parks all over the country, showing a fairly full-scale finish.Maiko Snow Resort is currently attracting particular attention in the Yuzawa / Minami Uonuma area, where some of Japan's leading freestyle parks are concentrated.The park in collaboration with the goggles brand ELECTRIC is celebrating its second year this season, but the "step-up park", which aims to raise the level of all jibers by focusing on the concept of "jib", is gaining popularity. ..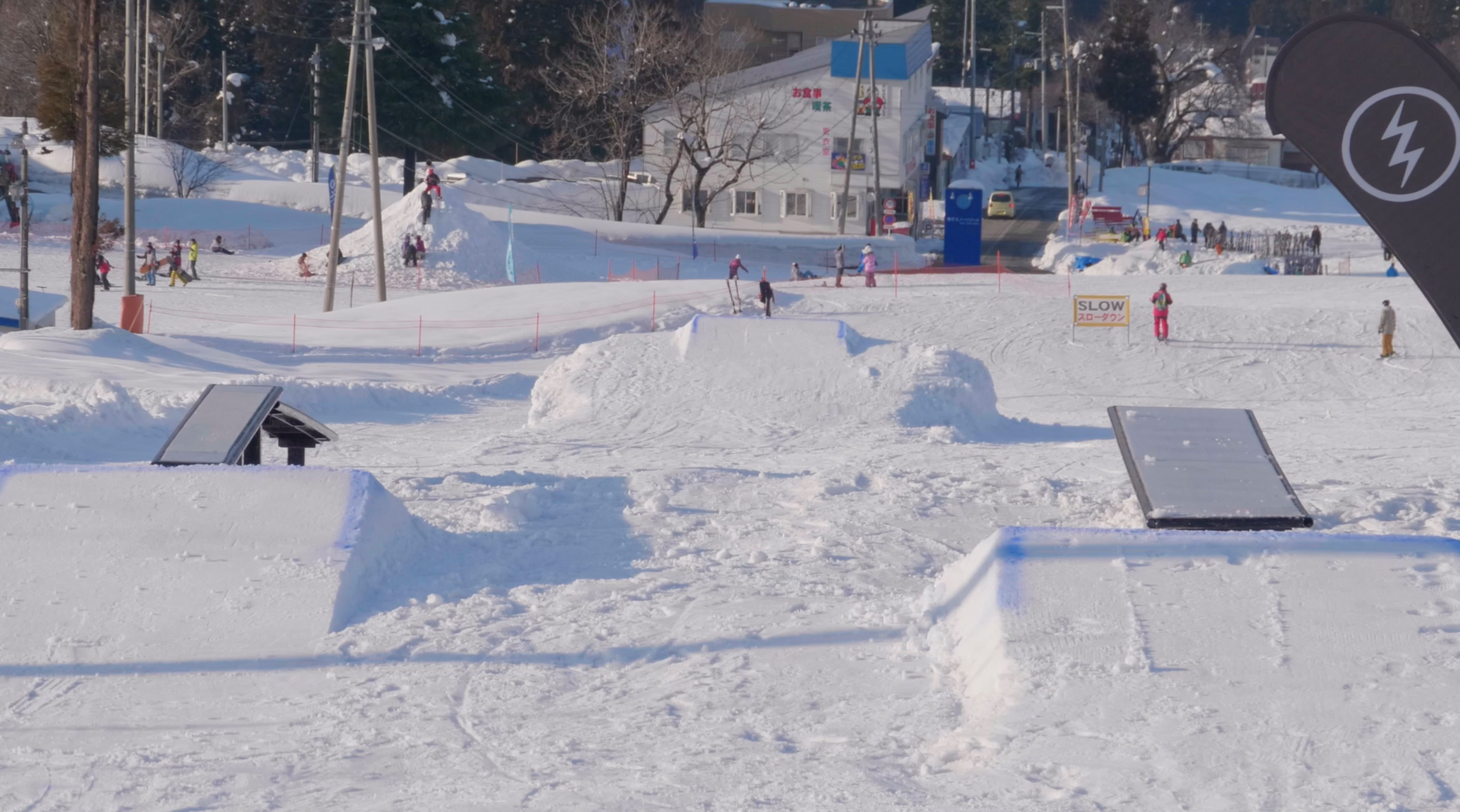 Since last season, a jib contest called "ELECTRIC ALL FLAT CASH JAM" has been held at Maiko Snow Resort, and it is becoming a new sanctuary for jib in the Yuzawa / Minami Uonuma area.From this season, a "step-up park" was set up for the jibers.If you want to get better at jib, you have to go to Maiko Snow Resort!So, here, I would like to talk to Mr. Tamura of SNOWCASE DESIGN, who produces the park.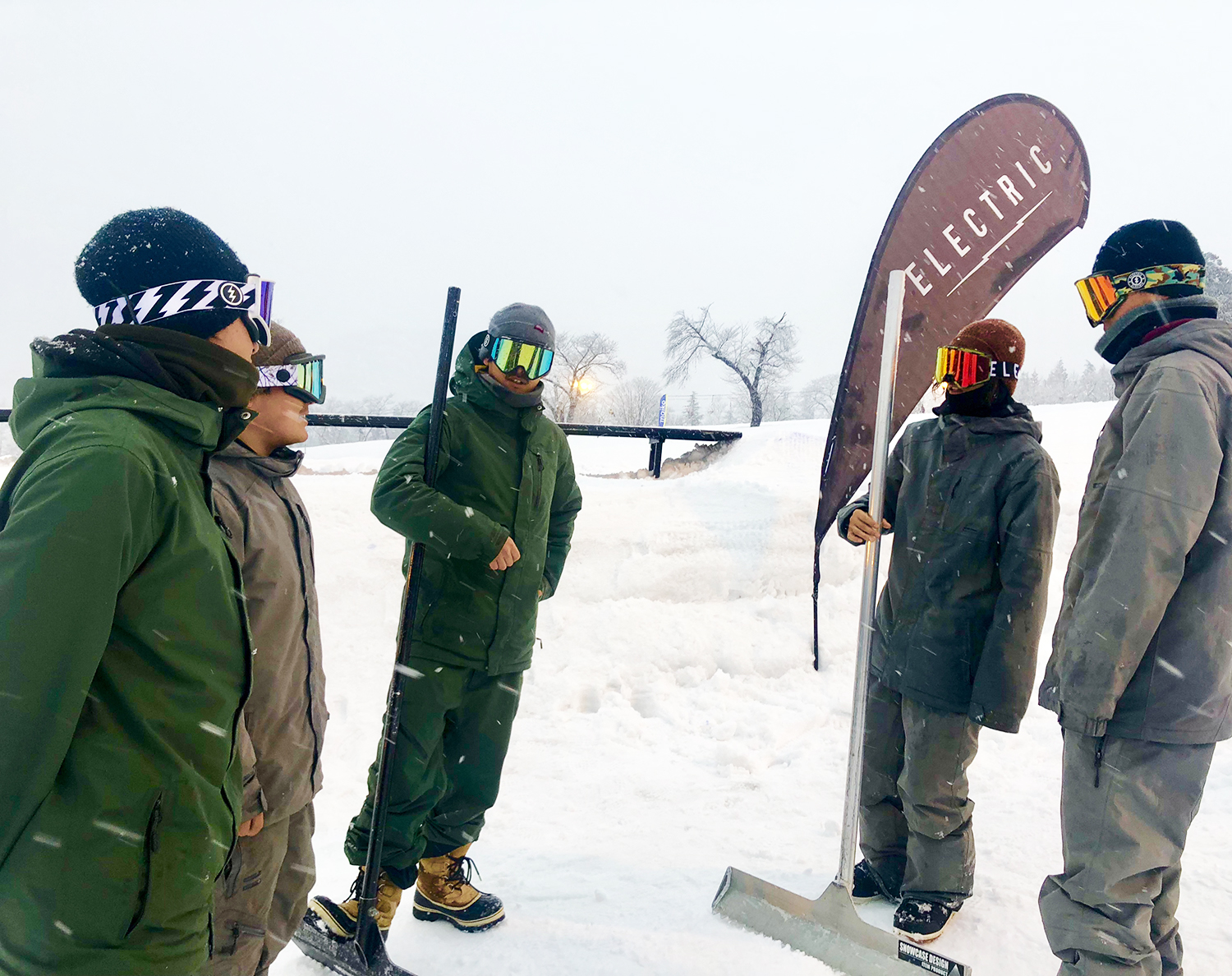 -Can you tell us the concept of this season's step-up park?
This season, the concept is a park where you can concentrate on the jib.There are two areas, a beginner area where even people who have never entered jib items can challenge, and a medium area which is perfect for those who want to try next level tricks.I'm trying to install items that beginners can level up to advanced jib, and they will be addicted to snowboarding with this park as a kick, and they will learn new tricks.We aim to increase the number of such people.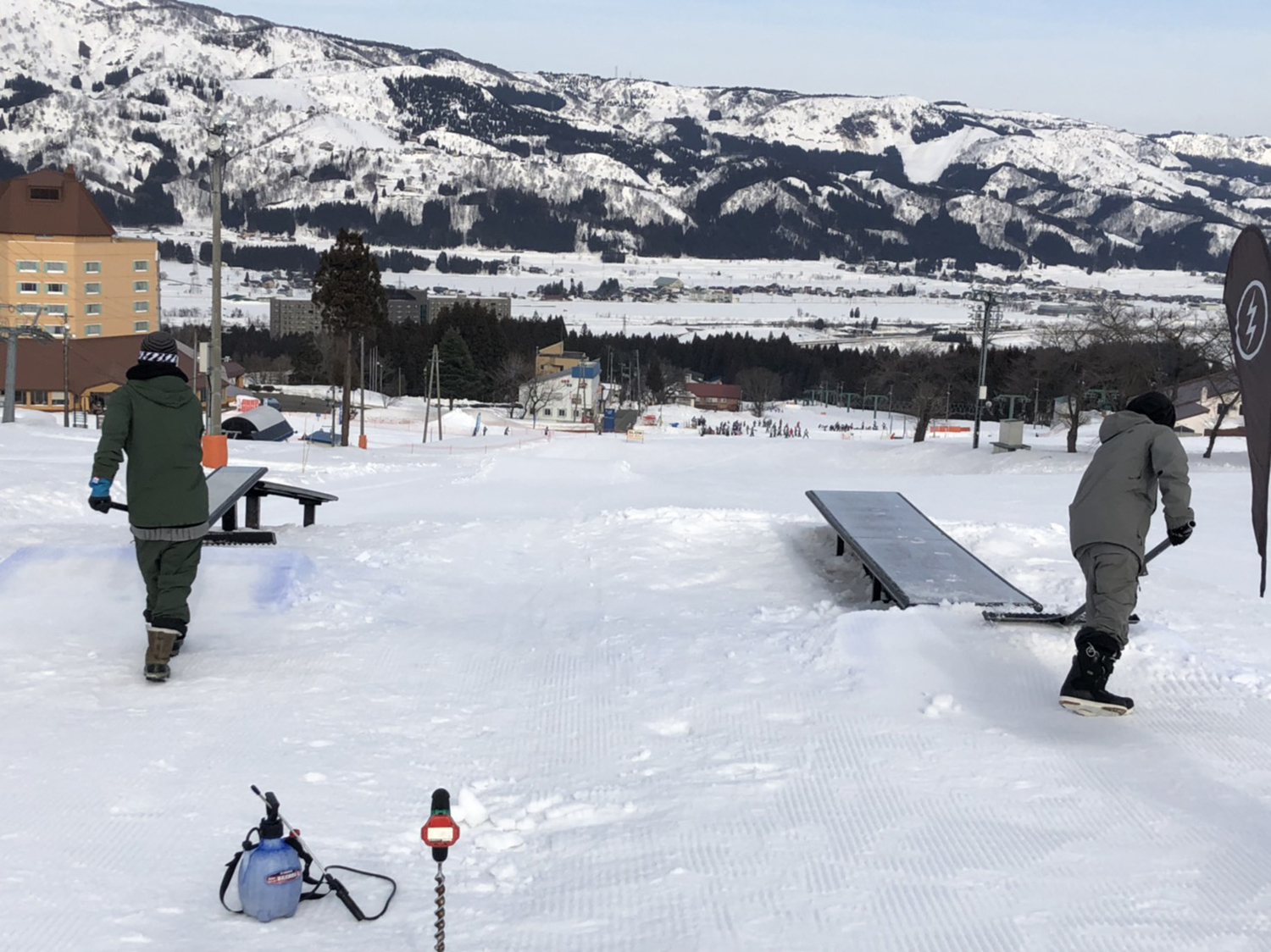 -What kind of users do you recommend?
It is especially recommended for beginners who have never been in the jib to intermediate jib who can do some tricks.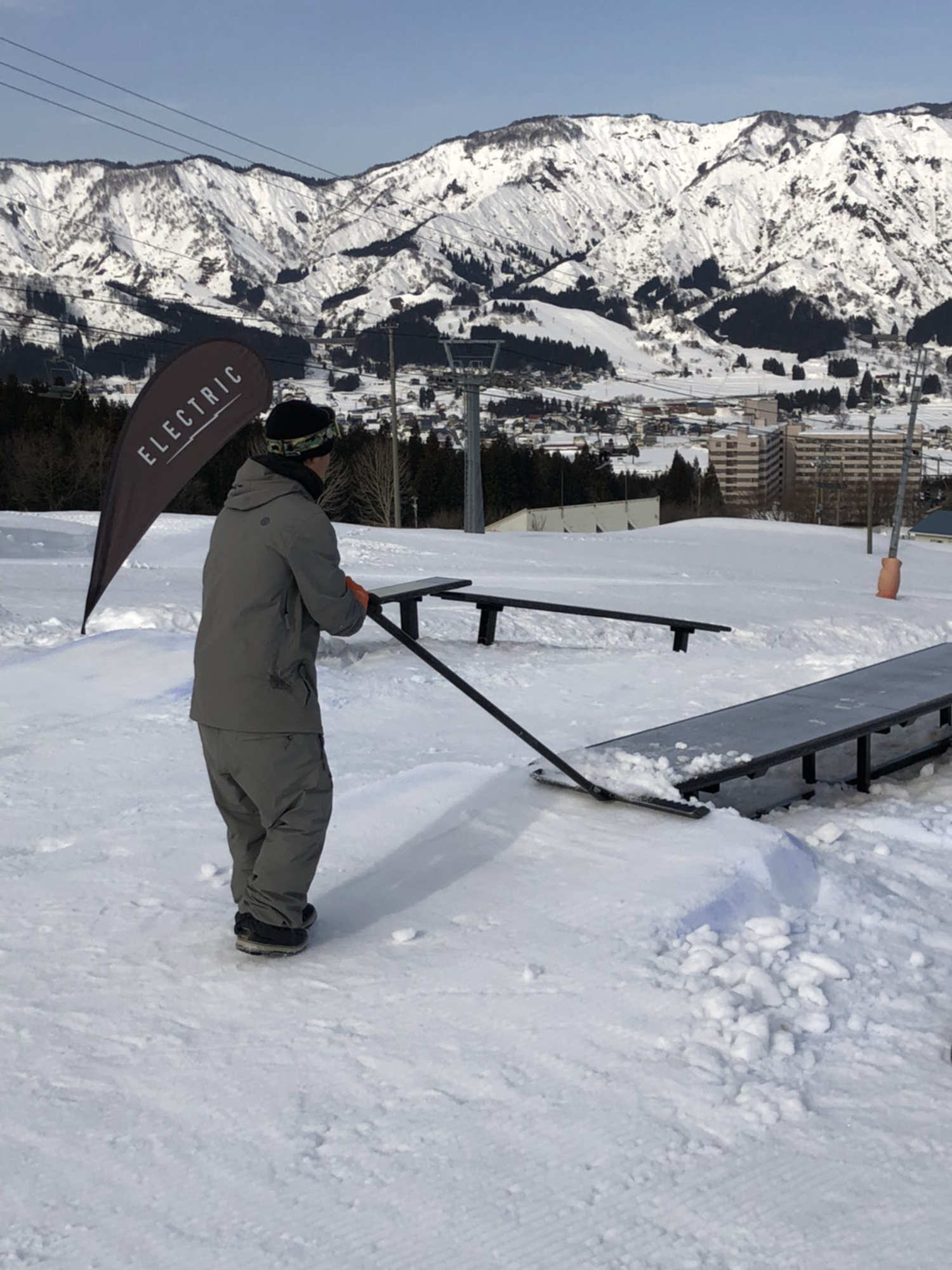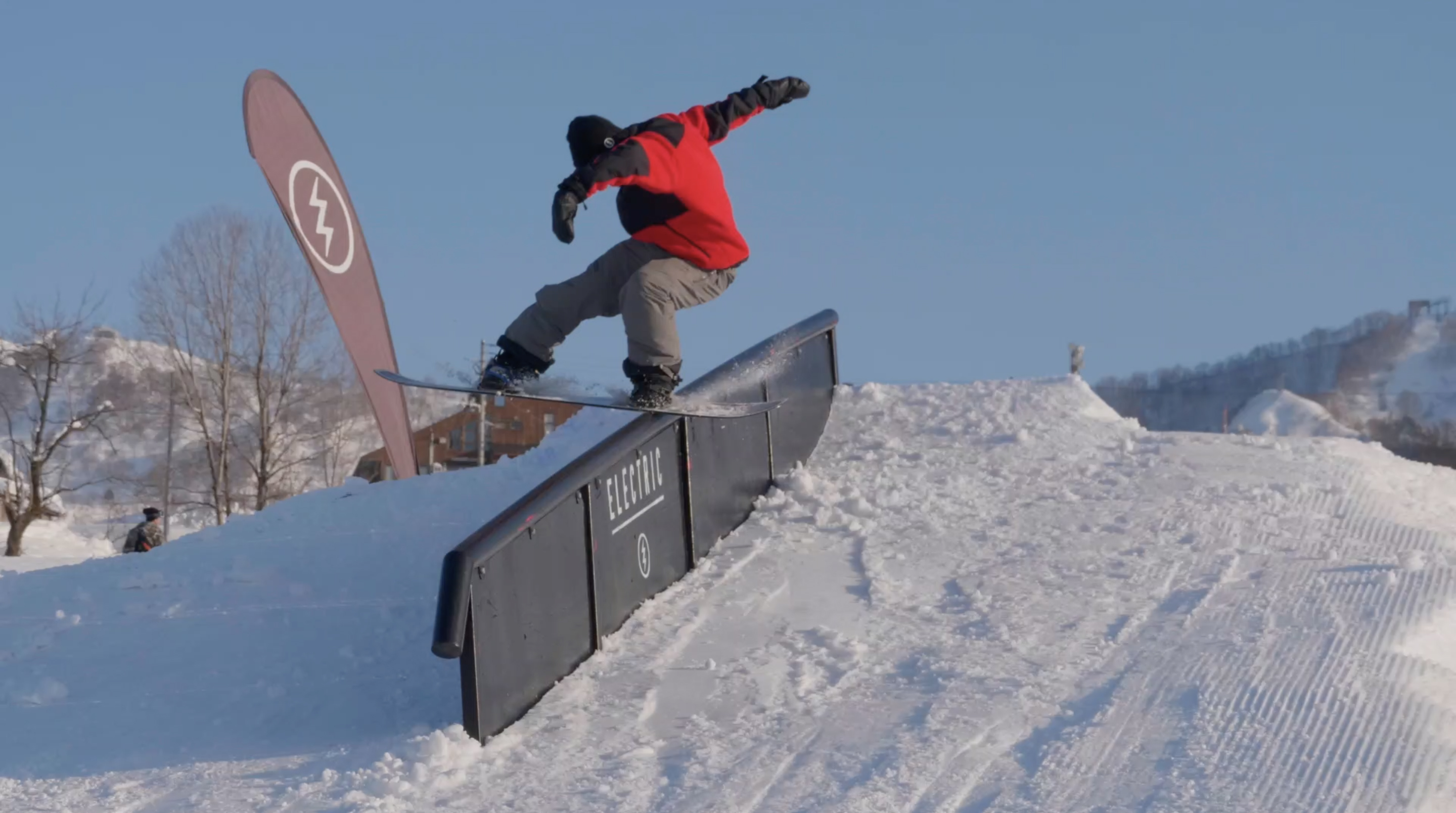 -Are there any reasons for collaborating with ELECTRIC?
One of the main reasons is that ELECTRIC's jib event "ALL FLAT CASH JAM" is being held in Maiko, but by tying up with ELECTRIC, which has influential and branding power, more people will be able to snow. I thought it would be fun for the park.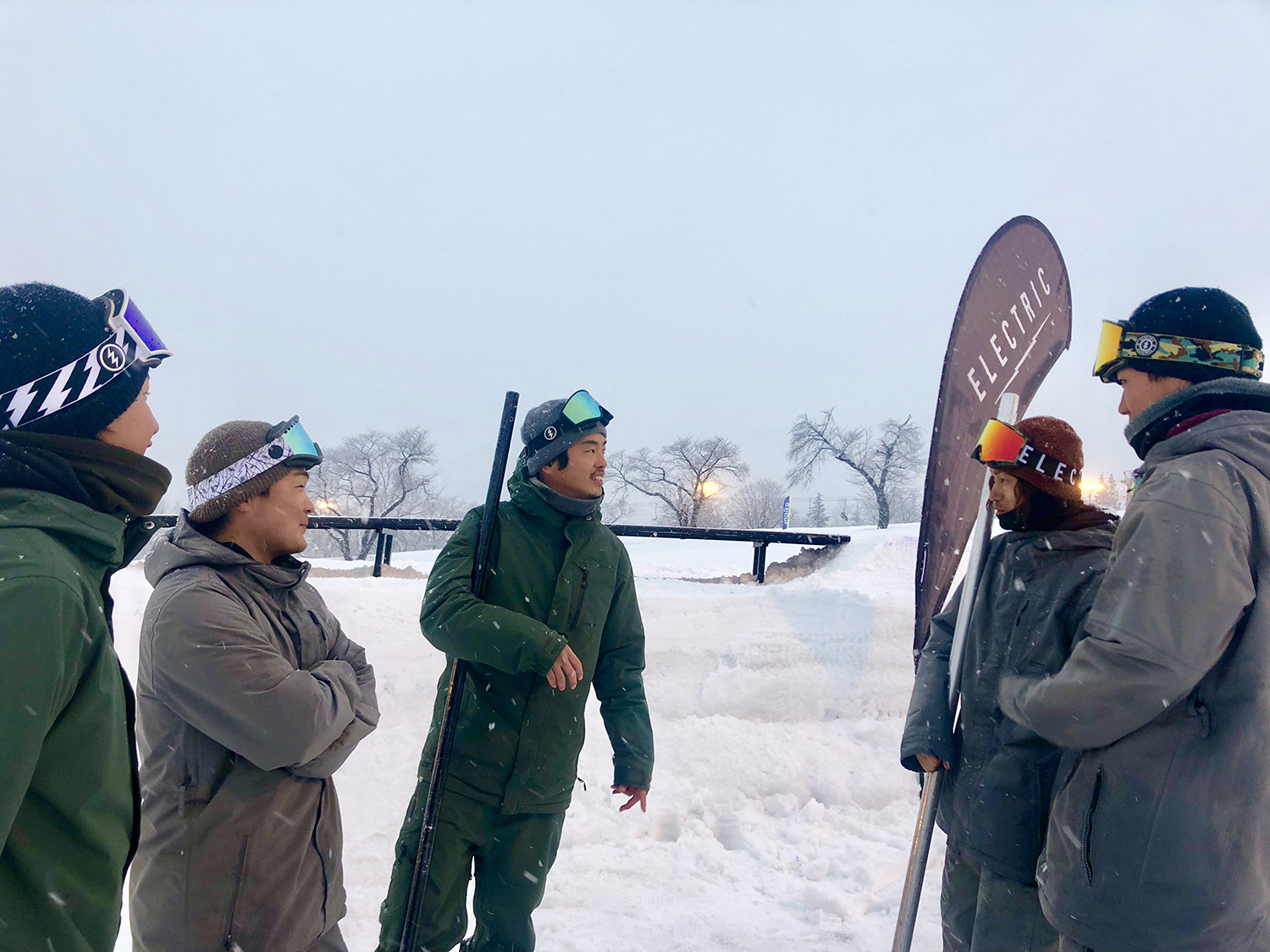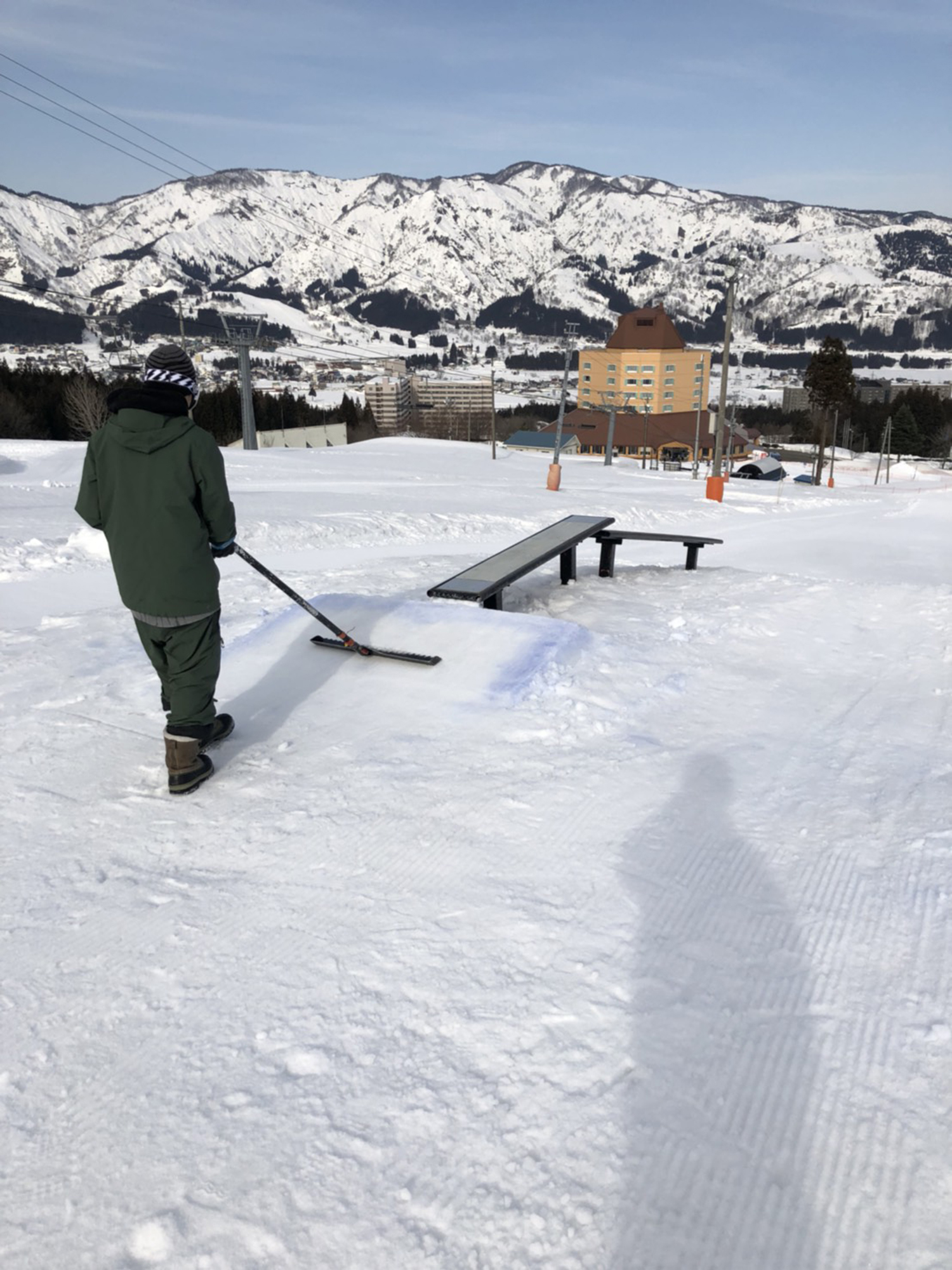 -What kind of items does the current park have?
There is a 2m x 4m flat down BOX that is easy to transfer and transfer, a 4m wide BOX that is ideal for practicing basic tricks such as pressing, and a 6m down rail that is perfect for those who want to challenge the next step.Anyway, I am conscious of being able to improve my level.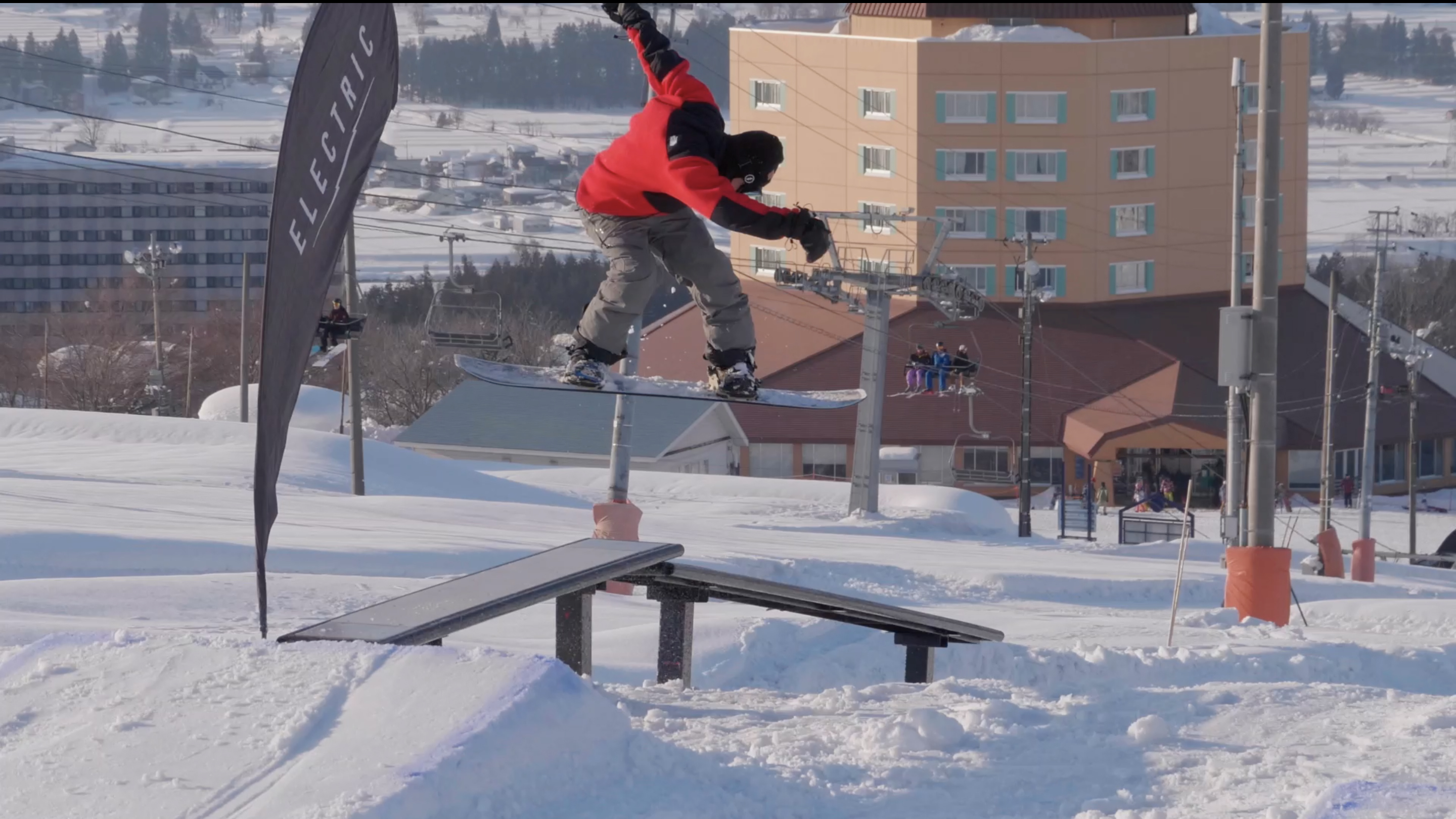 -Please tell us about your commitment to the park layout.
In the beginner area, we try to install the wide BOX so that the fear of appearance is eliminated as much as possible.In the medium area, it is composed of long rails and narrow boxes so that it is easy to learn new tricks.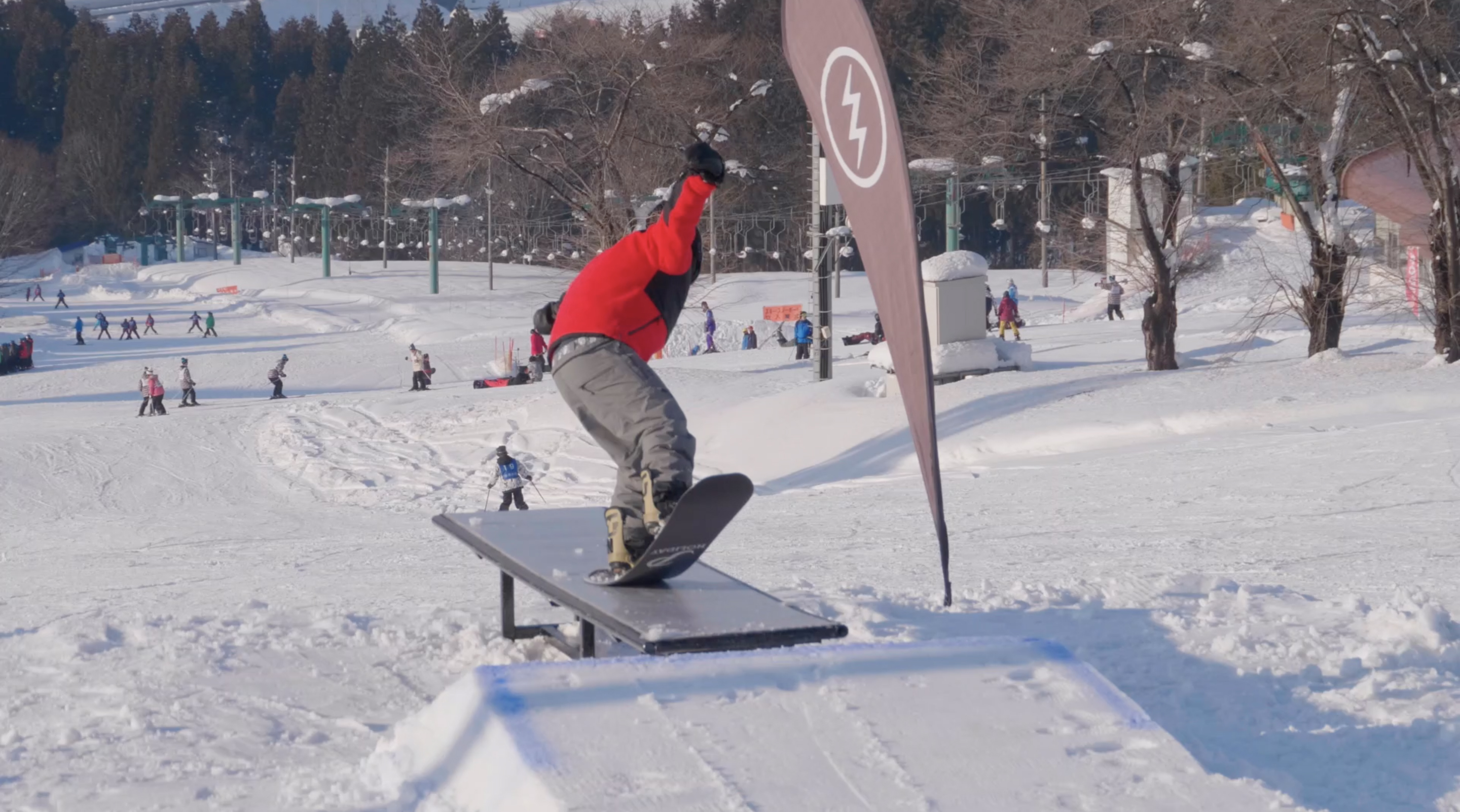 -Will items and layouts be updated in the future?
"ALL FLAT CASH JAM" sponsored by ELECTRIC is scheduled to be held at this step-up park on Saturday, February 2, but when the contest is over, the layout of the park will be updated using the items used in the tournament. intend to do something.Enjoy the details!
-Finally, could you tell us about the park concept of this season's "ELECTRIC ALL FLAT CASH JAM"?
For this season's event, I imagine a layout that allows you to select and put many lines in one big section.If you have imagination and skill, you can play in various ways, and I think it will be a section that kids and girls can enjoy.
For more information on ELECTRIC ALL FLAT CASH JAMhere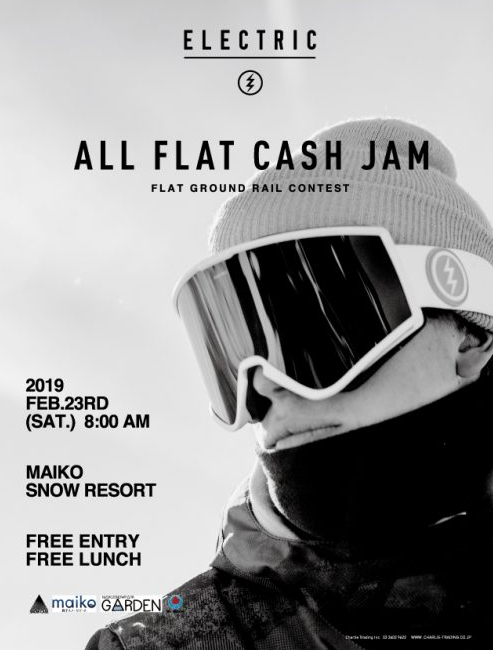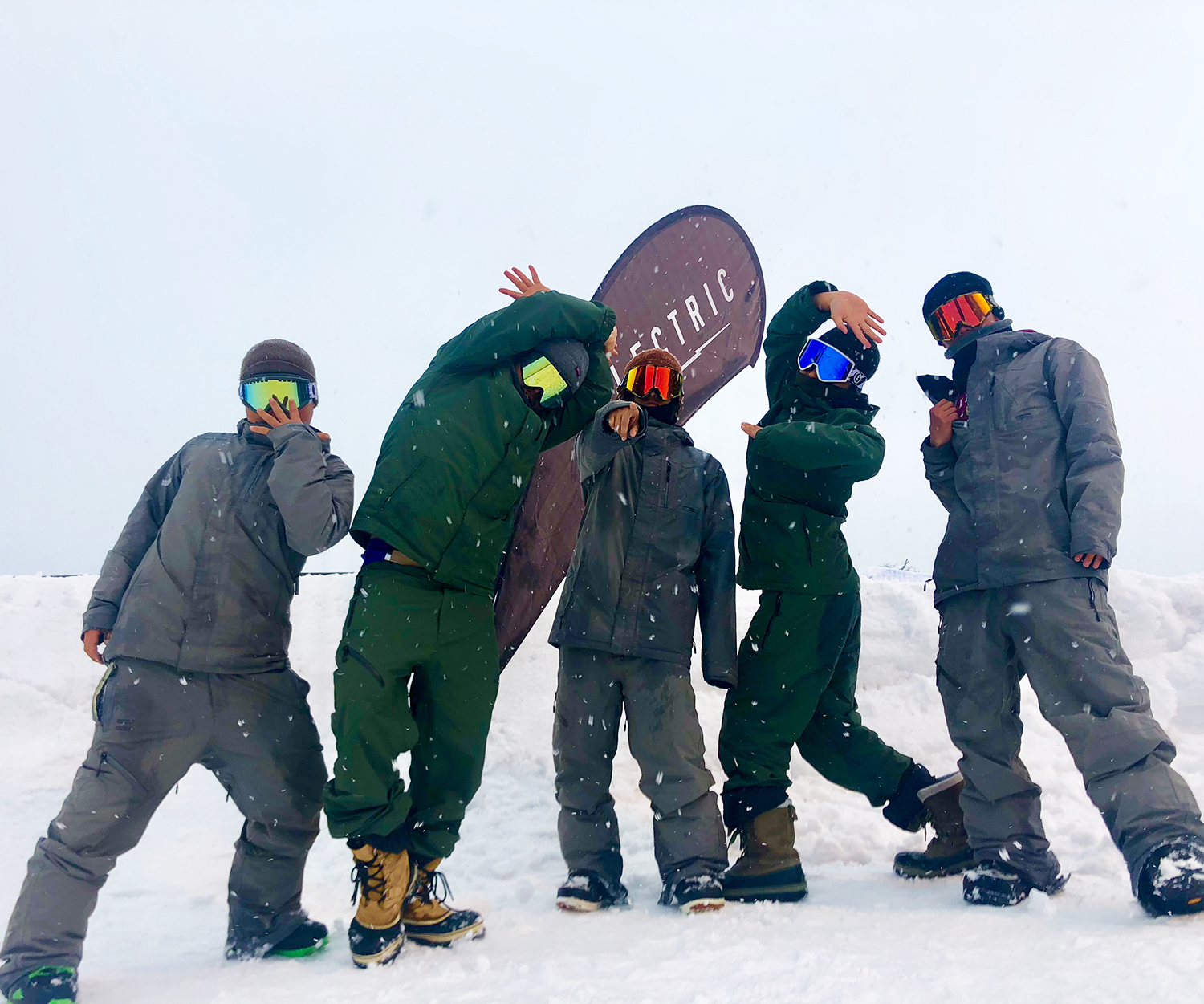 ------------------
Maiko Snow Resort has other topics to watch besides "Step Up Park".That is the "fast track".Until the park opens, it is a superb service where you can fully enjoy free runs.I asked him about the concept.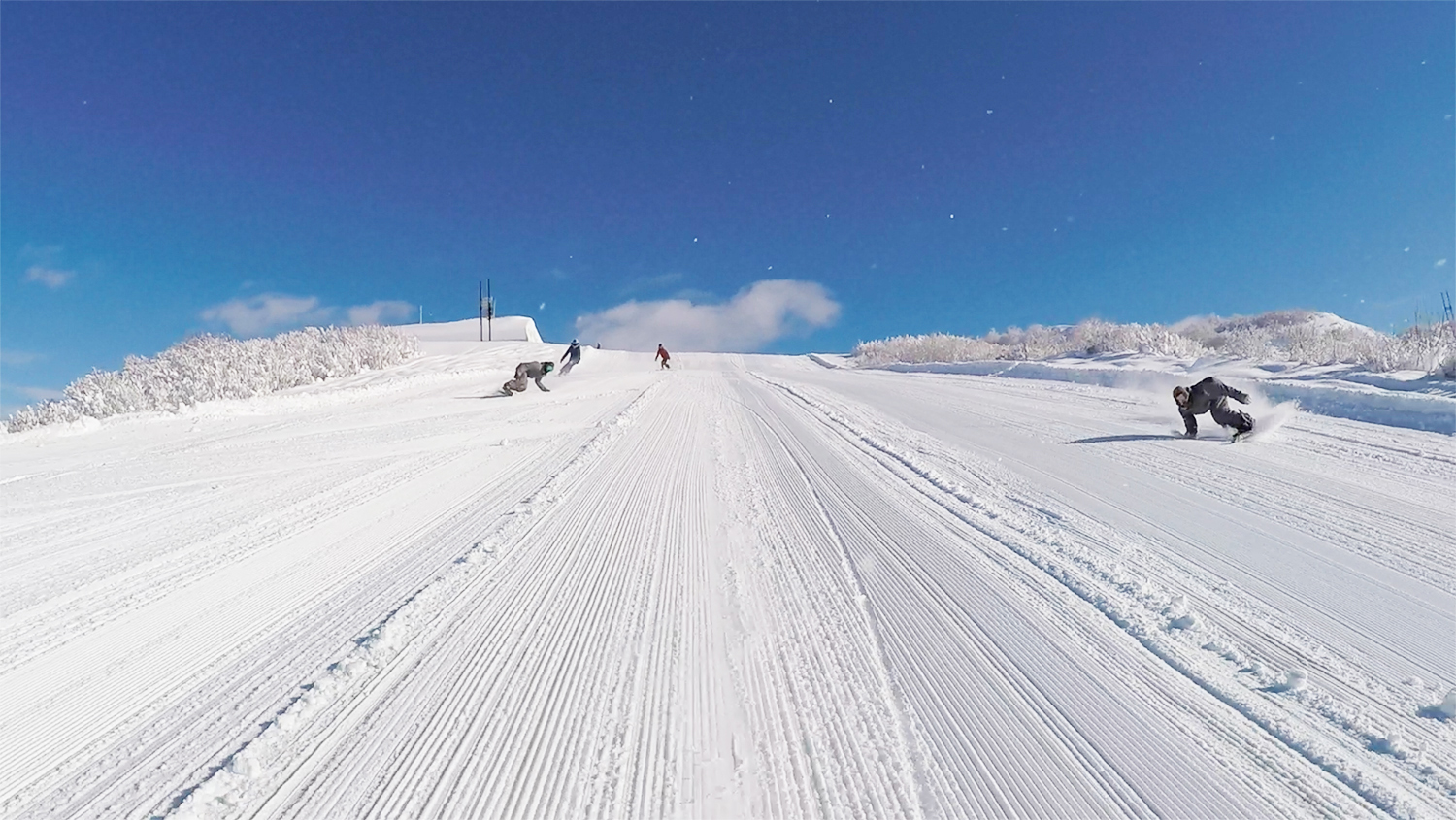 -What kind of service is Fast Track?
It is a service that allows you to board the gondola 15 minutes earlier than the general boarding time.And, under the guidance of the staff who are familiar with the conditions of the day, you can slide on the uncompressed snow course and secret spots during snowfall.Also, even on days when there is no snowfall, Maiko's compressed snow has a good reputation, so you should be able to carve quite comfortably with its beautiful grooming burn.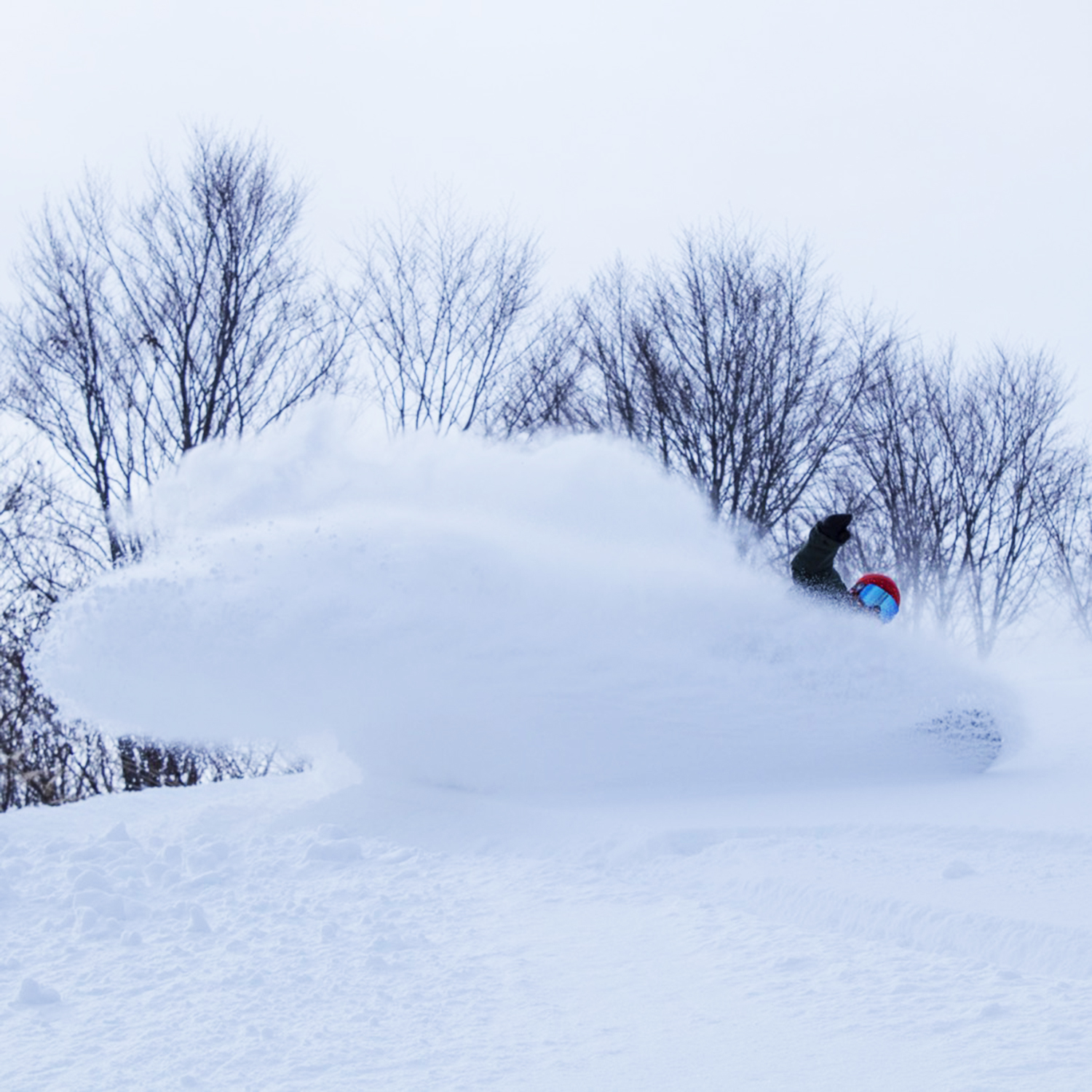 -How do I get on the fast track?
Departures are 8:15 on weekdays and 7:45 on weekends and holidays, and reception hours are 30 minutes before departure time.The fee is 1,200 yen per person.It's only 15 minutes, but these 15 minutes are pretty big.If you come to the venue, please have the best experience!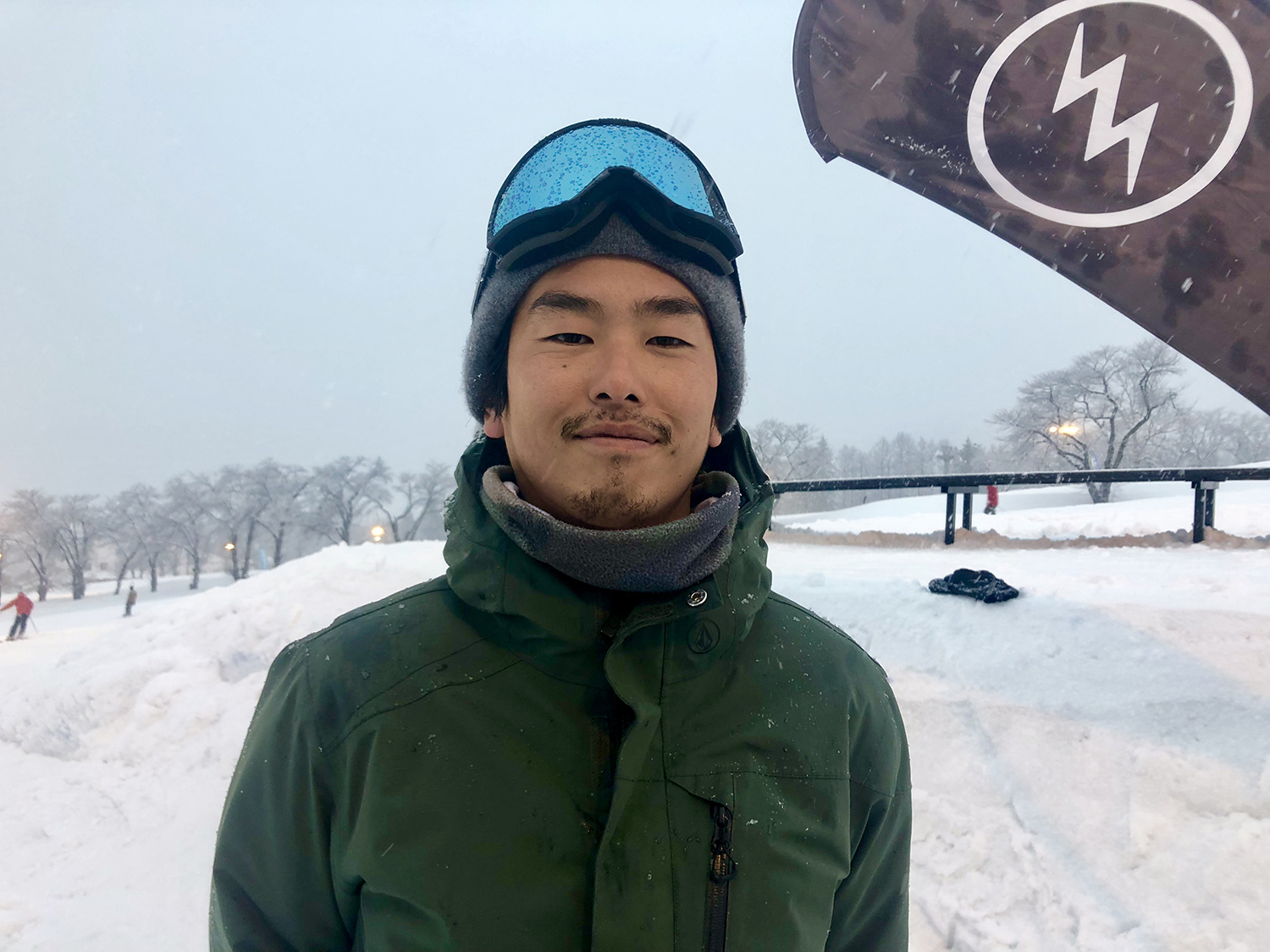 Koji Tamura
Born December 1990, 12.Born in Yuzawa Town, lives in Minami Uonuma City. He has an eight-year career as a park producer for SNOWCASE DESIGN.In addition to Maiko Snow Resort, he is also in charge of park management in the fields of Ishiuchi Maruyama and Nakazato, which are representative of the local area.It supports the snowboarding scene in this area from behind.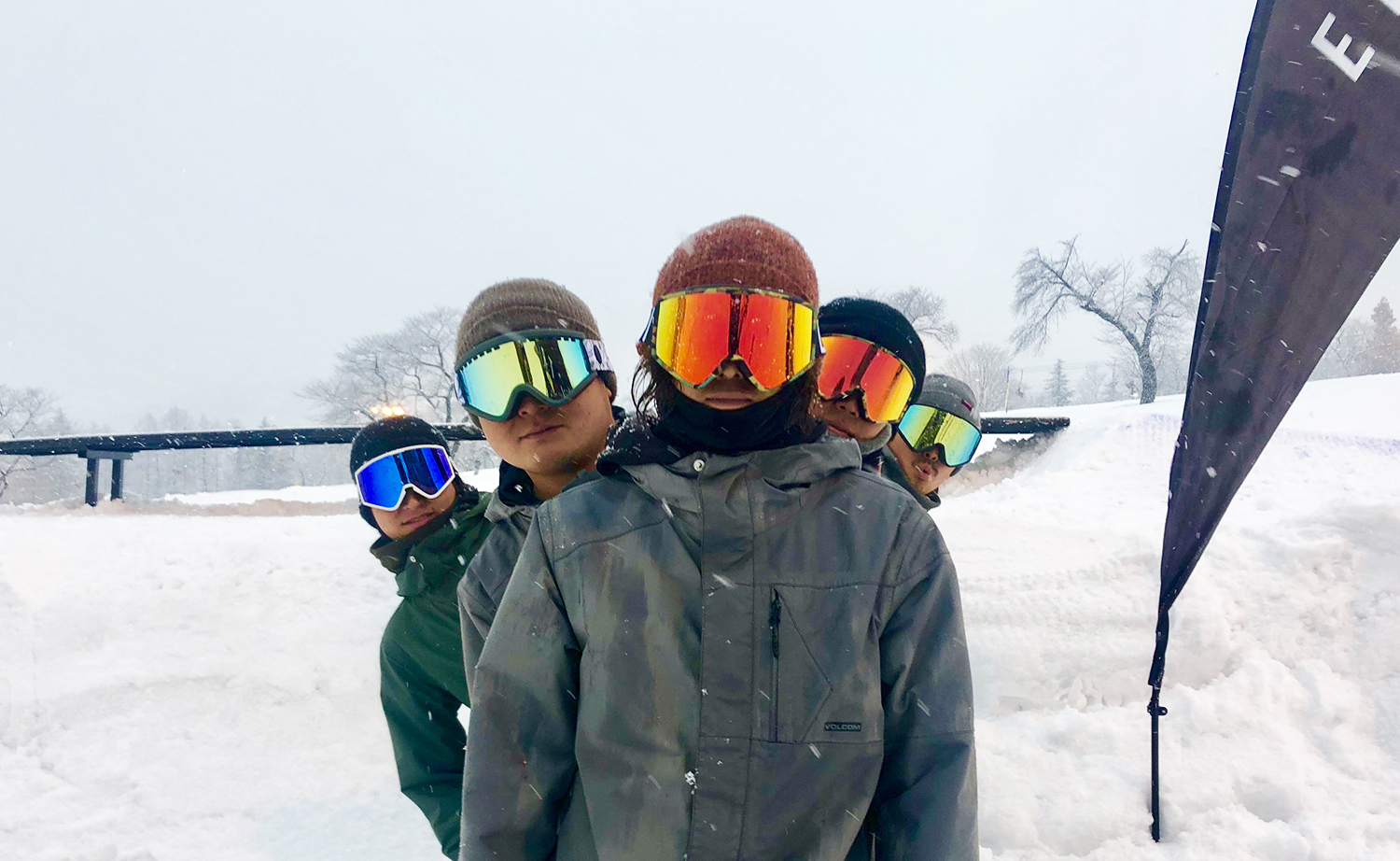 SNOWCASE DESIGN
It is active as a total resort service such as snow park production and event management, kids park production and tenant restaurants, and recently video production.

Click here for the ELECTRIC lineup (digital catalog) for this term.