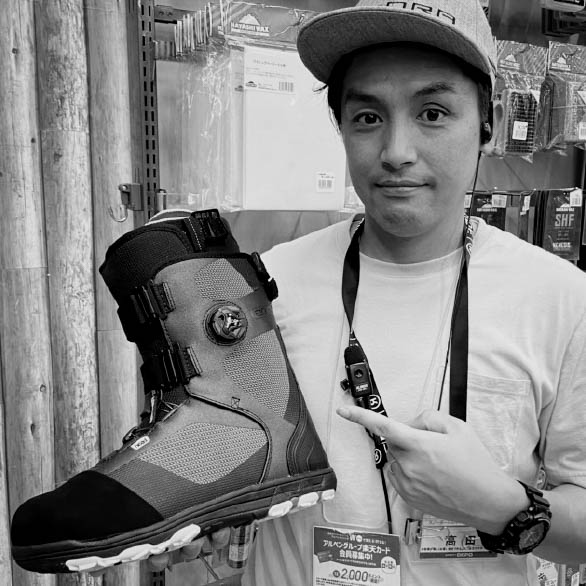 A shop clerk who sees various products of various brands every year.Of course, because you are familiar with snowboard gear, you can understand what brand suits you best.Sports Depot Yamagata Store / Snowboard Advisor Mr. Takada said, "For this winter,"
EIGHT BOA
I heard you bought it.I asked him why he chose this model.
---
— What kind of riding do you like?
(I.e.
: I have been snowboarding for 15 years, but when I was in the Kansai and Chukyo areas, I was young, so I was interested in parks and gratri, and I often watched HOW TO DVDs and magazines.After coming to Tohoku, gradually become attracted to the charm of powder and feel the joy of free riding.When I first went to side country, I learned the difficulty and fun of "sliding in the mountains" and came to feel the importance of riding.Nowadays, it's most fun to free run while playing with the mountain terrain and walls.
—Why did you choose EIGHT BOA?
Takada:
It has good fitting and power transmission ability, yet it is easy to handle.When I first stepped in, I was surprised at how good it was.It looks good, but it's a pretty tough boot, so I imagined it would be stiff, but when I put it on and move it, it's really easy to move.I was impressed by the gap.I felt resistance to the wire boots, but thanks to the power belt, it is a perfect boot that does not feel loose or hit.
—What do you think suits your slip?
Takada:
It is a place where you can feel powerful power transmission even with a small amount of power.I also like boots that are soft and easy to operate, but that requires a lot of stepping force, and it's easy to feel tired if you slip all day long.But this model is easy to step on even though you can rely on boots.It supports you in various situations such as when you slide the powder or when you hit the side.
— What kind of person would you like to recommend?
Takada:
After all it is the same person as myself.From carving to powder on a free run, sometimes I want to play with a kicker or a wall!I think that it is the perfect boot for those who say.If you wear it, you will be satisfied with it, so please try it at the shop.It promises an excellent fit and power transmission, and one of the points I can recommend is that you can customize the hold feeling to your liking with the included flex controller.
— What is the most important thing when choosing boots?Are there any points you should be careful about when serving customers?
Takada:
The most important thing is the fit.Of course, I don't feel a hit, but not only that, but I also emphasize whether or not there is a small margin = power transmission ability.I think the selection of boots is the most important thing for snowboarding, and I want you to spend the most time choosing them.It's really important to know which model fits your foot in a variety of boots.When choosing boots, I feel that it is important to work with customers to find out what kind of product suits their feet.