Tournament AM JAM for amateur snowboarders.Eligibility to participate is amateur (not professionally qualified, not sponsored). It was held for the first time in 2016 and will be the third time this season.It seems that the number of applicants for participation is increasing year by year, so it is recommended that those who wish to enter should access early.If you play an active part in the tournament, sponsored by the sponsoring manufacturer may not be a dream !?
There are four classes this year: open boys, open girls, beginner boys, and beginner girls.
The item is a double kicker of 10 to 12m for open men and women.Beginner men and women will have a small kicker one-make.
In addition, the test drive event, which was held at the same time until last year, will be held separately from the tournament from this year.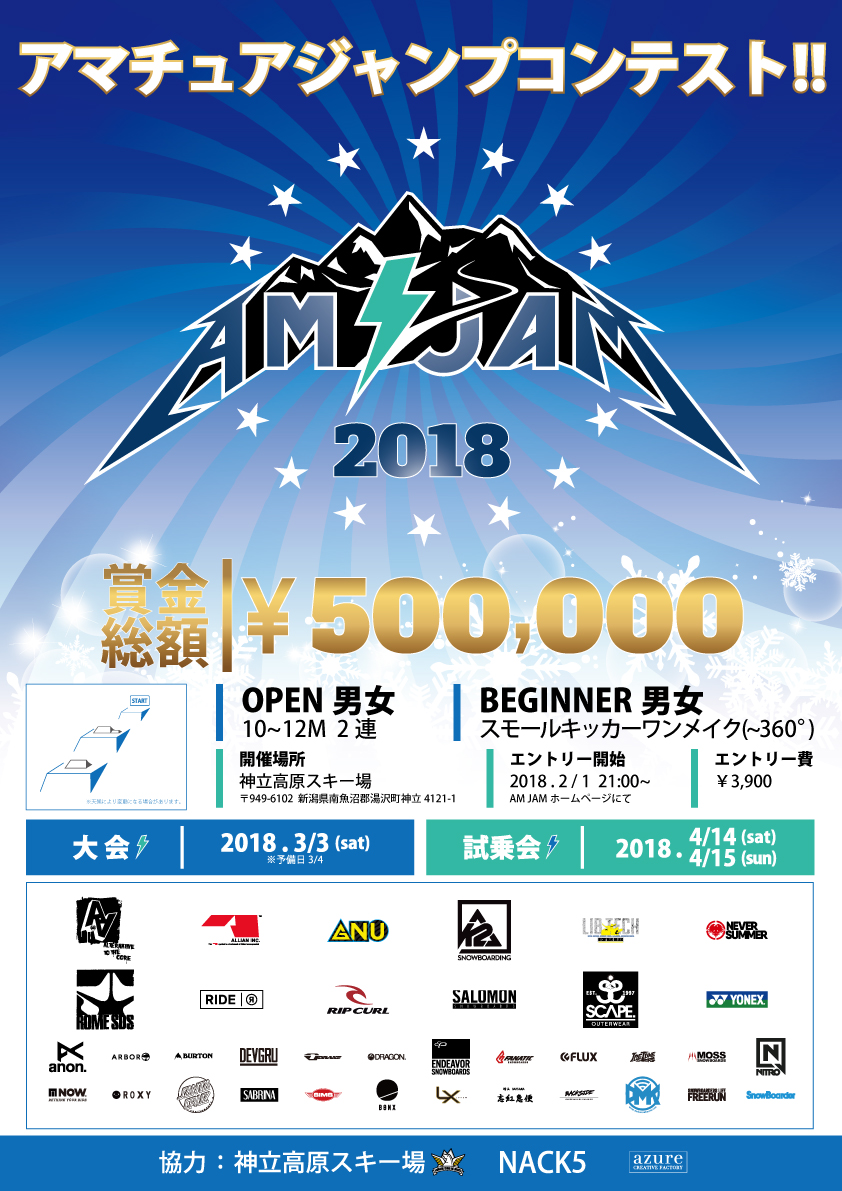 ◆ AM JAM
event date:2018/3/3 (Sat) * Preliminary day 3/4 (Sun)
Venue:Kandatsu Kogen Ski Resort (Niigata)
Entry reception:2018/2/1 (Thursday) 21: 00-Start *AM JAM homepageCan be accepted more
Entry fee:¥3,900
* For entry detailsthis
◆ Test drive: 2018/4/14 (Sat), 15 (Sun)
Sponsored brands
AA HARDWEAR, ALLIAN, GNU, K2, LIB TECH, NEVER SUMMER, ROME SDS, RIDE, RIP CURL, SALOMON, SCAPE, YONEX, anon, ARBOR, BURTON, DEVGRU, DRAKE, DRAGON, ENDEAVOR, FANATIC, FLUX, ICE TUNE FACTORY, MOSS, NITRO, NOW, ROXY, SANTA CRUZ, SABRINA, SIMS, BONX…
Click here for past tournaments
2nd Tournament Report
1nd Tournament Report