With the evolution of the freestyle snowboarding scene, higher and more difficult techniques have become a reality.An era in which even junior and kids generations can use kickers to perform rotating techniques and run up the stairs to improve one after another.On the other hand, in Flatburn, the heyday of Gratley.Any slope can be seen to challenge anyone to polish their skillful board handling relatively easily.
Not to mention the performance of boards, bindings, and boots, we will continue to pursue high performance with the times, and find the shortest route for improvement by choosing gears that meet each need, such as strong repulsion, tenacity, and suppleness. Can be done.And of course, know-how in various techniques can be absorbed from all media, and if you wish, you can take actual lectures at schools and camps.
However, this is certainly the case.Challenges are always side by side with failures.No matter how good the feeling is, no one can do it perfectly in one shot.Most of the riders in the current top scene continue to take on steady challenges, get a feel for each step, and reach a big skill.It goes without saying that if you want to get better quickly, practice, gain experience, and even if you make a mistake, minimizing damage is the most important thing.
Once you get injured, you can't continue practicing.It's not just that day, but it's quite possible that a whole season would be wasted if the injury was serious.That's why riders aiming for the top have sought maximum performance from their protectors.
ARK is a brand that has been developing products to meet the needs of riders who are aiming for such a front line.Many top riders such as Yuri Okubo, Keita Inamura, Ikuumi Imai, Ruki Tobita, and Kaito Hamada are listed as riders. In the case of ARK, it is said that the reliability of the protector is more popular among riders than it is worn for promotion, and it has naturally come to be used by many riders.
Let's introduce the charm of the product.
<Introduction of excellent materials>
The most important quality of a protector depends on the material used. At ARK, we carefully select high-quality materials from numerous tests and use them effectively in our products.Let's check out typical high-performance materials.
> 3D AIR MESH: Lightweight, high repulsion, excellent flexibility, and greatly reduces stress when worn
A material that is also used in child seats, nursing beds, and PC bags.Nylon-based filaments placed innumerably on the inside efficiently and finely disperse the impact applied from the outside.A polyester fabric with excellent quick-drying properties is used on the front side to quickly evaporate sweat generated during exercise and prevent stuffiness.Lightweight and highly flexible, it greatly reduces the stress on the body when worn. It is installed on the inside of all ARK protectors.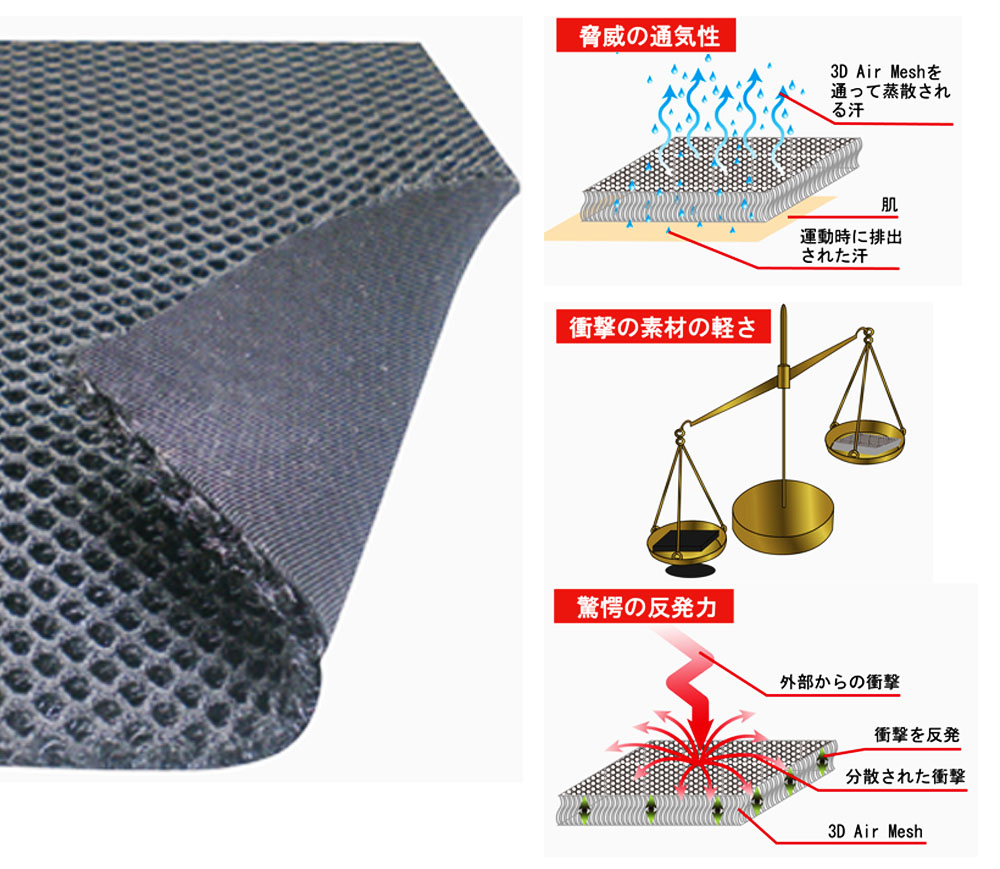 > PF-01 FOAM: Absorbs, disperses and repels impact with one layer, does not harden even at low temperature and does not absorb moisture
A material with excellent cushioning properties and excellent impact repulsion, dispersion, and absorption.It is lightweight, has excellent tear resistance, and has low heat insulation, low thermal conductivity, and excellent heat retention.Since it has a non-water-absorbing, closed-cell structure, it does not accumulate moisture in the pad, has excellent water resistance, and is less likely to deteriorate or deteriorate due to sunlight, wind and rain, and temperature changes.Since it has excellent grip performance, it can prevent the pad from slipping in the pocket and obtain an accurate effect.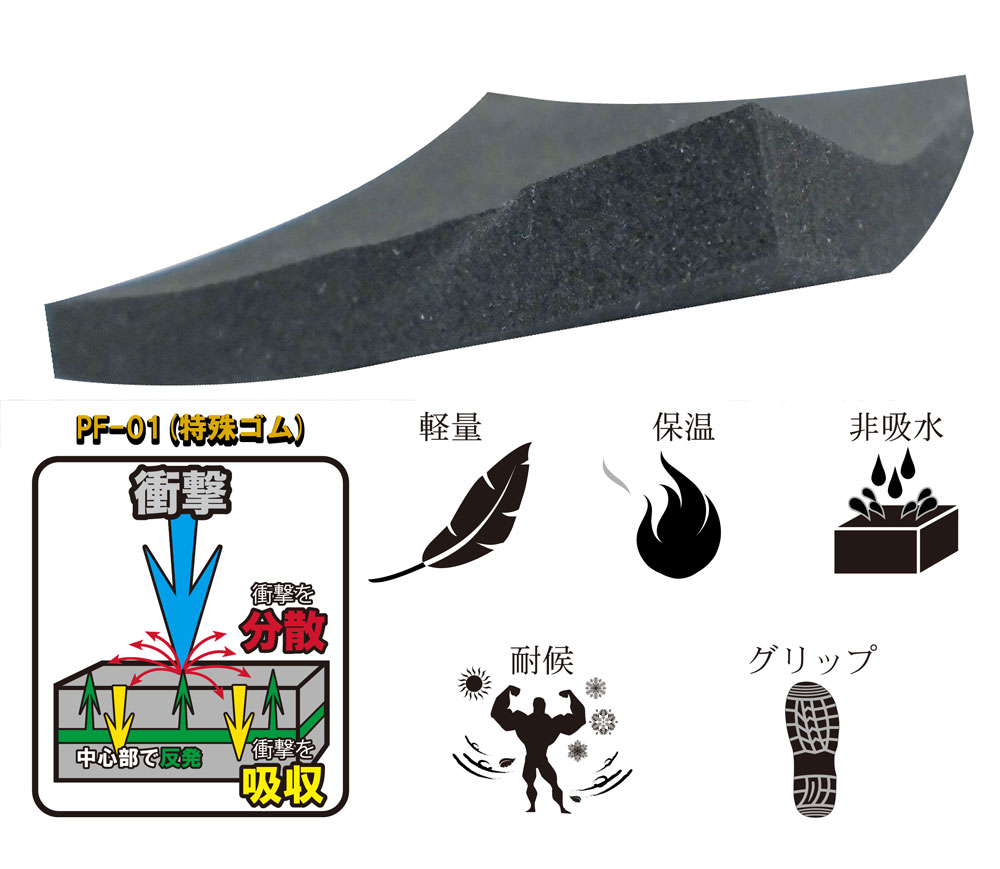 >EVA: Repels impact
By changing the hardness, there are materials that have the properties of repulsion, absorption, and dispersion, and by using each property, it is possible to obtain an accurate protection effect against impact.


> SAS-TEC: The strongest protection function with instant curing
A material that exhibits excellent protection performance that exceeds the standard value of protector materials for motorcycles by 50% or more.It is very lightweight, about 1/4 of the hard shell, and while it is usually soft to wear, it absorbs weak impacts softly and strong impacts firmly in case of emergency.The impact on the body can be suppressed to a low level.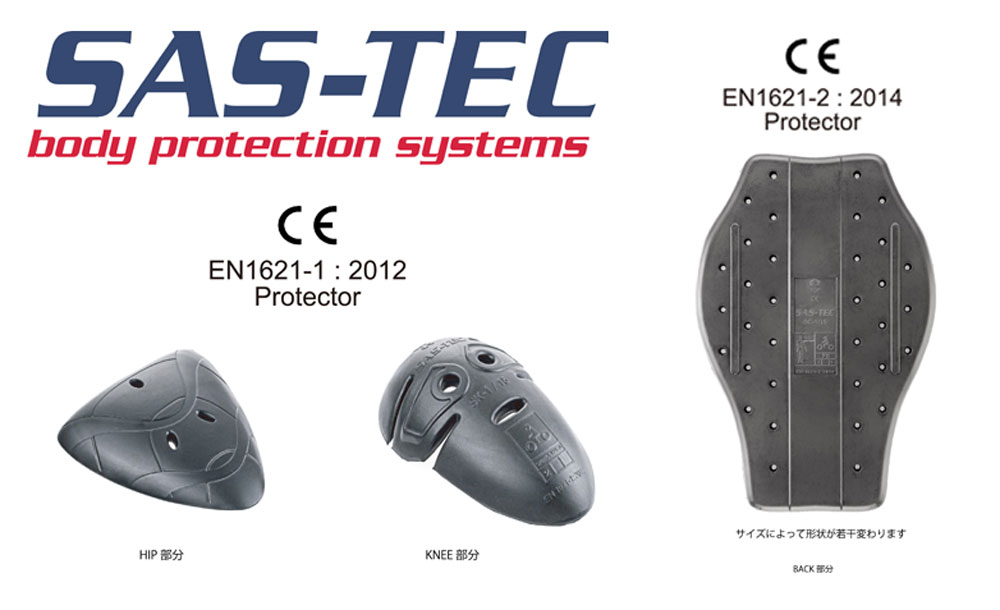 STC HIP PROTECTOR
The strongest protector of interest
The pad on the buttocks uses SAS-TEC, which boasts the strongest protection function and has the characteristic of instant curing.Protects the rider with the best shock absorption quickly against various shocks.The pad can be partially attached and detached from the inner pocket and can be customized.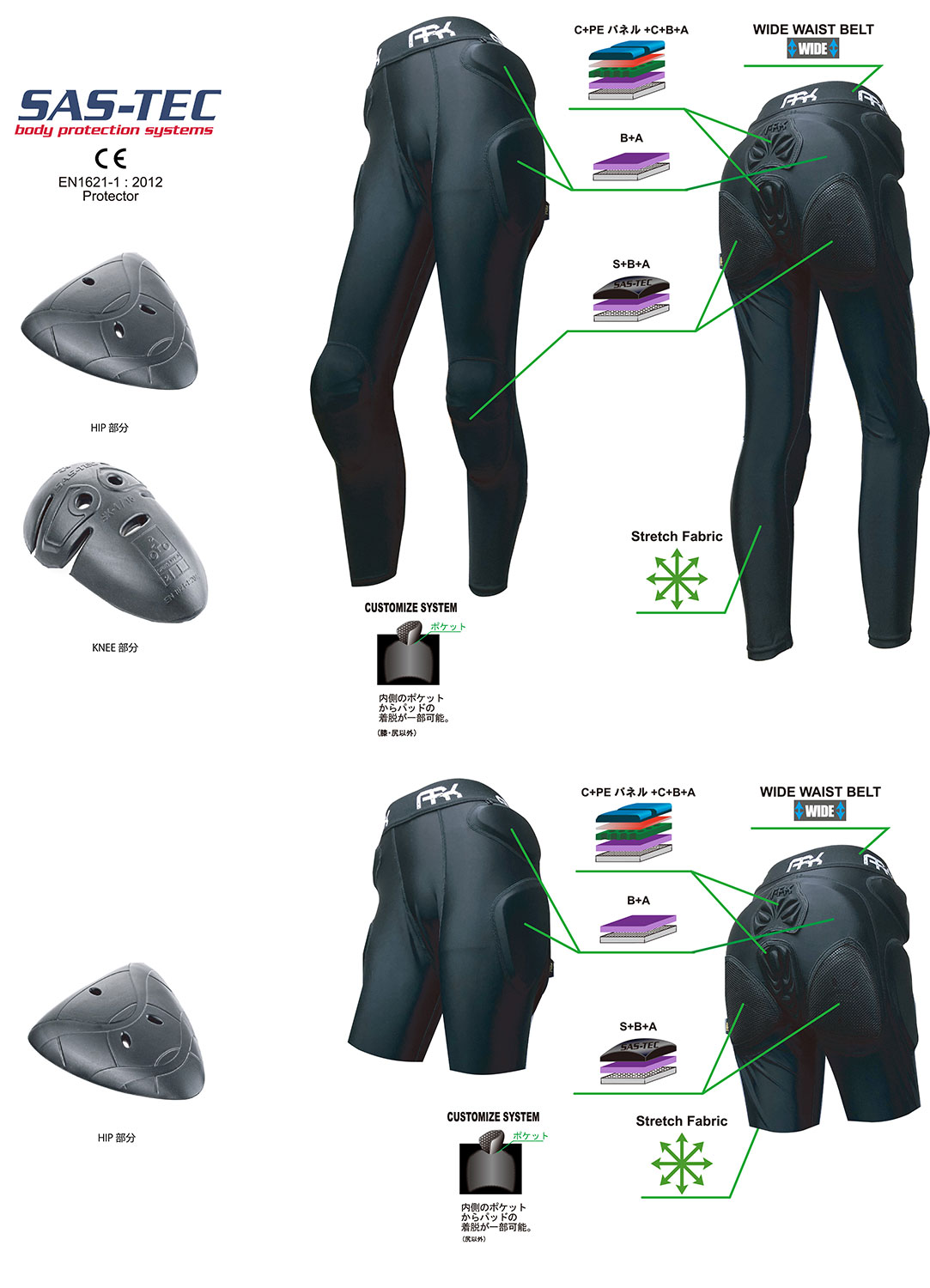 Item no: AR2901 / AR2902
Size: S, M, L, XL, WM, WL
Color: Black
Price: ¥ 25,300 (LONG), ¥ 18,700 (SHORT)