Highly rated by team riders
Top model EIGHT BOA Liquid Fit.
One of the attractions is the fitting that you can feel it on a part of your foot.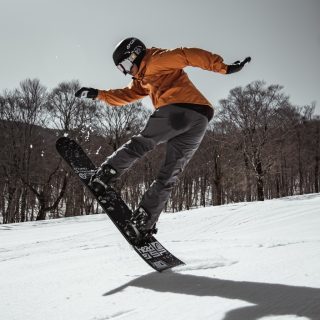 EIGHT BOA LIQUD FIT
LIQUD FIT compatible model that creates an amazing fit.
By injecting a special liquid material around both ankles,
Customizable for individual foot types.
The inner material is made of EVA that molds as you wear it.
Of course, it is also possible to heat mold using an oven.
The lower section of the boot is tightened with the BOA®️ Fit System, and the upper part of the boot (cuff) is held with two power straps for a hybrid power fitting.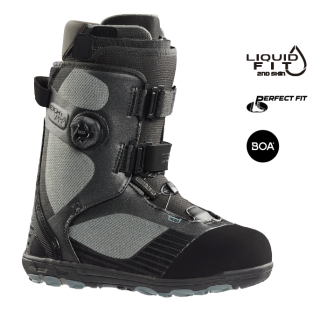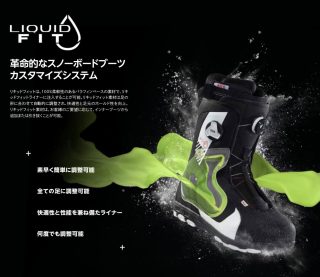 HOW DOES LIQUID FIT WORK?
Liquid Fit Gel is a 100% flexible paraffin-based material.
Injectable into a Liquid Fit compatible liner, it automatically adjusts to your individual foot shape for comfort and a premium fit.
It is also attractive that Liquid Fit Gel can be added or extracted from the inner boot as needed.
The control power created by high fitting corresponds firmly to high speed and high performance.
It has a flex that can react to various movements, and will definitely improve board performance.
This pair is recommended for intermediate riders and above who want to enjoy hard riding.
Processing is possible at the "Liquid Fit Station" of the following shops.If you want to process it, please contact the nearest station!
* Liquid Fit gel injection is an optional process, and a processing fee will be charged at each station.The processing fee is not included in the boot body.
| | | | |
| --- | --- | --- | --- |
| Liquid Fid Station | Address | Phone Number | SNS account |
| Head Sports Station Hakuba | 4098 Hokujo, Hakuba-mura, Kitaazumi-gun, Nagano Prefecture | 0261-71-7870 | Instagram @headcafe |
| Kumaya | XNUMX-XNUMX Sano, Nasushiobara City, Tochigi Prefecture | 080-3344-9577 | Instagram @ kumaya908 |
| HOME | 778-5 Idei, Oyama City, Tochigi Prefecture | 0285-39-8858 | Instagram @snowboardshophome |
| TOWN PUMP | 1-XNUMX-XNUMX Bunka, Sumida-ku, Tokyo More Crest Kameido XNUMXF | 03-6796-6969 | https://www.facebook.com/townpump6969 |
| K & K snowboard project | 2-2-7 Gion, Asaminami-ku, Hiroshima-shi, Hiroshima 1st floor | 090-6404-3210 | Instagram @kksnow_kenji_fujimoto |
| FREE STYLE BOARD SHOP | 777 Hedges, Nagaoka City, Niigata Prefecture | 0258-25-0250 | Instagram @ freestyleboardshop0258 |
| Seven color | 8433-3 Inabe, Ina City, Nagano Prefecture | 0265-74-8662 | |
| VICTORIA head office | XNUMX-XNUMX Kanda Ogawamachi, Chiyoda-ku, Tokyo | 03-3295-2955 | Instagram @victoria_ochanomizuhonten |
| Murasaki Sports Kanda Ogawamachi store | 2-4-8 Kanda Ogawamachi, Chiyoda-ku, Tokyo | 03-3295-7676 | Instagram @murasaki_kandaogawamachi |
| THE SUNS Kanda Ogawamachi store | 2-5-17 Kanda Ogawamachi, Chiyoda-ku, Tokyo | 03-5282-3911 | Instagram @the_suns_tokyo |
| MOVE Toda store | 3-10-17 Sasame, Toda City, Saitama Prefecture | 048-449-7373 | Instagram @move_wave |
| West Snowboard School | | 0796-96-0558 | Instagram @Westsnowboardschool |
| Yuji Usui | | 090-7908-0250 | Instagram @Ussyyuji |
| NETWORKS | 4-44-1 Hongo, Kashiwara City, Osaka Pre-Are Hongo 1F | 072-972-1775 | https://www.facebook.com/REDS-snowboard-shop-596861517038613/ |
| JAMMING SNOW | 3-7-24 Taitocho, Suzuran, Kita Ward, Kobe City, Hyogo Prefecture | 090-8377-3751 | Instagram @jamming snow |
| Dreamy | 134 Tatenocho, Shikama Ward, Himeji City, Hyogo Prefecture | 079-243-1117 | Instagram @dreamy1117 |
| DREAM | 1-43-6 Mitsumatacho, Maebashi City, Gunma Prefecture | 027-289-0139 | Instagram @reve_snowboard |
| Alpine Outdoors Flagship Store Kashiwa | 1-6-1 Kazehaya, Kashiwa City, Chiba Prefecture | 04-7192-3671 | Instagram @alpenoutdoors.flagship.kashiwa |
| Kyowa Ski Resort KYOWA Snowboard School Manager Yamamoto | 71-1 Kyowa Funaokakamishonai, Daisen City, Akita Prefecture | 090-4884-4549 | |
| Koumi Reex Snowboard School | Toyosato Matsubarako Highlands, Koumi Town, Minamisaku District, Nagano Prefecture Snowboard school in Koumi Reex Ski Valley | 0267-93-2388 | |
| Murasaki Sports Kakamigahara | Gifu Prefecture Kakamigahara City Nakakayabacho 3-8 Aeon Mall Kakamigahara 2F | 058-375-3071 | |
| Sports Depot Joetsu | XNUMX Kamigenyu, Joetsu City, Niigata Prefecture | 025-545-6270 | |
| Murasaki Sports Akita | 1F Aeon Mall Akita, 1-1-3 Goshono Jizoda, Akita City, Akita Prefecture | 018-889-8501 | https://www.instagram.com/murasakisports_akita/ |