ITOCHU Corporation will hold the ITOCHU Children's Dream Snowboard Class through the ITOCHU Children's Dream Fund, which was established in March 2013 as part of the reconstruction assistance for the Great East Japan Earthquake.
This classroom has snowboarders as part of the "Itochu Children's Dream Fund," which supports the dreams of children in the disaster area.
This is an event to support children in Tohoku, and this is the second time this year, following last year.Active in the world
In addition to providing opportunities to receive direct guidance by welcoming former Japanese national team players who have snowboarded to the instructors, they will also showcase their practice results.
We will also hold a presentation to see.Also, as a supplementary prize, he is an official supplier of the Japanese national snowboard team.
We provide "AIRWALK" brand products developed by ITOCHU.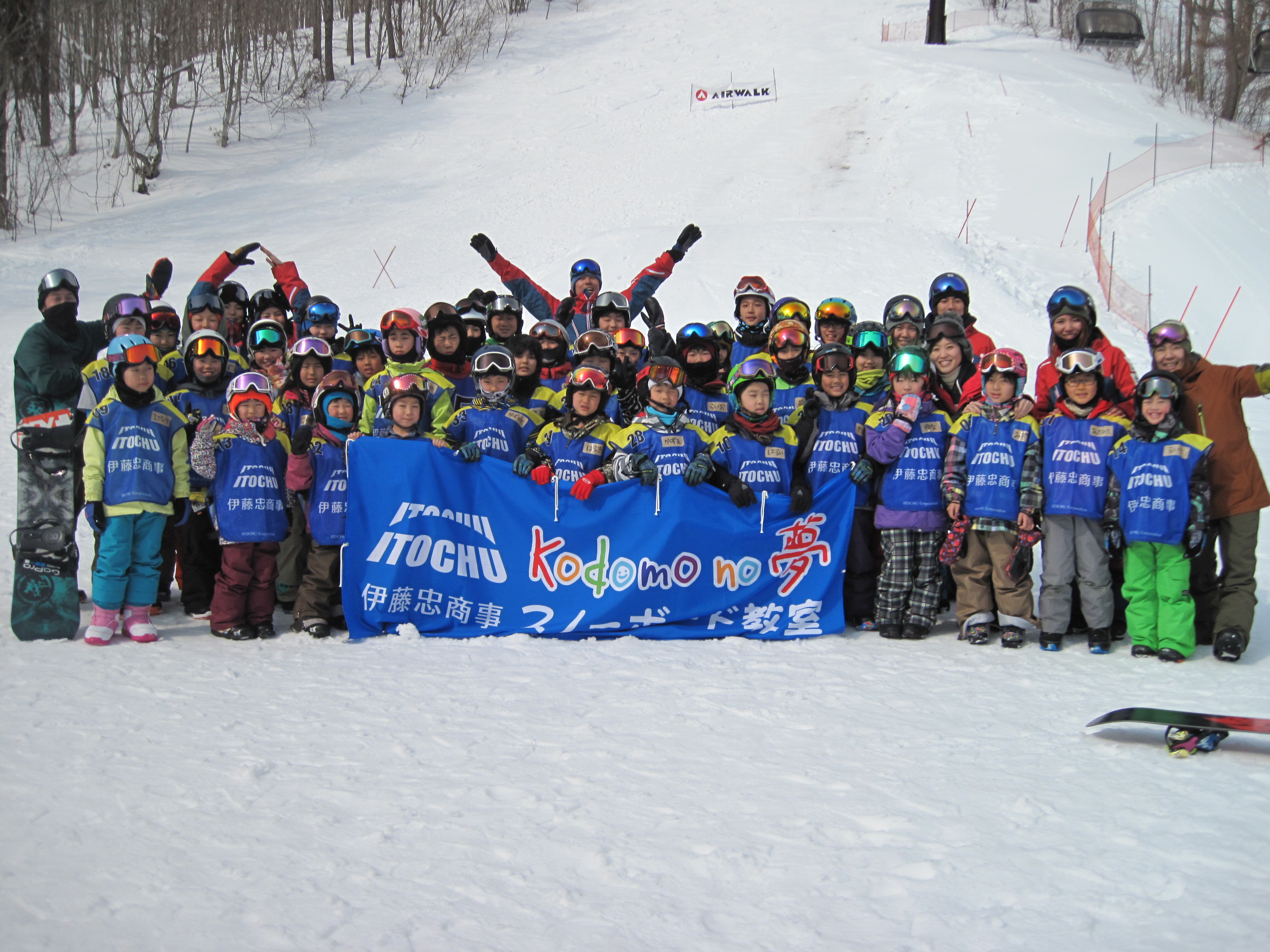 ■ Outline of the event
Name: The XNUMXnd ITOCHU Children's Dream Snowboarding Class
Date: Saturday, February 2017, 2
Venue: Urabandai Ski Resort
Organizer: ITOCHU Corporation
Co-sponsored by: NPO Freestyle Skiing Hokkaido Supporters Club
Cooperation: Ski Association of Japan Snowboard Team
Sponsor: AIRWALK
Target: Fukushima, Miyagi, Iwate, Ibaraki residents from 6 to 15 years old
Intermediate level or higher (* Level that allows you to turn on a middle slope)
Capacity: 40 people
Cost: Free
Lecturer: Former Japanese snowboarder, etc.
Program: The purpose is to cultivate comprehensive gliding power, which is an important force in all sports.
We will give lessons centered on free runs.
In addition, we will hold a time race on the middle slope including waves.
Schedule; 10: 00-12: 00 Workshop
12: 00-13: 00 Lunch
13: 20-14: 30 Presentation
15: 15- Closing Ceremony (Announcement of Winners and Runner-ups)
* The time schedule is subject to change.
Supplementary prize: AIRWALK products
How to apply for participation:
Please apply by email directly to the Kirara Event Desk. (Application starts from January 1th)
Person in charge: Imai
TEL: 0267-31-6527 (weekdays from 10:17 to XNUMX:XNUMX)
Email: info@kirarakamp.jp
Please fill in the following items in the e-mail and apply to the above address.
Subject: Itochu Children's Dream Snowboarding Class Application
① Your name (furigana)
② Age / grade
③ Gender
④ Date of birth
⑤ Address
⑥ Phone number
⑦ Email address
⑧ Snowboard gliding level
⑨ Snowboard goals
Other:
○ About wearing a helmet: Participants are obliged to wear a helmet.
○ About filling out the pledge: Please sign the pledge at the reception on the day of the event.