Natsuyu Kogen Ski Resort in Iwate Prefecture is attracting attention as a snow resort located in one of the heaviest snowfall areas in Japan.
In recent years, along with the charm of the blessings of the natural environment that can only be experienced with outstanding snow quality, powder snow, and summer oil, the concept of "grow-up tree run" has been raised, and among snowboarders, free riding with the keyword "sacred place of tree run". It is attracting a lot of attention as an area that conveys the fun ofMoreover, it is becoming more popular not only among snowboarders from nearby prefectures, but also with more and more snowboarders heading to Natsuyu from the Tokyo metropolitan area on weekends.This is because Natsuyu has a charm that cannot be experienced at snow resorts in the metropolitan area.
Many people may have the image of "dangerous" when they hear "tree run".Many resorts have areas that look like fun, but they keep them out of the way by restricting them with ropes.There have also been cases of people entering the restricted area based on their own judgment and getting involved in accidents.
However, Natsuyu has introduced the concept of "grow-up tree run" in order to "enjoy the tree run safely". We are making efforts to get it.There is also a tree run area for beginners and intermediates that can be enjoyed by non-advanced skiers.By demonstrating the skill level for skiing in that area in an easy-to-understand manner, it is possible to avoid the risk of suddenly entering a high-difficulty area and encountering unexpected trouble.
In the same way that you can check your flying size with a park kicker, you can also check what kind of area you can clear in the tree run by raising the stage of the challenge called "glow up".
It is true that it was difficult to confirm my level of freeriding.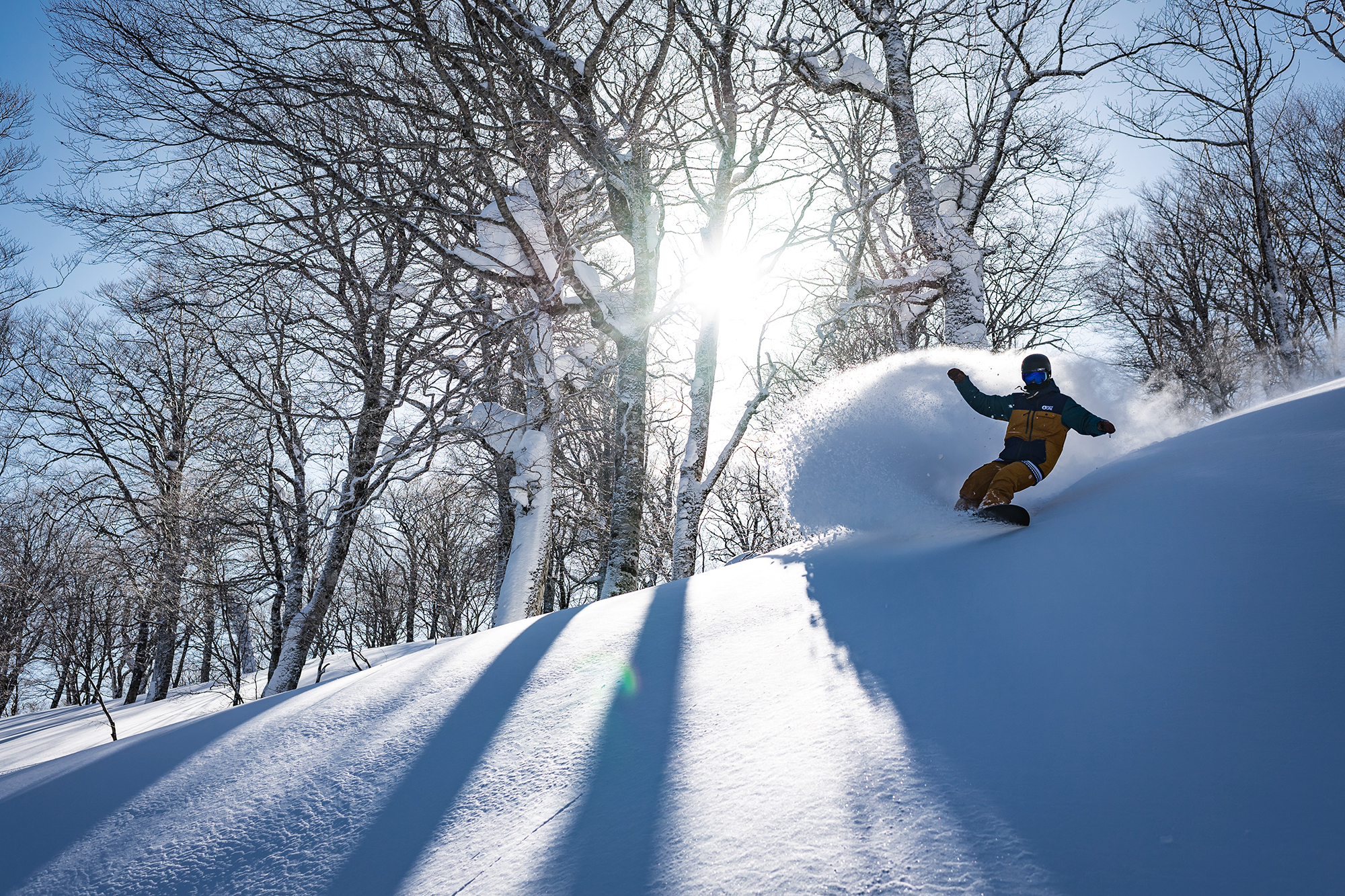 In that sense, Natsuyu Kogen Ski Resort can be said to be a snow resort that strongly supports our new step forward.If you want to improve your freeriding skills, we recommend that you visit Natsuyu this season.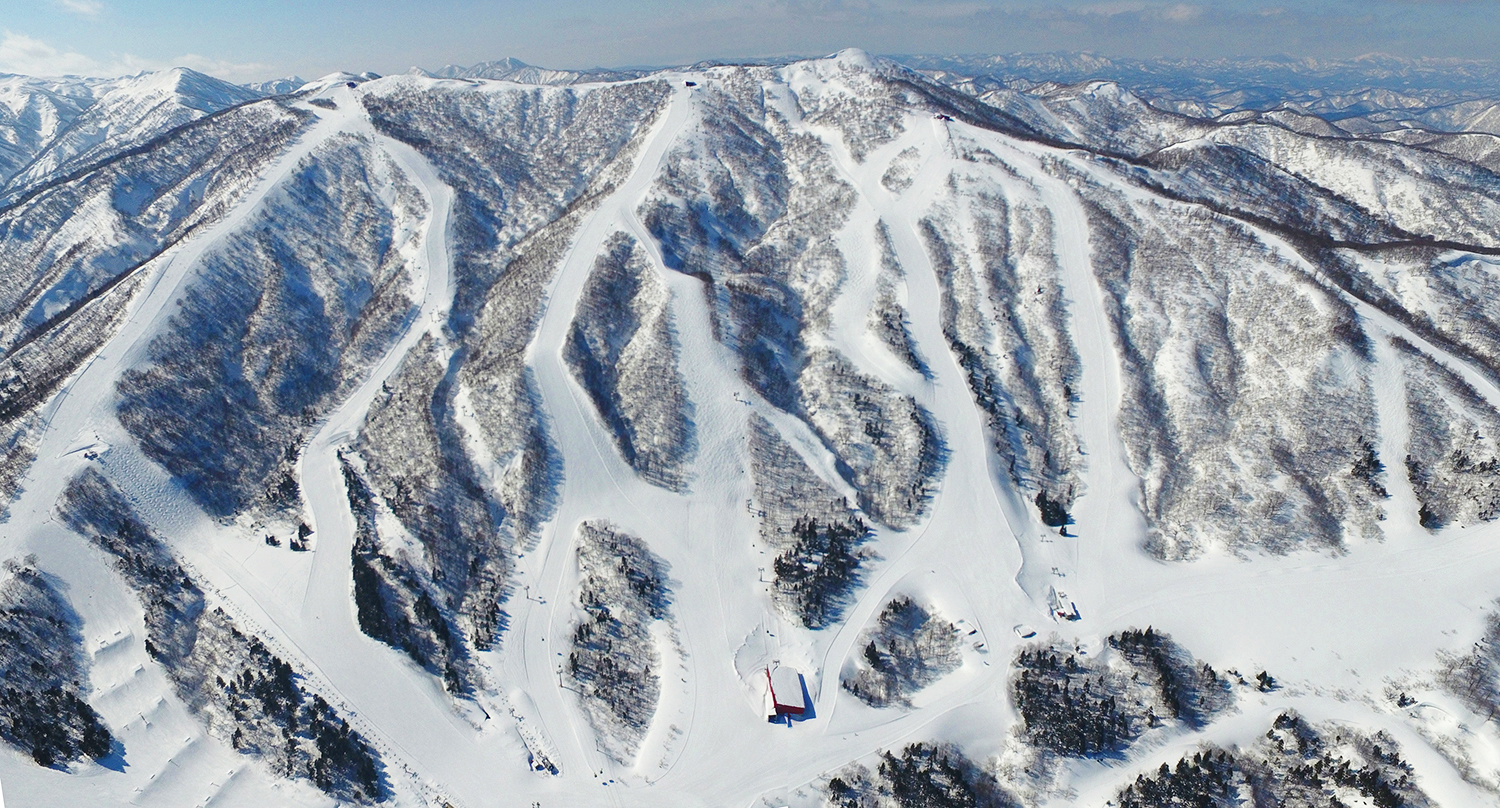 The 14 general courses are also attractive enough
In addition to "Tree Run," Natsuyu has 14 diverse courses.The A1 course, which is popular as the main slope, offers a long run of over 2km.If there is enough snow, you can enjoy powder even on general courses.There is also a non-compacted snow course on the general course, and when it snows, you want to aim for the non-compacted snow on the course first.
GROW UP TREERUN
Area division from "Lv.1" to "Lv.4"
Tree run beginners can easily start from Lv.1
The tree run area of ​​Natsuyu Kogen Ski Resort is divided into four levels of difficulty. In the area "Heart", which is set to "Lv.1", even children can easily try it if they wear a helmet. The three areas of "Garden", "Summit", and "Rabbit", "Lv.3", are hard to get lost in, so you can join the course smoothly. At "Lv.2" or higher, the undulations are large, and there are parts with steep slopes, making it quite tough.
Avoid the mistake of suddenly entering a difficult slope and getting stuck, and gradually increase your level.
Enjoy riding by choosing an area according to your skill without stepping up unreasonably.This is the style of tree run unique to Natsuyu Kogen.
First of all, let's challenge from a course that you can afford, such as "Lv.1" and "Lv.2".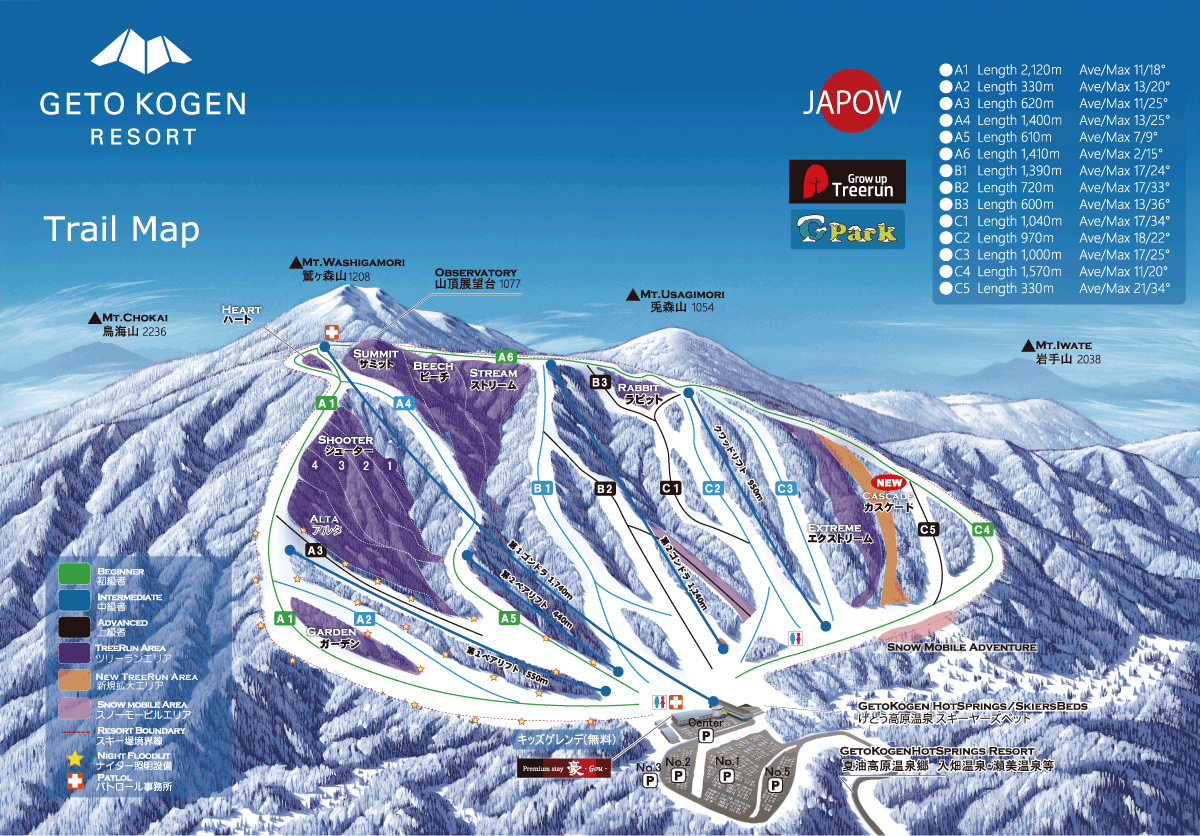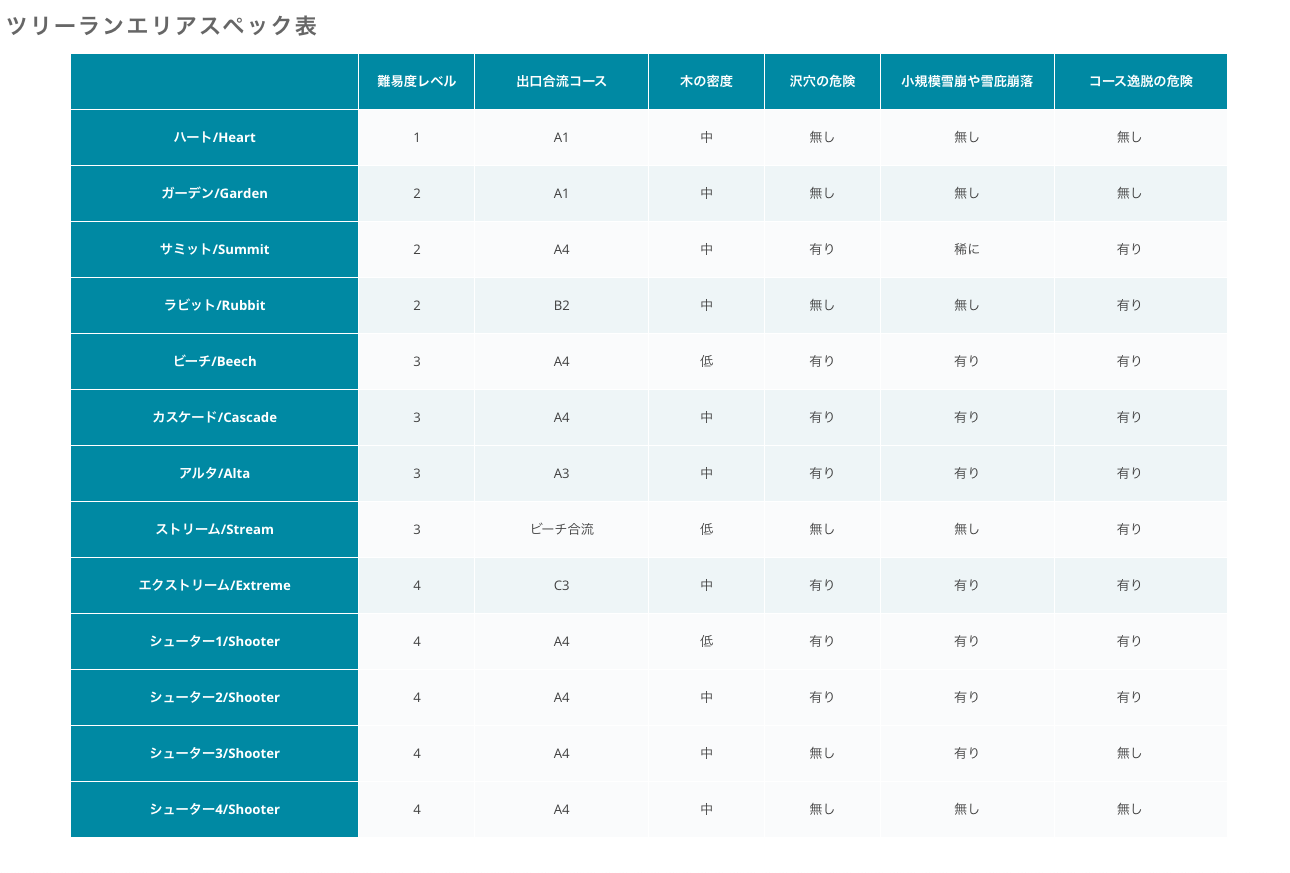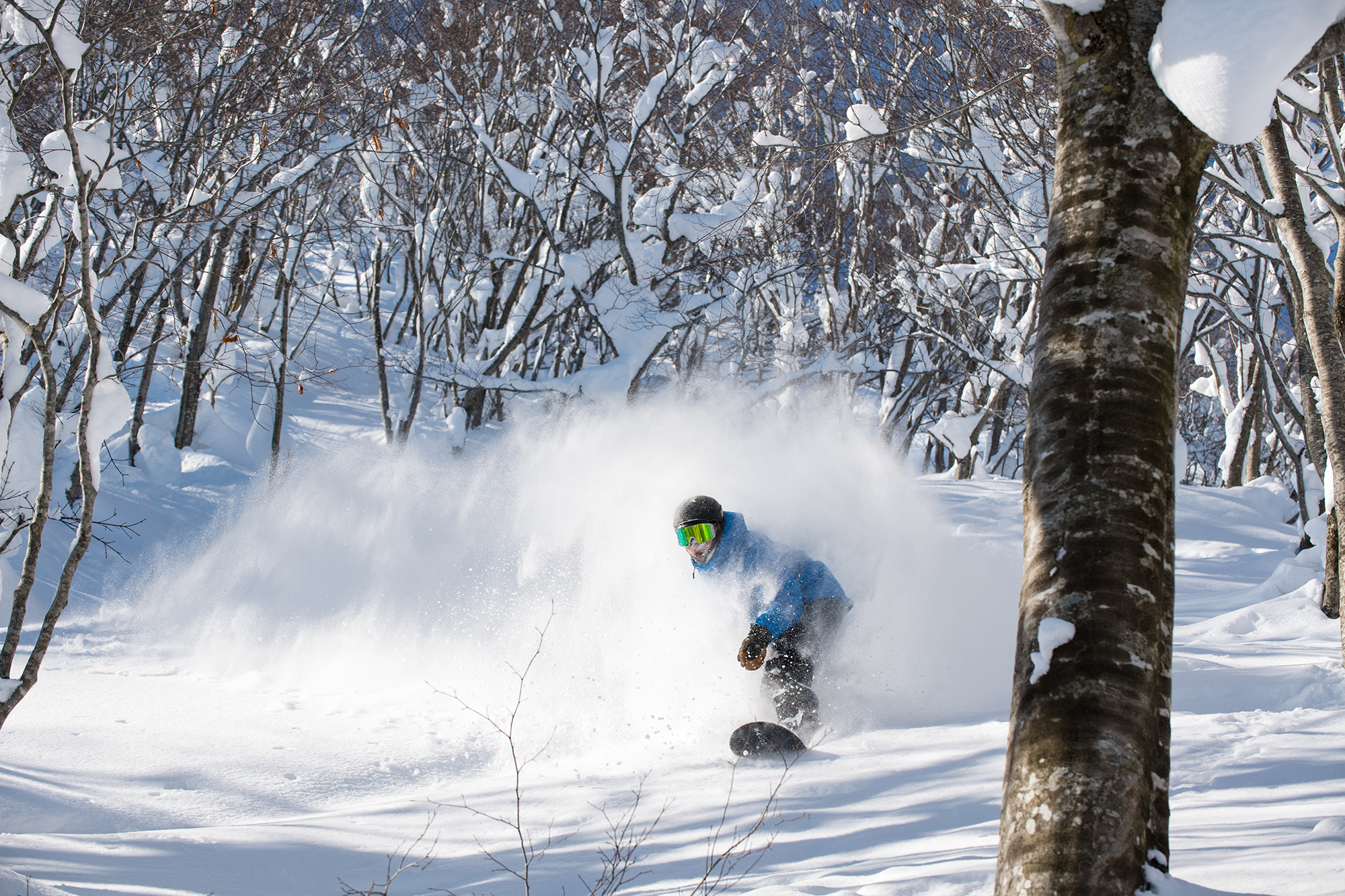 How to use TREERUN AREA
Scheduled opening period> Late December to early April
The normal course is open, and after that, when the amount of snow increases, area inspections and sign installation will start in preparation for the opening.It is expected that patrols will finally check the inside of the area and it will be open around the New Year.Please note that even during the opening period, it may be closed if the conditions are not right.

Scheduled opening time> 9: 30-14: 00
After the regular course opens, it will open as soon as the patrol patrol is over.The end time is set early to secure time for rescue operations in the unlikely event.Let's keep time.
Precautions regarding use
(0197) Be sure to have a mobile phone on hand.And be sure to register the phone number "72-8848-XNUMX" of the ski resort.Helmet must be worn.Equipped with a protector is also recommended.
(XNUMX) Enter with the awareness that the area is a self-responsibility area.Make a gliding decision by fully considering your skill.Check the tree run spec table !!
(XNUMX) Let's slide comfortably while confirming each other's safety as a group.Be especially careful when sliding alone in deep snow, as there is a risk of getting stuck and getting stuck.
(XNUMX) In fresh snow conditions, it is safer for snowboarders to bring snowshoes.
Rescue position confirmation tool
In Natsuyu Kogen, a rescue system is in place in the event that it gets stuck in the tree run area.When you call the ski resort's phone number, first tell the patrol your location.The patrol can proceed to the vicinity of the number according to the information, and by whistling or shouting loudly, smooth rescue can be performed.
The best preparations have been made to deal with any eventuality.However, please be aware that the tree run area is your own responsibility and act with safety first.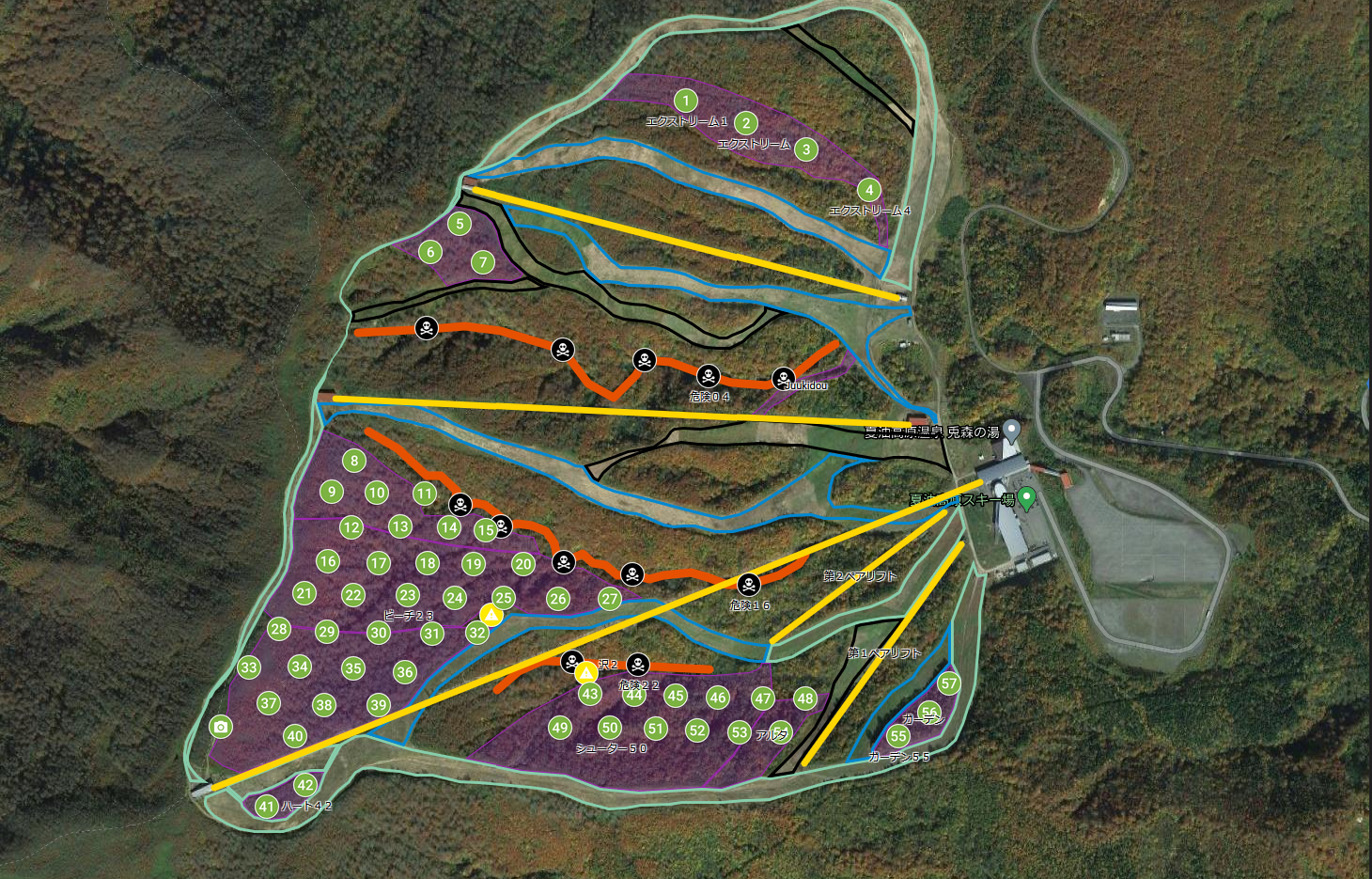 ---
Support for skill development
Heavy snow tree run area guide
A special project to fully experience the fun of Natsuyu Kogen.A guide who is familiar with the terrain accompanies the riding.A service that guides you to the best tree run area of ​​the day (4,000 yen per person ~ 5 people, 10 hours from 00:12 to 00:2). Reservations can be made on the website.
Tree run experience program
I want to try tree run for the first time!Experience program for those who say (4,000 yen per person ~ 5 people capacity, 10 hours from 00:12 to 00:2). Reservations can be made on the website.
Backcountry introductory tour
An introductory tour for those who want to try backcountry from now on, and those who want to learn from the basics even if they have backcountry experience.Beacons, snowshoes, poles, and other gear can all be rented (including the rental fee), so you can learn how to use the gear and how to check safety when skiing down the mountain.Those who have experienced tree running and who can control the board even on a non-compressed snow slope are eligible (from 9,000 yen per person, capacity of 5 people, half-day in the morning from 8:30 to 12:30). Reservations can be made on the website.
Mountain information rental item
Mountain Information offers rental items for enjoying tree runs safely, including backpacks, probes, shovels, telescopic poles, and other BC tour items, as well as snowshoes and beacons.
GEMTEMSTICKRental
Rental of GENTEMSTICK is carried out at Mountain Information.You can enjoy the tree run of Natsuyu Kogen with the latest model.If you are not good at powder, I recommend you to try using it here.
Geto Kogen Ski Resort Lift Ticket FREERUN Special Discount Sale
Only for those who read this article, regular price adult 1-day ticket 5,400 yen, 5-hour ticket 5,000 yen,
Limited sale at a special price of 4,200 yen (tax included) !! As soon as possible.
You can purchase it from here!

---

Geto Kogen Ski Resort Information Corner here
The official homepage is here
---
Snow resort special feature >>> Geto Kogen Ski Resort