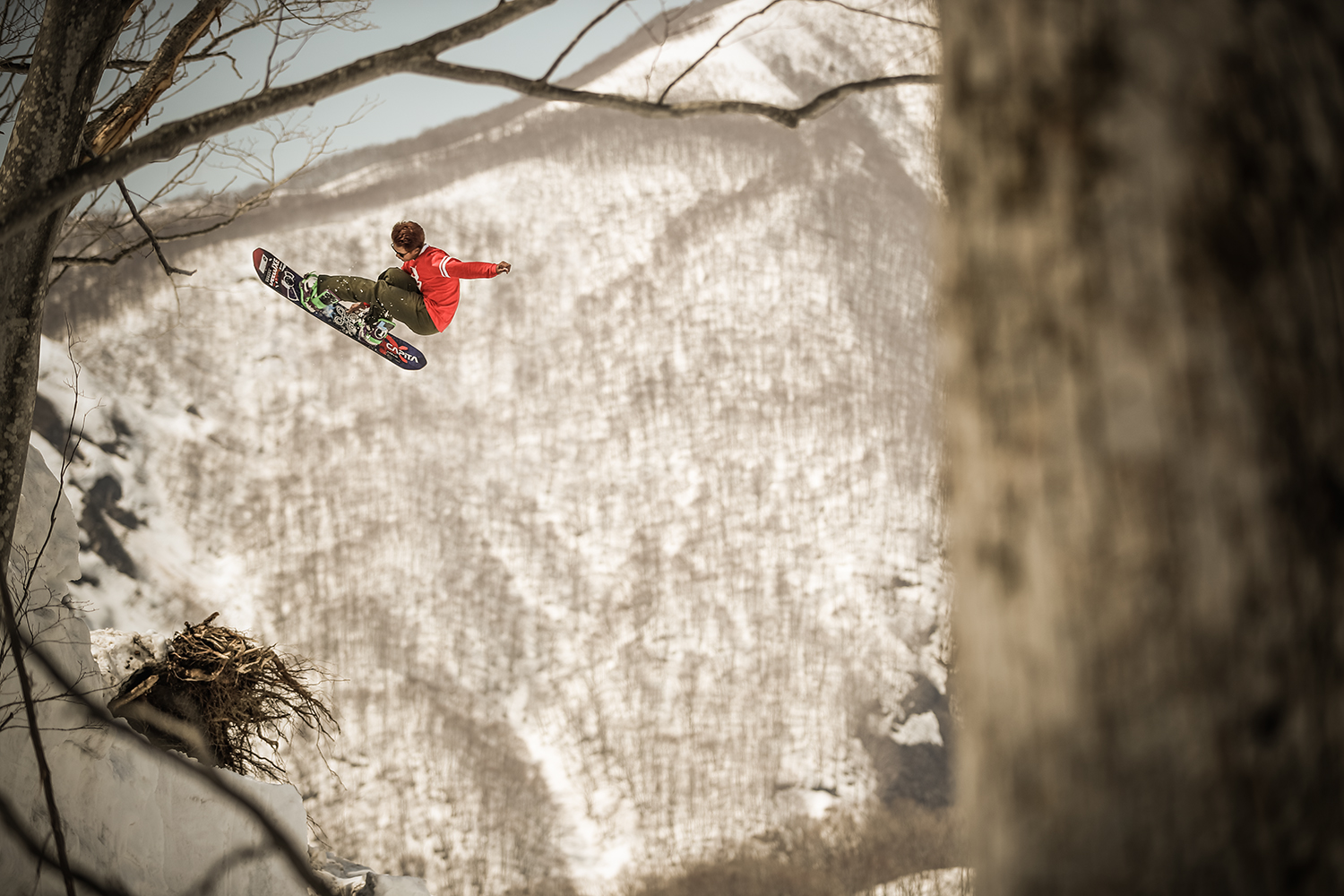 Cambers, rockers, hybrids, edge shapes, tip shapes, core materials, reinforcements ...A single board that is completed by combining elements that are hard to beat.With overwhelming skill, you can slide freely on any slope with just one and make stylish tricks.But if you have a riding style that you're trying to improve, it's a shortcut to find a suitable companion in this era.Here, we will divide it into a trick edition and a turn edition, and take up the "board judgment promotion board".
ALL Photo: ONOZUKA AKIRA

Understand your goals and your current situation
This time, I used the word "trick" as a summary, but there are various types and levels, from double cork on the half pipe to butter on the gratri.However, if you divide it roughly, or forcibly, you can classify it into two categories: you want to fly or you want to crawl on the ground.Of course, even if you say that you fly, there are a wide variety of situations such as half pipes, kickers, flat burns, natural hits, and so on.
 So what kind of board should you choose to improve your tricks faster?First of all, it is important to understand what kind of tricks you want to learn, what you want to do better, and your current level.It's better to clarify them until you have completed a detailed checklist.Be careful if you have a board that is higher than your level and it is difficult to handle because you have been looking good in the shop so far.If you choose the best companion, you should be honest with yourself first.Remember that weird pride hinders your progress.
 Generally, it is said that camber, which makes it easy to utilize the repulsive force of the board in jumping, and rocker, which makes it difficult for the edge to get caught in the item in jibbing, are better.This is not a mistake.However, it needs to be analyzed in more detail.For example, even if you jump, the target level will change depending on whether it is 5 with a 360m kicker or 15 with a 1080m kicker, and whether you can specialize in jumping in the first place or whether you want to flow the entire park ... The board will be different.This is also the case with Gratley.Do you want to perform jump-type tricks rhythmically, or do you want to aim for a big move like Rodeo Andy?However, the first thing I want to do is, again, to clarify the goal I am aiming for.
 Also, if you are interested in tricks but are not confident in your legs and legs, I recommend choosing a model with soft flex to some extent.Boards with soft flex often have soft torsion, so it is easy to acquire the skills to handle the board by yourself.Based on these, let's find a board suitable for each riding style.
★ If you want to improve your jump
First of all, if you want to be good at jumping, whether it's a park, a pipe or a gratri, choose a model with a built-in camber structure.Thanks to the camber, the board does not shake easily even when approaching at high speed, and you can fly high by taking advantage of the camber's flexibility.Let's also add that it will increase the sense of stability when landing.With a rocker board, if you land with a backward tilt, the tail is likely to be terrorized, but with a camber, the bending of the board absorbs the impact of landing, and it is easier to recover a little.The next thing to consider is the situation.If you're jumping on a gratri or a small park kicker, you don't need that fast approach, so a camber board with a soft flex is recommended.The board center is soft, but it's even better if it's set a little harder with reinforcement from the outside of the binding.Also, if the camber element is included, the hybrid board may be included in the selection target.However, when it comes to big jumps that require a high-speed approach, choose a slightly stiffer flex to allow for quicker reactions and more stability on landing.If it is a half pipe, speed is indispensable, so we recommend a model with a full camber and a narrow waist width considering the sharpness of the bottom turn.From here, I will introduce a board to improve the jump.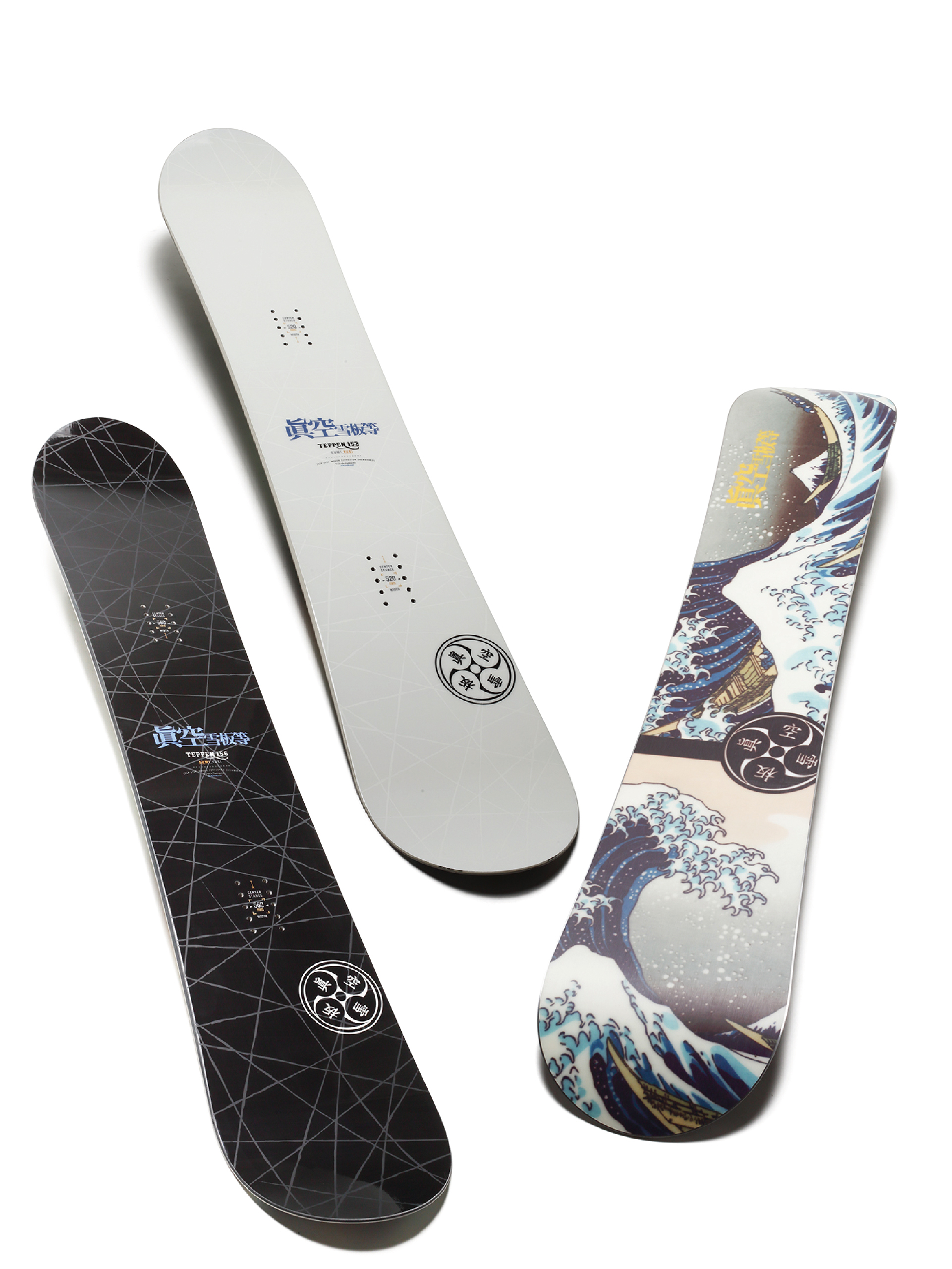 PIC UP!
True sky snow board, etc.
Teppen
TEPPEN to get true air.TEPPEN, which boasts the lightest weight in the lineup and adopts a full camber structure, can be said to be a model specialized for jumping.Because, in addition to the powerful repulsive force that camber brings, the stability is outstandingly good for the approach at high speed and the bottom run on the pipe. >Click here for more detailed articles
★ Size: 141, 152, 154, 156cm
★ Price: ¥ 65,000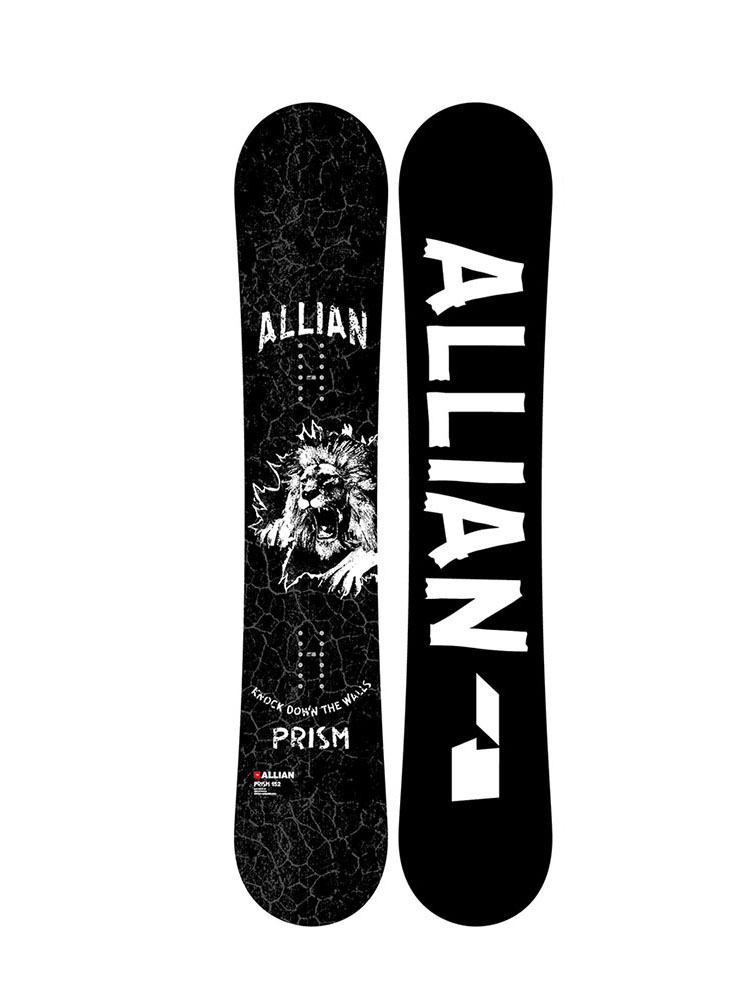 ALLIAN
PRISM
A model that has gained tremendous support from riders.Carefully selected wood core and X-CARBON bring repulsive force to the nose and tail while being medium flex, enabling comfortable operability. By adopting NANO CARBON 999 for the sole, the gliding ability is further improved.There is 158 cm in the black-based INVISIBLE.
★ Size: 150, 152, 155 cm
★ Price: ¥ 75,000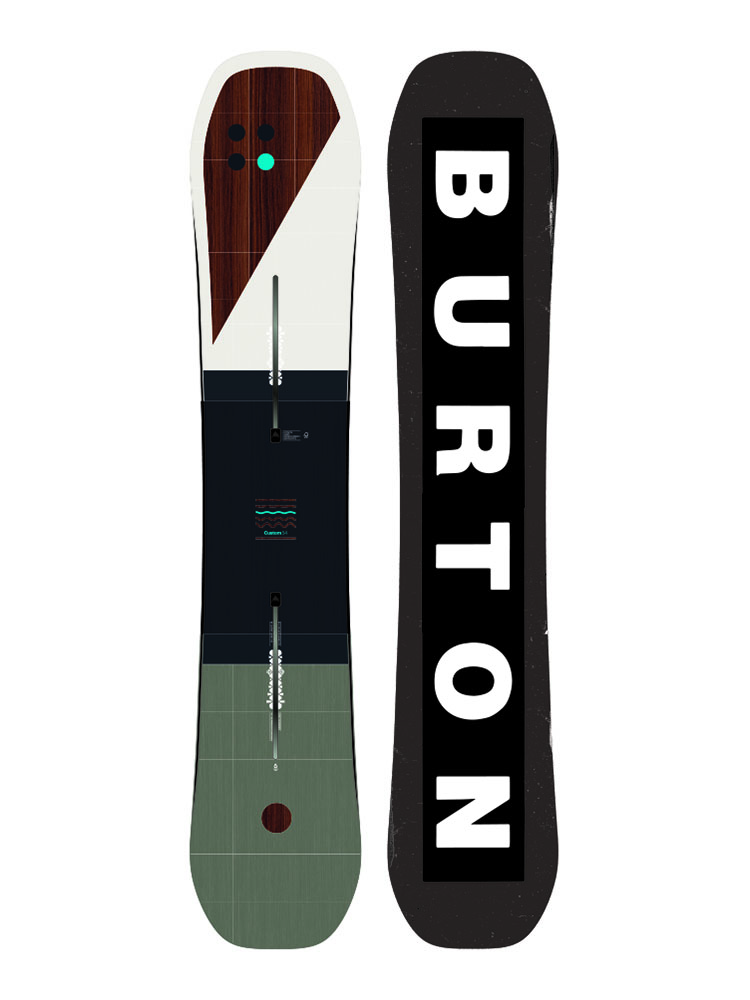 BURTON
CUSTOM
Powerful camber with excellent pop feeling and accuracy enables sharp edge control.Strong and light wood is used for specific areas of the core to increase repulsion, strength, and weight reduction.Lightweight and easy to handle, it brings out an accurate response by jumping.At the Pyeongchang Olympics, Shaun White and Ayumu Hirano used it habitually.
★ Size: 150, 154, 154W, 156, 158, 158W, 162, 162W, 166W, 170Wcm
★ Price: ¥ 82,000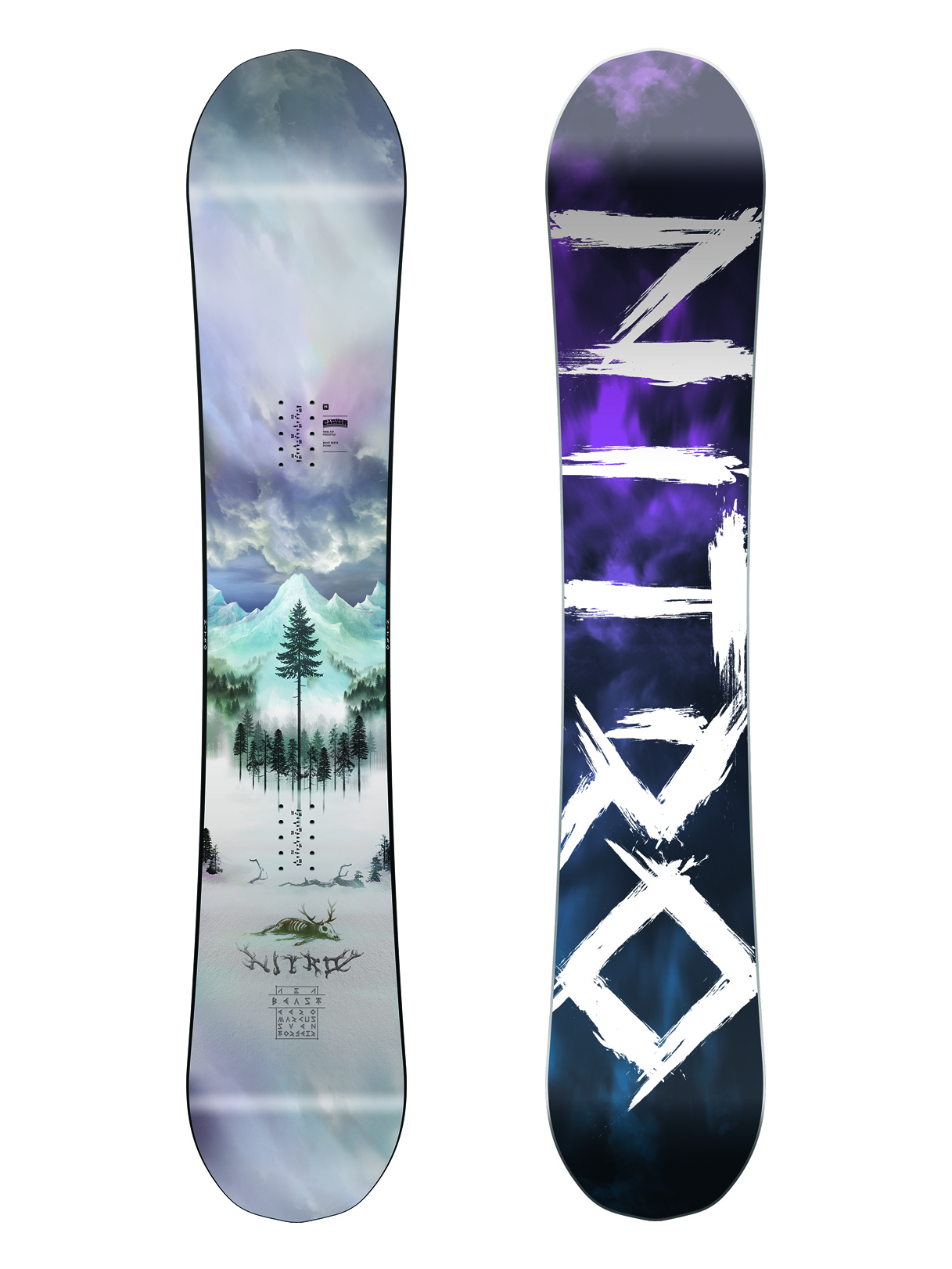 NITRO
BEAST
A standard camber twin-tip board with a thin board center core to make torsion easier to use.Thicken the core from the board center to the nose and tail, and if played well, it will show the best ollie power.Furthermore, since carbon is built in the center of the board, the response is quick.
★ Size: 151, 155, 158 cm
★ Price: ¥ 98,000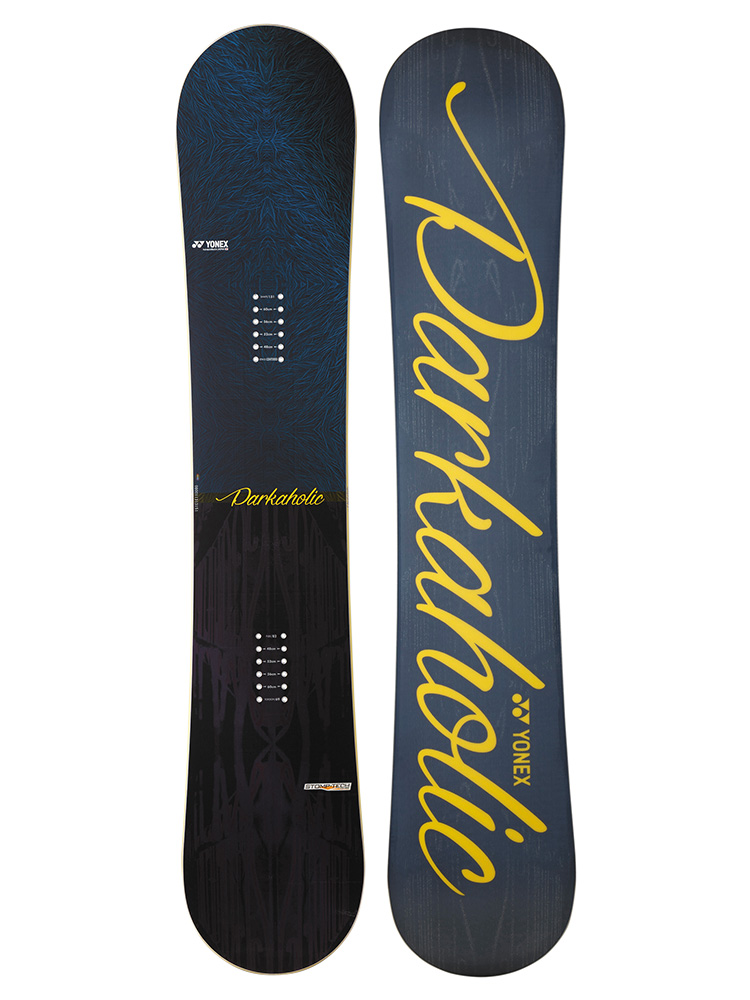 YONEX
PARKA HOLIC
In addition to the high operability of medium flex, the high resilience of carbon fully supports high air.With a moderately wide waistSTOMP-TECH JIBThe structure also promises stability while softening the impact during landing.Enjoy park riding with a board that boasts high controllability that moves at will.
★ Size: 148, 151, 154cm
★ Price: ¥ 77,000

★ If you want to improve Gratley & Jibing
The key points when selecting items and the feeling of being caught on the snow surface are the ease of handling the board and the feeling of being caught on the snow surface, in order to perform gratri and jibing with peace of mind and to enable lighter movement.Whether it's gratri or jibbing, you don't need an ultra-fast approach, so it's easier to handle the board itself with a soft flex and a short length.However, if you choose a flat board or rocker board to reduce the edge catching on the item, be careful because if it is too soft board, the sense of stability will be impaired.Also, if you want to do a lot of jumping tricks with Gratley, the model with a camber element that can make use of the repulsion of the board is ◎.For example, the board center is a camber, but the hybrid shape where the outside is a rocker from both feet is applicable to this.If you want to focus on quick board handling such as butter and drive, we recommend a rocker with good maneuverability.If you are good at skateboarding, you can also ride a flat board with a solid bottom feeling.However, for those who are not good at rocker slurping, super soft flex camber is not bad.In any case, it's still based on soft flex and short length.Below are some boards that will help you improve your Gratley & Jibing.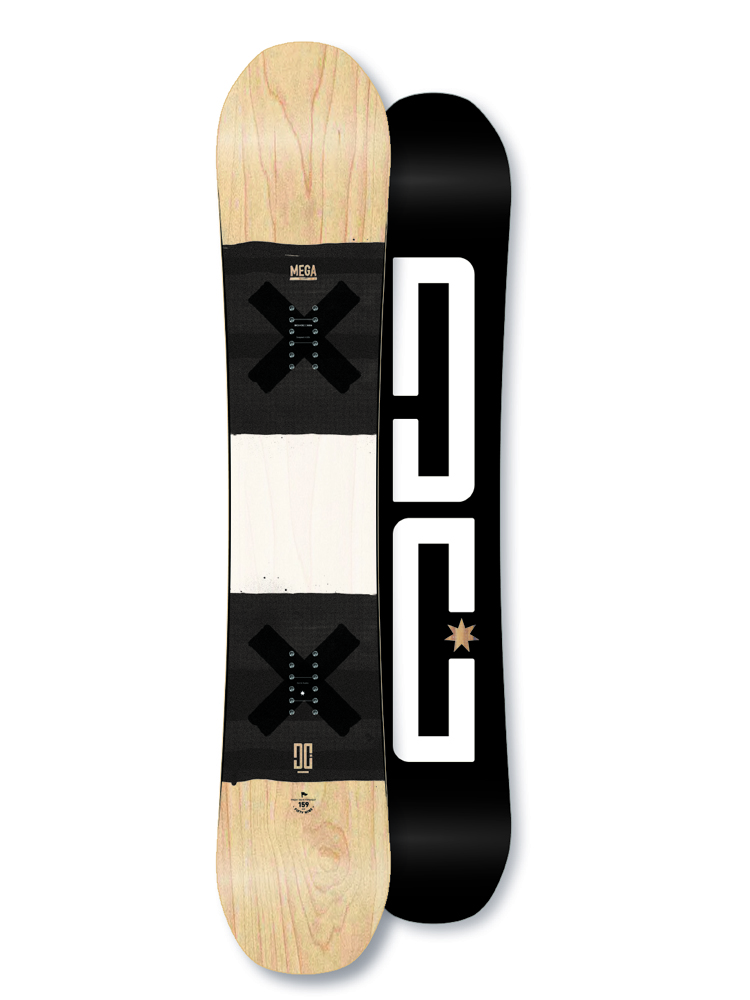 DC
MEGA
MEGA was released after repeated tests by team riders.The rock and road camber structure with the concept of skateboarding and the lightweight fresh deck top seat that enhances resilience are combined to create a truly skate-like model. It is a completed book because it is DC.
★ Size: 150, 153, 156cm
★ Price: ¥ 65,000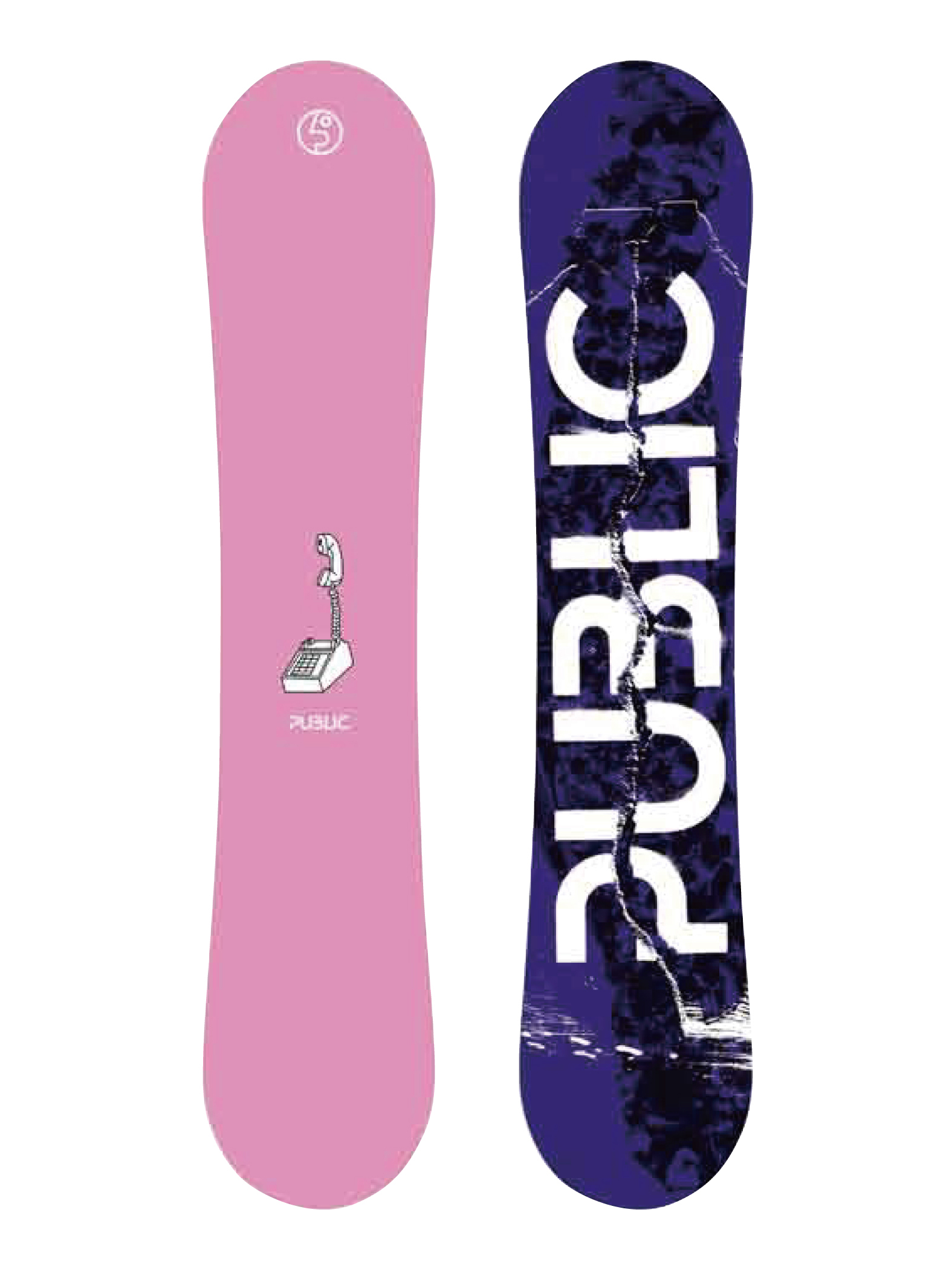 PUBLIC
ASSEMBLY
A model with a camber between both feet but a rocker on the nose and tail.It features a quick response and has a high repulsive force, so it is easy to set up a tall ollie in Gratley.Since it is a moderate middle flex, you can not miss the point that there is little fluttering of the board that is common in soft flex.
★ Size: 147, 150, 153, 154W, 155, 157cm
★ Price: ¥ 57,000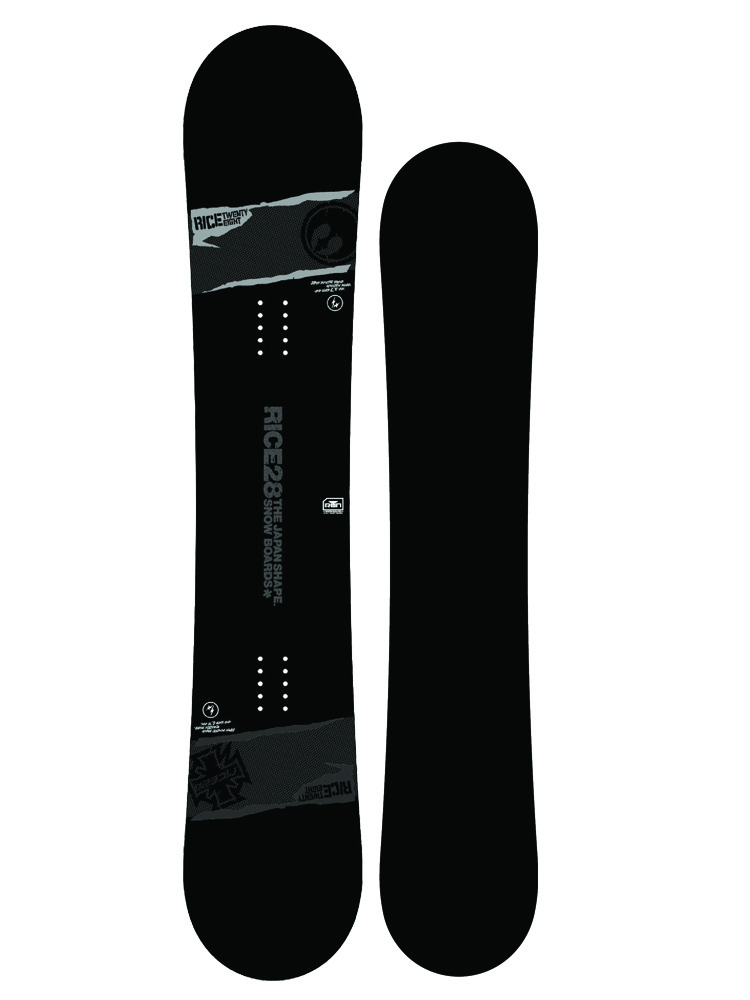 RICE 28
RT7
A camber model that allows you to experience the original outline of the board realistically and directly feel the bending and repulsion.There is no doubt that RT7, which is based on the concept of a textbook-like board, will be the key to growth.Recommended for greedy riders as it is easy to set tricks not only in the mid-low speed range but also at high speeds.
★ Size: 148, 150, 152, 154 cm
★ Price: ¥ 87,000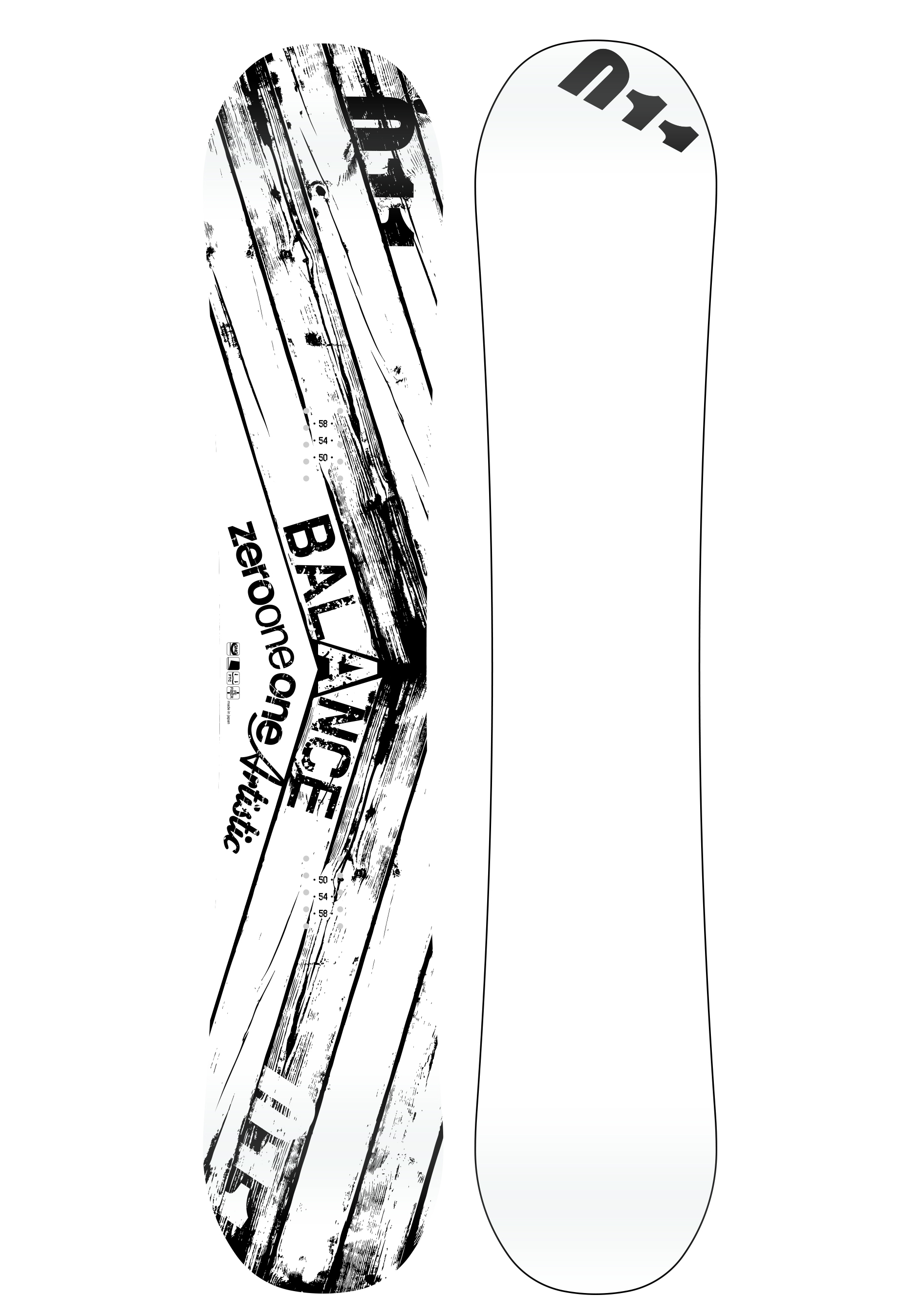 011
BALANCE
A new model that combines standard and innovation.A narrow shape that is conscious of quick edge to edge, and a two-step side curve that allows both tricks and carving.The combination of NV core and FTC without habit isIt opens the door to new tricks for slippers of all levels.
★ Size: 148, 150, 151, 152, 153cm
★ Price: ¥ 86,500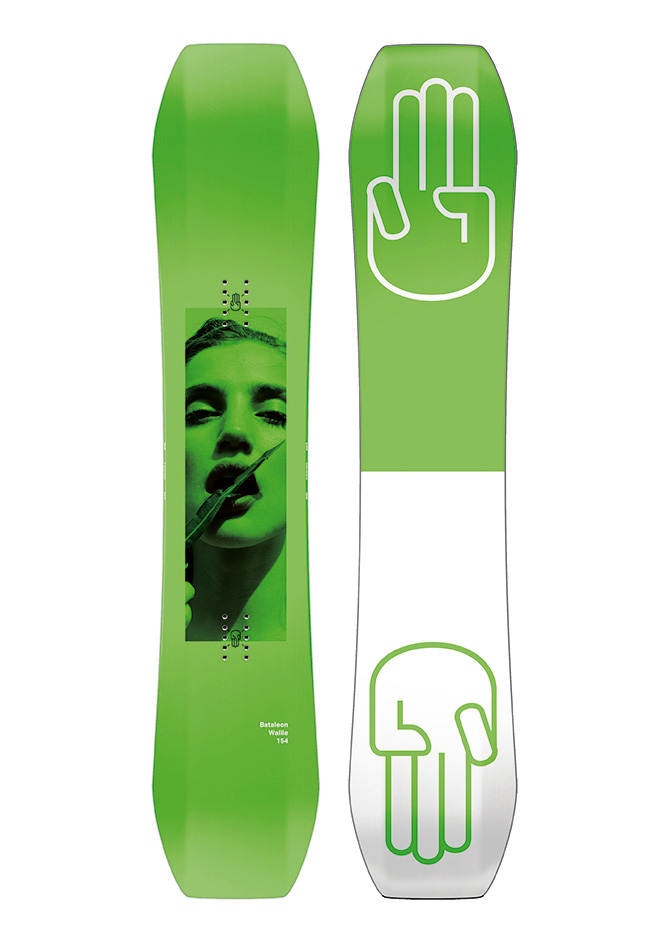 BATALEON
WALLIE
WALLIE made for jib and park riding.With skateboard-inspired Wallie Tips ™ and extremely upward bends in the nose and tail, the nose and tail won't get caught in quick artifacts or terrain.The supple flex and the two carbons on the sole of the foot create the pop needed for the trick.
★ Size: 148, 151, 154, 154W, 156cm
★ Price: ¥ 68,000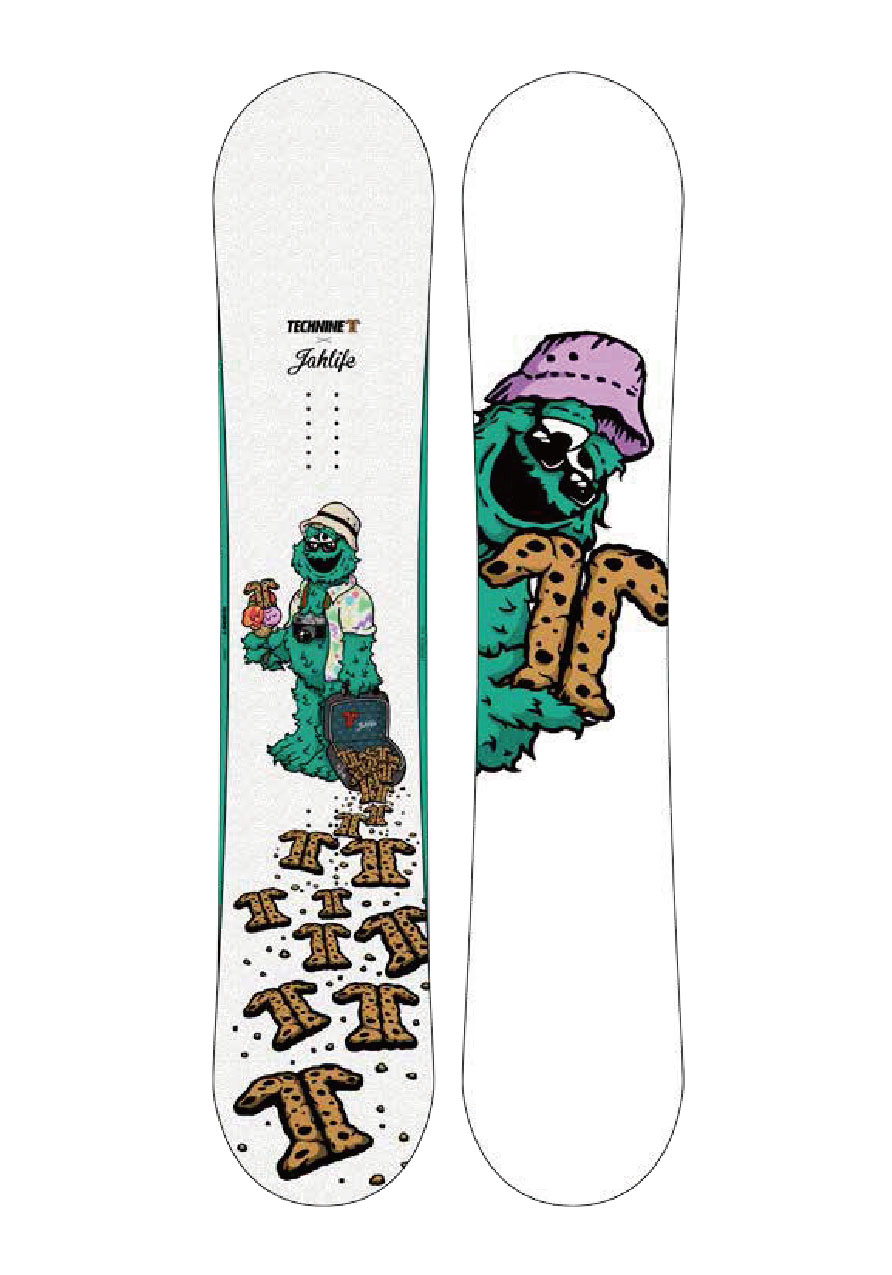 Technine
CAMROCK
CAMROCK X JAHLIFE, which is extremely light in Tech Nine, is a hybrid model (double rocker) set in soft flex.The camber between both feet creates pop, and the rocker mounted on the nose and tail expands the range of play infinitely.It reduces the burden on the foot when jibing or gratriing, and emphasizes ease of handling.
★ Size: 136, 138, 142, 146, 150, 153, 155cm
★ Price: ¥ 49,000

★ If you want to improve your terrain play
I want to take advantage of the terrain that appears in front of me while doing free riding and set up tricks.There is a board that makes it easier to realize the riding style that everyone longs for.It's a hybrid board that combines the best of camber and rocker.For example, wall terrain often seen in detours.It is rare that the R is beautiful, and in most cases the slope changes suddenly.If you plunge into such a point with a full camber board, the nose will stick if you do not match it with super pinpoint, or you will lose balance and it will not be a trick.Therefore, I recommend the model with a light rocker in the nose.Also, if you don't draw the approach accurately, it will be difficult to perform the trick you are aiming for, so I would like a camber element that will improve the accuracy of the turn.We recommend a double camber with a flat board center or a rocker with a camber under both feet, and a cam lock with a camber on the board center and a rocker from the outside of both feet.Also, if you want to slide the powder and play on the terrain, keep in mind that if you don't have a rocker in your nose, it's hard to control with your center of gravity in the board center.Finally, be aware that flex doesn't just play at low speeds, so if it's too soft, the board will flutter.Regarding the length, there is no problem even if it is short depending on the waist width and the board shape.Click here for a board to help you improve your terrain play ↓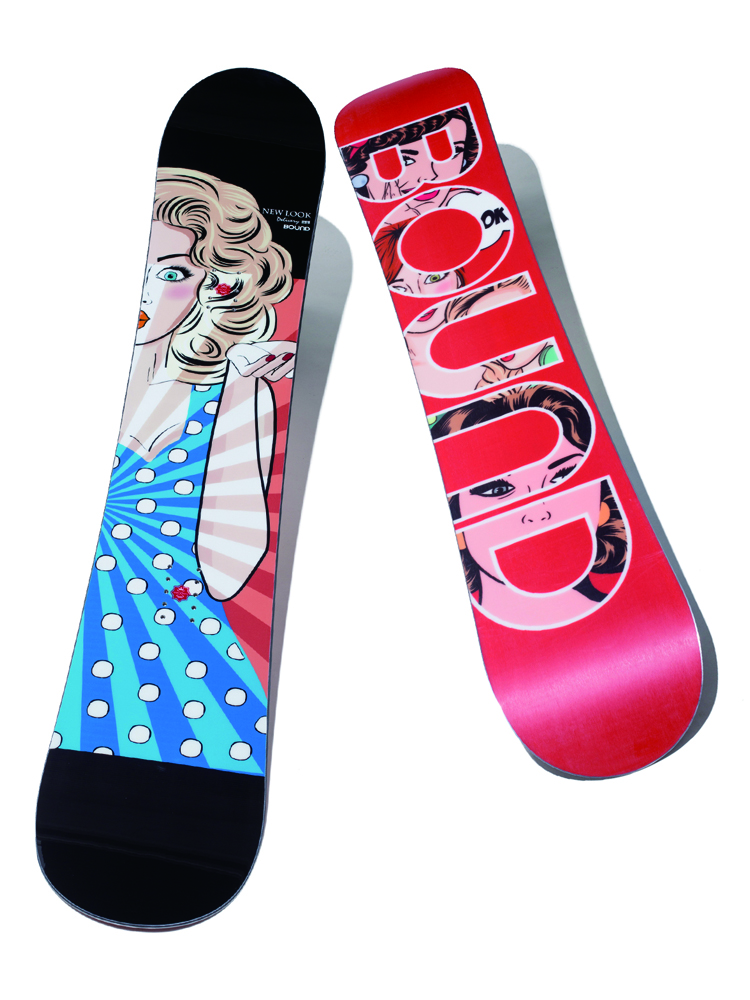 PIC UP!
BOUND
NEW LOOK
This "NEW LOOK" is perfect for those who want to play greedily from corner to corner on the slopes.The biggest feature is, after allOf camber and rockerIt is in the CAMROCK specification, which is a hybrid shape.Thanks to this structure, the high repulsive force of the camber, the edge grip force, and the loose ride of the rocker are perfectly compatible. >Click here for more detailed articles
★ Size: 138, 140, 146, 150, 152, 155cm
★ Price: ¥ 50,000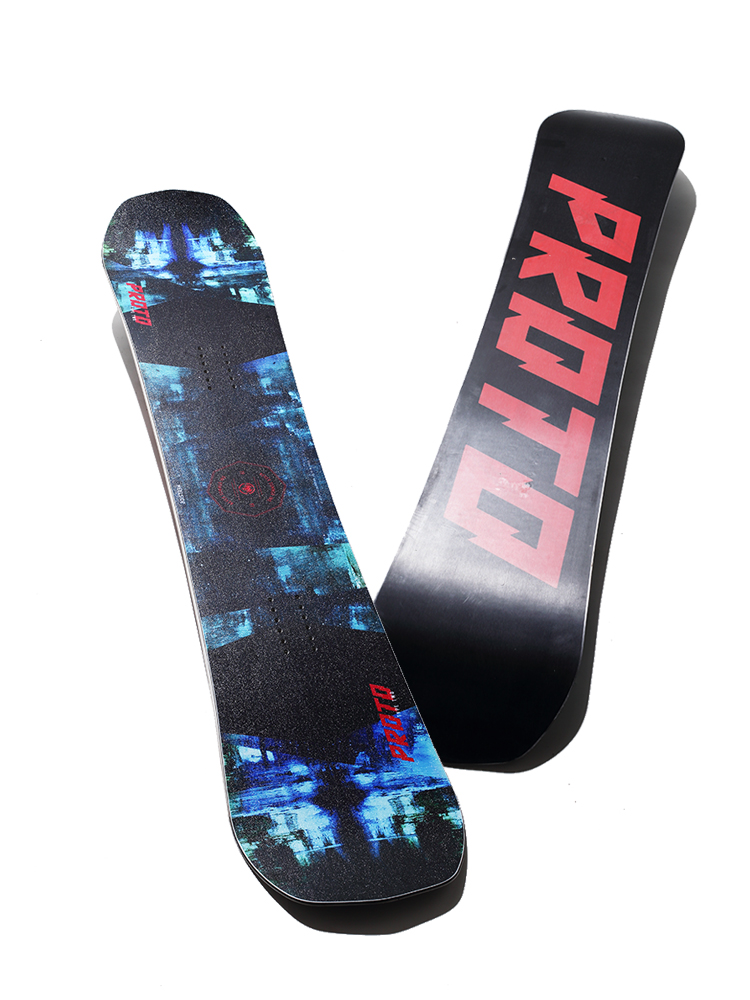 PIC UP!
NEVER SUMMER
PROTO TYPE TWO
Great control in freestyle riding such as parks, jib and streetFUNSLINGERThe masterpiece board and the all-mountain board that demonstrates the best edge hold and strong repulsionRIPSAWCombined the good points ofPROTO TYPE TWO.. >Click here for more information
★Size: 152, 154, 157, 160, 155X, 158X, 161X(X = Wide Version)
★Price: ¥ 92,000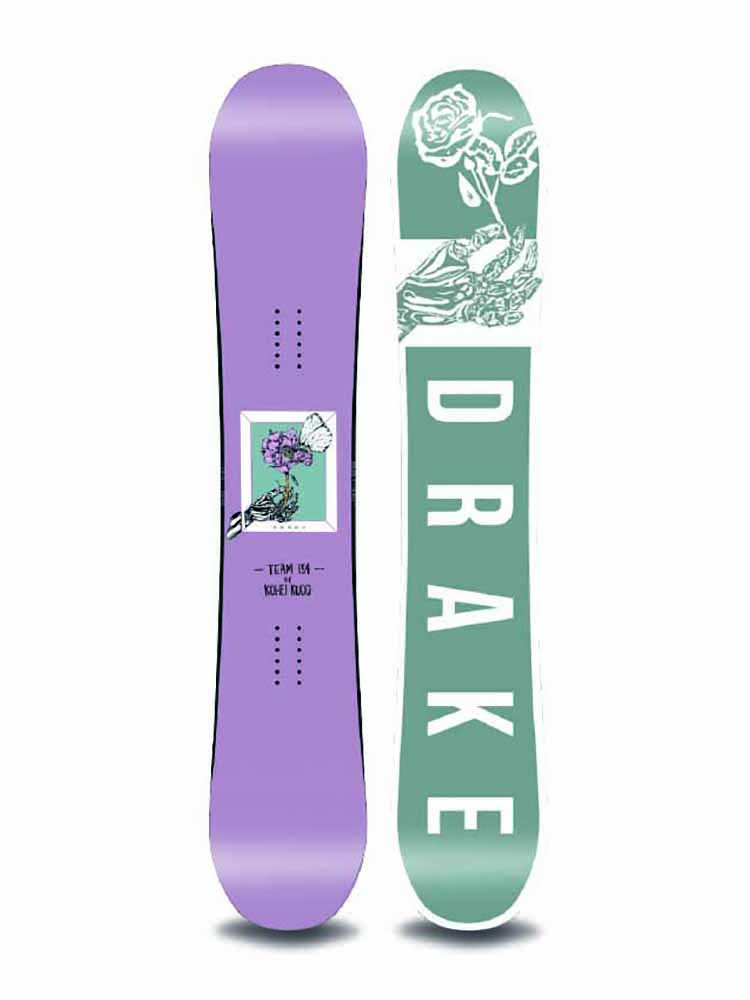 DRAKE
TEAM KOHEI
A signature model designed by Kohei Kudo from specs to design.A carbon rod is built into the board center, which creates a moderate amount of repulsion.Also, because it is a directional twin camber, stable riding is possible even in a bank.The tricks that make use of the terrain are at your disposal.
★ Size: 152, 154cm
★ Price: ¥ 73,000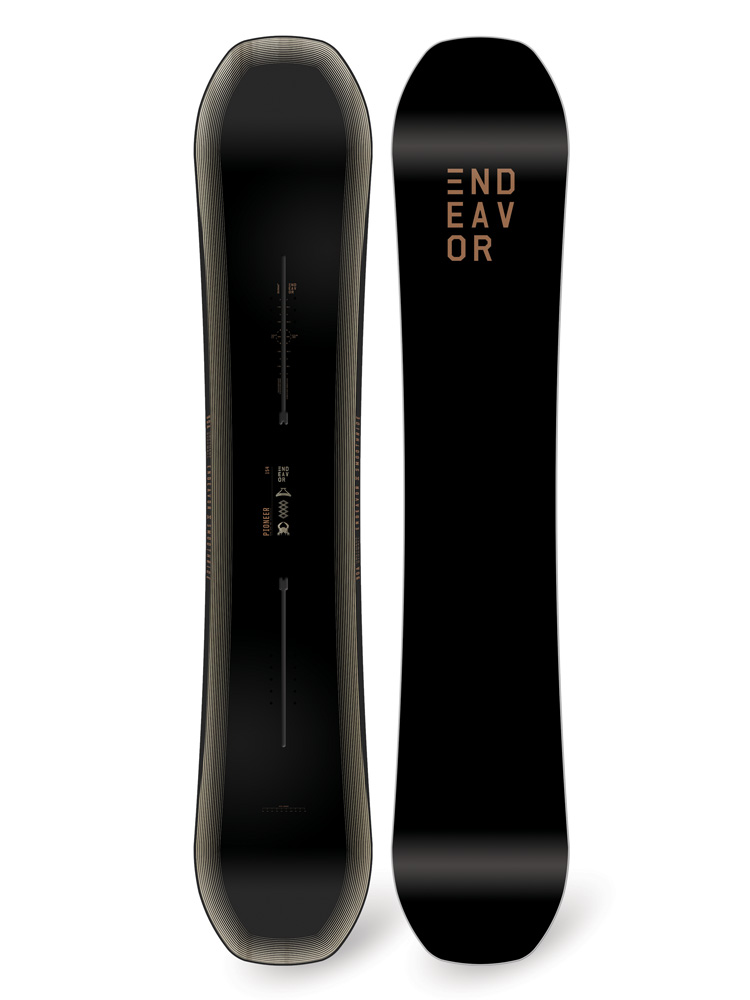 ENDEAVOR
PIONEER
A twin-tip hybrid board with a camber on the board center and a rocker on the nose and tail.Two carbons are put on both sides of the channel system to increase the repulsive force, and it is not only compatible with the park but also enjoyable on any terrain on the slope.
★ Size: 141, 144, 147, 150, 152, 154, 156, 158 cm
★ Price: ¥ 69,000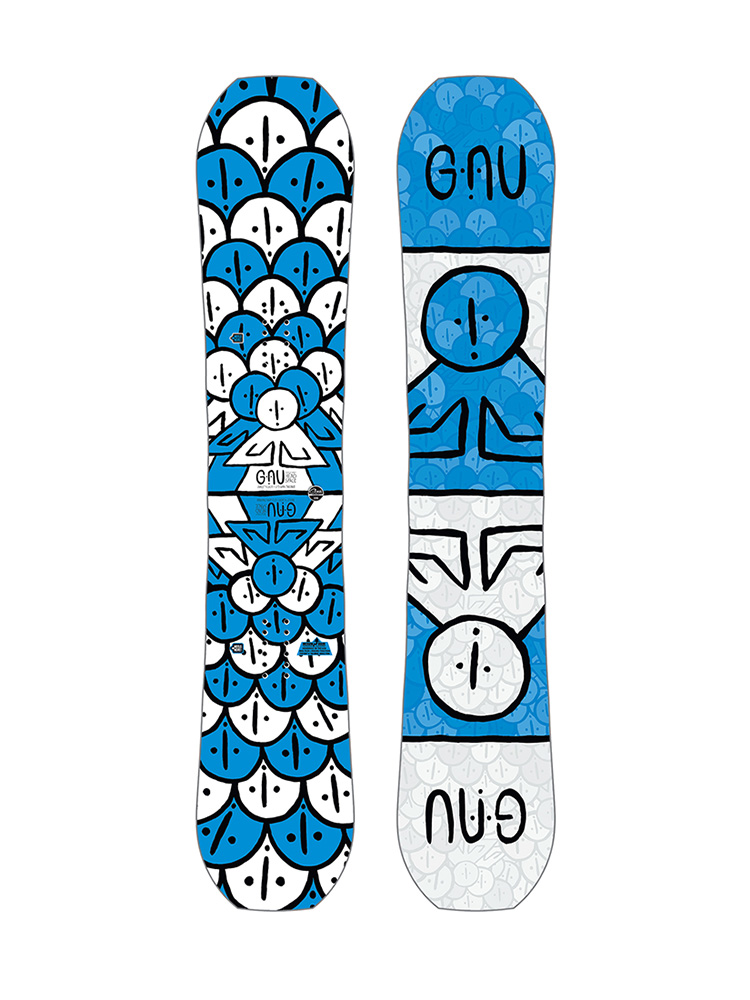 GNU
HEAD SPACE
A special board designed by Forest Bailey based on his own experience.The asymmetrical magnetic traction edge with different side curves on the toe and heel enables reliable edging on any terrain and in any condition.In addition, the core material is also characterized by changing the composition with toe and heel.
★ Size: 149, 152, 155, 155W, 158cm
★ Price: ¥ 68,000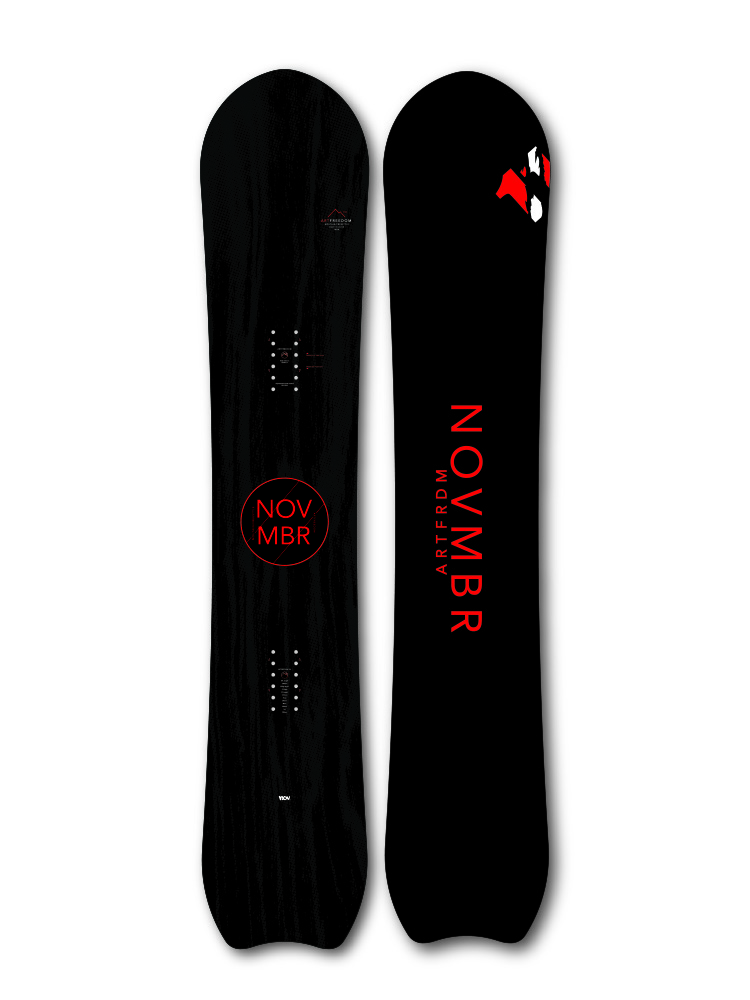 NOVEMBER
ART FREEDOM
One with excellent operability torsion and flex so that it can be used in all mountains.While having freeride performance that responds to changes in natural terrain, it also enables high performance in the park.It also features a high degree of freedom to handle switch riding in the center stance with plenty of room.
★ Size: 144, 148, 152, 154, 156cm
★ Price: ¥ 82,000
Continuation of this special feature,"Turn" of vol.2Will be posted one week later (scheduled to be updated on 1/10).An essential turn for snowboarding.We will try to find out what kind of board is suitable for the goal you should aim for this turn, so please look forward to it!