With flexible movement for outstanding fitting,
FOUR BOA FOCUS LIQUID FIT that enables a high degree of freedom in riding.
This pair is recommended for riders who want stylish movements.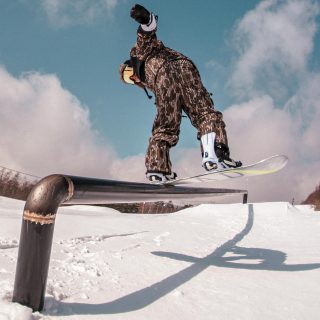 FOUR BOA FOCUS LIQUID FIT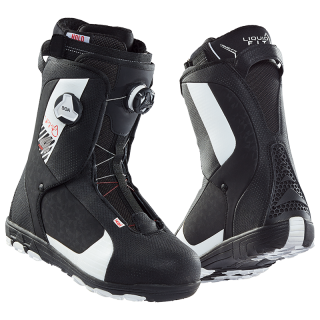 Adopted a double BOA system that enables partial tightening of the upper part and instep part of the boot.
By adopting TX lace, it is softer than conventional wire cables
One of the features is that it has a natural feel.
In addition, the BOA®︎ FOCUS system is used as the overall hold.
It is a specification that firmly holds around the ankle, which tends to be insufficient with double BOA.

HOW DOES LIQUID FIT WORK?
Liquid Fit Gel is a 100% flexible paraffin-based material.
Can be injected into Liquid Fit compatible liners and automatically adjusted to individual lasts
Provides comfort and the finest fitting.
Also, if necessary, add liquid fit gel from the inner boots,
Or it is also attractive to be able to extract.
The inner material is EVA, which is molded into your own foot shape the more you wear it.
A special liquid material around the ankle
Also for technology liquid fit that can be customized for individual feetIt corresponds.
The sole part has shock absorption and firm grip, and it has a binding.
The fitting is improved.
It has excellent fitting and flexibility, and always enables soft riding.
For stylish tricks in the park and powder riding
You will be able to benefit greatly.
FOUR BOA liquid fit processing is possible
Click here for Liquid Fit Station ↓
* Liquid Fit gel injection is an optional process.
A processing fee will be charged at each station.
The processing fee is not included in the boot body.
Liquid fit
station
Address
TEL
Social Media
Head Sports Station Hakuba
4098 Hokujo, Hakuba-mura, Kitaazumi-gun, Nagano Prefecture
0261-71-7870
Instagram
@headcafe
Kumaya
XNUMX-XNUMX Sano, Nasushiobara City, Tochigi Prefecture
080-3344-9577
Instagram
@ kumaya908
HOME
778-5 Idei, Oyama City, Tochigi Prefecture
0285-39-8858
Instagram
@snowboardshophome
TOWN PUMP
XNUMX-XNUMX-XNUMX Bunka, Sumida-ku, Tokyo
Moakrest Kameido 1st floor
03-6796-6969
Facebook
www.facebook.com/townpump6969
K & K snowboard project
2-2-7 Gion, Asaminami-ku, Hiroshima-shi, Hiroshima 1st floor
090-6404-3210
Instagram
@kksnow_kenji_fujimoto
FREE STYLE
BOARD SHOP
777 Hedges, Nagaoka City, Niigata Prefecture
0258-25-0250
Instagram
@ freestyleboardshop0258
Seven color
Ina City, Nagano Prefecture
Inabe 8433-3
0265-74-8662
—
VICTORIA head office
Chiyoda ward, Tokyo
XNUMX-XNUMX Kanda Ogawamachi
03-3295-2955
Instagram @victoria_ochanomizuhonten
Purple sports
Kanda Ogawamachi store
Chiyoda ward, Tokyo
2-4-8 Kanda Ogawamachi
03-3295-7676
Instagram @murasaki_kandaogawamachi
THE SUNS Kanda Ogawamachi store
Chiyoda ward, Tokyo
2-5-17 Kanda Ogawamachi
03-5282-3911
Instagram
@the_suns_tokyo
MOVE Toda store
3-10-17 Sasame, Toda City, Saitama Prefecture
048-449-7373
Instagram
@move_wave
Waist
Snowboard school
—
0796-96-0558
Instagram
@Westsnowboardschool
Yuji Usui
(Head boot rider)
—
—
Instagram
@Ussyyuji