"Tokyo Snow Festival SNOWBANK PAY IT FORWARD 11" will be held at Yoyogi Park on November 11th (Sat) and 12th (Sun).
This project was realized from the experience and thoughts of "Arai DAZE" Yoshimasa, a professional snowboarder who overcame an intractable disease of 100 in 1 million people and the chairman of the executive committee. It is a visitor-participation-type charity event that aims to spread and enlighten the enjoyment of snowboarding, skateboarding, art, music, and dance, and to increase the number of registered bone marrow donors, especially among the few young people.
In these two days, many activities such as music, art, snow boating, skating, and playing in the snow will be prepared.
Date and time: November 2017-11, 11 12: 10-17: XNUMX
Venue: Yoyogi Park B District Outdoor Music Hall Event Plaza
Address: 2-2-3 Jinnan, Shibuya-ku, Tokyo
The official site is here
And this year as well, we will bring snow to the venue and set up special items to hold the "RAIL JAM" contest!On the first day, November 11th (Saturday), general boys (11 people), general girls (60 people), juniors (30 people) * up to 30 years old.We will hold a qualifying round for jib battles that anyone can participate in.Riders who break through that qualifying will be eligible for the next day's Pro session.
Take this opportunity to show your abilities to a large audience!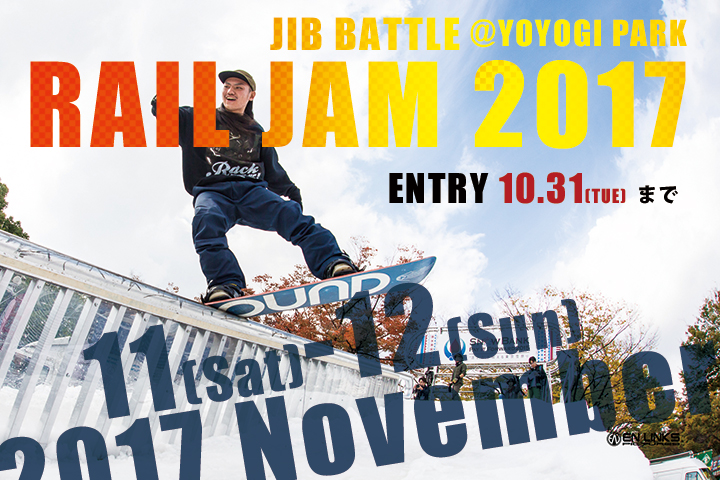 RAIL JAM 2017 entry is here
* The entry deadline is October 10st (Tuesday).
* Even within the entry period, the deadline will be "as soon as the capacity is reached", so please complete the entry procedure with plenty of time.

In addition, Kazuhiro Kokubo, the organizer of "ZETSURIN 2018" in this Pro session, selected riders who thought they were cool and invited them as invitation riders to "ZETSURIN 2018" to be held next year! !!
Last chance to "ZETSURIN 2018"! !!
From the general qualifying, 3 men and women, 1 kids to the Pro session
Last year's Snow Bank digest movie