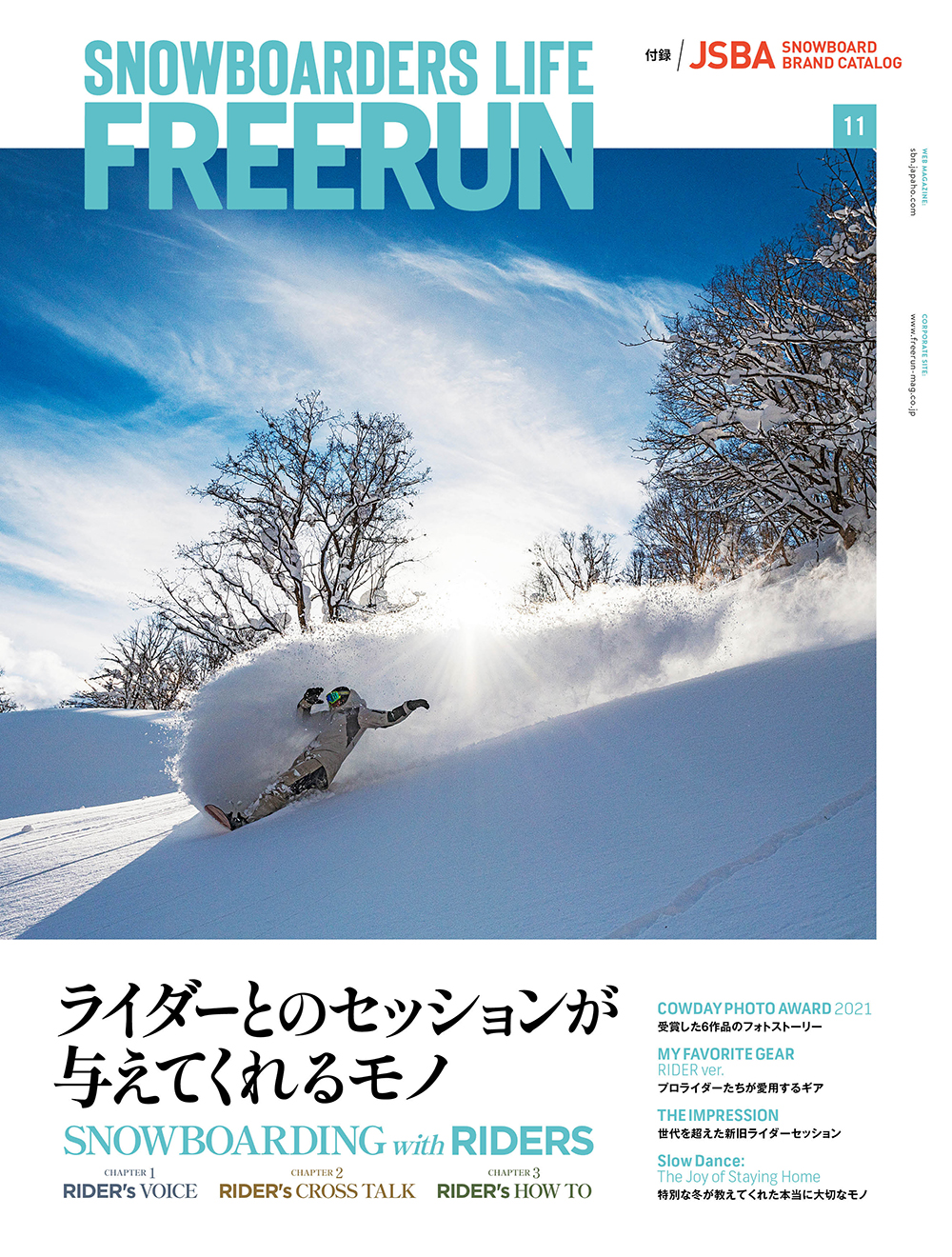 The temperature has dropped sharply this month.There is also the first snowfall from various places, and it seems that there is a high possibility that the La Nina phenomenon will occur according to the latest 3-month forecast of the Japan Meteorological Agency.There is a proposal called a rider's session for those who want to improve their skills more than ever in this winter when snowfall can be expected.Technology isn't the only thing you can learn from sessions hosted by top professionals.Why not add the option of a session where you can feel their unique style and values ​​live to your snowboard this season.

<Contents>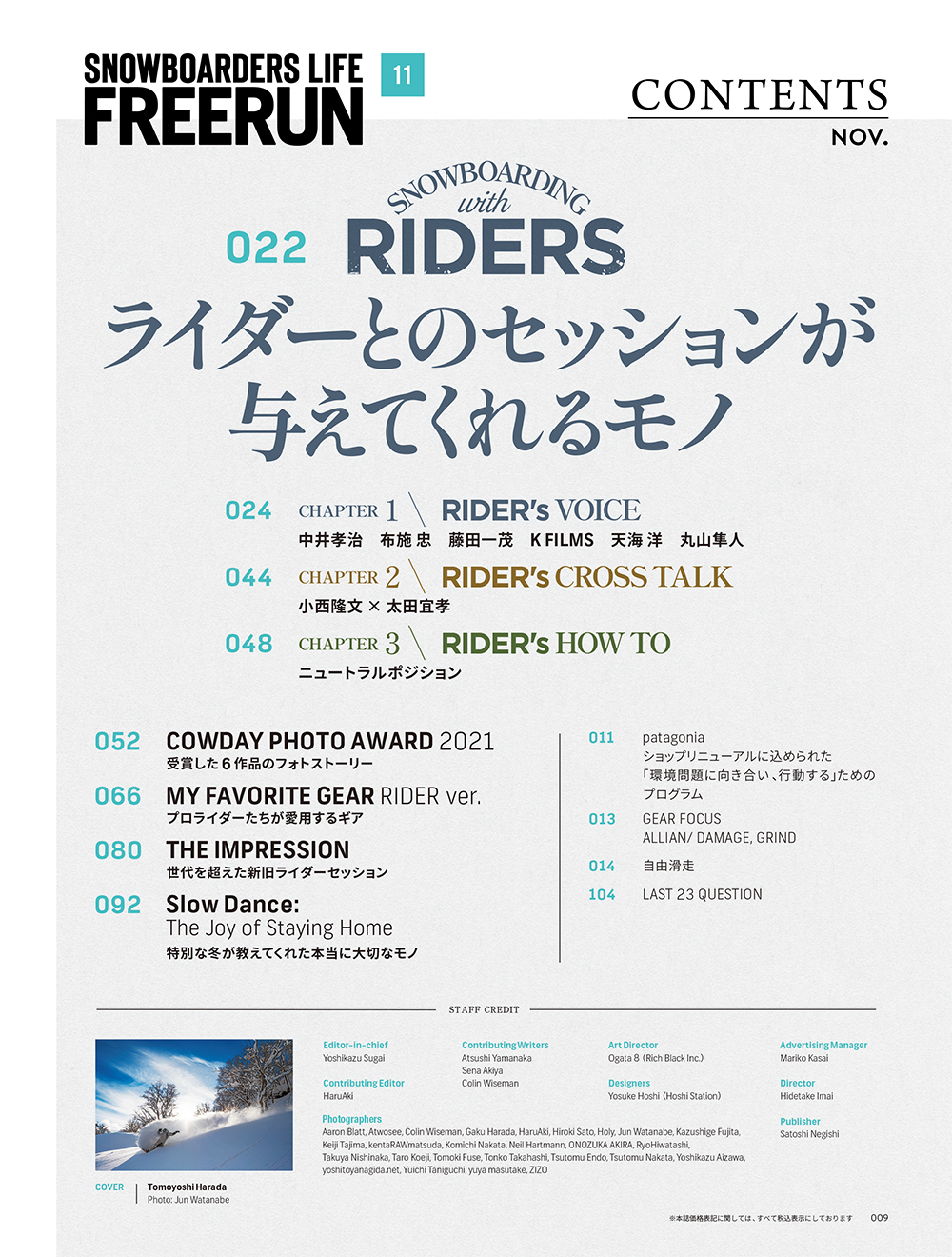 ---
<Special feature: SNOWBOARDING with RIDERS
          Things that a session with a rider gives you>
Did you know that various top professional snowboarders are holding sessions for general snowboarders?You can get closer to the ideal style by seeing the techniques they have cultivated up close and following them while sliding and imitating the shape.Each is a unique experience site, not the transfer of technology that is uniform on the street.We will introduce each rider's way of thinking and session contents.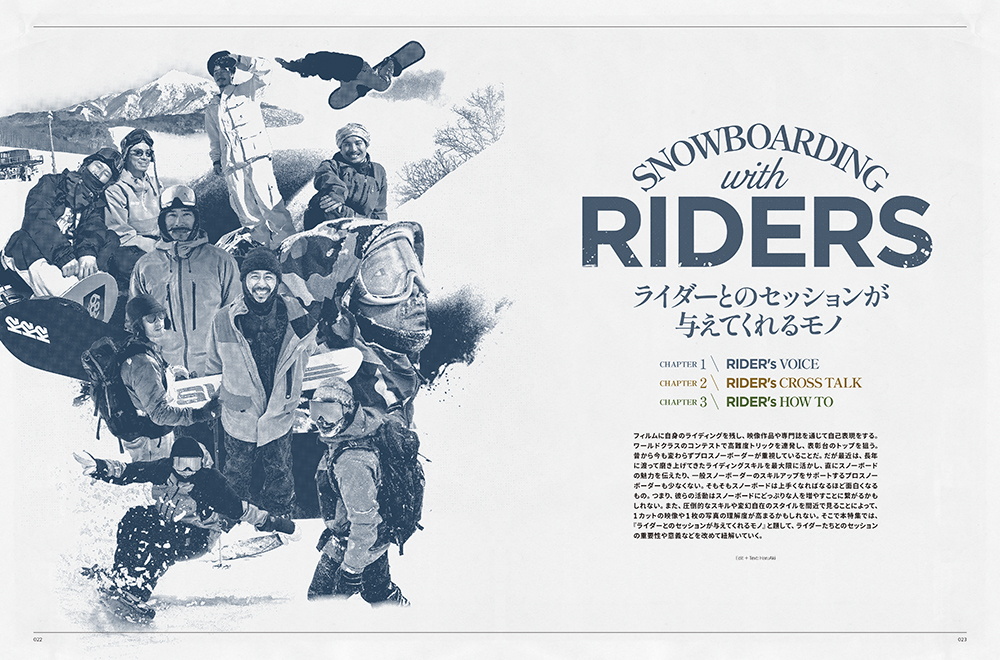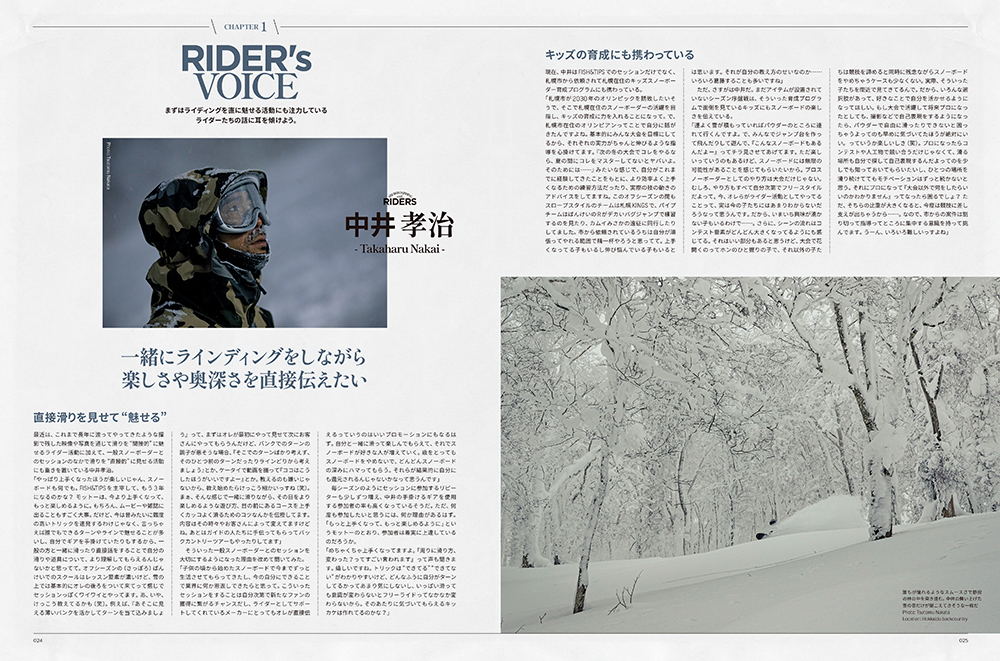 > Chapter 1 RIDER's VOICE
Takaharu Nakai Tadashi Fuse Kazushige Fujita K FILMS Hiroshi Amami Hayato Maruyama
 > Chapter 2 RIDER's CROSS TALK
Takafumi Konishi x Yoshitaka Ota
 > Chapter 3 RIDER's HOW TO
Neutral position
---
<COWDAY PHOTO AWARD 2021 -Photo story of 6 award-winning works->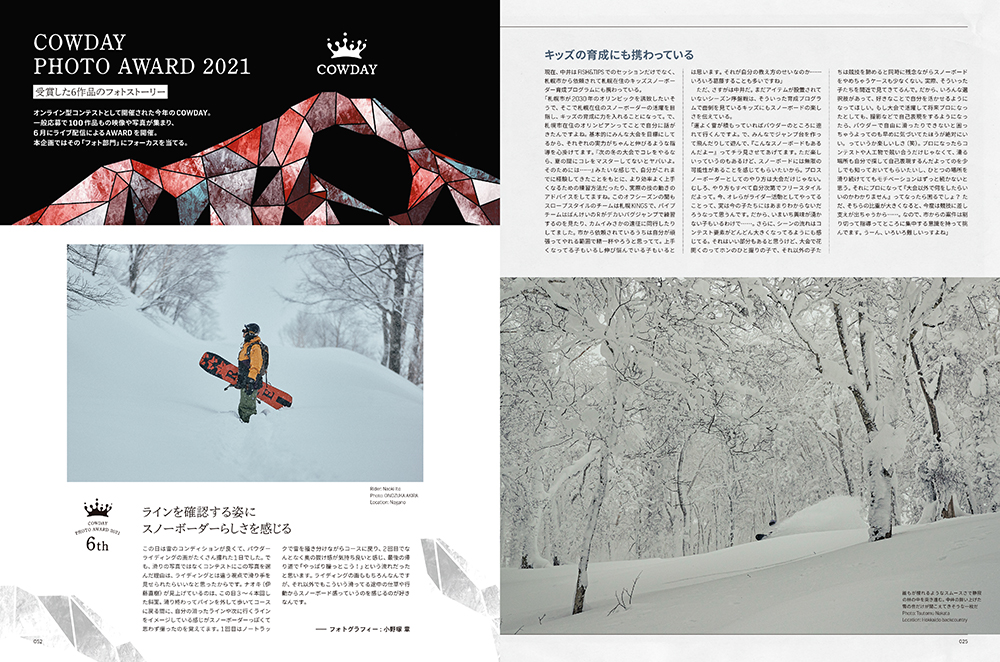 COWDAY, which has been held as the number one freestyler deciding match for Jump Jib in Japan since 2015, has selected a holding style suitable for this corona disaster, and this year it will be held as an online movie contest.From the six categories prepared, we focused on the "photo section" and interviewed the thoughts put into the picture, the process until taking the picture, and the rider's thoughts.
---

<MY FAVORITE GEAR RIDER ver. -Gear used by professional riders->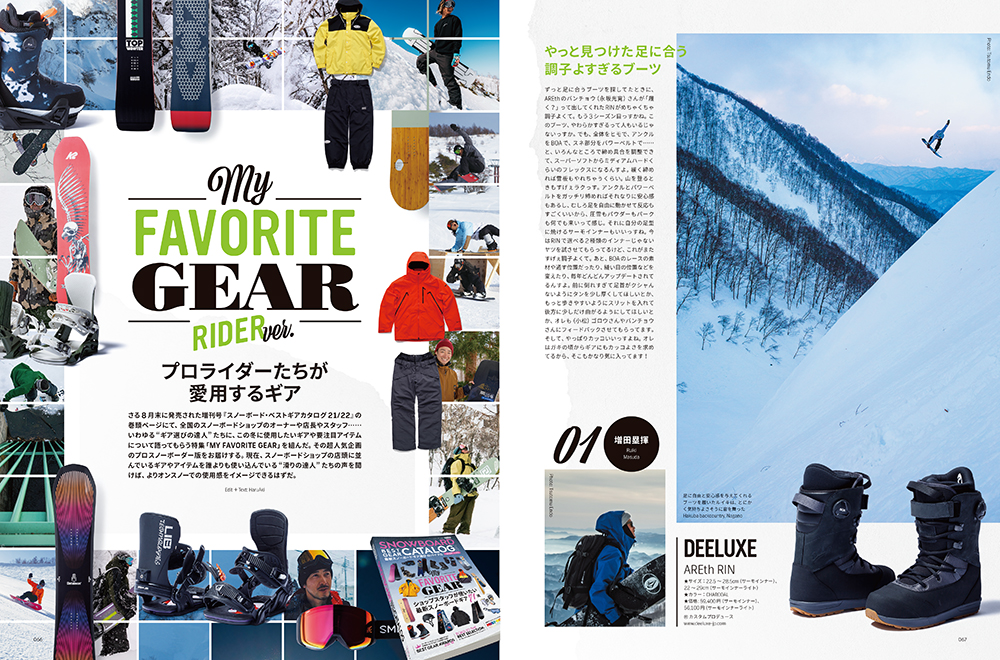 This is a professional rider version of the popular catalog issue "MY FAVORITE GEAR".If the shop staff is a "master of gear selection", then a professional snowboarder is a "master of slipping".They are using gears and items more than anyone else, and they explored what kind of perspective and why they chose their own gear.Listen to the voices of a total of 14 professional riders and imagine how they will be used on-snow.
---

<THE IMPRESSION -New and old rider sessions that transcend generations->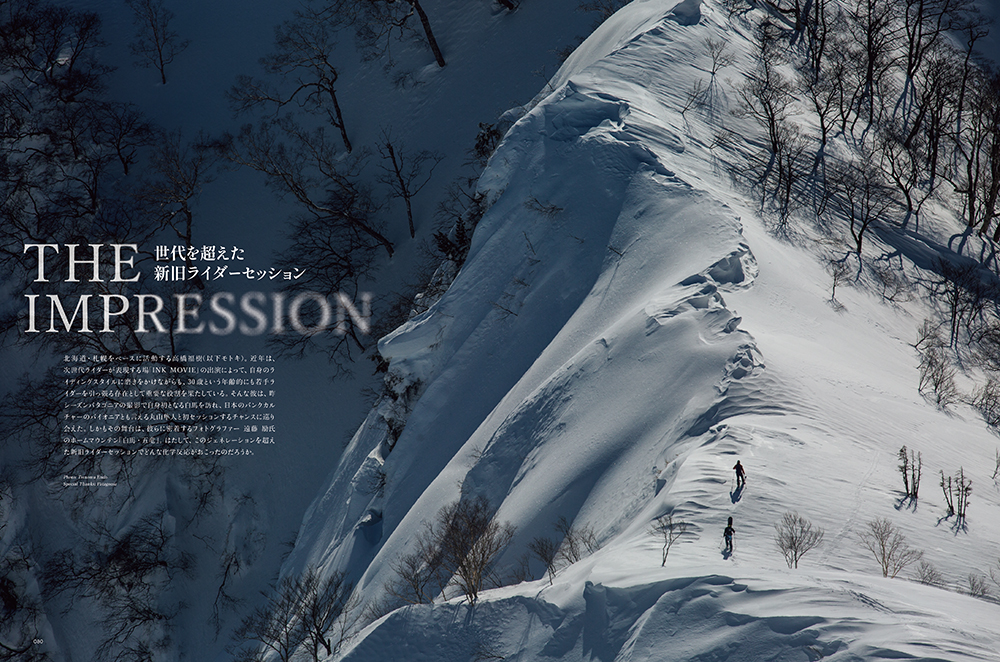 Fukuki Takahashi, a 30-year-old young rider who is based in Hokkaido and Sapporo and also appears in INC MOVIE, visited Hakuba for the first time and realized the first session with Hayato Maruyama, who can be said to be a pioneer of Japanese bank culture. ..We will tell you what kind of chemical reaction was born in the session of old and new riders that transcend generations.
---

<Slow Dance: The Joy of Staying Home-The really important thing that a special winter taught us->
The Snowboarder's Jounal, a long-established snowboard magazine based in Bellingham, Washington, USA.What was the American snowboarding scene last season as seen by its content director, Colin Wiseman?Feel it in his elegant and sophisticated writing.
---
Free Run December Issue
¥ 980 (tax included)
From Wednesday, October 10, it will be sold at bookstores nationwide, snowboard shops, Amazon and other online bookstores.
Or you can purchase it from here.
http://storetool.jp/3607265431/ITMP/FR1582012.html