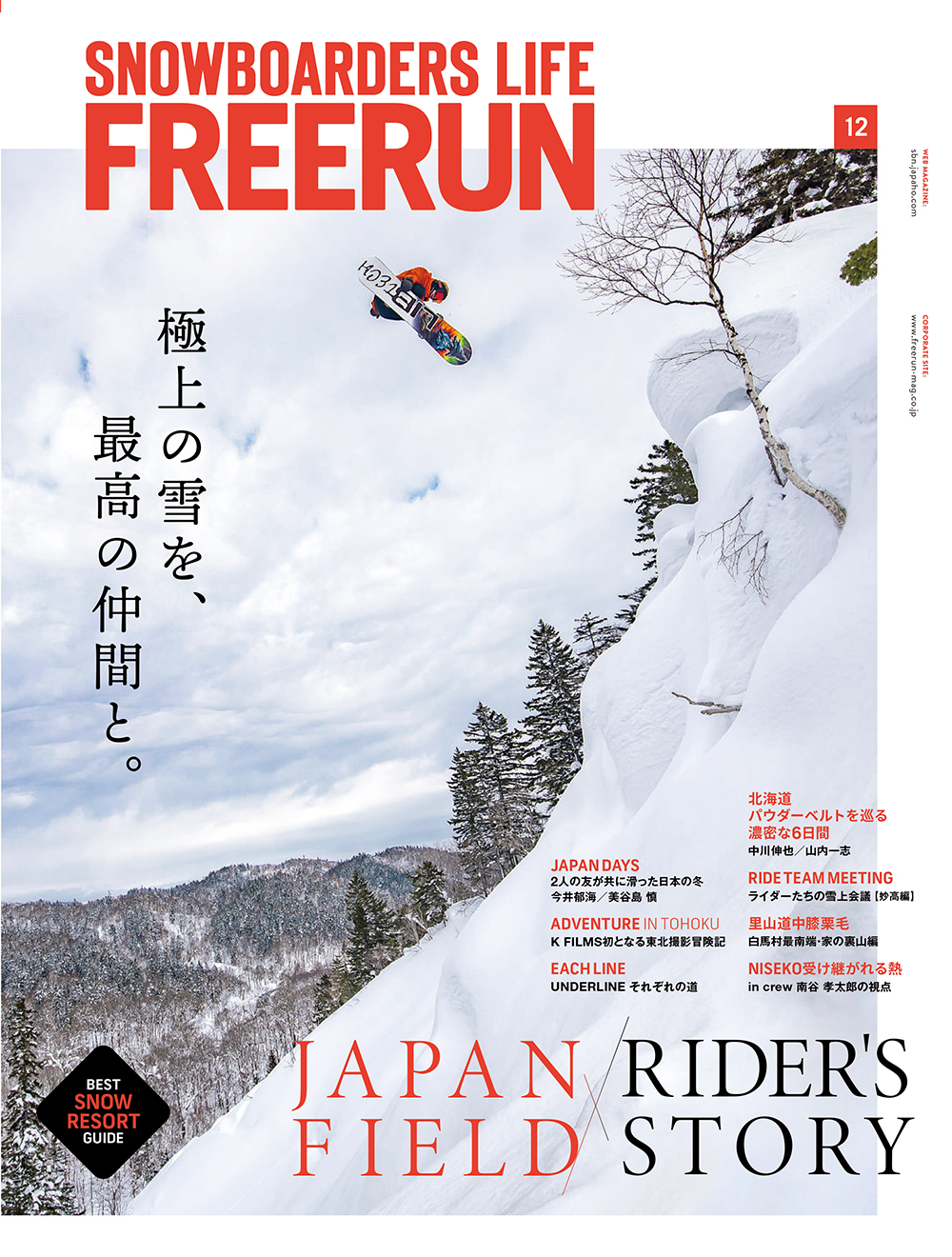 The season is finally here! The slopes will open one after another from late November to mid-December.This issue looks back on the charm of the Japanese field last year, along with rider shooting records.How did you enjoy the Japanese field, which was more vacant than usual due to the corona disaster?Please refer to this winter's schedule!We will also carry out a popular lift ticket gift plan!
<Contents>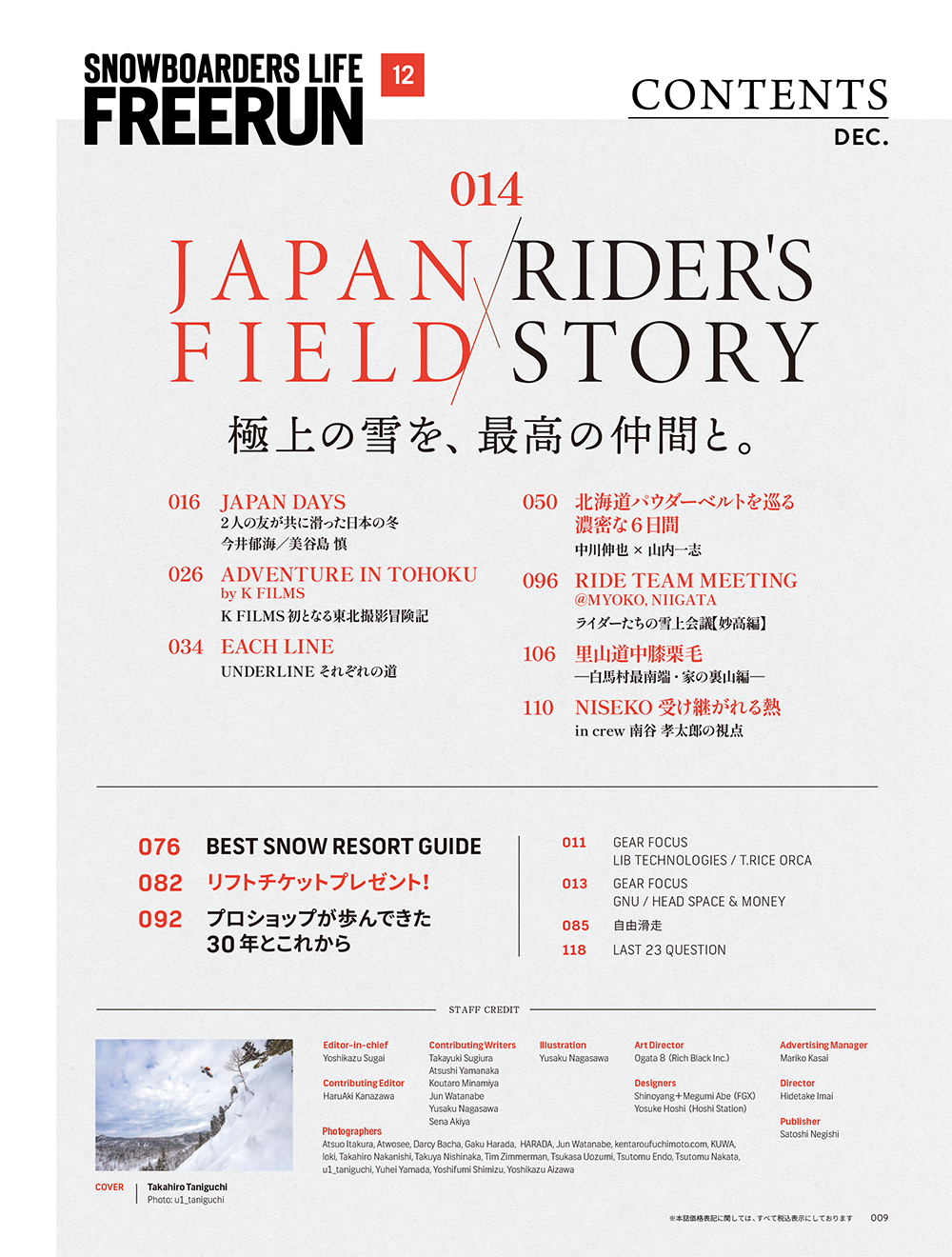 ---
<Special feature: JAPAN FIELF x RIDER'S STORY-The finest snow with the best friends.
There were no foreigners coming to Japan in search of JAPOW as usual last season, and the backcountry field was surrounded by the tranquility as if it had returned a dozen years ago.Introducing the memories of Japanese snowboarders who enjoyed the finest snow in Japan with their best friends, along with photographs taken in various parts of Japan.Hope this winter will be the best season.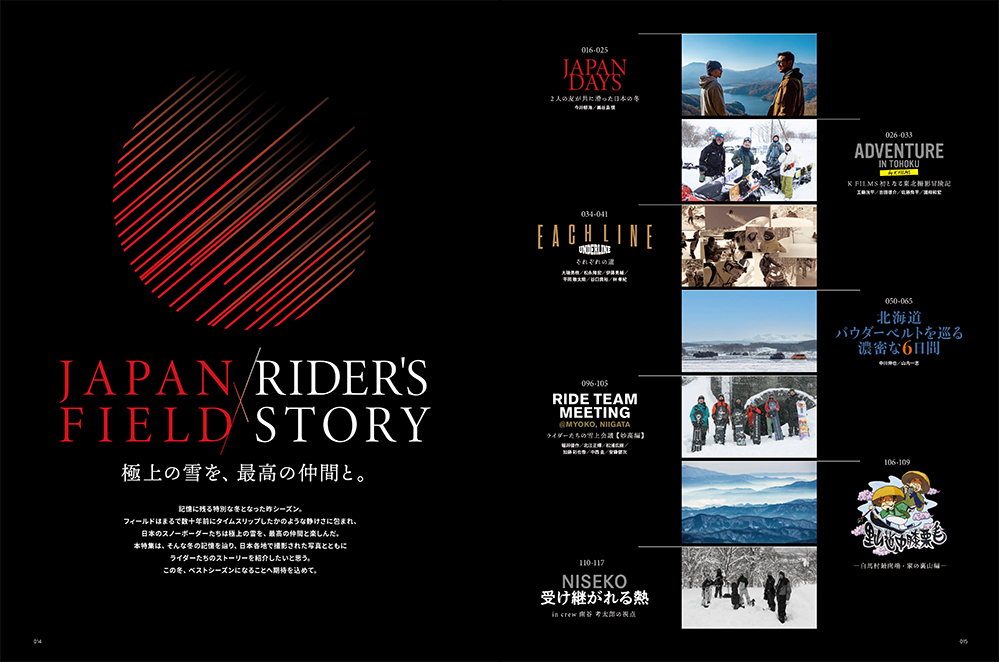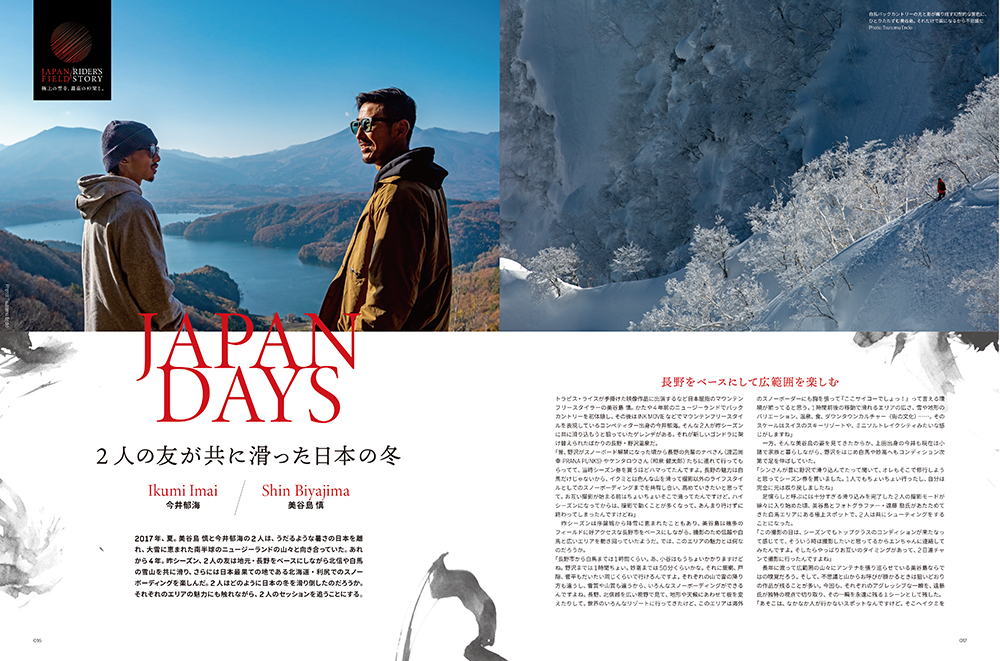 > JAPAN DAYS ~ Winter in Japan where two friends slipped together
Ikuumi Imai / Shin Miyajima
Shin Miyajima and Ikuumi Imai.A record of a session of two mountain freestylers of different generations. It's been four years since I visited New Zealand in 2.Last season, we interviewed how the two people who enjoyed the snow in Hakuba and Hakuba, and finally enjoyed the snow in Rishiri, Hokkaido, slipped down the winter in Japan based on the local Hakuba.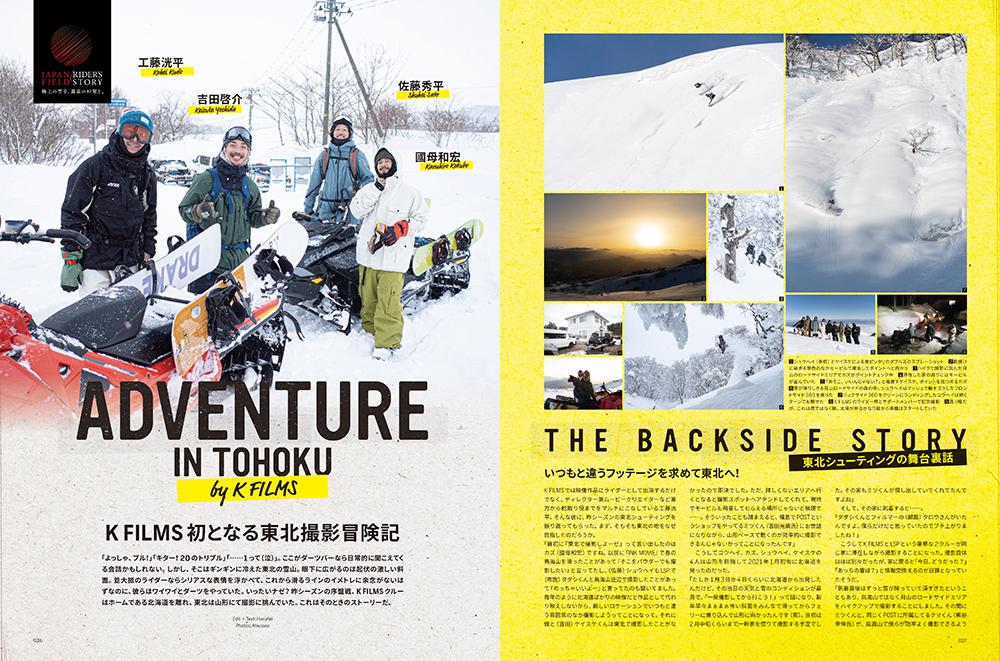 > ADVENTURE IN TOHOKU by K FILMS
~ K FILMS The first Tohoku filming adventure
In the early game of last season, the K FILMS crew left their home in Hokkaido, and Tohoku was trying to shoot in Yamagata.The snowy mountains of Tohoku that have been chilled by gingin.The rugged slope spreads out below you.Most riders should have a serious look.However, the appearance of them playing darts with waiwai.What the hell is it?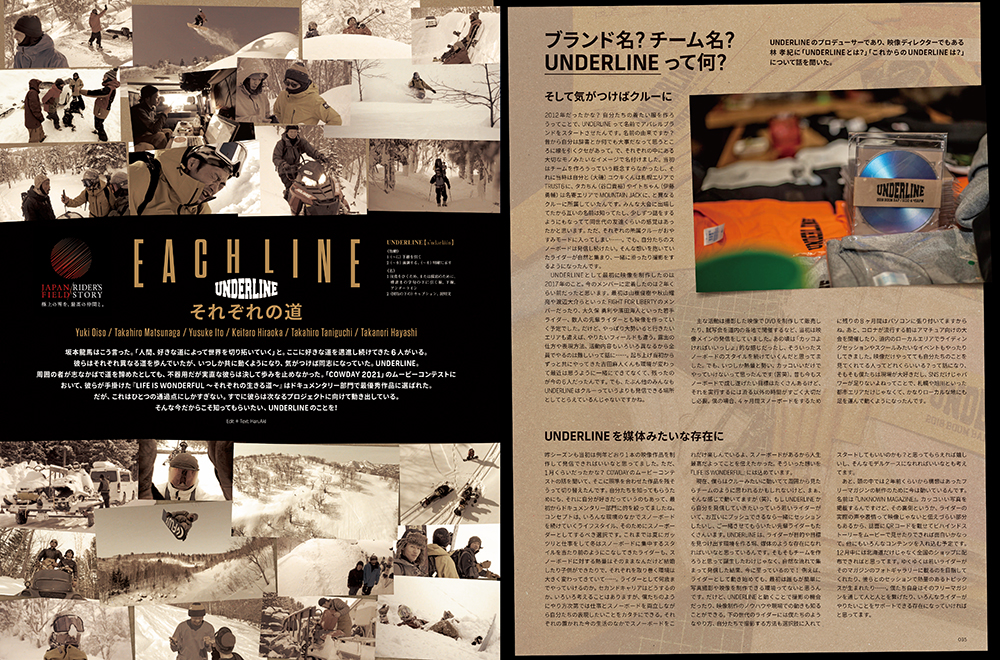 > EACH LINE ~ UNDERLINE Each road
The work "LIFE IS WONDERFUL-Each Living Road-" by six people who continued to pursue their favorite path and became comrades when they noticed it was selected as the best work in the documentary section of the movie contest of "COWDAY 6". .. UNDERLINE.I would like to introduce them who are moving toward the next project.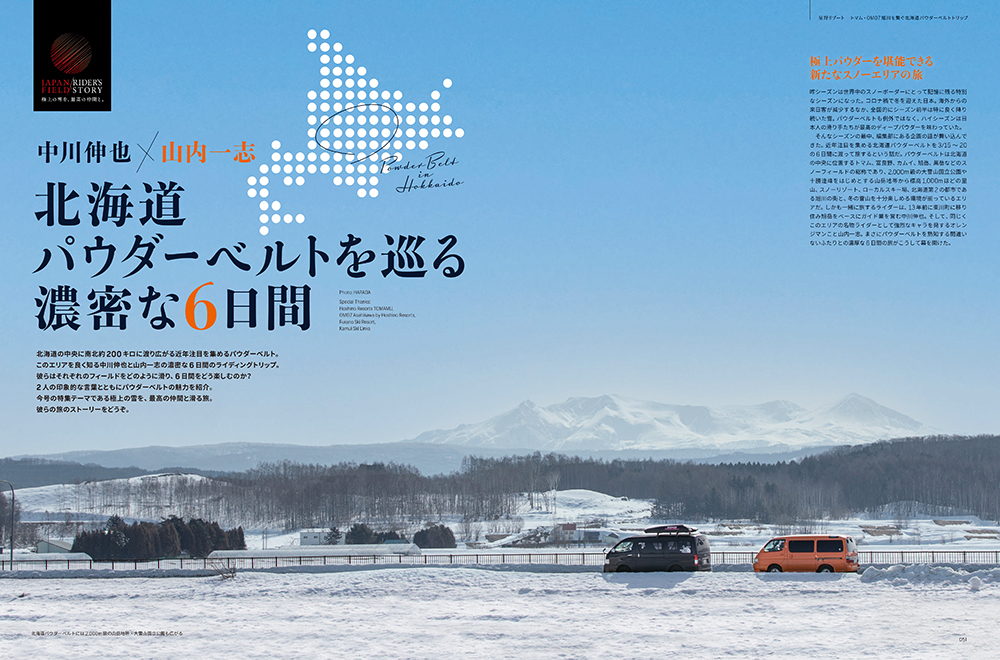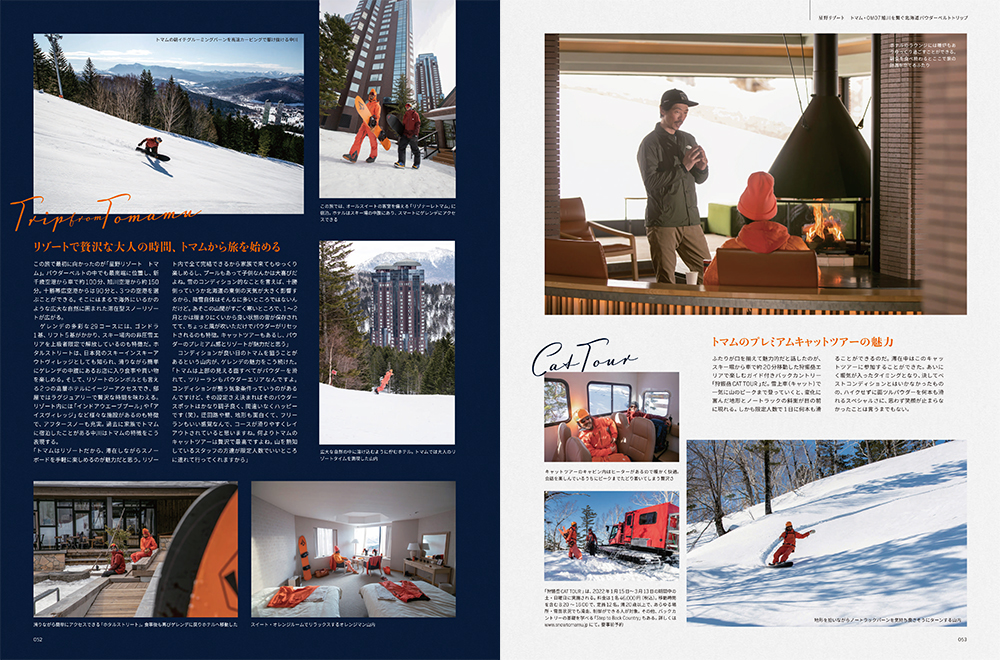 > Dense 6 days around Hokkaido powder belt-Shinya Nakagawa x Kazushi Yamauchi
A powder belt that has been attracting attention in recent years, extending about 200 kilometers north and south in the center of Hokkaido.A dense 6-day riding trip by Shinya Nakagawa and Kazushi Yamauchi who know this area well.How do they slide in each field and enjoy the 6 days?Have a story of their journey.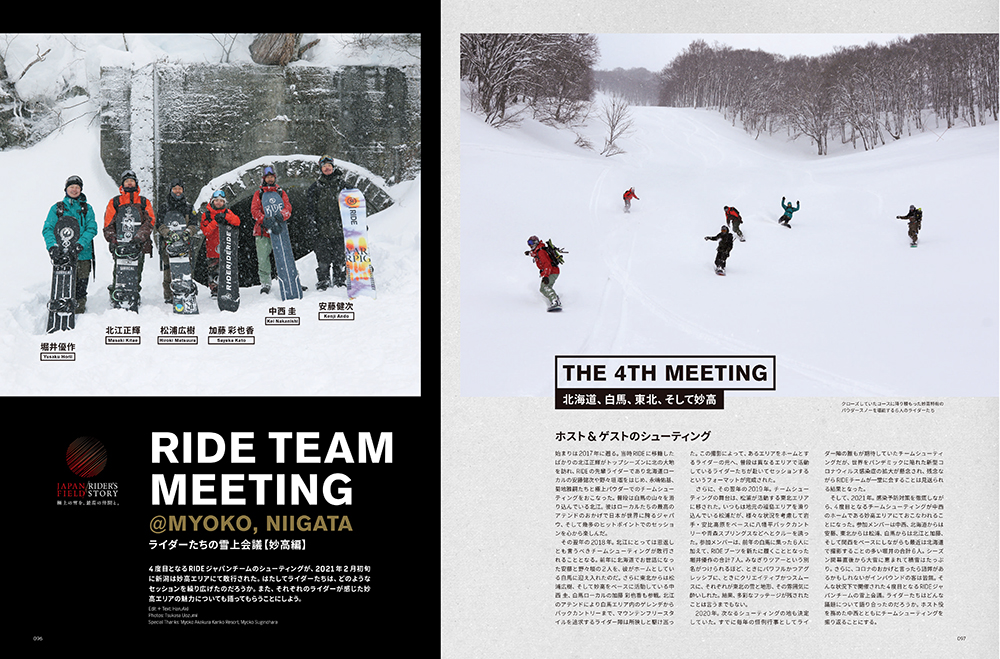 > RIDE TEAM MEETING @MYOKO, NIIGATA ~ Riders' Snow Conference [Myoko Edition]
The fourth shooting of the RIDE Japan team was held in the Myoko area of ​​Niigata in early February 4.He talked about the charm and impression of the Myoko area that the riders who have been shooting with Hokkaiou, Hakuba, and Tohoku have felt.
 > Satoyama Dochu Knee Kurige — The southernmost part of Hakuba Village, the back mountain of the house—
Satoyama Michinaka Knee Kurige, a new project that conveys the charm of "Satoyama" started by a collaboration between Yusaku Nagasawa, the captain of the Nagasawa expedition team who runs the guide company "Endekashi" in Hakuba, and photographer Tsuyoshi Endo.Knee chestnut hair means traveling on foot."Split board" to enjoy mountain landslides including climbing.We will deliver such two charms!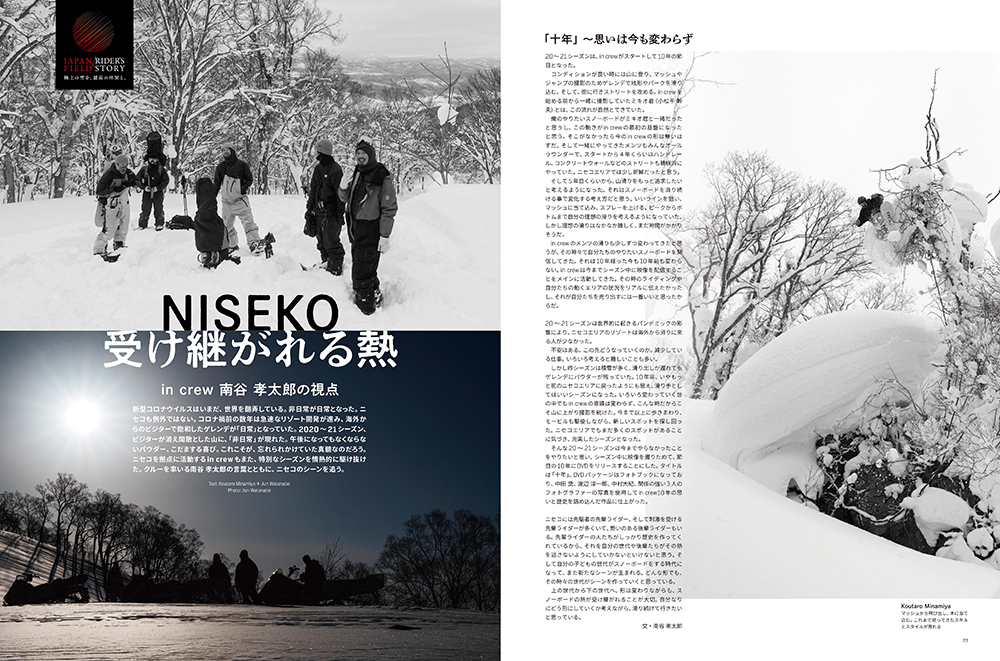 > NISEKO Inherited heat ~ in crew Kotaro Minamiya's point of view
Due to the influence of the new coronavirus, extraordinary life has become everyday.Niseko is no exception, and the slopes that have been saturated with visitors from outside in recent years have disappeared last season, and "unusual" appears in the quiet mountains.I will follow last season's Niseko scene with a special season spent by the Niseko-based in crew.
---
<BEST SNOW RESORT GUIDE>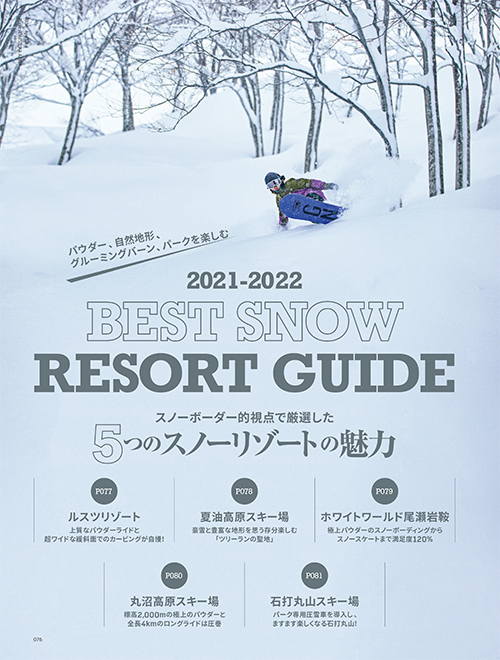 A FREERUN-like snow resort guide that picks up and introduces the topics of this season's ski resorts and the courses that you want to pay particular attention to.Powder, natural terrain, grooming burn, park ...Be sure to check out this year's topics that each resort is confident about.
---

<Lift ticket gift!>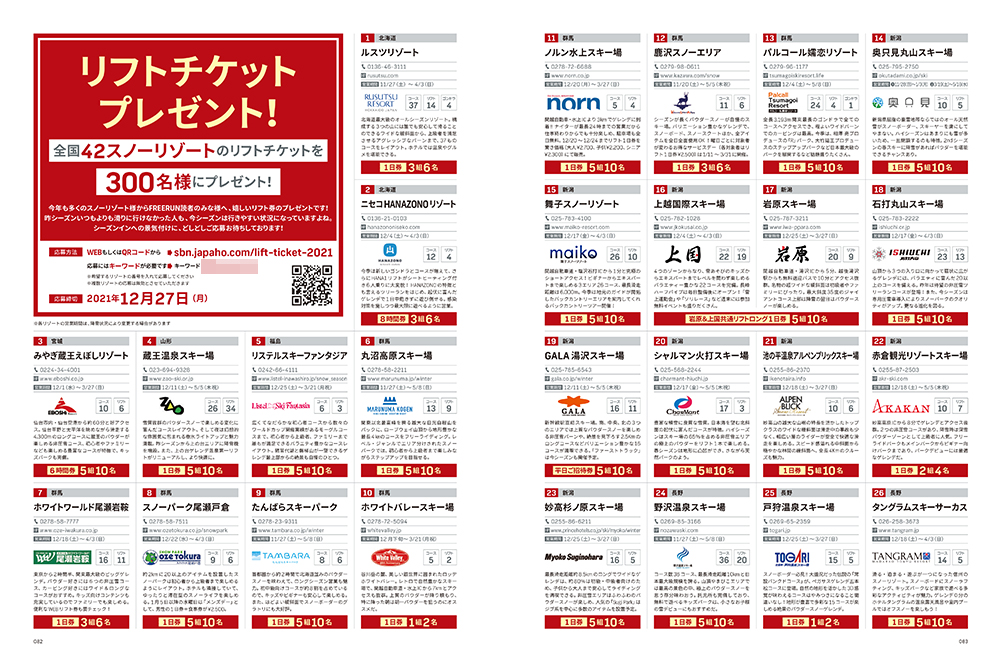 A popular project that will be held this year as well!A lift ticket will be given to readers from each resort to pray for good snow in the season.It might be a good idea to take this opportunity to visit the slopes other than your home.
---

<30 years that the pro shop has walked and the future>
"BOARD PRO SHOP ZIMBABWE", which celebrated its 10th anniversary in October of this year, will relocate its store next spring and will be restarted under the name "HERITAZ".From a dialogue between owner Satoshi Tanizawa, who has been transmitting snowboard culture for 30 years from local Soka, and Yosuke Nishida, who is also a rider of the shop and is currently proposing the brand, we explored the necessary movements for the pro shop now.
---
Free Run December Issue
¥ 980 (tax included)
From Saturday, November 11th, it will be sold at bookstores nationwide, snowboard shops, Amazon and other online bookstores.
Or you can purchase it from here.
http://storetool.jp/3607265431/ITMP/FR1582012.html