Living in the United States, I noticed that Japan was a place that snowboarders all over the world longed for.At the same time that it was very attractive to jump out of Japan and slide on the big mountains of the United States, I realized how much Japanese snow was highly regarded.
Now that it has become difficult to cross the sea and travel to and from our hometown of Japan, we have decided to move to Japan with our family.For a limited time of one year, we had a luxurious opportunity to spend the full season in Japan, who wanted to enjoy more snow in Japan.
Text: Yukie Ueda
Special Thanks: Furano Ski Resort,Pippu Ski Resort
* In this project, Yukie Ueda's son, Toranosuke (tiger), visits various parts of Japan and tells the charm of the area and resort facilities to foreigners in English while sliding on the YouTube channel "Tora".TORA BURGER』Delivery in. In the SBN FREERUN serialized article, I will collaborate with the video and keep a record of travel in various places from the perspective of Yukie Ueda.

How to choose a trip
Rumors that "this winter is La Niña" did not hit Honshu at the beginning of the season.The start of the snow was a little late, so I was sorting some snowboard trip projects in the calendar like a puzzle.The Japanese season is short. In November, I started seeing posts from American friends skiing in the snowy mountains, and realized that the Japanese season was only about half that of North America.At that point, information about Furano came in from Mari Mizukami, who was the first to move to Hokkaido.I was thrilled to see her gliding in the deep, soft snow and a simple snow life with her dog. "Okay! Let's stay at Mari's house and act with her." She gave in to her invitation and decided on Asahikawa as the destination for her first trip.
Mari and I have been snowboarding companions for many years, and we both understand our passion for snowboarding.A perfect companion for a snowboard trip.In addition to that, it was also an important factor that the sense of crisis about Corona now matches each other.We, who are in an unanswered vortex, are required to act while sharpening that sense.How to continue snowboarding in preparation for a crisis.I knew that Mari had a similar feeling, so I was able to go to her with confidence.
On this trip, my son Toranosuke (tiger) and Mari had a puppy, Noupy, about the size of a tiger.We met again and shared daily meals, baths and snowboarding like a training camp.The duo were formed just like Noupy and Tiger, Mari and I.Noupy was also a good member of the crew who acted together except for the slippery part and sometimes participated in shooting.Our eight-day life in Asahikawa has begun in a new way where we can have our own snowboarding time while interacting with dogs and children.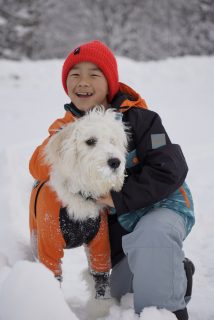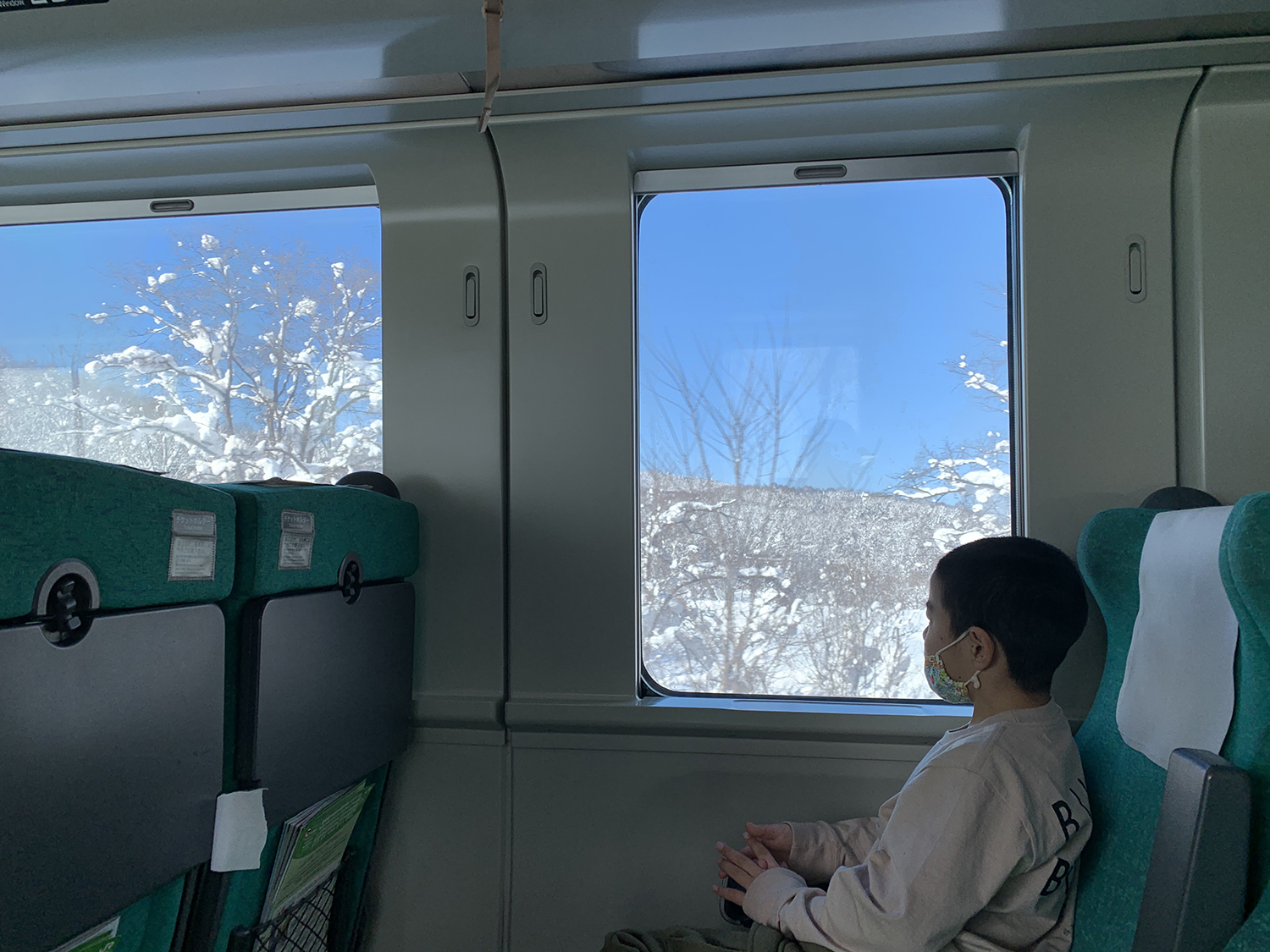 ▼ TORA BURGER # 9 ON OUR WAY TO HOKKAIDO! The road to Asahikawa, Hokkaido
---

Magical snow, Furano
I couldn't forget the snow in Furano.No matter how many times I look back at the images and photos from a few years ago, that feeling cannot be revived unless I actually feel it with my own feet.That pleasant sensation that makes my whole body tingle and numb. .. ..
When I got on the ropeway and passed through the white clouds, I saw the blue sky.You can feel the goodness of snow just by looking at the white-made trees and the lines where someone slipped.Riding on a pair lift to the top of the mountain and freezing in the cold, I couldn't help but take my cellphone out of my pocket and take a dazzling photo.It was surrounded by a beautiful scene like another world above the clouds.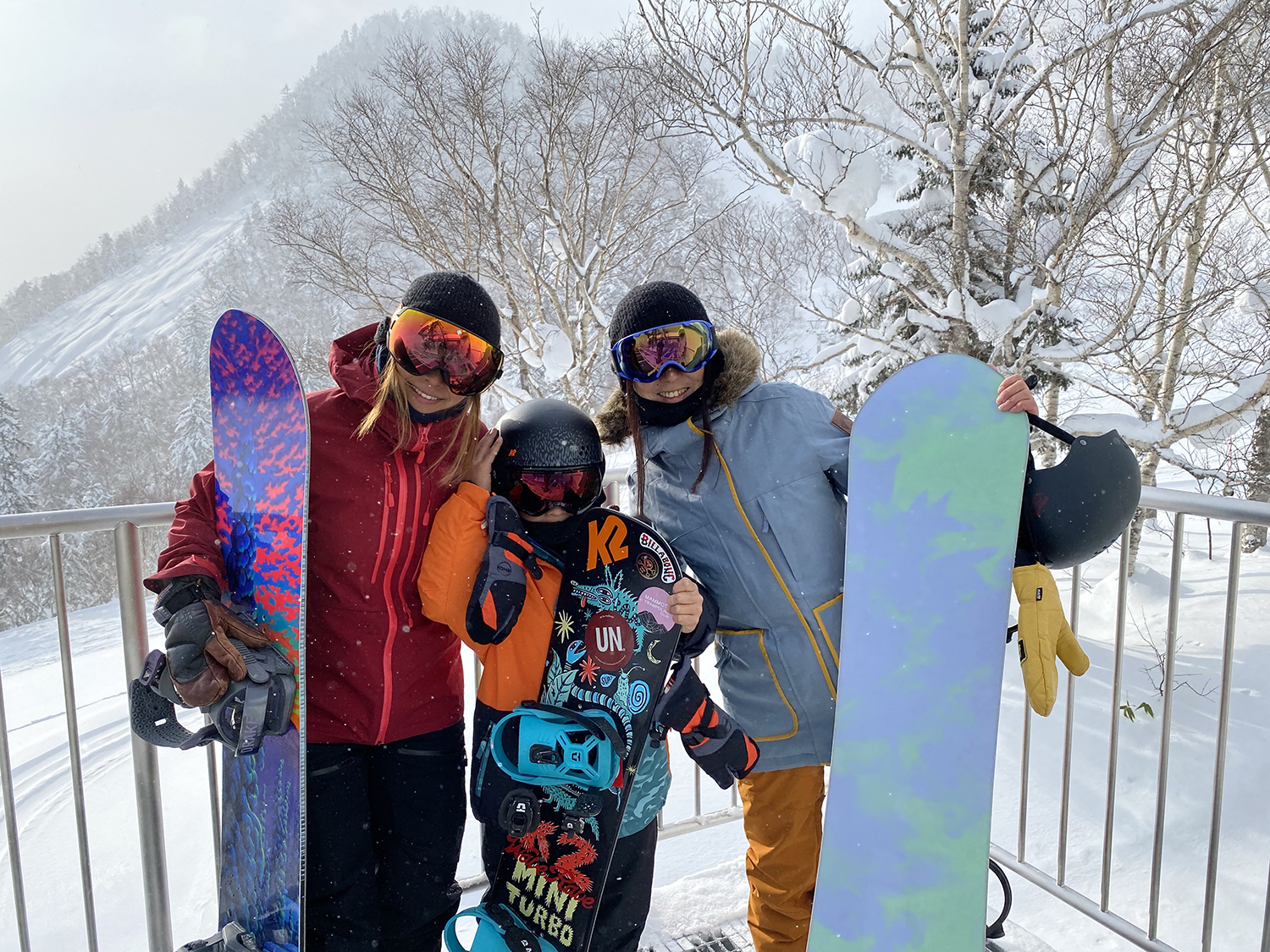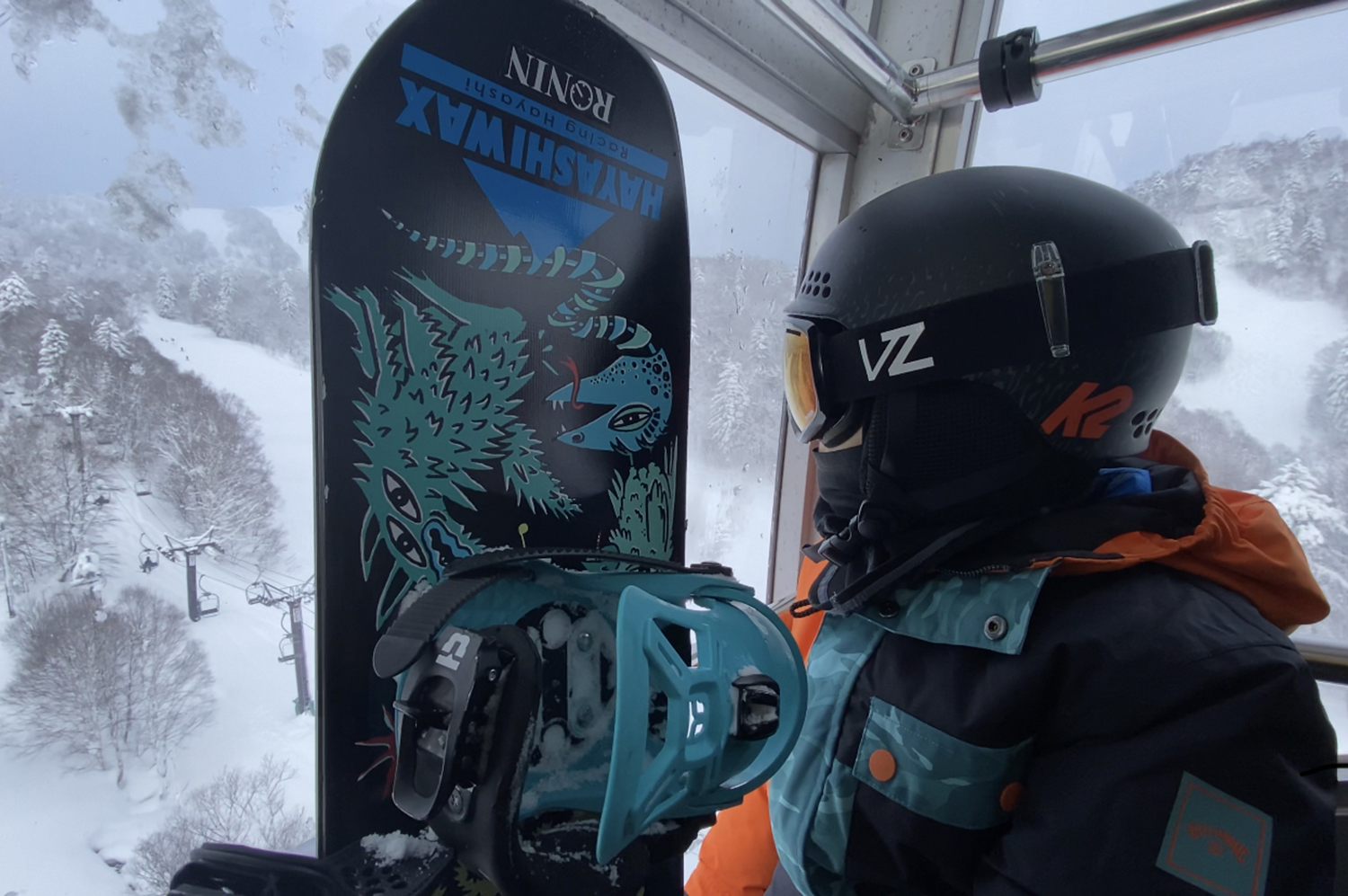 With the board on his hind legs, we plunged into the snow like a fish in the water.Yes, the snow in Furano wraps our bodies one after another with soft elasticity so that we can plunge into it with speed. "It's totally different ... this is this feeling!" I kept chasing behind my son, who was crazy about jumping and slipping, feeling the hot things coming up.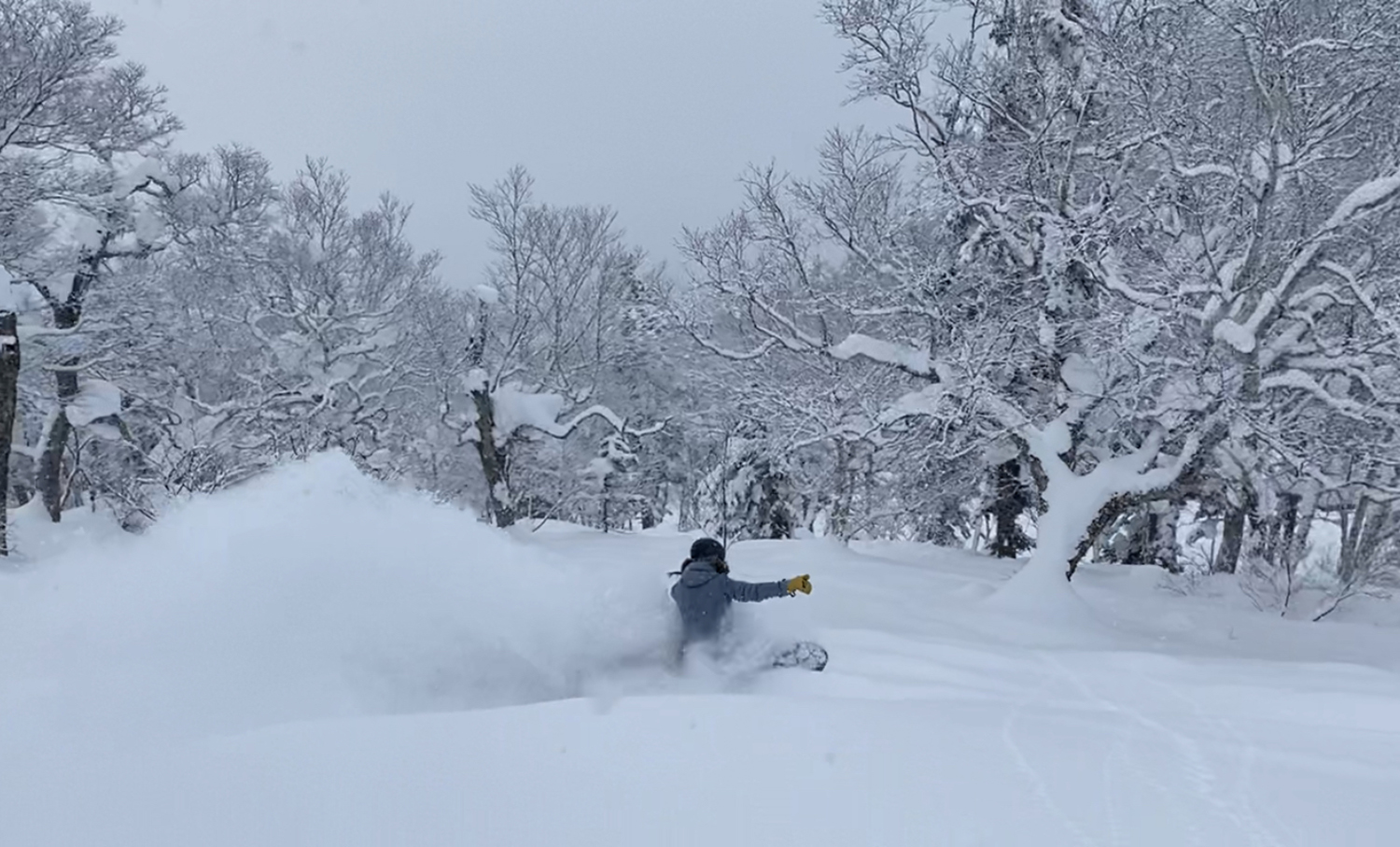 This was the first feeling for a tiger. About five years ago, I brought him to Hokkaido, who had just become able to operate snowboards with his own feet.My son was just under the spring snow, but this time it's different.It's completely different from the powder I've tasted so far.
"It feels like it's floating," said the nine-year-old snowboarder.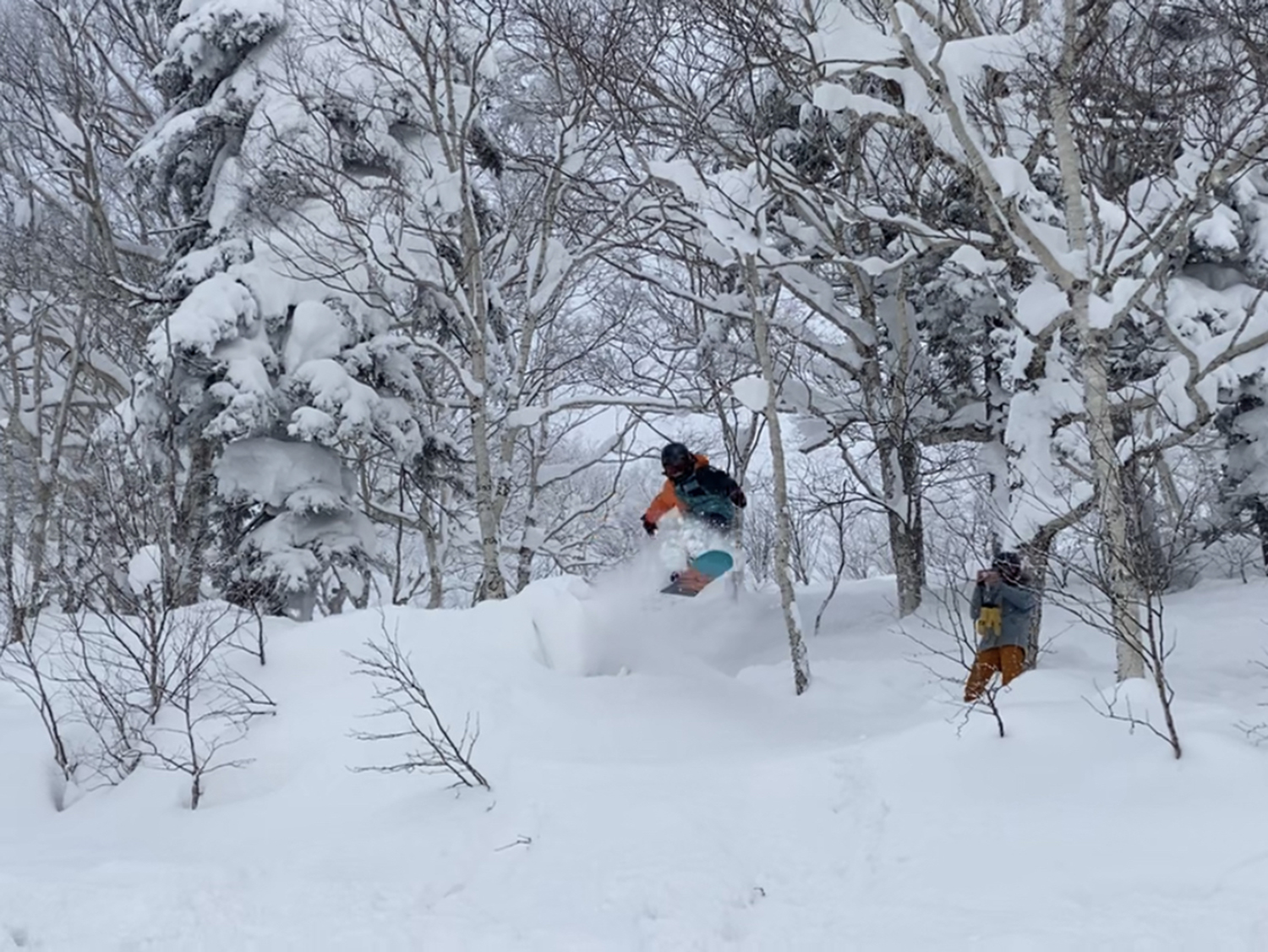 "I'll follow Mari!" A small body, about XNUMX cm tall, can easily be buried in deep snow when it falls.When it's my first time, I always follow someone and I slip from behind my son.As expected, Mari Mizukami slides through the entire mountain while playing with the terrain.Mari's sliding line is a good example for her son who is not satisfied with just a powder turn.He chased behind Mari, sometimes carved his own line, and continued to slide vigorously non-stop.Following that, I found that his movements changed as he skated one or two long courses.It hits the undulations that you see in your eyes one after another while hitting the wall at high speed and spraying vigorously.I was free to run around Furano's magnificent slopes with a single board, as if my abilities had improved in this snow.I was convinced again when I saw that figure.After all, the snow in Furano is magical!For both adults and children.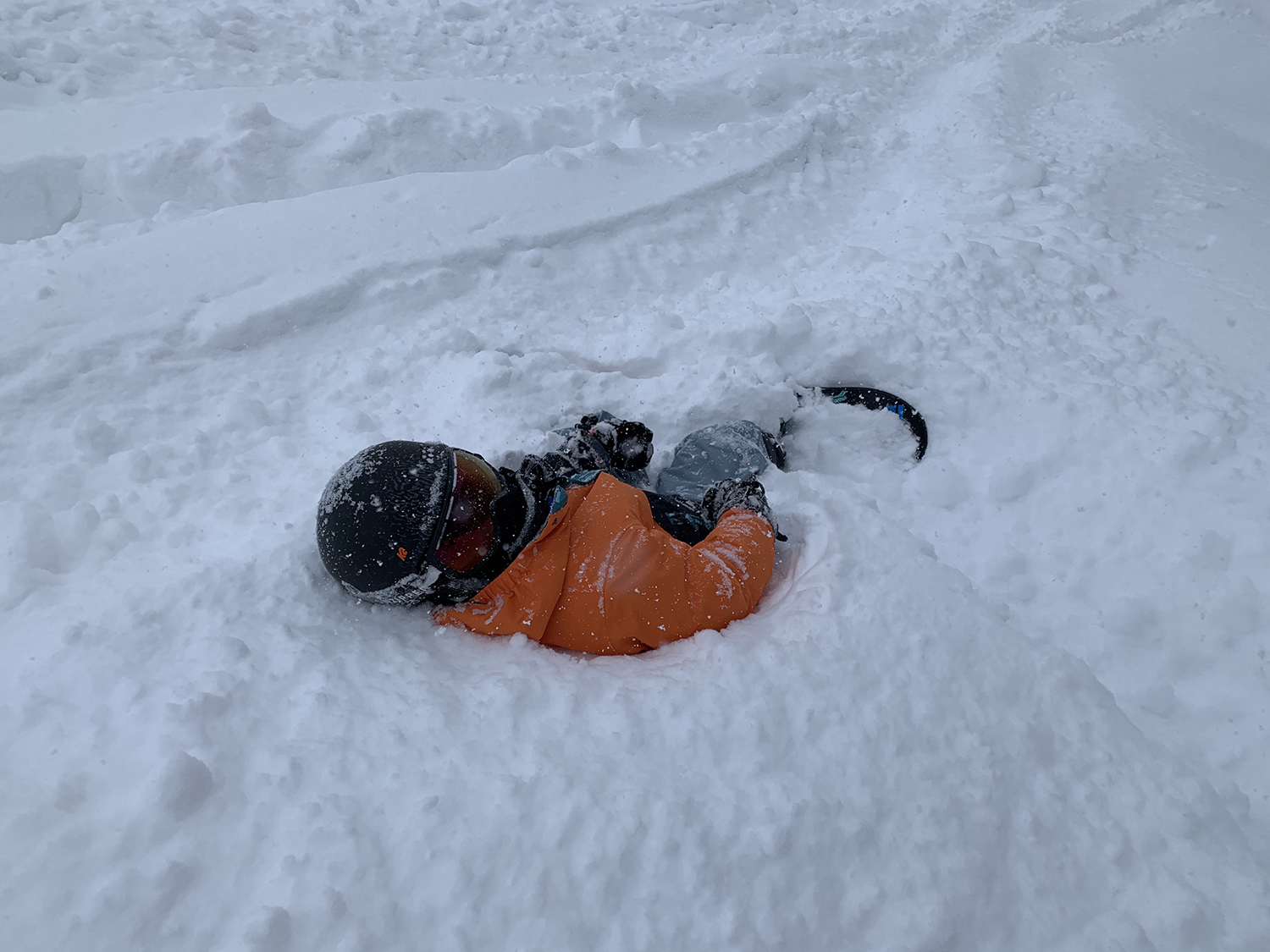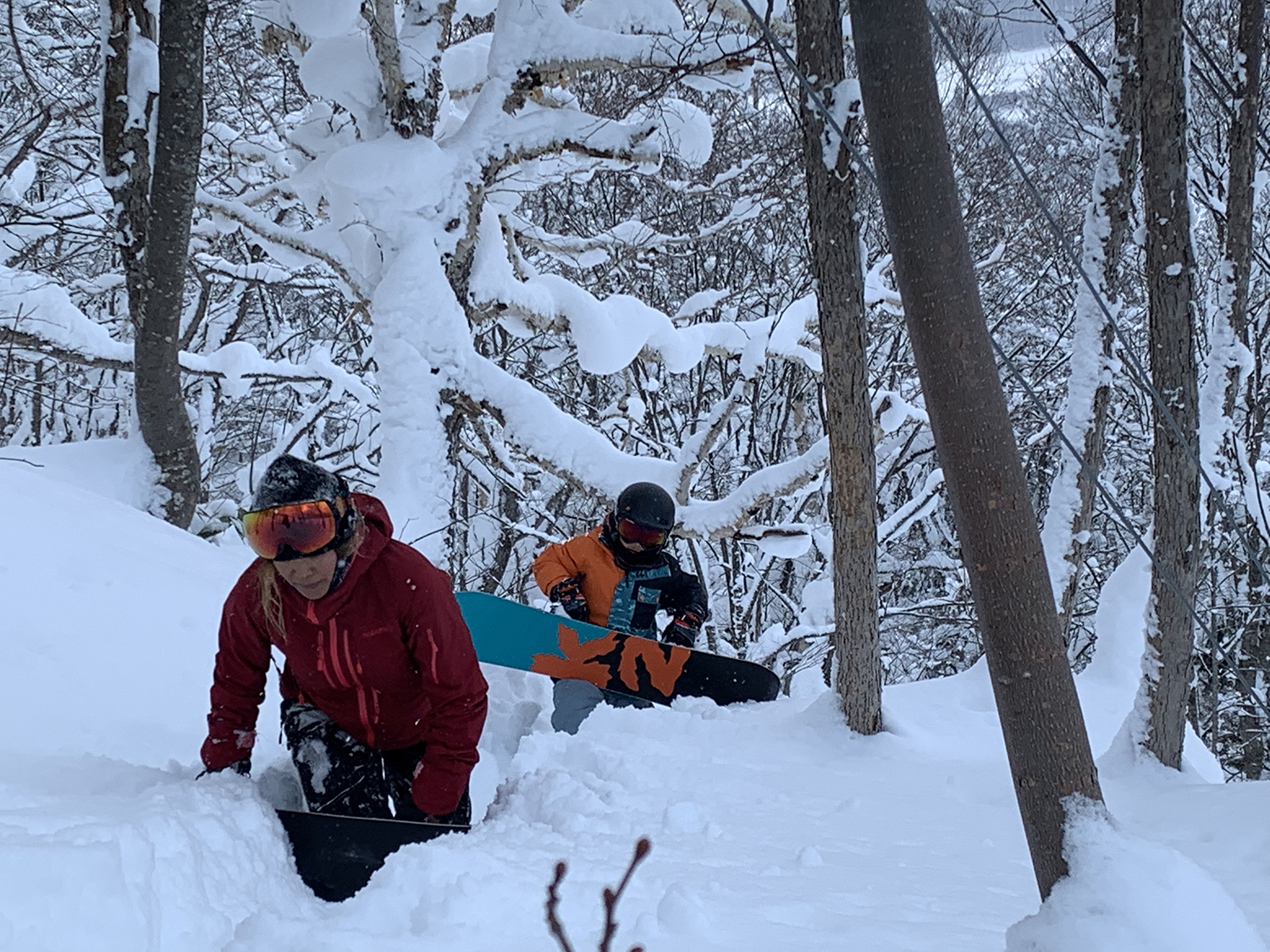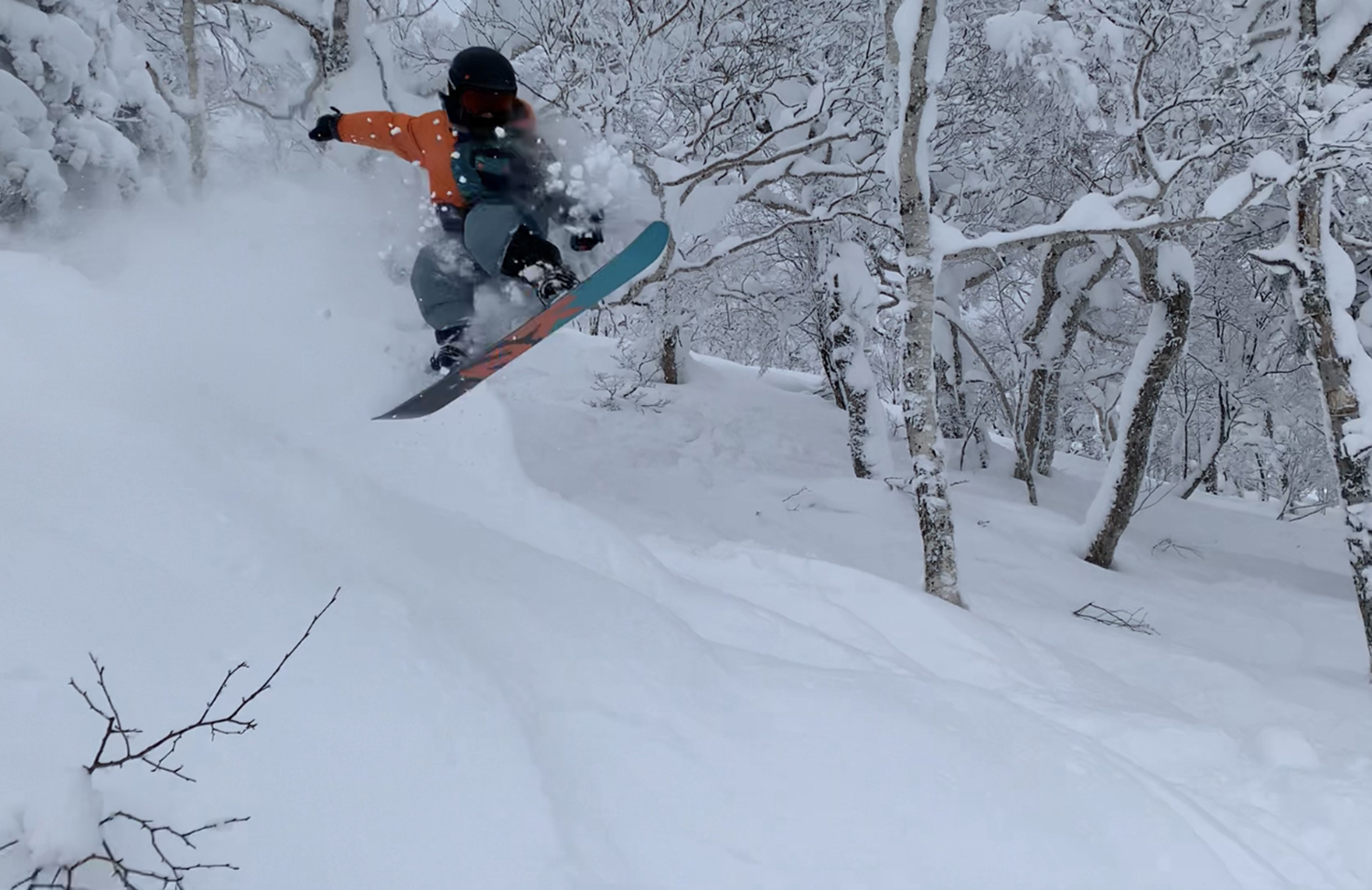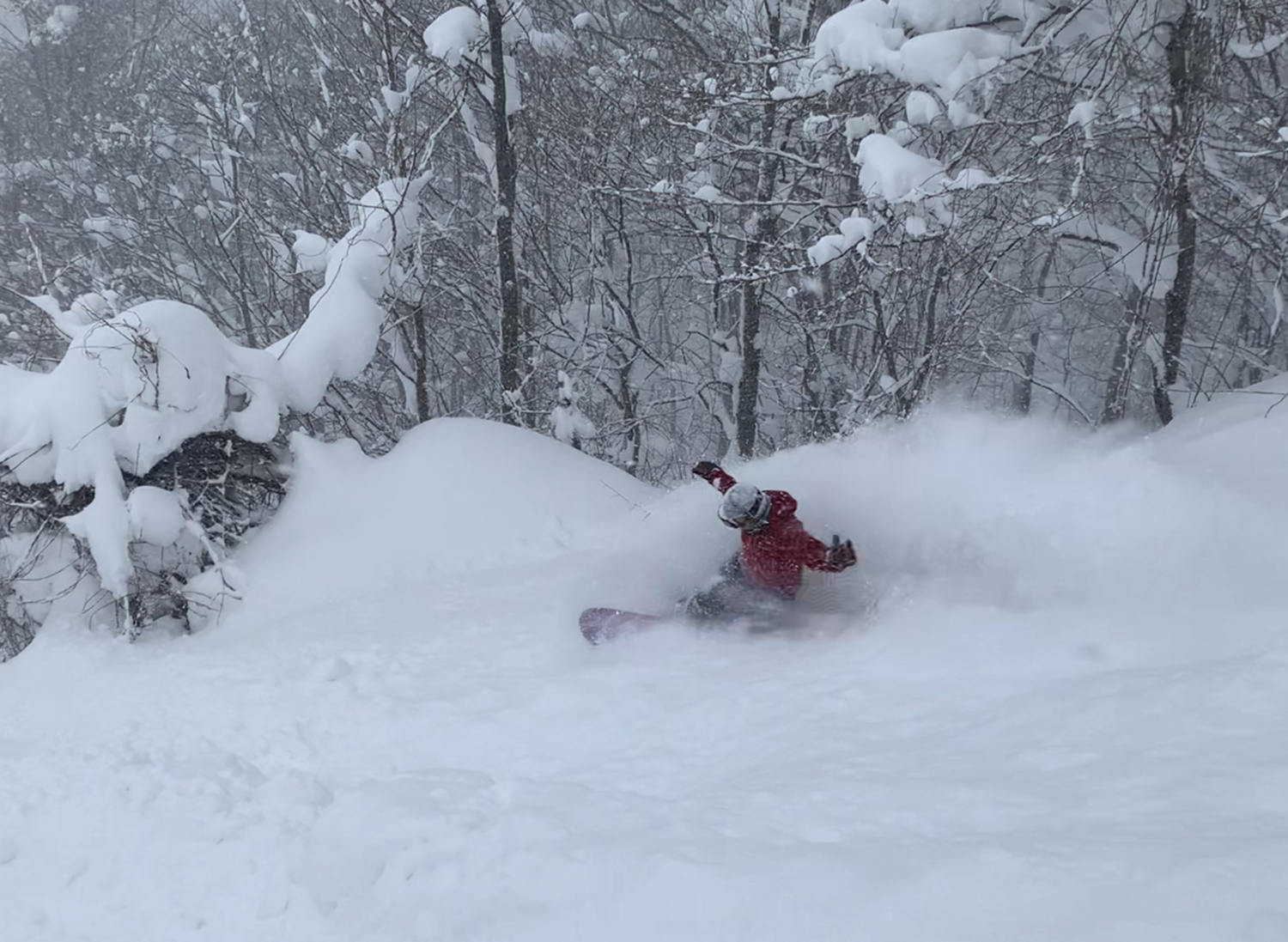 ▼ TORA BURGER # 10 FURANO SKI RESORT @Hokkaido with Mari Mizukami Mari Mizukami and Furano Ski Resort in Hokkaido
---

Pippu Ski Resort with interesting terrain
Based in Asahikawa, you can drive to some ski resorts in about an hour.The Santa Present Park in Asahikawa City and Kamui Ski Links, which I often slipped on when I started the halfpipe, are also attractive.This time I went to the Pippu ski resort that I wanted to visit.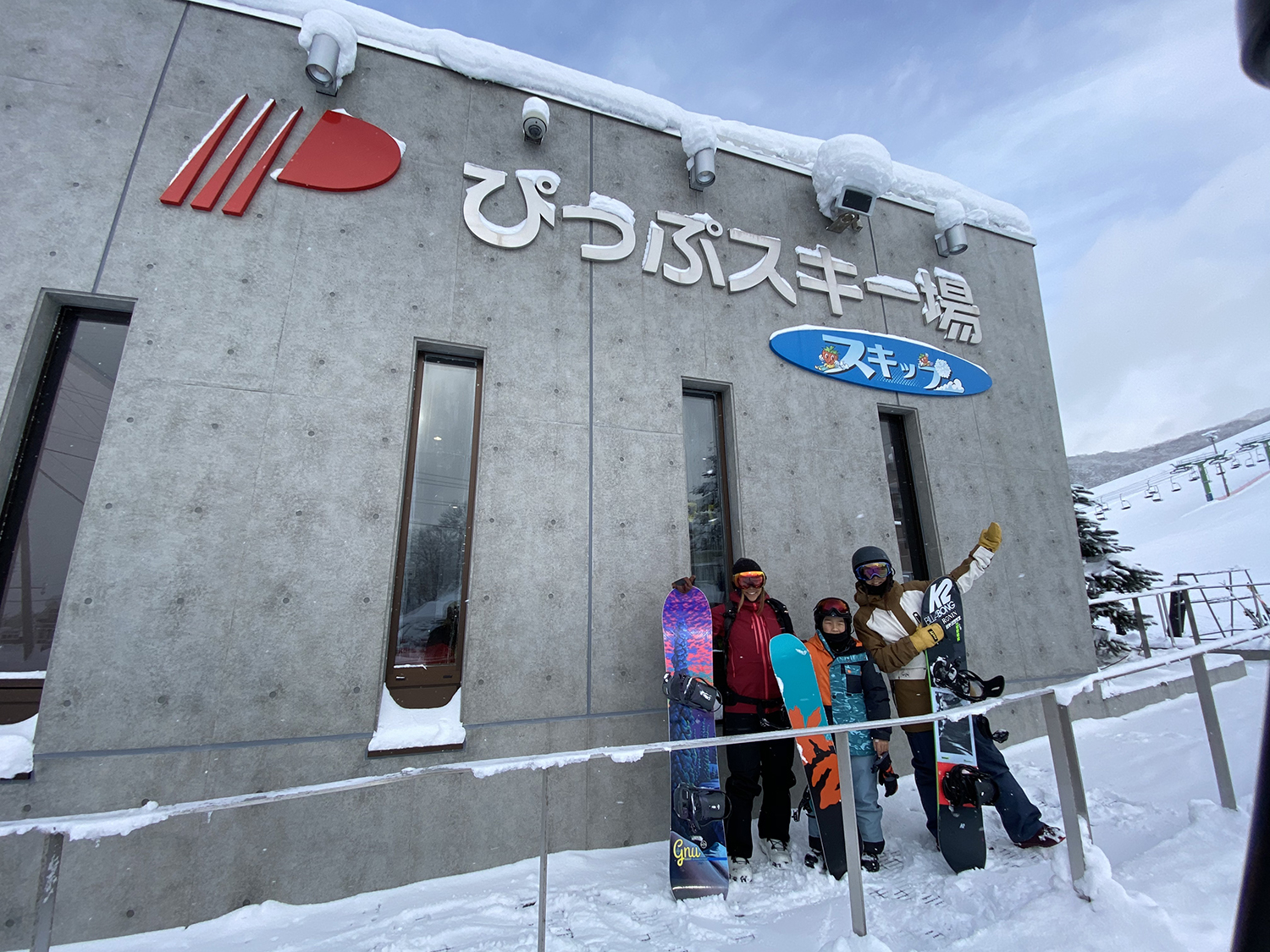 About XNUMX minutes from Asahikawa city, this slope full of local feeling was crowded with children of local skiers during the winter holidays.From the homely atmosphere of the rest house, you can see the slopes from the large glass windows, and many mothers are watching over the children.And the guerrilla food here is very cheap and delicious!It's one of the best ski resorts in Japan I've ever traveled to.Some lift tickets came with lunch tickets and hot spring tickets, and I was surprised at the reasonable price.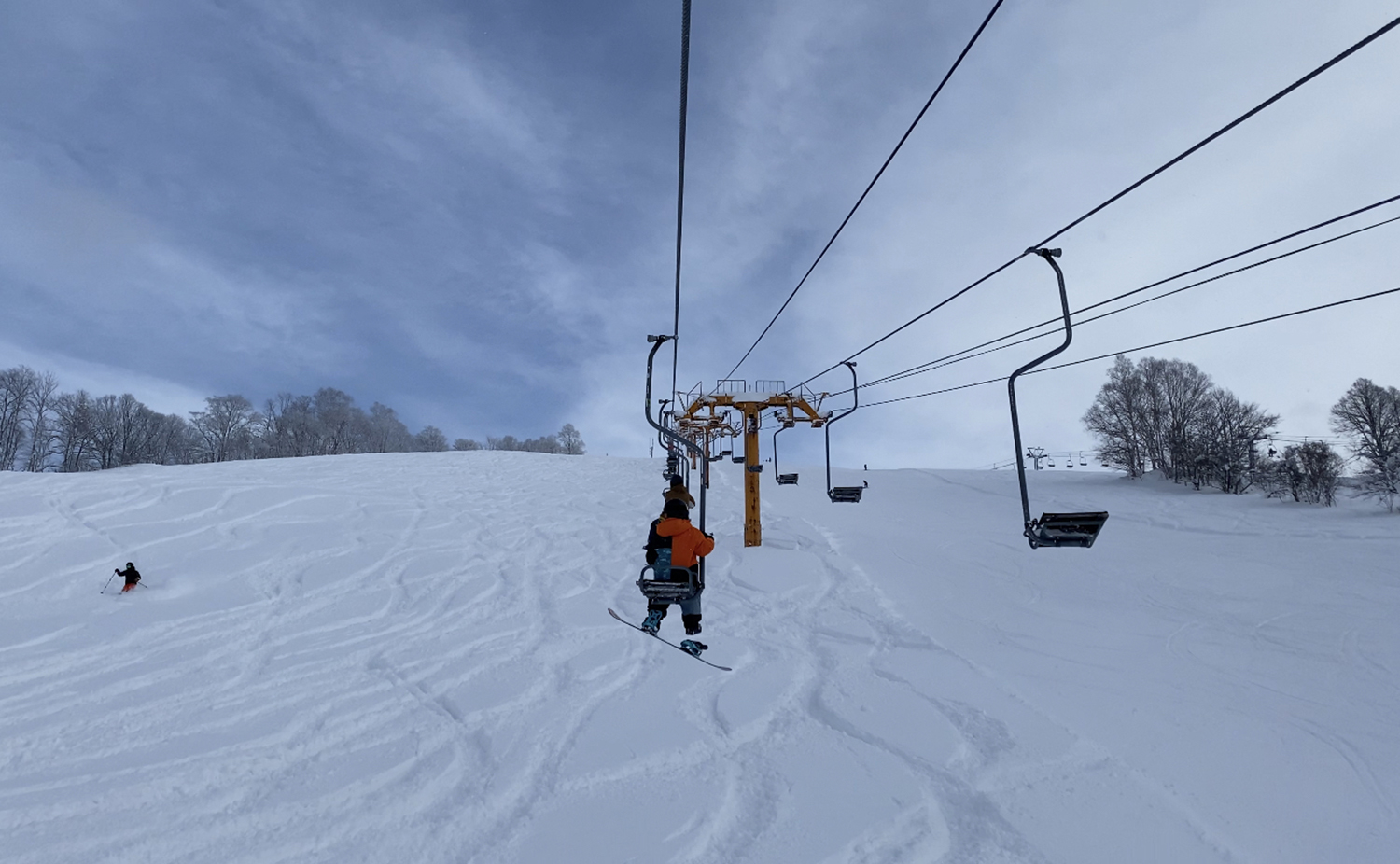 On the slopes, a non-compacted snow burn spread as much as a beautifully compressed burn, and I enjoyed the powder to the fullest. There is a non-compacted snow course called "DEEP SNOW Deep Snow" and a course called "STRAWBERRY" where you can slide to the bottom while hitting the side hits.My son especially liked this strawberry.
There is only the slope of Asahikawa where the temperature is low and the diamond dust shines brilliantly, and the snow quality is the best powder.I don't really care whether someone has a line or not.It's snow that wraps around your body and floats on the surface.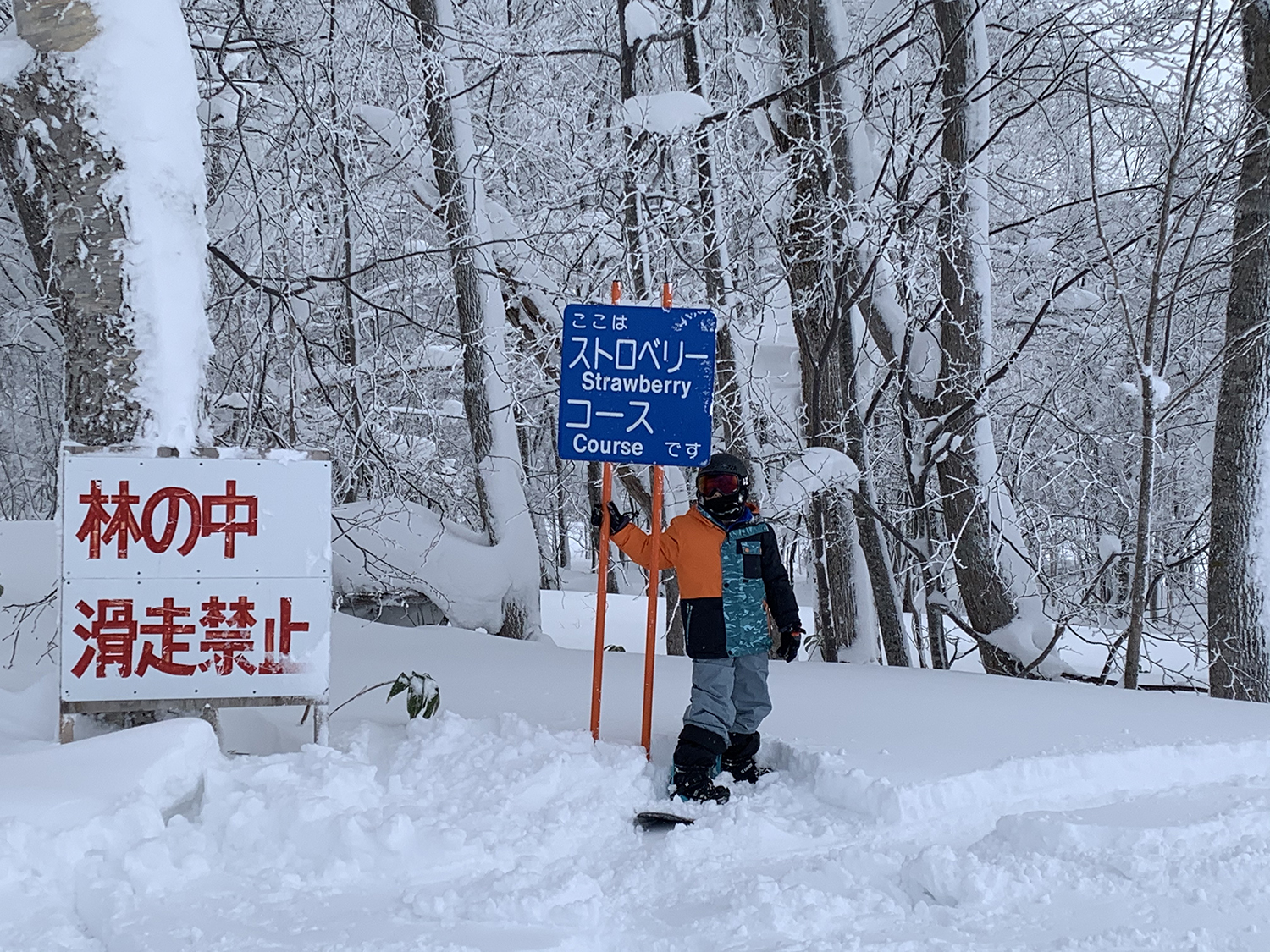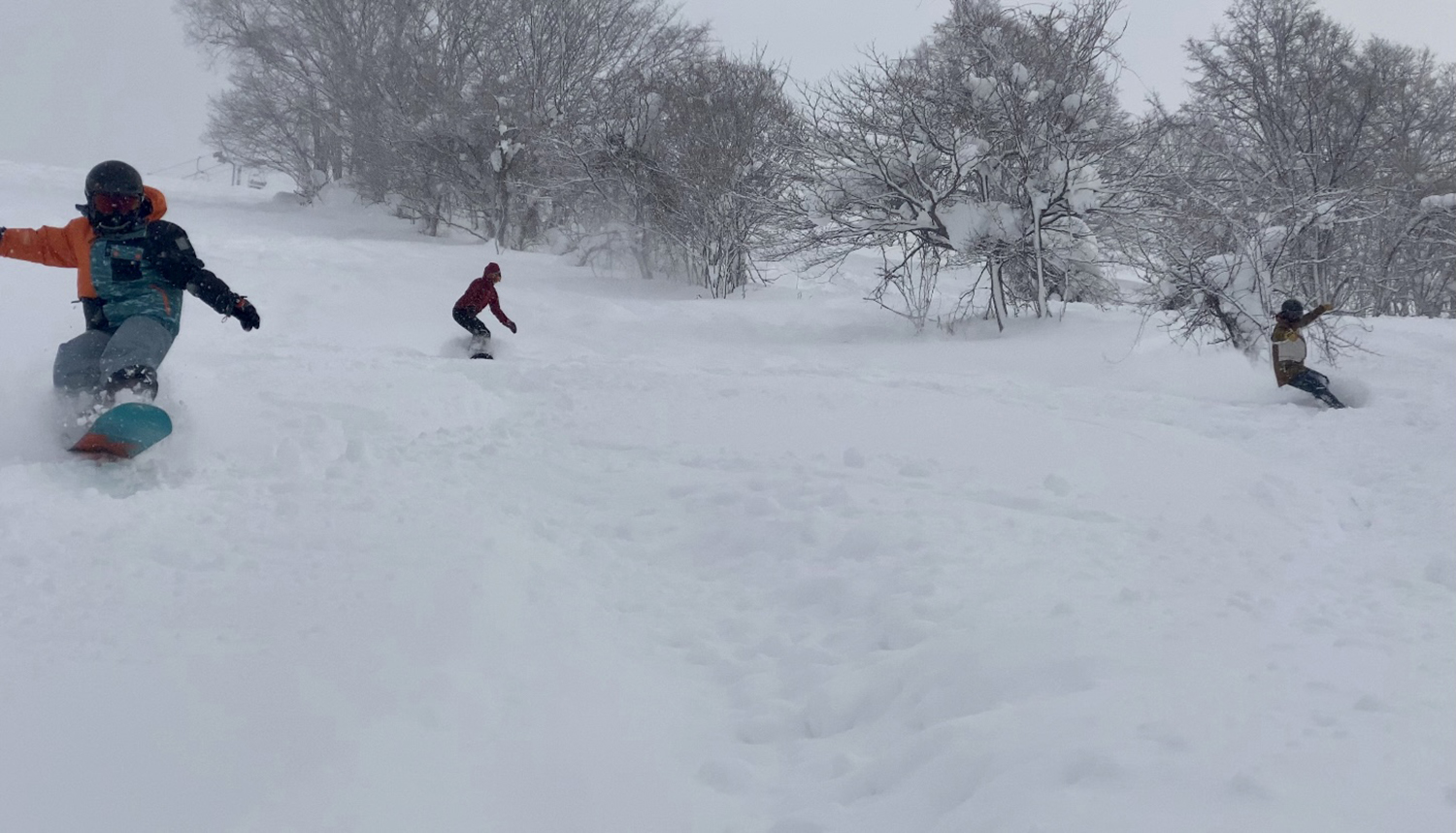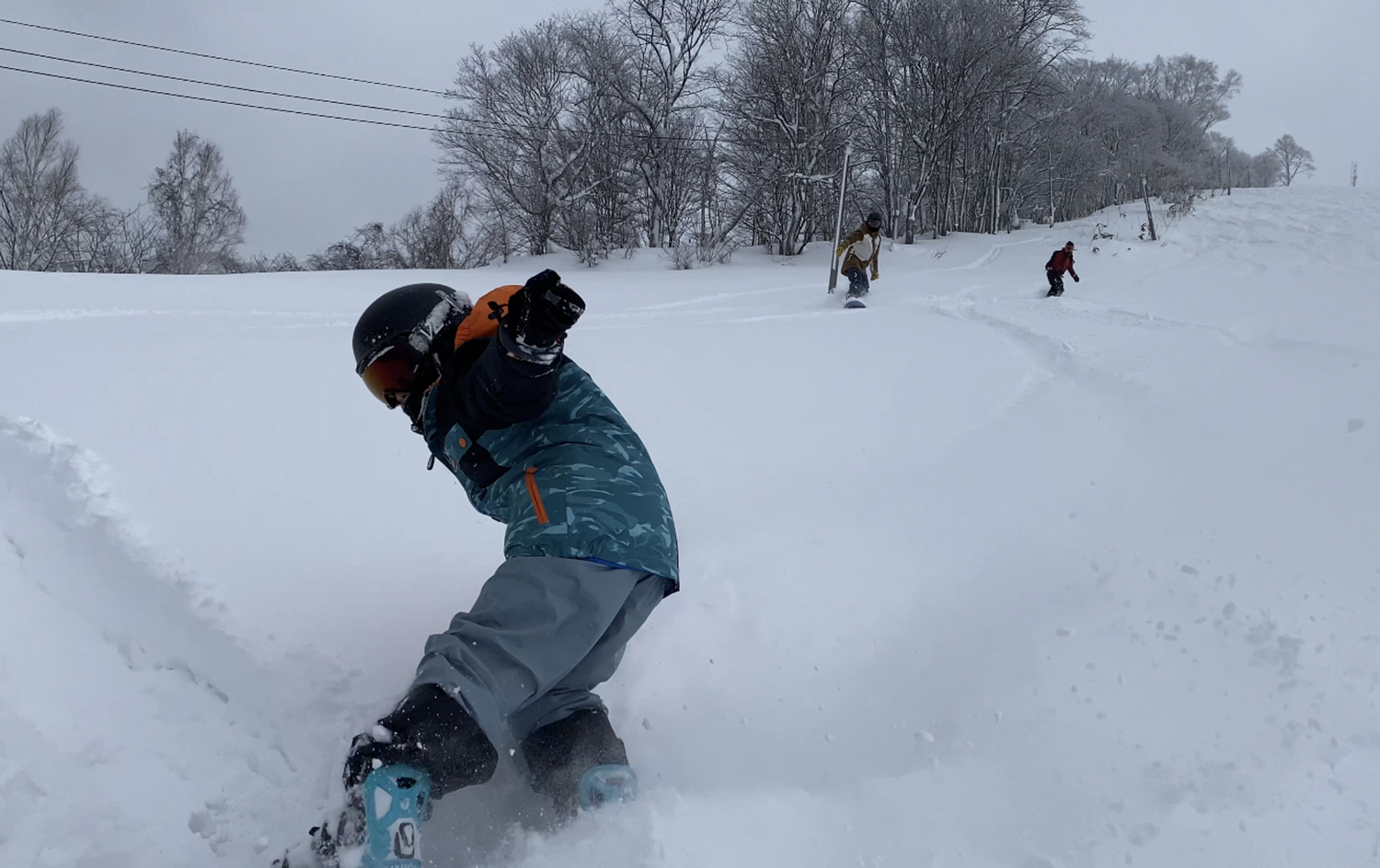 Before I knew it, the sun was hiding and a large amount of snow was blowing like rain, and I felt like I couldn't stop slipping for the first time in a while.Even if I slip or slip, the snow surface resets and I feel comfortable and can't stop.When will I feel like this?Even after shooting, we slipped covered in snow and exchanged high fives like children.Actually, there is only one child there ... lol.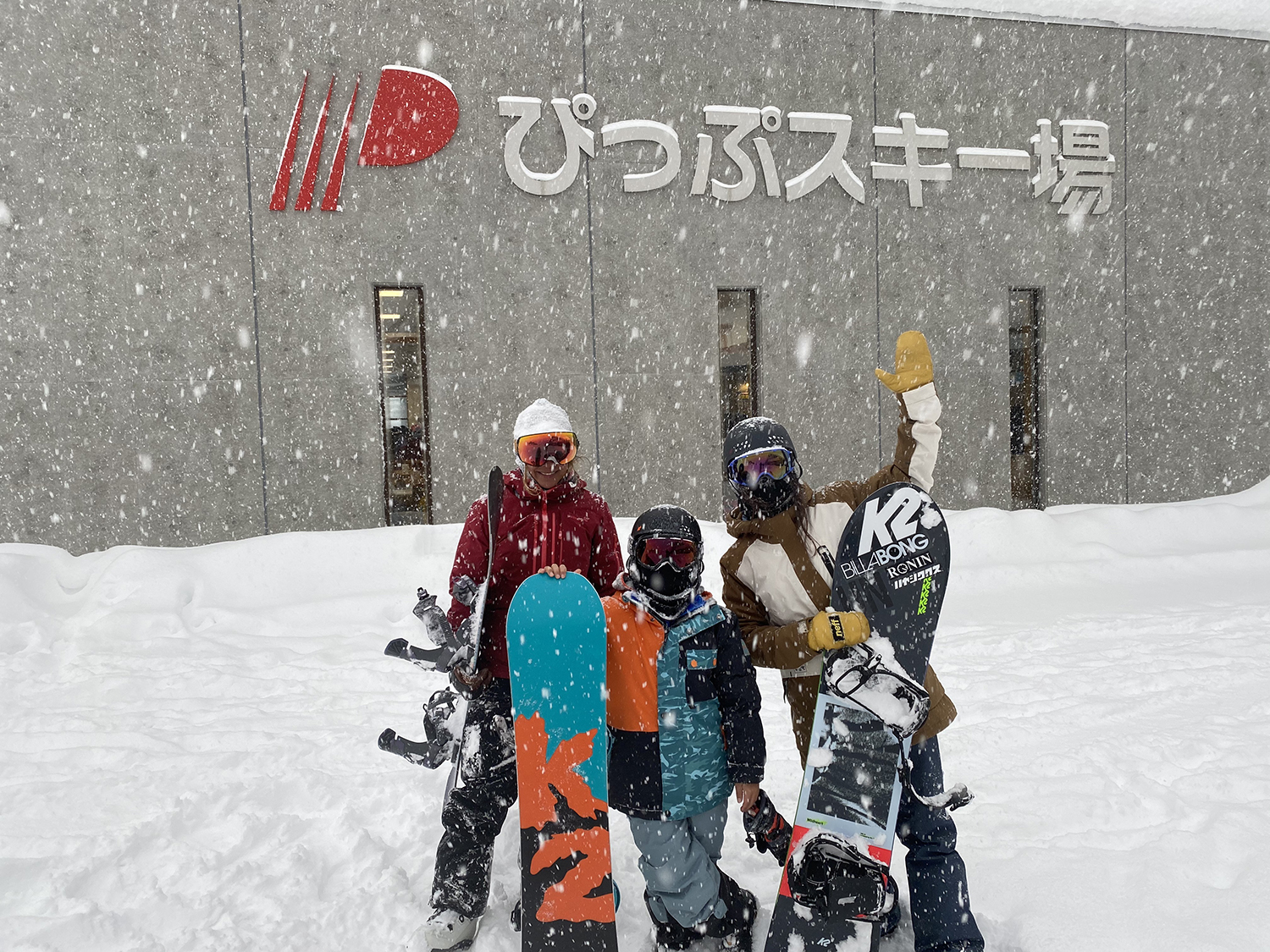 ▼ TORA BURGER # 11 PIPPU SKI RESORT @ Asahikawa Hokkaido Asahikawa Local Slope, Pippu Ski Resort
---
Special guests
It was surprising snowboarders who met at the Furano ski resort.Wakayama, president of Furano, a company that deals with outdoor brands who say that he has only worn snowboards for the past few years, warps to Asahikawa every time he takes a break from Honshu. It is said that he is slipping around Furano and other places.He leaned against a car with a pointed shape that was likely to appear in a fashionable adult man's magazine, tied up his long hair, and quickly guided us through the snow.Mari and I made a little tease of the picture-like appearance and gave it the title "My Snowboard Life".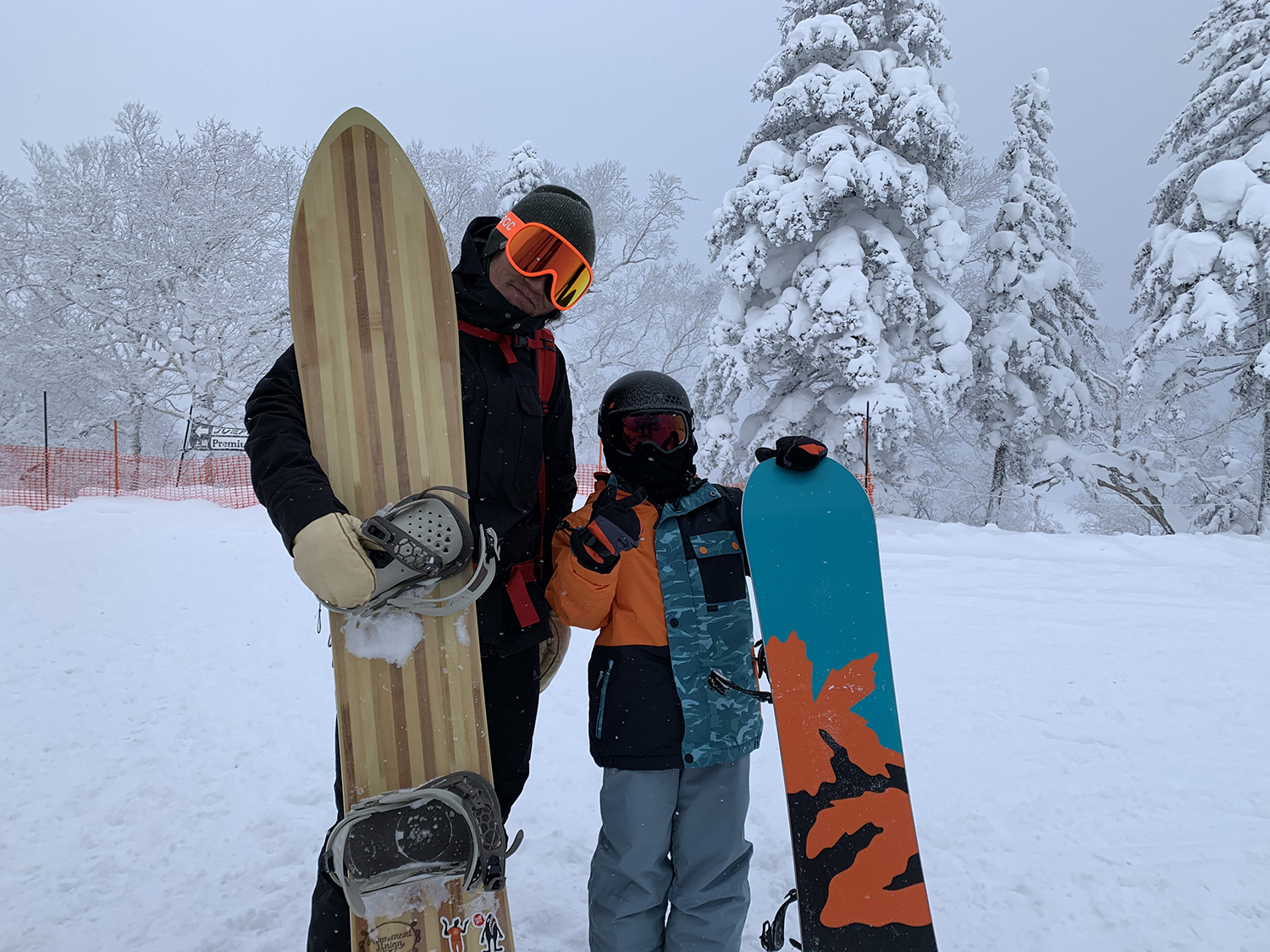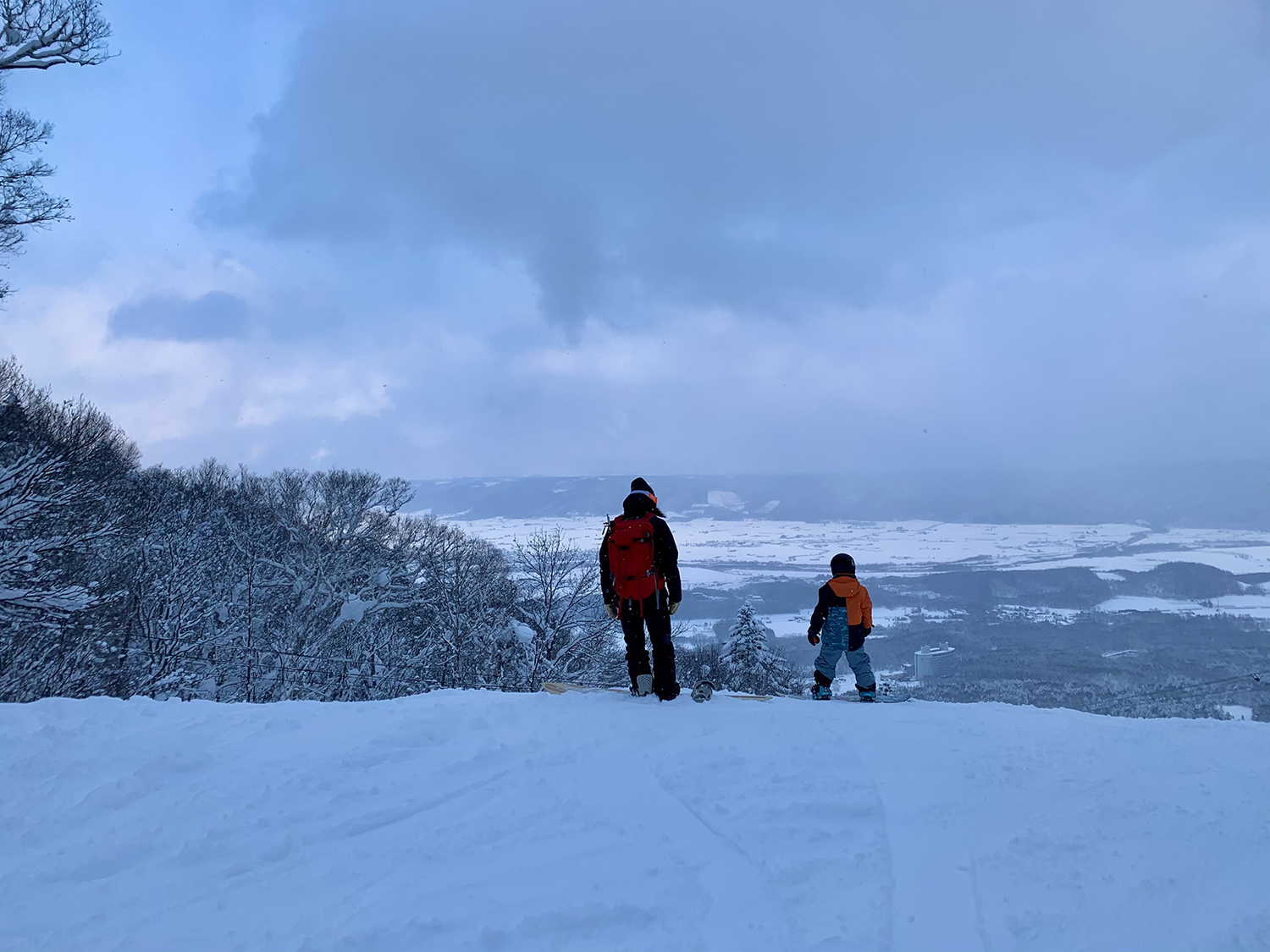 Kumiko Taki, a professional snowboarder who is also a member of the city council in Hokkaido, said, "Let's try climbing!" When I brought my son to Hokkaido five years ago.He is a great person who grabs the hearts of men and women of all ages.A woman who was called a queen in the Japanese snowboarding world in the early XNUMX's when I started snowboarding, she still slides stoicly with her friendly personality and a smile on her face.He is one of the people who has had a great influence on me.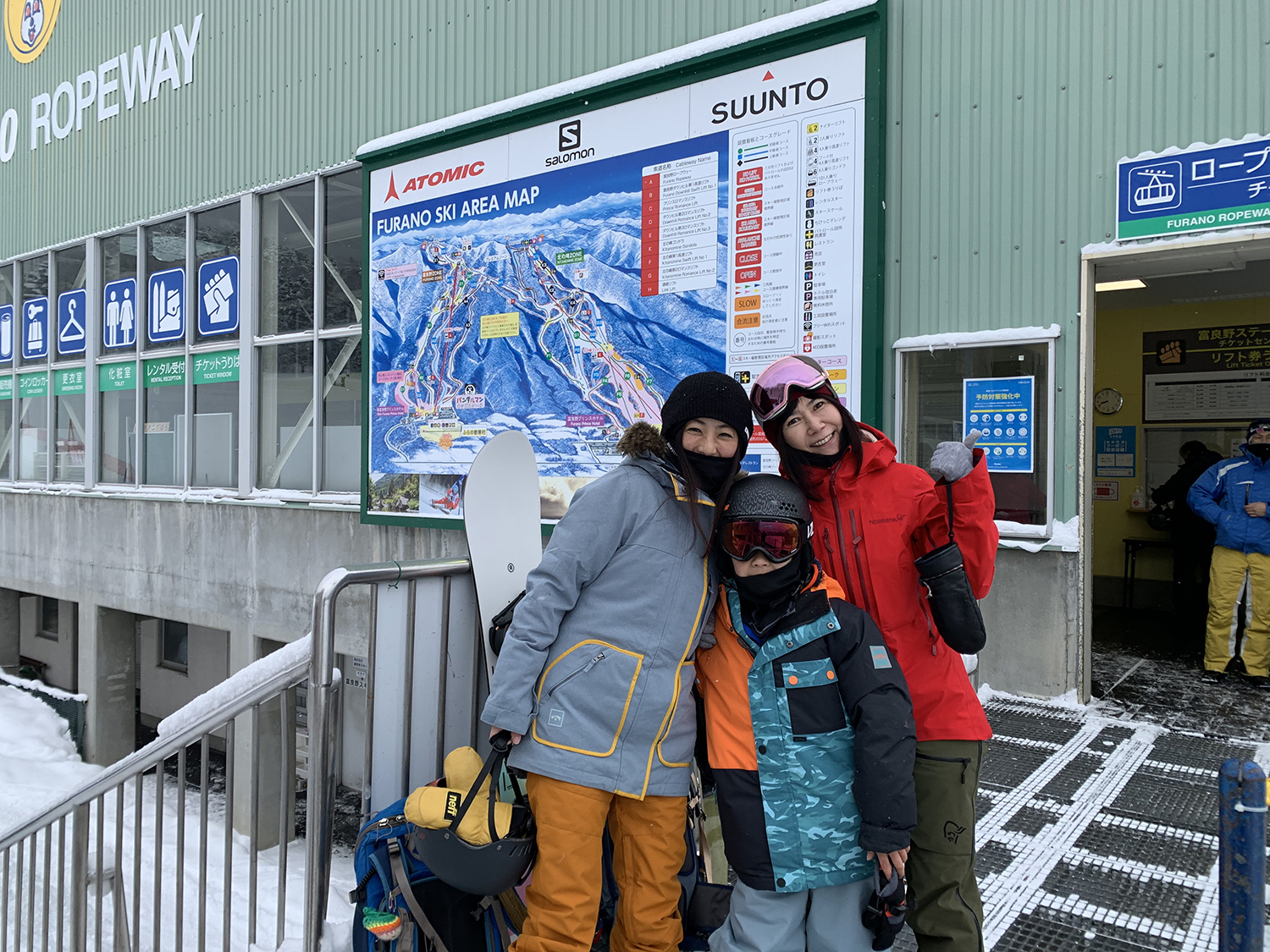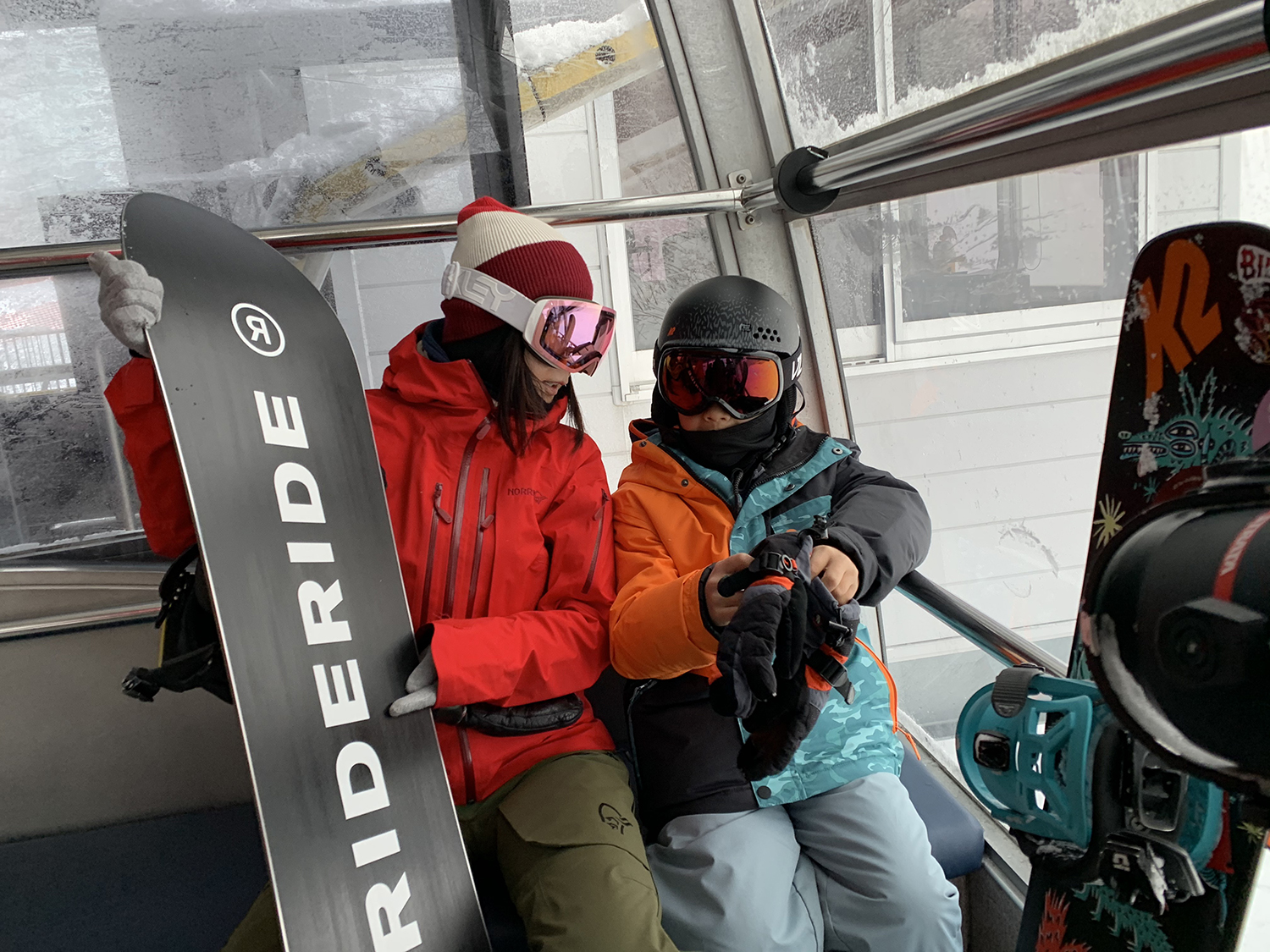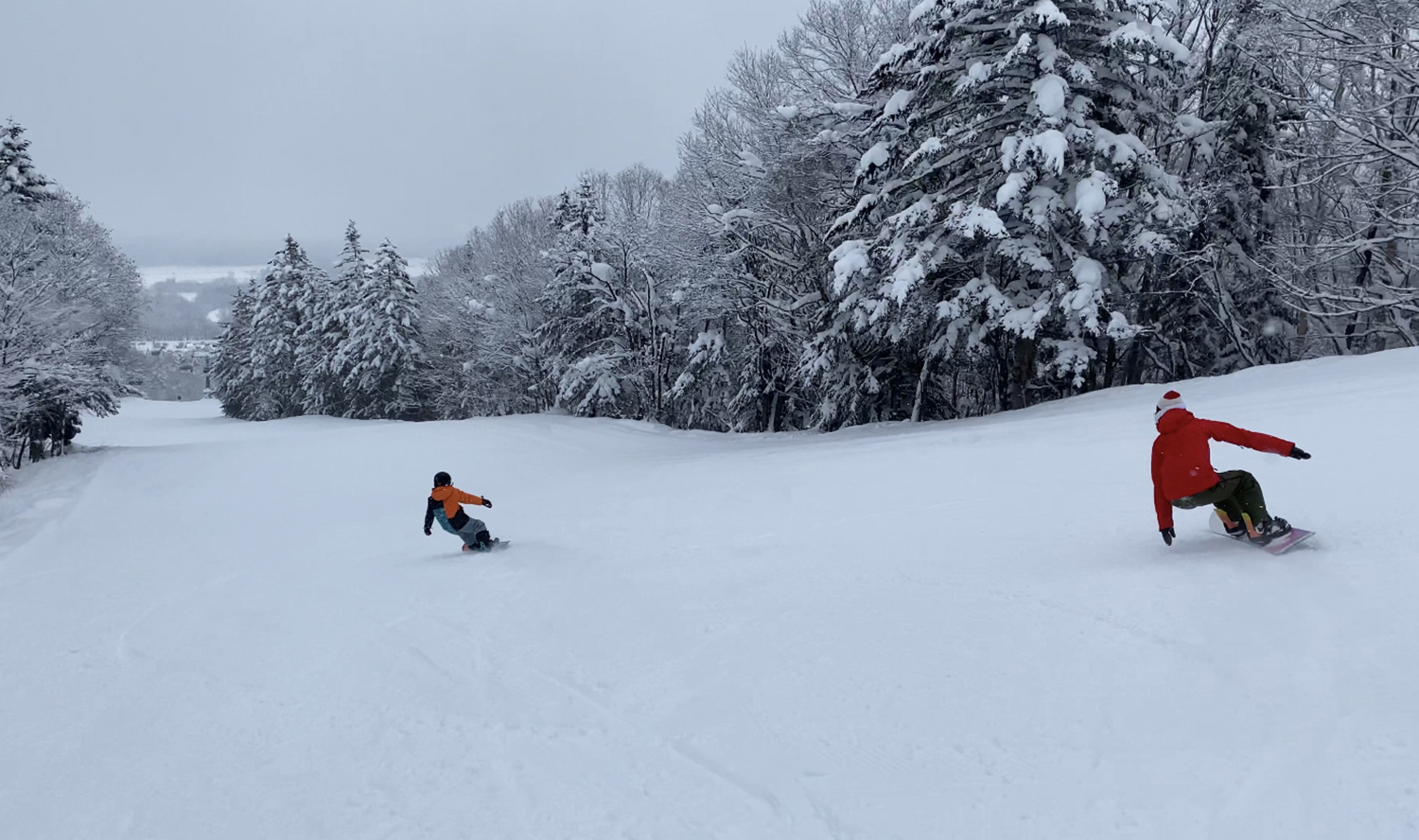 I think that being able to have a session with these two boys and a XNUMX-year-old boy is one of the attractions of snowboarding.
If you're not a snowboarder, it's hard to realize this way of playing.Snowboarding is really amazing because you can be friends and friends on the snow, even if you are different in age or cross the border.
Mr. Waka always said, "Keep an eye on the tiger," and I felt the risk and value of skiing in deep snow with a small child, and the meaning of visiting the snowy mountains. Let me do it.
Do not do it because there is a risk, avoid it.Instead, if there is a risk, you should be the one who knows it and can deal with it.There is no absolute safety no matter where you are or what you are doing as long as you live.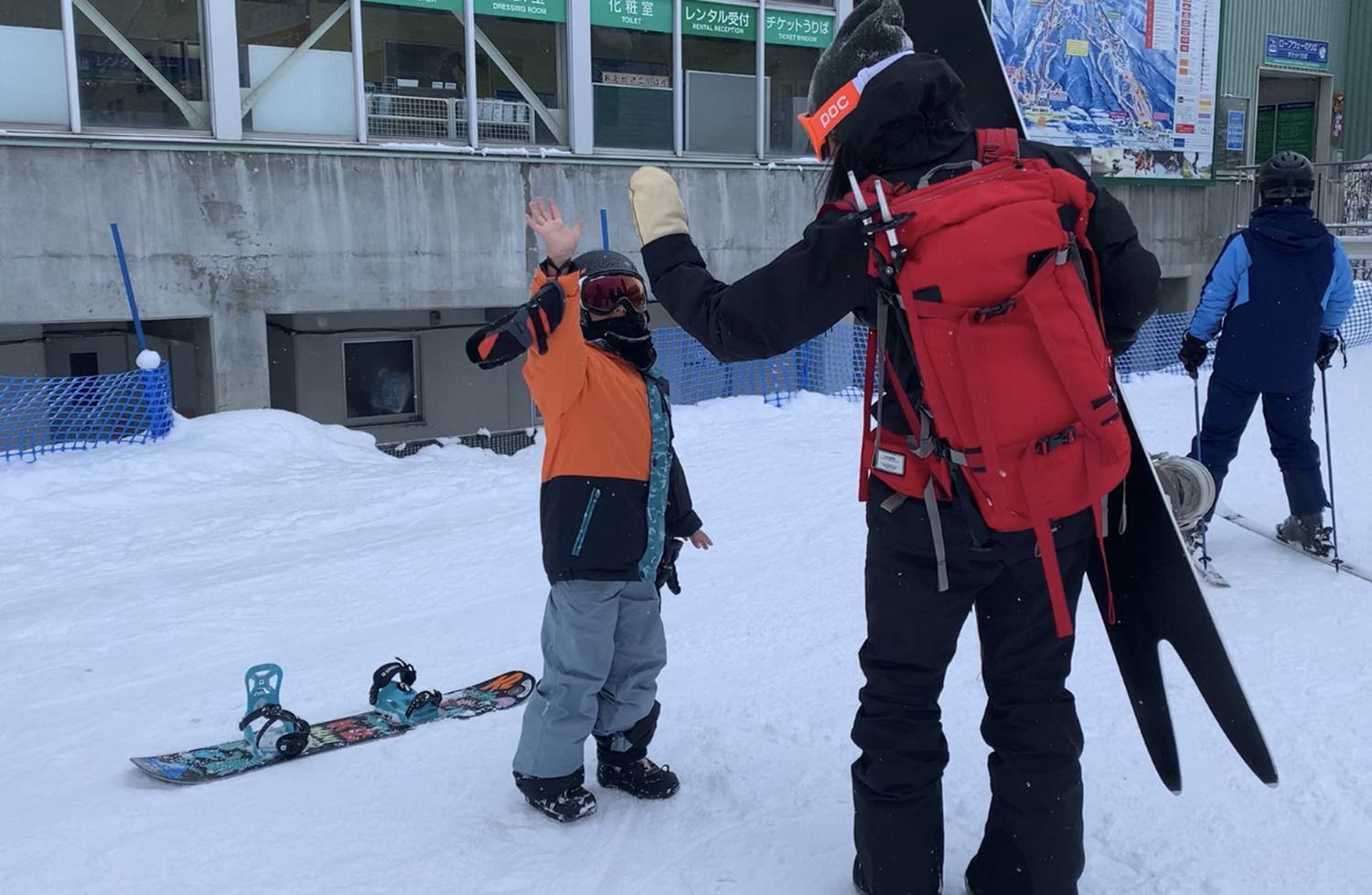 ▼ TORA BURGER # 12 FURANO @Hokkaido Snowboarding with Japanese friends! Furano Ski Resort with friends

---
Journey at this time
Corona's influence is beginning to swallow this season like a wave.How much can we go to the snowy mountains while refraining from acting?
However, I feel that skiing in the natural snowy mountains where the coronavirus is hard to reach should be necessary to maintain physical and mental health.
Japan is full of snowy mountains that I want to confidently convey to my friends overseas and snowboarders living in Japan, "Please come here!"Our journey continues, hoping that we can enjoy the snowy mountains of Japan as much as possible during our limited time in Japan.
to be continued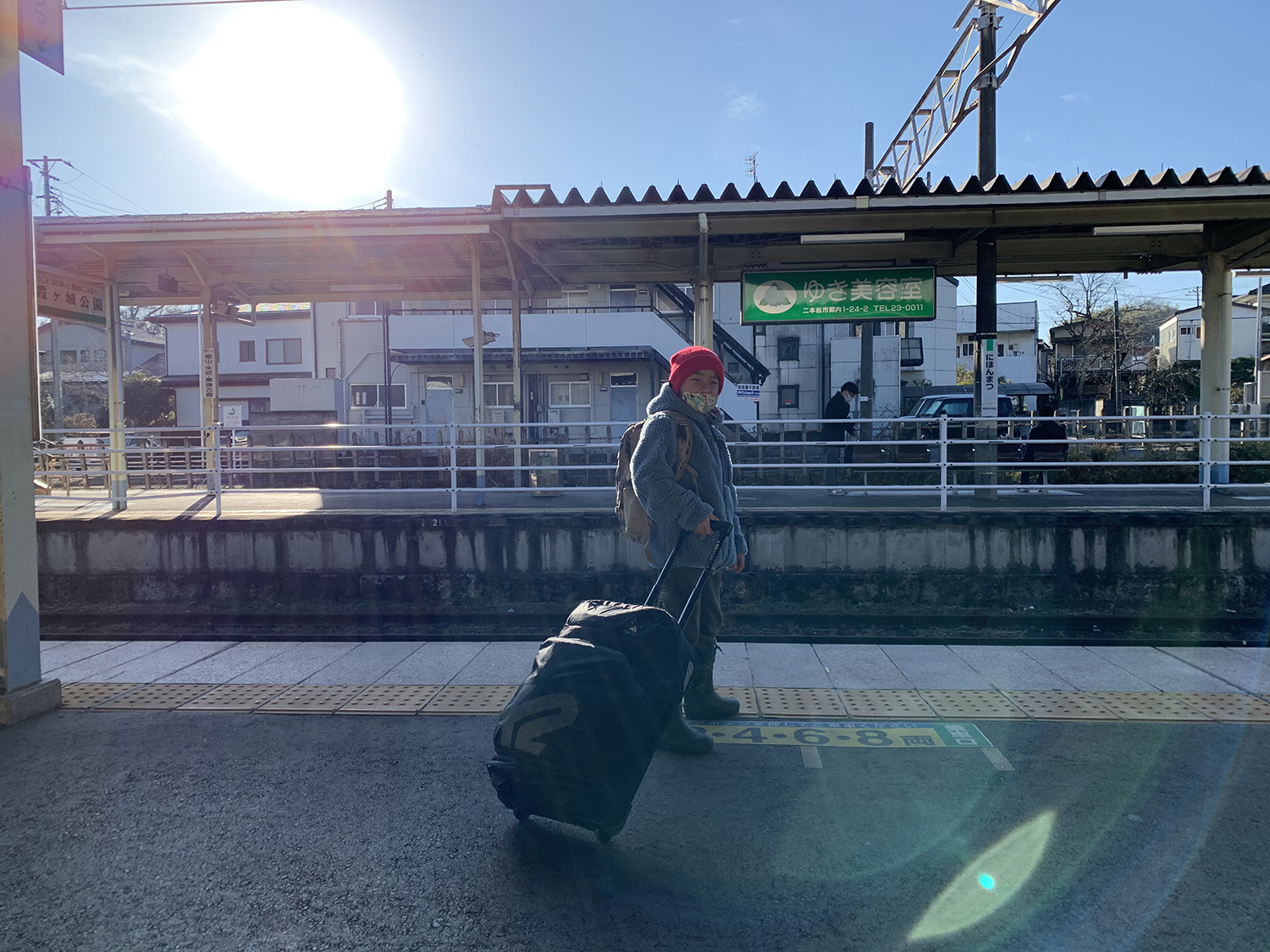 ----------
★ PROFILE
Yukie Ueda
XNUMX years of experience as a professional snowboarder.As a half-pipe and big air player, he fought in professional games and the World Cup, and after enlivening the Japanese girls scene such as movie production and launching a snowboard brand, he moved to California, USA on the occasion of his marriage.He moved to Mammoth Mountain and has continued snowboarding activities in Japan and the United States, but this time the whole family will move to Japan for one year.
SPONSOR: K2 SNOWBOARDING, BILLABONG, UN, RONIN EYEWEAR, HAYASHI WAX
ORION Toranosuke
Born April XNUMX, XNUMX, XNUMX years old.A third-generation Japanese-American bilingual born in California.I love snowboarding and skateboarding. USASA National Snowboard Championship XNUMX XNUMX Under category overall XNUMXrd place.
SPONSOR: K2 SNOWBOARDING, BILLABONG, VONZIPPER, UN. RONIN EYEWEAR, ETNIES, HAYASHI WAX, MAMMOTH TRAMPOLINE CLUB