The adidas kickoff party will be held at FOLIO in Jimbocho, Tokyo on the 28th of this month.
At this party, new models BOOTS and WEAR will be exhibited at the venue.It is an event where you can experience the new model before its release as soon as possible.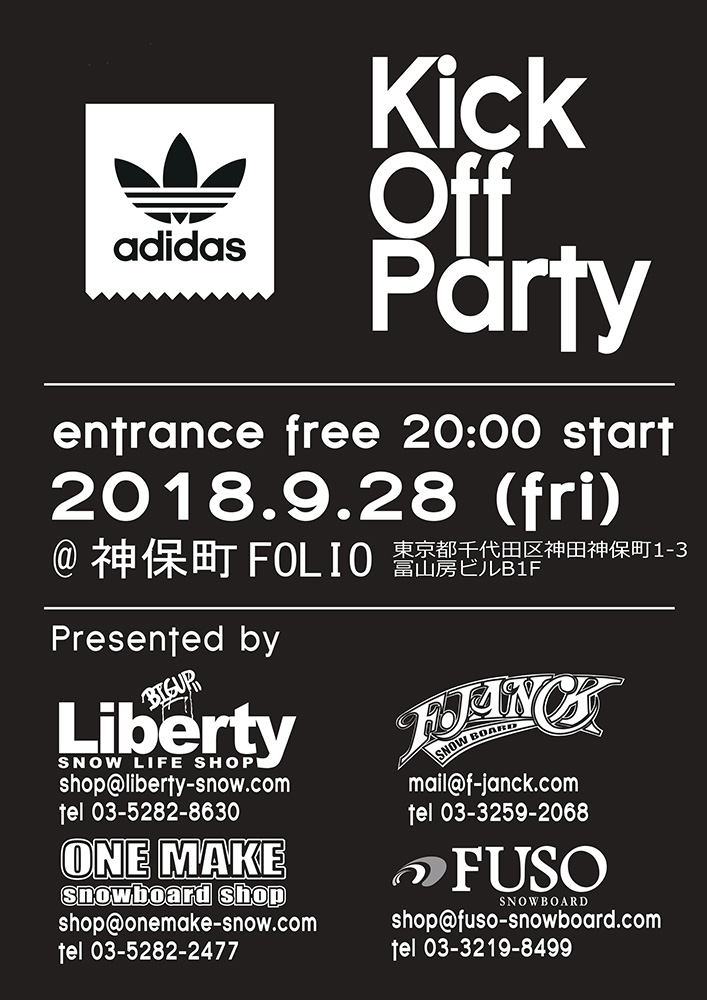 The organizers are four shops (Liberty, F.JANCK, ONEMAKE, FUSO) with stores in Ochanomizu.
There are also manufacturers and four shop staff at the venue, so you can freely listen to your concerns and advice.
It's also ant to listen to good images and music!It's also an ant to have fun drinking!
Of course, it's ants to wear boots and wear !!!
Let's improve the mood of winter while having fun!
It seems that there are benefits if you make a reservation on the day.
We will meet at Jimbocho FOLIO on September 9th (Friday)!
adidas kickoff party presented by Liberty, F.JANCK, ONMAKE, FUSO
Date: September 9th (Friday)
Time: 20:00 ~
Venue:Jimbocho FOLIO
* Entrance free
* A glass of sake ¥ 500
Contact Us
Liberty_Tel.03-5282-8630 / E-mail.shop@liberty-snow.com
F. Janck_Tel.03-3259-2068 / E-mail.mail@f-janck.com
ON MAKE_Tel.03-5282-2477 / E-mail.shop@onemake-snow.com
FUSO_Tel.03-3219-8499 / E-mail.shop@fuso-snowboard.com