BIG NEWS! !! !!
This time, we have organized a tournament to decide the girl of the Japanese national team!
I've always wanted to make the competitions I host global.
What I have slipped abroad and connected with various people
Someday I wanted to leave it for the next generation!
This is also due to the support of major manufacturers involved in the snowboard industry.
And to the current professional and top amateur girls
Creating a dream door to become a global rider
It will be good for the next generation of snowboarding industry,
I'm really happy! !! !! !! !!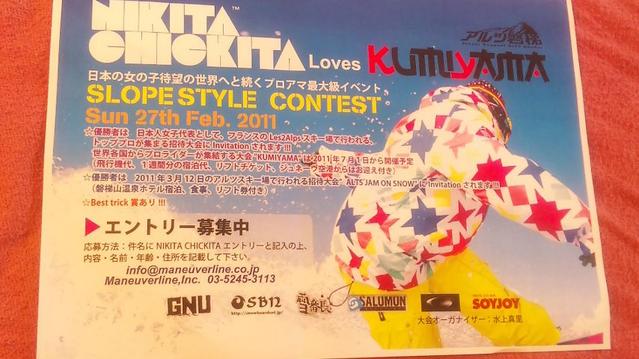 The long-awaited global tournament for girls will be held!
A collaboration between NIKITA and KUMIYAMA,
It's a big tournament! !! !!
The place is in Fukushima prefecture
It's the Alts ski resort! !! !!
The winner is ...
It will be held at Les 2 Alps in France on July XNUMXst, XNUMXnd and XNUMXrd next year.
You will be invited to a big invitation tournament called KUMIYAMA!
(Airplane fee, weekly accommodation fee, lift fee, airport transfer included)
It is a tournament where media from all over the world gather!
In addition, you will be invited to the "Alts Jam on Snow", an invitation tournament for the Alts Ski Resort.
There are also best trick prizes. .. ..
The number of supporting manufacturers is increasing steadily now,
Red bull, SPY, Not found ,,,,,
We are currently in negotiations.
More details will be announced next year!
Entry is being accepted!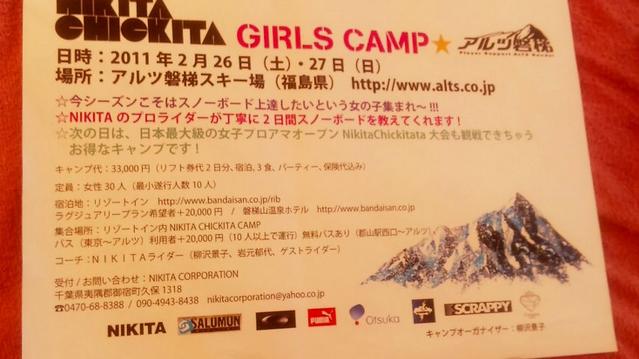 And BIG NEWS for beginners and intermediate snowboarders!
In line with this girls' tournament event
NIKITA Snowboard Camp will be held!
It is XNUMX days and XNUMX night on the XNUMXth and XNUMXth.
The coach is the NIKITA rider
Keiko Yanagisawa and Ikuyo Iwamoto!
There is no doubt that you will improve!
The capacity is fixed, so please contact us as soon as possible!
Then everyone, thank you again next year! !! !!